Miracle Turn First Triple Play in Team History in Win
Lopez, Miller and Paul Turn Three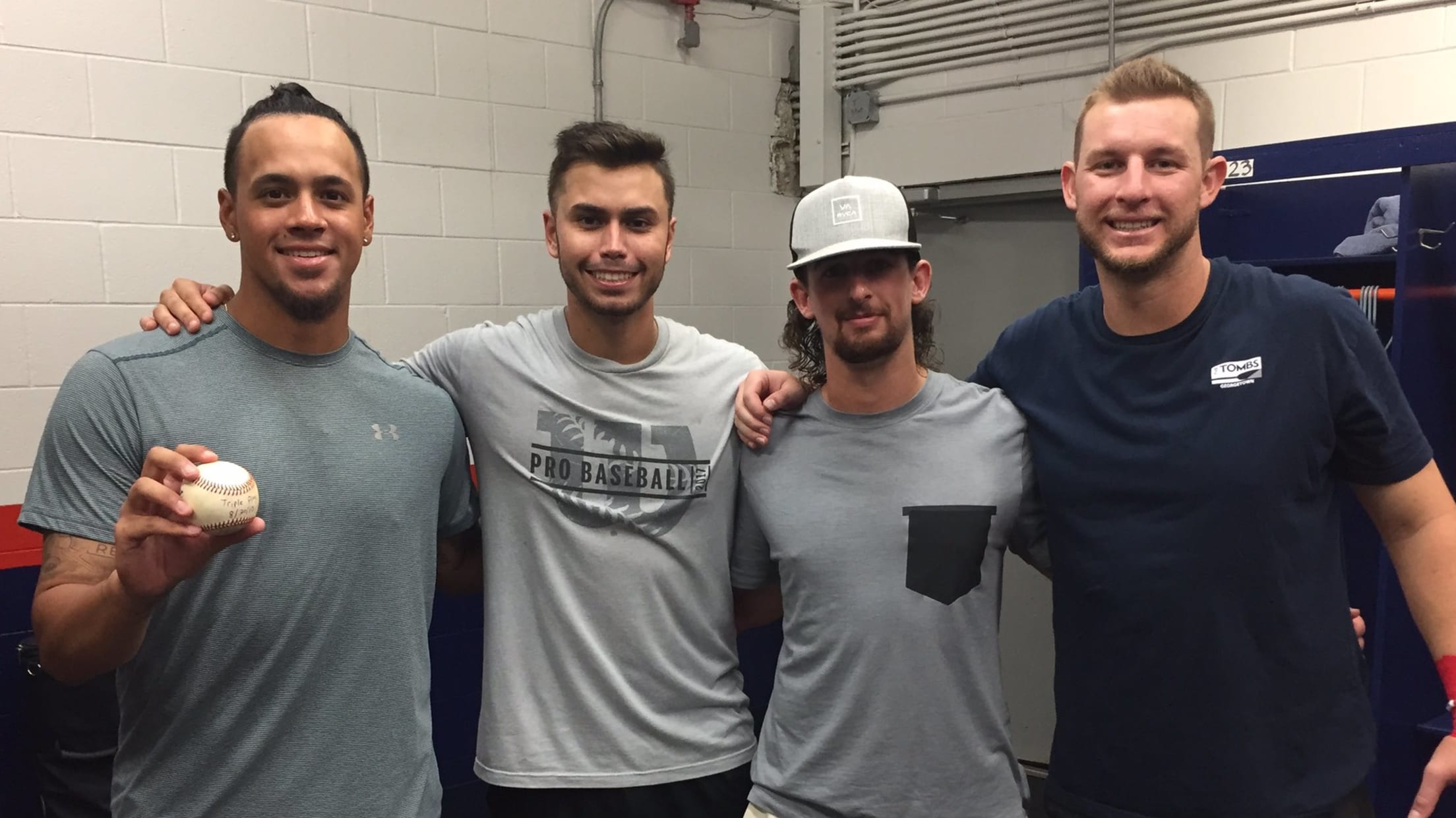 (Spencer Siegel)
ST. LUCIE, Fla. (August 30, 2017) - The Fort Myers Miracle (41-22) turned their first triple play in the 26-year history of the franchise during their 4-3 extra-inning win over the St. Lucie Mets (27-39) on Wednesday night. Chris Paul socked a three-run home run to help lower Fort Myers' magic
ST. LUCIE, Fla. (August 30, 2017) - The Fort Myers Miracle (41-22) turned their first triple play in the 26-year history of the franchise during their 4-3 extra-inning win over the St. Lucie Mets (27-39) on Wednesday night. Chris Paul socked a three-run home run to help lower Fort Myers' magic number to three to clinch the division.
Paul's home run came in the third inning against starter LHP Kevin Canelon after Tanner English and Brandon Lopez each singled with two outs.
Up 3-0, RHP Clark Beeker held the Mets scoreless through three, but surrendered a pair of runs in the fourth. Wuilmer Becerra scored on a throwing error when Sean Miller tried to turn a double play. Miller would later atone for the mistake. JC Rodriguez lifted a sacrifice fly to score Michael Paez, pulling the Mets within a run. In the fifth, Ian Strom tied the game with his first FSL home run, a solo shot to left.
Beeker gave way to the bullpen in a tie game. LHP Alex Robinson pushed through a scoreless sixth and dealt into the seventh. Becerra singled and stole second base before Nick Sergakis walked to put runners at first and second with nobody out. Paez then chopped a ball right to the bag at third where Lopez corralled it and fired to Miller at second whose relay to first landed in the glove of Paul to complete the triple play. It was the first of its kind in the FSL since 2015.
Robinson and LHP Tyler Jay (W, 2-0) kept the Mets off the board to the tenth inning where Miller led off with an infield single. English bunted him to second, and a passed ball by RHP Gerson Bautista (L, 0-1) moved him to third. With one out, Lopez lifted a fly ball deep enough to score Miller, giving the Miracle a 4-3 lead.
RHP Michael Kohn (Sv, 1) took care of the bottom of the tenth, and the Miracle grabbed the rubber match in St. Lucie.
Fort Myers heads to Jupiter for two before coming home for two more with the Hammerheads. First pitch on Thursday night is set for 6:30 PM ET.
To stay up to date on upcoming promotional nights, follow the Miracle online at Miraclebaseball.com or through social media; Twitter: @MiracleBaseball, Instagram: fortmyersmiracle, Facebook: Fort Myers Miracle, Snapchat: ftmyersmiracle. To purchase tickets, visit MiracleBaseball.com/tickets. For further information or questions regarding the 2017 25th Anniversary Season, call the Miracle offices at (239) 768-4210.