Miranda, Vincej Power Rainiers To 5-4 Victory Over El Paso
Tacoma improves to 22-0 when leading after seven innings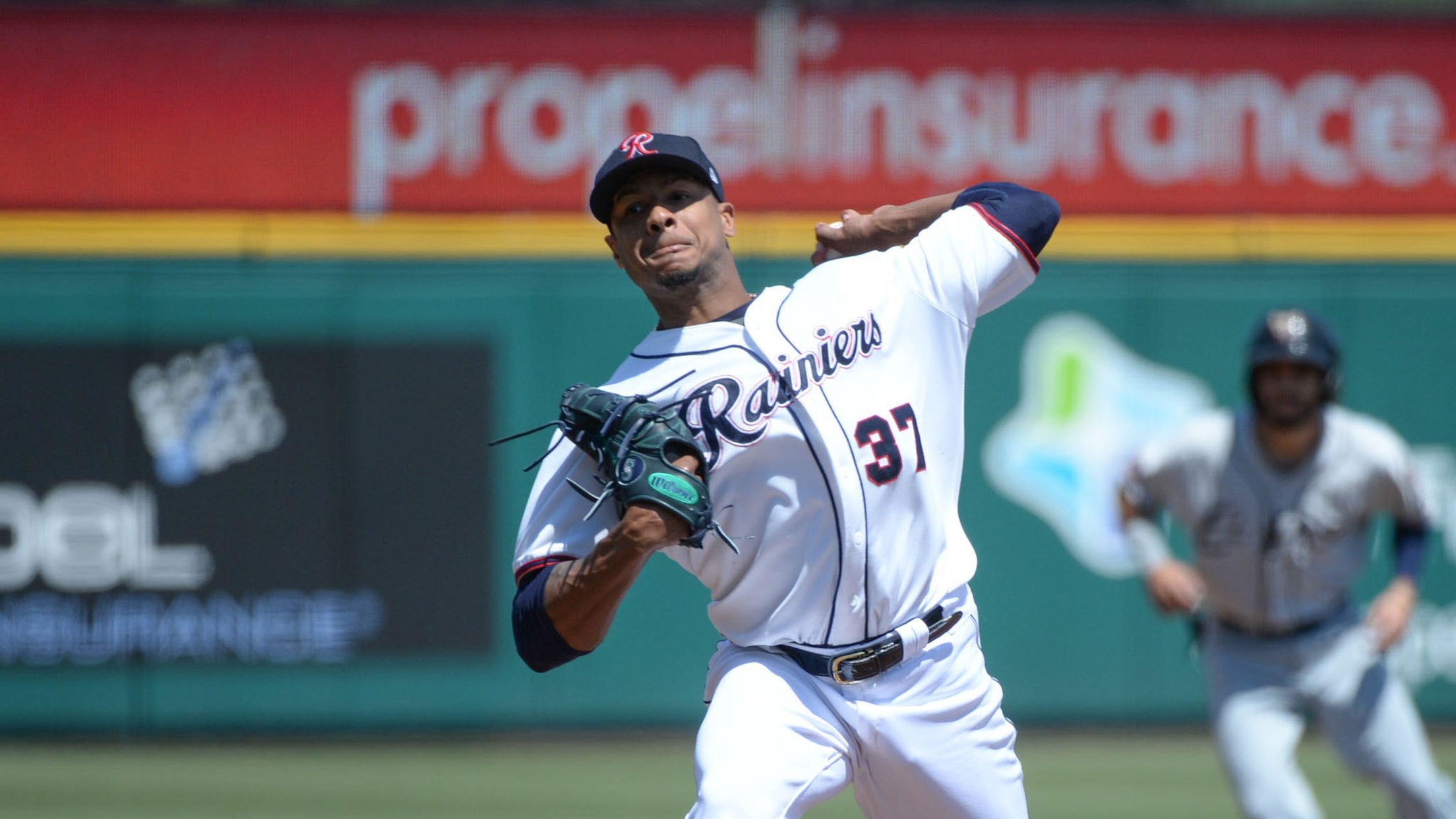 Rainiers left-handed pitcher Ariel Miranda in a start against the El Paso Chihuahuas on Wednesday, May 23, 2018 at Cheney Stadium. (Jeff Halstead)
TACOMA, Wash. - A strong start from left-hander Aríel Miranda and a three-RBI day for shortstop Zach Vincej lifted the Tacoma Rainiers (24-23) to a 5-4 victory over the El Paso Chihuahuas (23-24) on Wednesday afternoon at Cheney Stadium.The Rainiers offense was powered by Vincej (2x4, 3 RBI, 2B), catcher
TACOMA, Wash. - A strong start from left-hander Aríel Miranda and a three-RBI day for shortstop Zach Vincej lifted the Tacoma Rainiers (24-23) to a 5-4 victory over the El Paso Chihuahuas (23-24) on Wednesday afternoon at Cheney Stadium.
The Rainiers offense was powered by Vincej (2x4, 3 RBI, 2B), catcher Mike Marjama (2x4, R, 2 RBI), and first baseman Cameron Perkins (2x4, 2B) as Tacoma improved to 9-3 in day games during the 2018 season.
Hunter Renfroe singled to left field during the top of the first to open scoring and give El Paso a 1-0 lead.
The Rainiers countered with a four-run bottom of the fourth to take a 4-1 lead when Marjama and Vincej both slapped two-RBI base-hits to left field.
After Renfroe launched a solo homer to left during the sixth inning, Vincej came through again with an RBI-single in the bottom half to extend Tacoma's lead to 5-2.
Renfroe hit his second home run of the night during the top of the eighth to cut the Rainiers lead to 5-3.
Luis Urías doubled down the left field line during the top of the ninth to pull a run back for El Paso and cut Tacoma's lead to 5-4.
Miranda (5-0) remained undefeated by allowing just two earned runs over the course of six strong innings and righty Mike Morin notched his second save of the year in the ninth.
The Rainiers and Chihuahuas return to action Thursday night for the final game of the current homestand. Righty Rob Whalen (6-2, 5.40) will be on the hill for Tacoma and lefty Dillon Overton (0-0, 2.00) gets the start for El Paso.
All tickets, group outings, and suites packages for the 2018 season are available for purchase in person at the Cheney Stadium Box Office, online at TacomaRainiers.com, or over the phone at (253) 752-7707. The most up-to-date news and notes about the Rainiers throughout the season can be found by following the Rainiers on Twitter (@RainiersLand) or liking the team on Facebook.