Mississippi shuts out Generals for first time in 2018
Jackson drops series despite Atkinson's strong day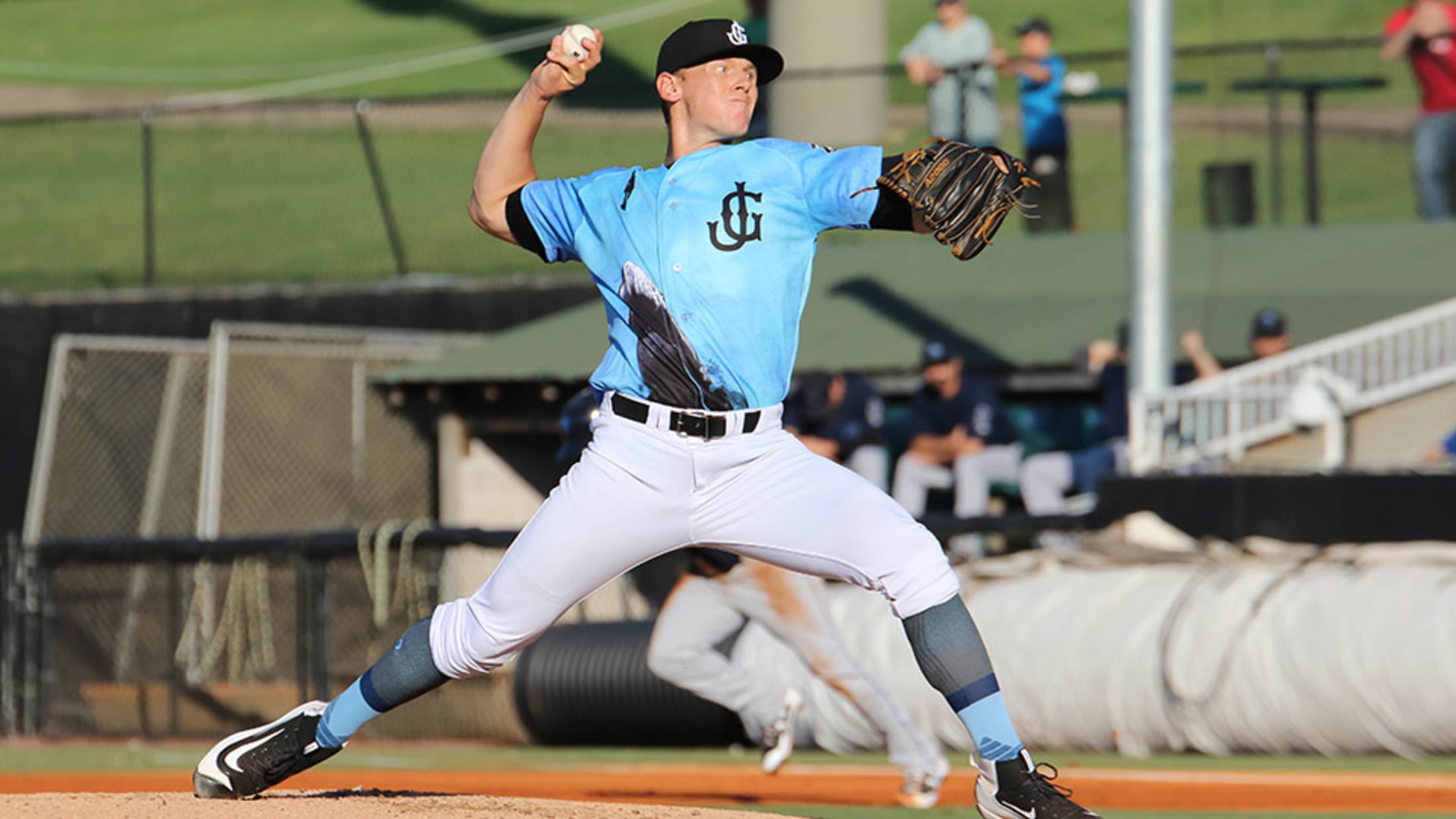 (Cody Cunningham)
Pearl, Miss. - Playing their first rubber game of 2018, the Jackson Generals could not overcome the Mississippi Braves in a 4-0 defeat Monday at Trustmark Park.
Pearl, Miss. - Playing their first rubber game of 2018, the Jackson Generals could not overcome the Mississippi Braves in a 4-0 defeat Monday at Trustmark Park.
The home-standing Braves (11-14) took the series win from the Generals (17-6), snapping a streak of four consecutive series won by Jackson. The Generals still finish the month of April leading the Southern League in victories.
Ryan Atkinson (1-2, 4.08 ERA) suffered the loss despite throwing well for the Generals. Atkinson allowed a solo home run in the bottom of the first to Jonathan Morales, but he didn't allow the another run until the fifth. In relief, Gab Speier and Colin Poche each worked scoreless frames. Yuhei Nakaushiro struggled to hold down the M-Braves, allowing three hits and an earned run in the seventh with another run scoring on an error.
Monday proved to be a difficult day at the plate for the Southern League's best offense. Held without an extra-base hit, the Generals went hitless in six chances with runners in scoring position and stranded seven men. Luis Lara, in his Double-A debut, had the only multi-hit game in an impressive start by Mississippi right-hander Enderson Franco (1-2, 3.68 ERA). Jackson managed just five hits in total, a season-low.
TOP PERFORMERS - Generals
RHP Ryan Atkinson - 5.0 IP, 5 H, 2 R, 2 BB, 5 K, 1 HR allowed
LHP Gabe Speier - 1.0 IP, 0 H, 0 R, 0 BB, 0 K
LHP Colin Poche - 1.0 IP, 0 H, 0 R 0 BB, 2 K
3B/1B Luis Lara - 2-4; five assists in first Double-A start
TOP PERFORMERS - Mississippi
RHP Enderson Franco - 5.0 IP, 4 H, 3 BB, 7 K
RHP Kelvin Vasquez & RHP Devan Watts - combined 4.0 IP, 1 H, 0 R, 2 K, 0 BB
3B Daniel Lockhart | SS Luis Valenzuela | CF Connor Lien - each 2-3, R, 2B;
C Jonathan Morales - 1-4, R, RBI, HR
MOMENTS THAT MATTERED
TOP 1: Galli Cribbs Jr. walks in his first plate appearance, getting on base with one out. During Juniel Querecuto's at-bat, a back-pick throw down to first base by Mississippi catcher Jonathan Morales sails wide of the mark and bounces down the right field line, allowing Cribbs to hustle from first to third. Given the chance to plate a run with a hit or a productive out, the Generals come up empty, as Querecuto strikes out and Rudy Flores flies out to center field.
SCORE: JXN 0, MIS 0
TOP 5: Luis Lara singles to lead off the frame. Jose Vinicio then drives a ball over the head of Mississippi left fielder Travis Demeritte in the left-center field gap. In the bright sunshine, Lara has trouble seeing whether the ball was caught or not, holding his ground in the basepath between first and second. By the time he recognizes the hit, Lara can only make it to second base, holding Vinicio to a long single at first base. Ryan Atkinson lays down a sacrifice bunt to move Lara and Vinicio into scoring position with one out, and Mississippi intentionally walks Jay Gonzalez to load the bases and create force-out opportunities all around the diamond. Unfortunately, Enderson Franco strikes out Galli Cribbs and forces a groundout from Juniel Querecuto thereafter, stranding Vinicio and Lara on the bases.
SCORE: MIS 1, JXN 0
NEXT GAME:
6:05pm CT Wednesday (5/2) at The Ballpark at Jackson (Jackson, TN)
RHP Sam Lewis (Generals) vs. RHP Génesis Cabrera (Montgomery Biscuits)
NEXT GENERALS HOMESTAND:
May 2-6 vs. Montgomery Biscuits, featuring Star Wars Night at The Ballpark (Saturday, May 5)
Dial 731-988-5299 for tickets to see Jackson Generals Baseball!