Modern marvels: Hessman reigns as home run king
Slugger belted an American-record 433 long balls over 19 seasons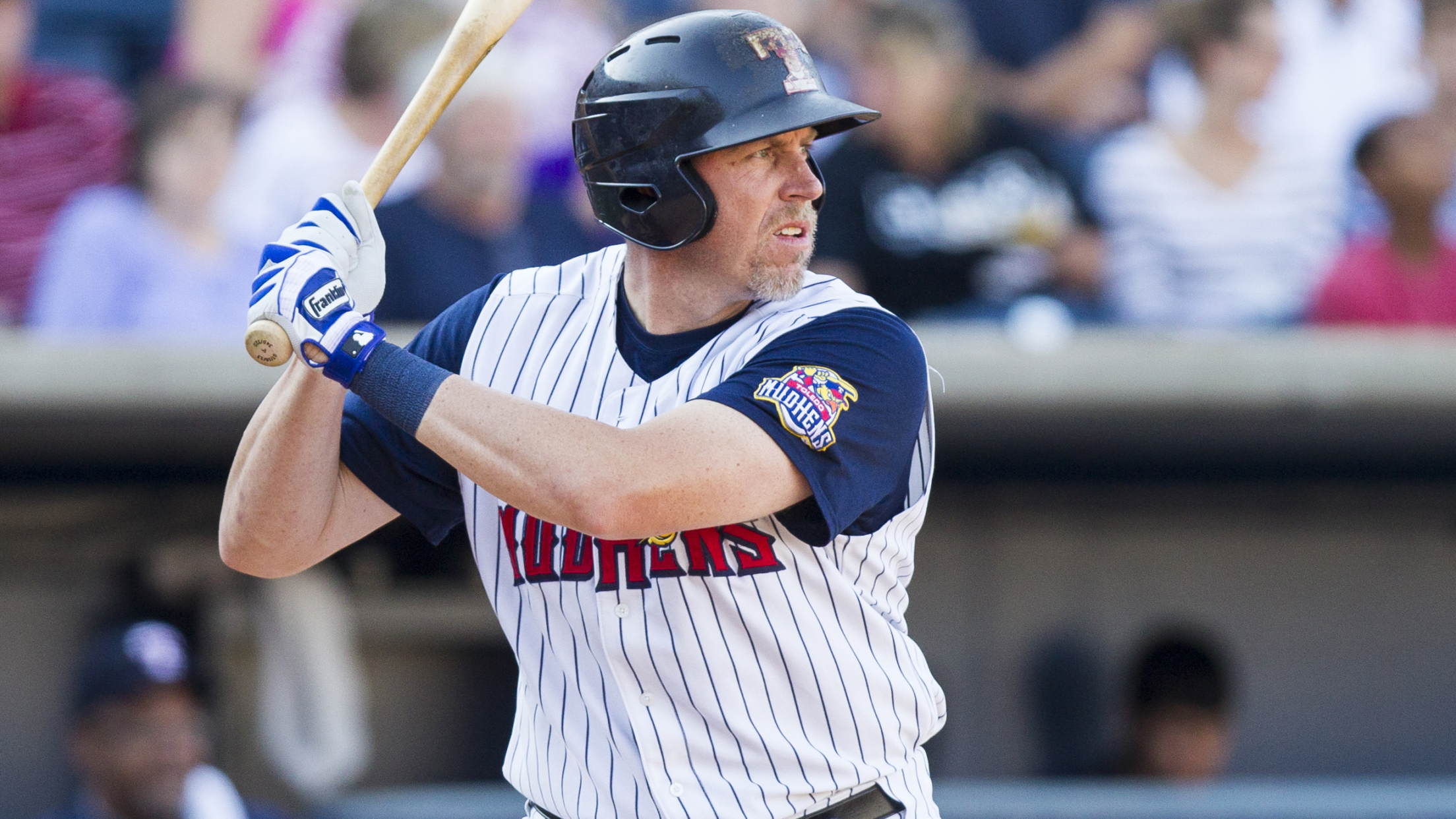 Mike Hessman was an imposing power threat over 8,566 plate appearances in the Minor Leagues. (Scott W. Grau/MiLB.com)
MiLB.com staff combed through decades of stats to uncover Minor League hitting and pitching leaders among players active for at least one season in the 21st century. In "Modern marvels," we present their stories. Read about the hits leaders and the strikeouts leaders in previous editions. It should come as
MiLB.com staff combed through decades of stats to uncover Minor League hitting and pitching leaders among players active for at least one season in the 21st century. In "Modern marvels," we present their stories. Read about the hits leaders and the strikeouts leaders in previous editions.
It should come as no surprise that the man once commonly referred to as "King" by his teammates and fans remains perched on the home run throne in the Minor Leagues.
Mike Hessman played 19 seasons in the Minors, clobbered a towering 433 homers to set himself apart from the countless other sluggers who have played in affiliated ball in the United States. He split his career across the Braves, Tigers, Mets, Astros and Reds systems.
The road to the top began in 1996, when Hessman was drafted by Atlanta in the 15th round out of baseball-powerhouse Mater Dei High School in California. He got his first taste of professional ball later that summer, when he appeared in 53 games in the Rookie-level Gulf Coast League and, ironically, homered just once.
But Hessman belted 21 long balls for Class A Macon the next year, opening an 18-season stretch in which he logged double-digit taters during every campaign he played in the States.
The Orange County native climbed steadily over the next six seasons until, after homering 16 times for Triple-A Richmond in 96 games, he finally got the call to The Show in 2003. He grounded into a double play in his first at-bat, but introduced himself properly to the Atlanta faithful in his next appearance by crushing a pinch-hit homer. Hessman appeared in 19 games for the Braves that season, putting together a .286/.423/.667 slash line while going deep twice.
He spent parts of 2004 in Atlanta but most of it with Richmond. By the start of the 2005 season, he signed with the Tigers, setting the stage for him to earn a spot in franchise history with the Triple-A Toledo Mud Hens. He led that team to back-to-back Governors' Cup titles in 2005-06 and earned International League MVP honors while helping the Mud Hens go deep into the playoffs again in '07. He uncorked 83 homers over those three years and smashed 34 more for Toledo in 2008 and another 23 in 2009, all the while enjoying cups of coffee with the Tigers without getting a chance to play in the Majors on an everyday basis for a prolonged stretch.
In 2010, Hessman inked a deal with the Mets. He hit 18 homers in 64 games for Triple-A Buffalo, but managed to go yard just once in 55 Major League at-bats that season, which wound up being his last time in The Show.
He did continue to belt dingers, though. After spending 2011 in Japan, he played a season in the Astros system, crushing 35 roundtrippers for Triple-A Oklahoma City in his lone Pacific Coast League campaign. He went yard 25 times for Triple-A Louisville as a Reds farmhand in 2013, then returned to Toledo for his final act -- two more seasons with the Mud Hens and in the Tigers organization.
By then, there were two milestones on the horizon.
Midway through the 2014 season, Hessman tied the IL home run record with his 258th blast on the circuit and was knocking on the door of the outright title. But between nagging injuries and just plain bad luck, it took him another month to get there. He finally hit No. 259 on June 30.
With that accomplishment under his belt, there was another record within reach, the all-time American Minor League home run total. At the time, it was held by Buzz Arlett, whose power display in the 1920s and '30s generated 432 long balls and had stood unmatched in the United States. (Hector Espino bashed 453 in the Mexican League) prior to Hessman's run.)
On July 29, 2015 -- just over a year since he'd claimed the IL title-- Hessman tied Arlett with a two-run shot. But unlike the IL record, this one went into Hessman's sole possession almost right after he earned a piece of it. On Aug. 3, Hessman uncorked a go-ahead grand slam for homer No. 433. Finally, the king had his crown.
Hessman finished the season with the Mud Hens, but never went deep again. In addition to his 2011 campaign in Japan, his playing days included winter ball in Venezuela and Mexico, as well as an appearance on the Team USA roster for the 2008 Olympics. He had 14 long balls, eight doubles and a triple in 109 games across parts of five seasons in the big leagues, and in the Minors, compiled a lifetime slash line of .233/.316/.466, 402 doubles and 1,207 RBIs to complement his home run mark.
Since his retirement, Hessman has served as a coach in the Tigers organization, most recently with Toledo, where he has been since 2019. He's set to return in 2021, bringing with him not only his legendary status but also the accompanying knowledge and insight he hopes to instill in the game's next generation of stars -- possibly even the next record breaker.
Here are some recent players who got within shouting distance of Hessman's homer total over the course of their respective careers.
Ernie Young (319 homers from 1990-2007): Young was the closest thing to king before Hessman's reign, as he's one of just three modern players to pass 300 Minor League homers and the most recent (besides Hessman) to do so. He was a model of consistency, as he hit double-digit taters every year he played in the Minors excluding an injury-shortened 1997 season and his rookie campaign in the Class A Short Season Northwest League in 1990. His best showing came in 2000, when he slugged 35 big flies for Triple-A Memphis. Young also hit 27 homers in 288 Major League games between the A's, Royals, Diamondbacks, Tigers and Indians.
Phil Hiatt (314 homers from 1990-2004): Hiatt's best years from a power standpoint came at the end of his career. The Triple-A stalwart hit roughly half of his Minor League dingers -- 158, to be exact -- in his final five seasons. The IL MVP and Minor League long ball leader with 42 for Toledo in 1996, he established a career high with another Minors-best tally, 44, with Triple-A Las Vegas in 2001. He managed 30 homers with Triple-A New Orleans in his final season.
Andy Tracy (296 homers from 1996-2011): Tracy established a career high with 37 homers in the Eastern League in 1999 and continued to mash (almost exclusively at Triple-A) over the first decade of the new century. In 2004, he mashed 33 taters and drove in 120 runs for Triple-A Colorado Springs, and he maintained a solid pace of production through 2011, when he hit 18 homers over the course of 85 games for Triple-A Reno.
Scott McClain (292 homers from 1990-2009): McClain dominated Minor League pitching from the George H.W. Bush administration into Barack Obama's first term, with a four-season gap (2001-04) spent in the Japan Pacific League. He crushed almost 300 homers in that time, all but 40 of which came at the Triple-A level. He logged 30 or more dingers three times in his career, including a 1998 campaign in which he clubbed 34 and batted in 109 runs, both career-best totals. After going yard once in 13 games for Fresno in the PCL in 2009, he finished the year (and his playing days) in Japan, belting 18 long balls over 114 games for the Hiroshima Carp.
Adam Hyzdu (273 homers from 1990-2006): Hyzdu appeared in over 200 big leagues games across seven seasons, turning in a few memorable moments with the Pirates and earning a World Series ring with the Red Sox in 2004. But he's a legend in Altoona, Pennsylvania, to this day because of what he accomplished in the Minors. He became a key figure in franchise history for the Double-A Curve when the Pirates signed him as a free agent with a specific request that he become a clubhouse leader in 1999. It was a player-development success story, and Hyzdu feasted on opposing pitching with a .316/.392/.612 slash line and 24 homers over 91 games. He returned the next year to slug a circuit-best 31 jacks and pick up 2000 Eastern League MVP honors, energizing the city around the team and enshrining himself in its lore. His jersey was retired by the Curve, but he played six more seasons in the Minors (with occasional big league time) and another in Japan.
Kevin Witt (269 homers from 1994-2006): In 2006 for Durham, Witt's last year in affiliated ball, he was the IL MVP and led the Minor Leagues with 36 homers (a high he'd reached with Triple-A Memphis in 2004). That performance earned him his fifth stint in the big leagues. The next year, he finished his career in Japan, where he'd also played in 2005. When it was all said and done, his Minor League homer tally was complemented by a nice .274/.336/.502 line and 885 RBIs.
Mike Coolbaugh (258 homers from 1990-2006): The late Coolbaugh exemplified consistency and class over his 17-year career. After five seasons at the lower levels, he reached Double-A in 1995 only to spend most of '96 in the Class A Advanced Florida State League. The next year, he earned an assignment to Double-A Hunstville and broke out with 30 homers, 132 RBIs. He kept that going over the next decade, dominating Triple-A pitching and hitting a couple long balls for the Brewers in 2001. He continued to thrive for the next five years, hovering around his career-high mark of 30 taters and matching it to set a franchise record for Triple-A New Orleans in 2004. Coolbaugh was named hitting coach of Double-A Tulsa on July 3, 2007. In the ninth inning of a July 22 game at Arkansas, he was coaching first base when he was struck by a foul line drive. He was pronounced dead less than an hour later. His memory is still celebrated throughout the Minors.
Dan Johnson (254 homers from 2001-16): Johnson began his pro career with a bang, hitting 11 homers in 69 games with Class A Short Season Vancouver in 2001. He totaled 96 big flies over his first five seasons in the Minors and by 2005 was in the Majors. He spent the next couple years splitting time between Oakland and Triple-A Sacramento. Remembered for dramatic home runs for the Rays that affected the playoff pictures in 2008 and 2011, Johnson made swatting dingers seem almost quotidian in the Minors, belting 195 at the Triple-A level alone.
Mitch Jones (254 homers from 2000-10): Jones finished with double-digit homer tallies in each of his 11 seasons in the Minors, most of which came at the Triple-A level. His highest total came in 2004, when he led Double-A with 39 jacks for Trenton, and the next year he bested Ian Kinsler in the Triple-A All-Star Home Run Derby. In 2009, he won the Joe Bauman Award with 35 roundtrippers for Triple-A Albuquerque despite also getting his first -- and only -- action in the Majors that year, with the Dodgers. He finished his career with 19 homers at the Triple-A level between two systems (Atlanta and Pittsburgh) in 2010.
Jordan Wolf is a contributor to MiLB.com. Follow him on Twitter: @byjordanwolf.