Royals' Moustakas produces 11-RBI game
Slugger goes deep twice in third inning on three-homer night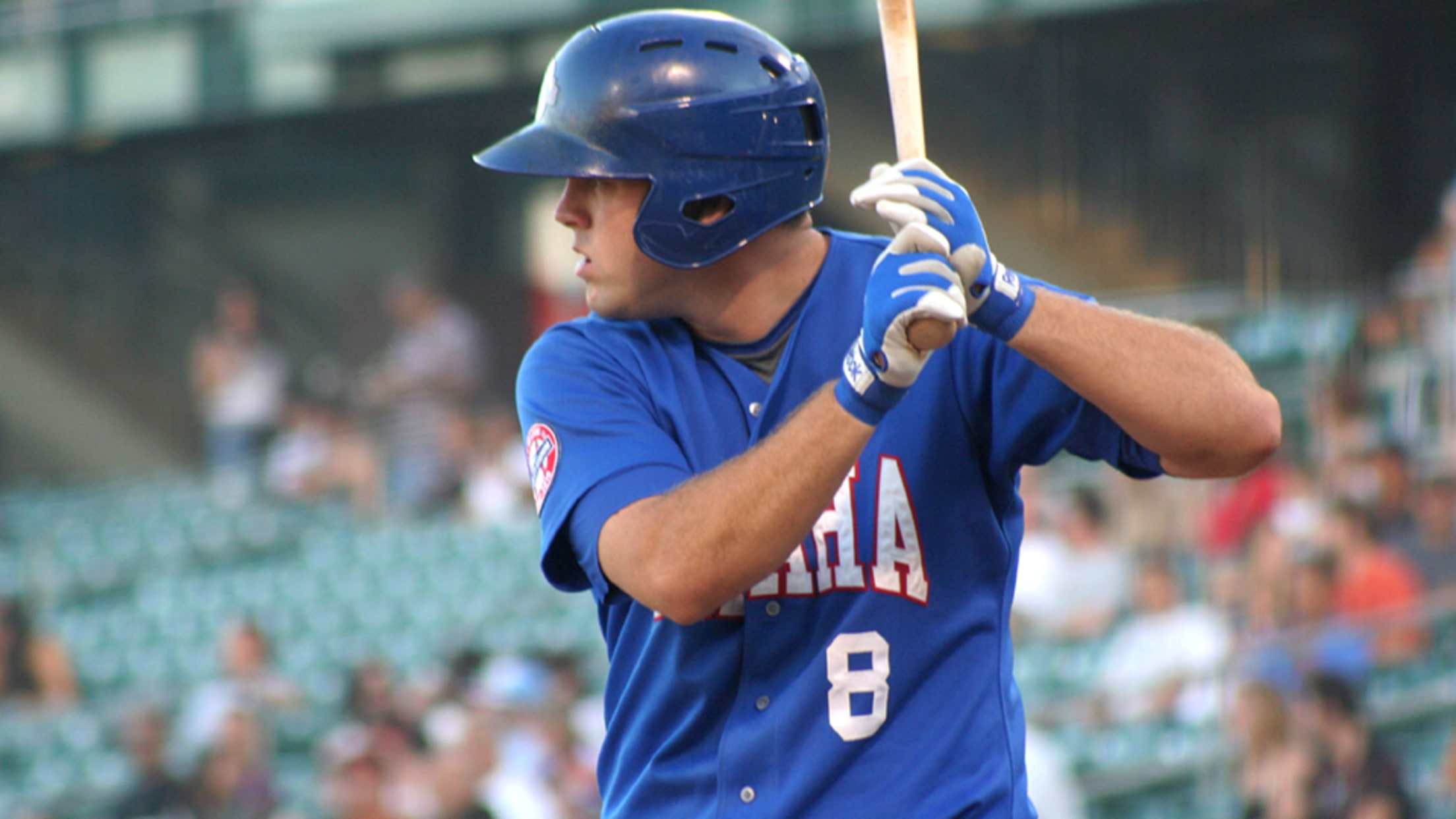 Mike Moustakas was named Texas League Player of the Year hours before his big night. (Dave Nelson/MiLB.com)
Two home runs and five RBIs is a great night for any ballplayer. For Omaha's Mike Moustakas on Monday, it was just one inning's worth of work on a career night. The second overall pick in the 2007 Draft hit a two-run shot and then a three-run blast in the
Two home runs and five RBIs is a great night for any ballplayer. For Omaha's Mike Moustakas on Monday, it was just one inning's worth of work on a career night.
The second overall pick in the 2007 Draft hit a two-run shot and then a three-run blast in the third frame of Omaha's 23-5 pounding of Round Rock. Moustakas added a three-run double in the fourth and another three-run homer in the seventh to finish with a franchise-record 11 RBIs.
"I'm just excited," Moustakas said. "We went out and we played a great baseball game.
"It's nice to have guys on base whenever you go up to hit. We hit 1-9 today, and it's tough to pitch around a lineup like that."
Moustakas flied to left-center field in his first at-bat, but came up with a man on and nobody out against the Express' Andy Van Hekken in the third inning.
"I got a good pitch to hit," he said. "Fastball, middle in with two strikes. I got my hands to it and the ball just took off."
Moustakas' first long ball of the frame pushed the Royals' lead to 5-2. By the time he came up again, Omaha had a 10-2 advantage and Round Rock had called upon reliever Gary Majewski.
But even with the flood gates wide open, Moustakas wasn't looking for anything more than a pitch to hit.
"I definitely wasn't trying to hit any home run by any means," he said. "I got a couple of good pitches and I just hit one."
That "one" Moustakas referred to landed beyond the 408 mark in center field.
"I really didn't see where (all three home runs) went," he said. "When it went out, I just put my head down and rounded the bases."
Moustakas didn't change his approach as he stepped to the plate in the fourth. MLB.com's No. 32 overall prospect was more than happy to hit a bases-loaded double and give his club a 17-3 lead.
"Get a good pitch and don't miss it," Moustakas said. "It's been my approach all year. No reason to change my gameplan. The guy on the mound (Majewski) was throwing really hard and I just slapped it into left for a double."
His third round-tripper also propelled him atop the Minor League home run leader board. In 66 games with Double-A Northwest Arkansas and 44 games with the Triple-A Royals, Moustakas has collected 34 home runs.
"Once I hit it, I felt it pretty good off the bat," Moustakas said. "I knew it had a shot. It ended up going out, which was pretty crazy. I don't think I've ever done that before, so it's pretty cool."
Moustakas was named Texas League Player of the Year earlier in the day after hitting .347 with 21 homers, 76 RBIS, a .413 on-base percentage and a .687 slugging percentage in 259 at-bats. He has a .297 average since joining Omaha.
"It was pretty special," he said of the award. "Especially with the type of talent on that team and in that league. It really means something."
Amazingly, Moustakas is not looking ahead to the Major Leagues just yet. He still believes he has something to play for at Triple-A and doesn't expect a callup to Kansas City when rosters expand Wednesday.
"I still need to go out there and win a championship, which is our main goal since Day 1," he said. "Until that, we're not going to be satisfied. "I'm just going to go out there and, every day my name is in the lineup, I'm just going to play. I don't think too much about the future."
Moustakas is the first Omaha Royals player to homer twice in the same inning since Ramon Ortiz did so against Buffalo hurler Jim Lewis on July 12, 1996. Kit Pellow previously held the O-Royals' single-game RBI record with eight in a win over Tacoma on June 8, 1999. The last Triple-A Royal to hit three homers in a game was Ken Harvey, who accomplished the feat in a win over Iowa on July 28, 2002.
Even with a few new superlatives and nearly a dozen more RBIs added to his resume, Moustakas wasn't in the mood to celebrate. After all, he has another day of work Tuesday.
"You can't gloat too much about the day before," he said. "You have to get up and do it the next day and get another win."
Alex Raskin is a contributor to MiLB.com.