Moya's Magic Helps Hippos Beat Braves
Jackson reliever secures seventh save, evens series with Mississippi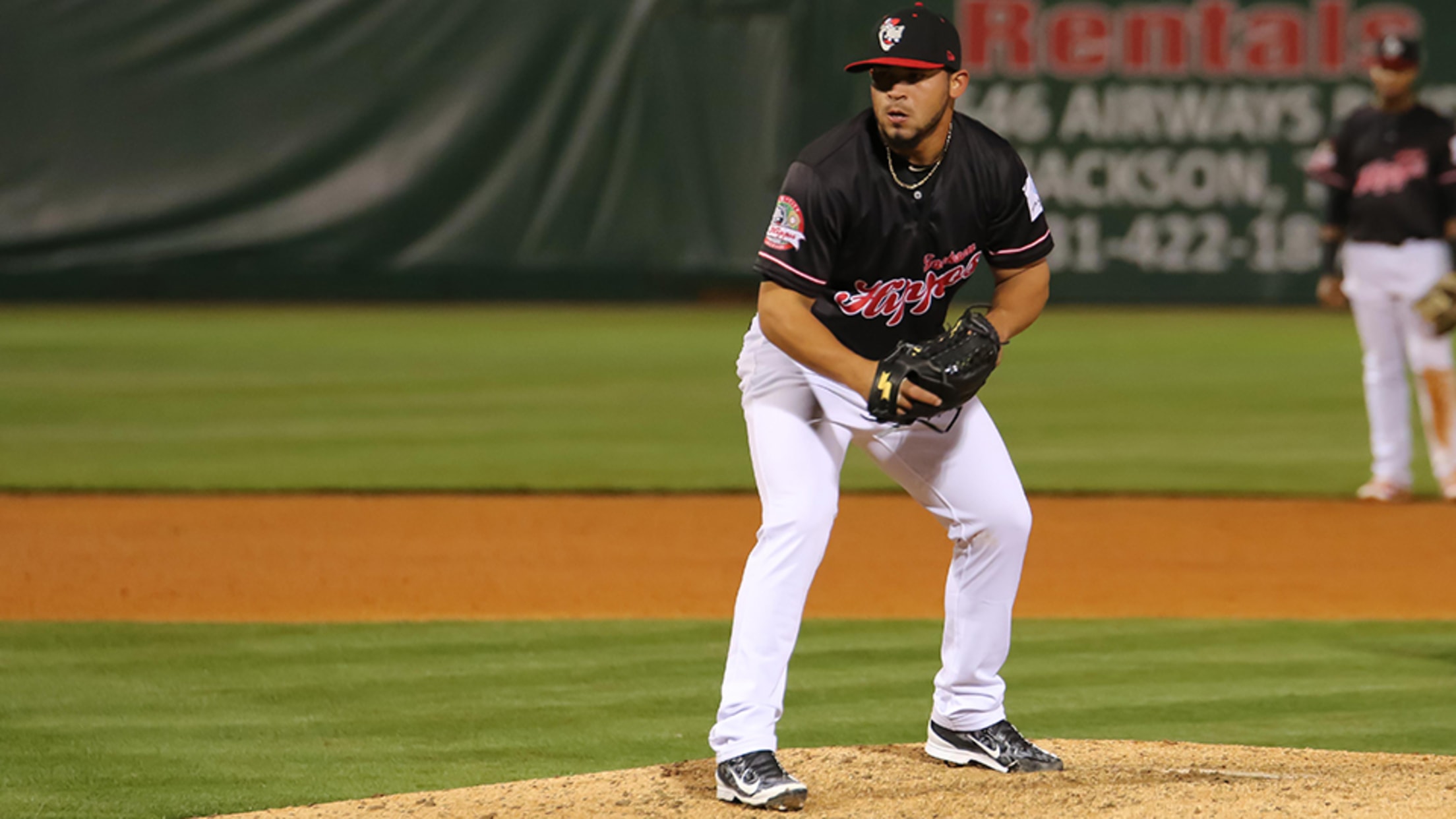 Gabriel Moya struck out three batters in a five-out save, helping Jackson get a clutch 2-1 win over Mississippi. Moya is the only Generals reliever with 40 strikeouts or more through 54 games. (Cody Cunningham)
Jackson, Tenn. - Clinging to a 2-1 lead in a bases-loaded jam, Jackson Generals manger J.R. House called on closer Gabriel Moya for a rescue operation. The Venezuelan left-hander delivered, striking out three during a five-out save that drew the Generals (29-25) even in their series with the Mississippi (26-28).Moya
Jackson, Tenn. - Clinging to a 2-1 lead in a bases-loaded jam, Jackson Generals manger J.R. House called on closer Gabriel Moya for a rescue operation. The Venezuelan left-hander delivered, striking out three during a five-out save that drew the Generals (29-25) even in their series with the Mississippi (26-28).
Moya (S, 7), who has seven saves in as many opportunities, needed just 20 pitches to finish off the M-Braves, punching out multiple batters for the second consecutive night. His heroics marked the 17th time that Moya has appeared this season without allowing a run to score, and it helped the Generals keep pace in the Southern League's North Division, remaining just one win behind first-place Tennessee.
The Generals, playing in their Friday-night alter-ego Hub City Hippos jerseys, entered the eighth inning holding a 2-1 lead following six strong innings from starter Taylor Clarke (5-2, 2.57 ERA). Joey Krehbiel delivered a run-free seventh inning, but he allowed a pair of one-out singles and a walk to fill the sacks in the eighth. Moya, who threw twelve pitches in Thursday night's win, was forced to enter earlier than usual. Moya's effort dropped his ERA to 1.44 and bumped his strikeout total up to 41, making him the fourth Generals pitcher (and only reliever) with at least 40 batters fanned.
The Generals did all of their scoring in the second inning, using a lead-off single from Dawel Lugo and a walk by Rudy Flores to put men on base. Two batters later, catcher Michael Perez ended a full-count at-bat against Mississippi's Max Fried (2-8, 5.49 ERA) by shooting a two-run double the opposite way into the left field corner. Perez, catching for the second night in a row, finished the game 1-for-1 with a pair of walks in addition to his two runs driven in.
Clarke owned the strike zone for the second straight start, piling up 8 strikeouts while allowing five hits. His only blemish was a solo home run ceded to Braves first baseman Joey Meneses in the top of the fourth inning. Clarke has now struck out 20 over his last 11.1 innings of work.
Flores and Lugo were the only Generals besides Perez that hit safely in the contest. Colin Walsh reached base safely in his 22nd straight game, walking with two outs in the eighth inning to keep the streak alive. Walsh has walked a league-high 55 times.
The Generals continue their home series against the Mississippi Braves through Saturday, June 2. Saturday is Star Wars Night! Travel to a galaxy far, far away as your favorite characters from the famous movie franchise are sure to make their way to West Tennessee. Additionally, a pair of lucky fans chosen at the game will get to continue the Star Wars experience with a trip to Hollywood Studios in Florida! Saturday's Star Wars festivities and the post-game fireworks show are made possible by the support of Hardeman County Correctional Facility.
As a bonus, Generals players will wear special Admiral Ackbar-themed jerseys to pay homage to the sci-fi flicks! The jerseys will be auctioned off online following the game, with proceeds benefitting the Generals Care Foundation. The team is also giving away Generals jersey t-shirts to the first 1,000 fans through the gates on Saturday night, a gift courtesy of Reinhausen Manufacturing!
Make sure to get your tickets now to see the 20th season of professional baseball in Jackson, and the first for the team as an affiliate of the Arizona Diamondbacks! Call the team at (731) 988.5299, stop by The Ballpark or go online to jacksongeneralsbaseball.com to secure your seats now!