Mudcats setback Red Sox 7-3
Acosta records multi-hit night in loss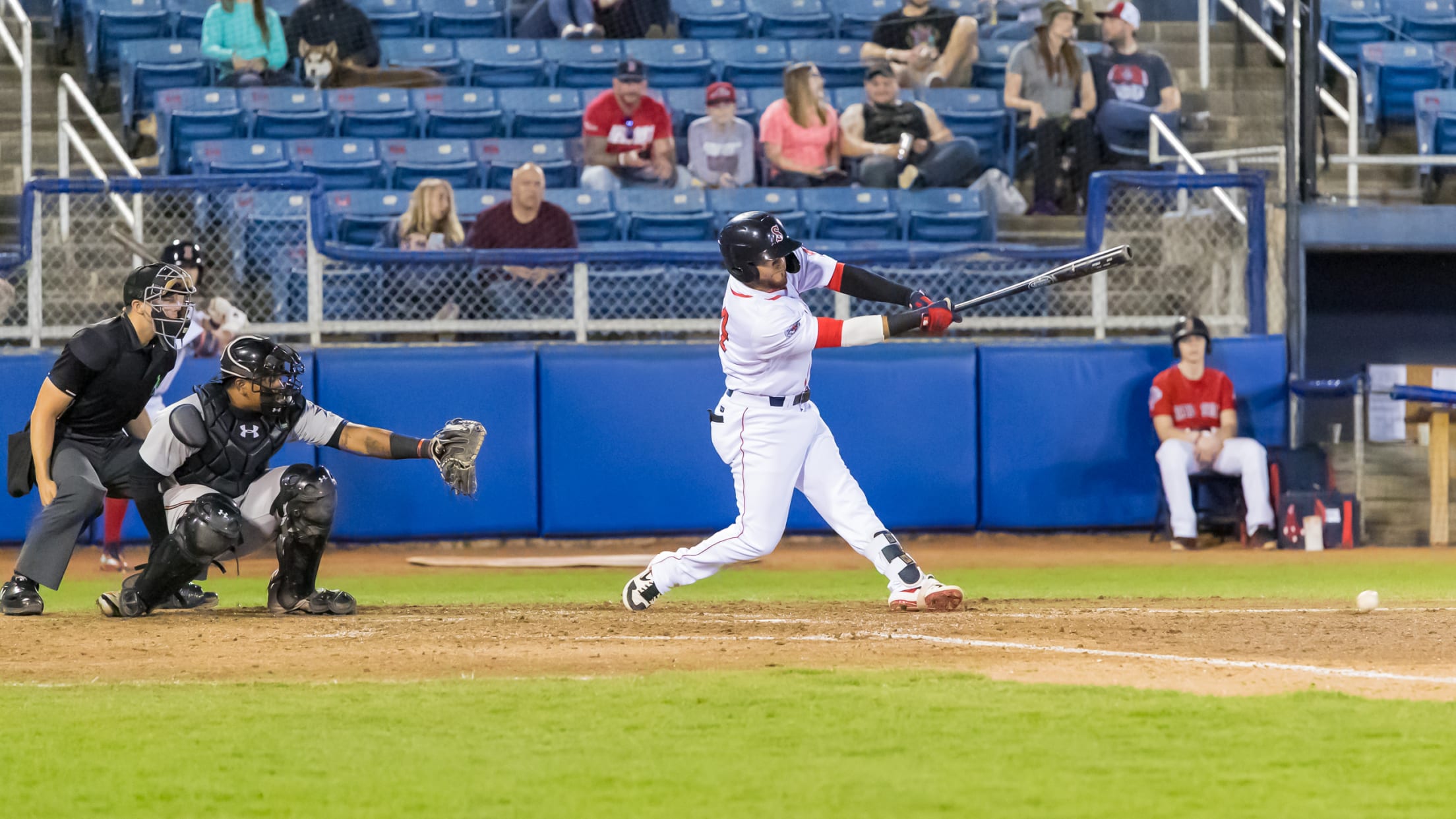 Victor Acosta went 2-for-4 with an RBI Saturday night in Zebulon. (John Wacher)
ZEBULON, North Carolina (June 7, 2019) - Salem attempted another ninth inning rally but efforts fell short as the Red Sox lost to the Carolina Mudcats 7-3 Saturday night at Five Counties Stadium.How it Happened * Payton Henry broke out in the first inning for an early Carolina 1-0 lead
ZEBULON, North Carolina (June 7, 2019) - Salem attempted another ninth inning rally but efforts fell short as the Red Sox lost to the Carolina Mudcats 7-3 Saturday night at Five Counties Stadium.

How it Happened
* Payton Henry broke out in the first inning for an early Carolina 1-0 lead after he reached on an error.
* Salem took the lead on a Ryan Fitzgerald RBI single in the third inning to advance 2-1.
* Carolina answered immediately in the bottom of the frame. Tristen Lutz doubled to tie the tilt 2-2, a groundout gave the Mudcats the advantage and Payton Henry struck again with a sacrifice fly for 4-2 insurance.
* Devin Hairston contributed an RBI single in the sixth inning and Henry struck for a two-run double in the seventh to cushion Carolina 7-2.
* Edgar Corcino attempted a Red Sox comeback with one out in the ninth with an RBI double to cut the lead 7-3 but Salem was silenced again by Clayton Andrews who picks up his ninth save.
Standout Sox
* Victor Acosta: 2-for-4, RBI, 2B
* Edgar Corcino: 1-for-4, RBI, 2B
* Ryan Fitzgerald: 1-for-4, RBI
* Andrew Schwaab: 1.0 IP, 0 H, 0 R, 1 BB, 1 K

Noteworthy
* Marcus Wilson and Charlie Madden both had multi hit nights, going 2-for-4 and 2-for-3 respectively. Each crossed home plate for a run scored.

What's Next
Salem Red Sox at Carolina Mudcats Sunday, June 9, 2019. First pitch is scheduled for 2:00 PM EST.
RHP Kutter Crawford vs. RHP Nelson Hernandez
Listen: SalemSox.com, TuneIn Radio, ESPN Blacksburg WKEX 1430 AM/94.1 FM, ESPN Roanoke WGMN 1240 AM/93.3 FM
Watch: MiLB TV
The Salem Red Sox are the Advanced-A affiliate of the Boston Red Sox and call Haley Toyota Field in Salem, Virginia home. The team was founded in 1968 and purchased by Fenway Sports Management in December of 2007. For more information on the Salem Red Sox, please visit SalemRedSox.com or contact Melanie Newman at [email protected].