Jaye puts up six zeros in Mud Hens' return
Tigers No. 15 prospect allows two hits and strikes out seven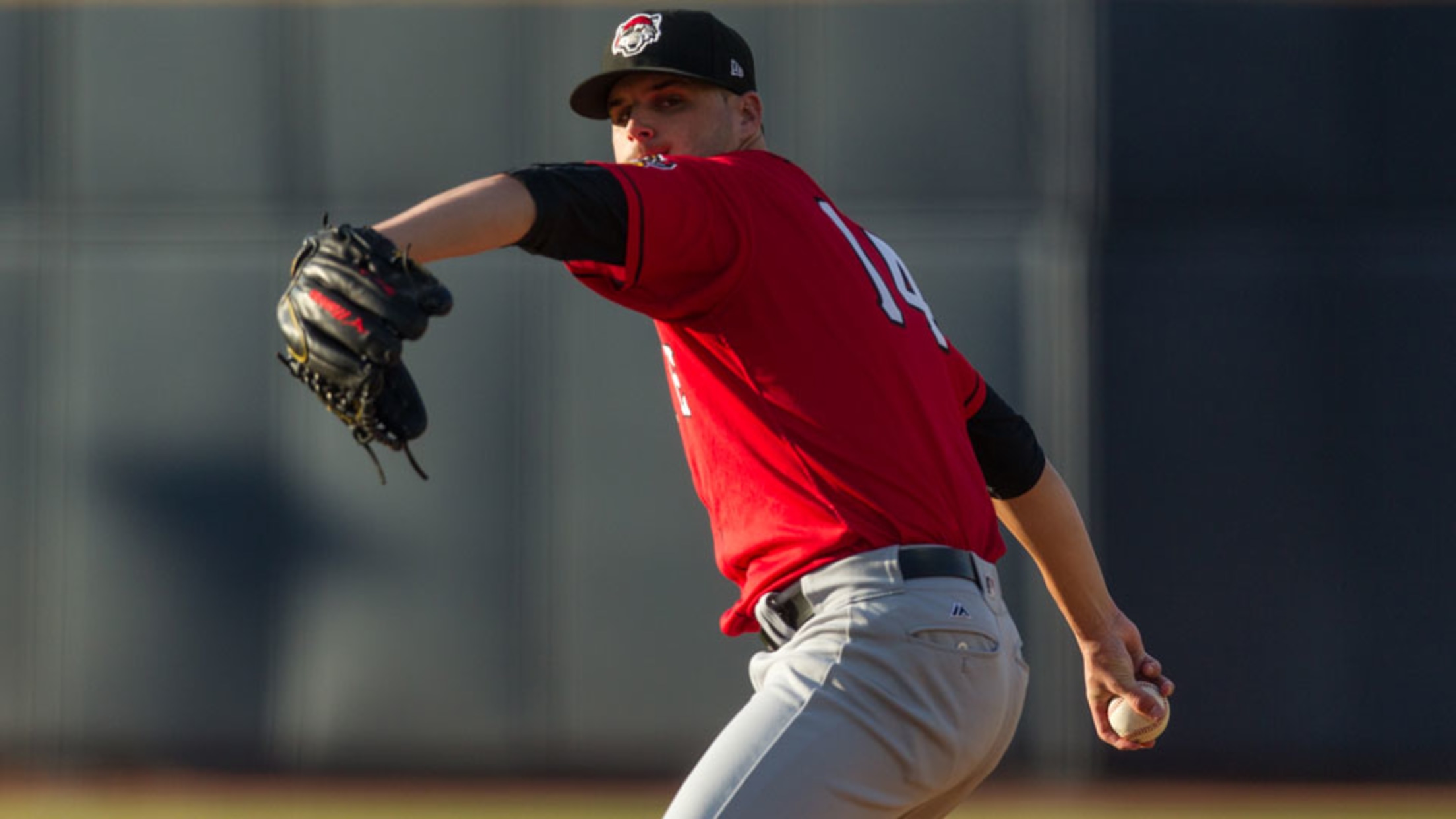 Myles Jaye has 215 strikeouts and 66 walks in 239 innings across two levels since 2016. (David Monseur/MiLB.com)
Myles Jaye's first Triple-A appearance of the year was a long time coming. After seven starts in the International League last season, he opened 2017 in the Eastern league."I can't say I had a good Spring Training at all -- I kind of pitched my way back to Erie," Detroit's
Myles Jaye's first Triple-A appearance of the year was a long time coming. After seven starts in the International League last season, he opened 2017 in the Eastern league.
"I can't say I had a good Spring Training at all -- I kind of pitched my way back to Erie," Detroit's No. 15 prospect said. "So when the rosters came out and I saw that's where I was going, it was my goal to get back here. Now it's my goal to get to the big leagues."
Jaye took a stride toward that by allowing two hits over six innings in Toledo's 1-0 win over visiting Columbus on Monday night. He struck out seven and walked two.
Gameday box score
"It was a good welcome back. I felt pretty good. I didn't have the best command in the world," the 25-year-old right-hander said. "I have to give my catcher, John Hicks, a lot of credit. He was calling good pitches and kept me in the moment, keeping it one pitch at a time, and the defense made some good plays behind me."
In 14 Double-A starts, Jaye went 1-7 with a 4.29 ERA and 73 strikeouts in 71 1/3 innings. On Wednesday against Akron, the Fayetteville, Georgia native gave up five runs without getting out of the fifth.
"There were some different circumstances for that last start in Erie. I was a little under the weather a couple days before, and I was running on fumes out there. I was actually pretty happy with the way I threw the ball, and the final line [wasn't a good indicator] of how I threw," he said. "But to come here and throw six two-hit innings, that helps the confidence."
It started with 3 2/3 hitless frames, although he walked No. 8 Indians prospectYandy Díaz in the first inning and hit Eric Stamets in the second.
"The first couple innings, the command wasn't there," Jaye said. "Luckily, I was able to throw my breaking ball for strikes and keep them off balance until I figured out my command in the third or the fourth."
He coasted into the sixth when Daniel Robertson opened the frame with a single up the middle and Diaz moved him into scoring position with a sacrifice bunt. Abraham Almonte followed with a walk, but Jaye fanned Richie Shaffer. Hicks caught Robertson trying to steal third to end the inning.
"That was probably the biggest out of my outing," the 2010 17th-round pick said. "I was trying to grind through the best I could, and the strikeout of Shaffer was huge, but [Robertson] was definitely the biggest."
Jaye (1-0) threw 54 of his 89 pitches for strikes.
"I didn't know how many [pitches I'd thrown], but when I came off the field, [Toledo pitching coach Jeff Pico] told me I was done. I'm not going to sit there and argue with him," Jaye said. "Plus, the bullpen -- [Jeff Ferrell and Joe Jiménez and Edward Mujica] -- they did a great job."
The three righties delivered one inning apiece. Ferrell gave up a hit and struck out one, Jimenez fanned two and Mujica registered a punchout en route to his seventh save.
The lone run came on Jason Krizan's fourth International League homer, his eighth overall of the year.
Josh Jackson is a contributor to MiLB.com. Follow and interact with him on Twitter, @JoshJacksonMiLB.