Pelicans connect on Deaf Awareness Night
Inclusive promotion brings in fans from as far away as Chicago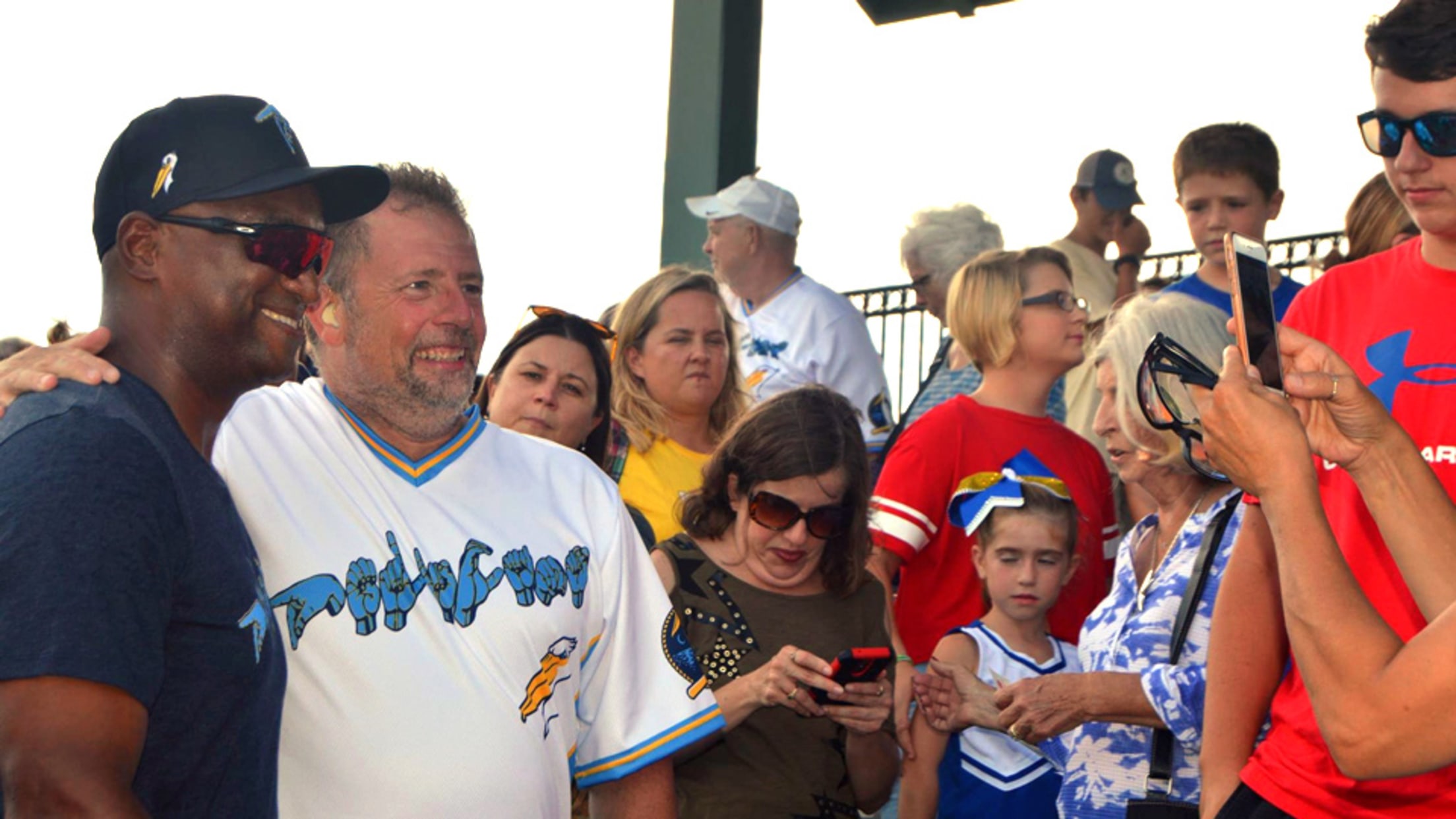 Former big leaguer Curtis Pride (l) told fans, "You know your ability. Don't let anybody tell you you can't." (Larry Kave/Myrtle Beach Pelicans)
Neither team scored a run in the third inning of Class A Advanced Myrtle Beach's 5-4 win over visiting Buies Creek on Sunday, but the ballpark would have fallen quiet through the frame even had each side launched a hit parade punctuated by majestic dingers.The third was designated the "silent
Neither team scored a run in the third inning of Class A Advanced Myrtle Beach's 5-4 win over visiting Buies Creek on Sunday, but the ballpark would have fallen quiet through the frame even had each side launched a hit parade punctuated by majestic dingers.
The third was designated the "silent inning" as one of many elements in the Pelicans' Deaf Awareness Night, a promotion created to welcome the deaf community to TicketReturn.com Field while educating hearing fans about realities faced by deaf and hard-of-hearing people -- including through a pregame American Sign Language class.
"Our attitude was, if you're going to do it, go all-in," said Myrtle Beach senior director of marketing Kristin Call. "We wanted to turn the experience on its head. If we have a night about welcoming the deaf community, we also want it to be about education and raising awareness [for hearing people]. Those were two of our biggest goals."
Going all-in meant that a fairly simple concept blossomed into one of the Cubs affiliate's most involved -- and most successful -- promos of the season. In addition to the silent inning and the ASL class, the event featured a signed interpretation of the national anthem, interpreters on the field to sign through the action during between-inning contests and interpreters available throughout the ballpark all game long. Pelicans staff also took their own ASL class prior to the night.
The team wore special jerseys on which the standard Pelicans script was replaced with illustrations of ASL signs spelling out the team name on the front and signs for the letters A-S-L on the back. Many of those jerseys were donated to members of the deaf community in a free raffle, and some were autographed and auctioned off to raise funds for the deaf community. The team also sold similarly themed hats and shirts.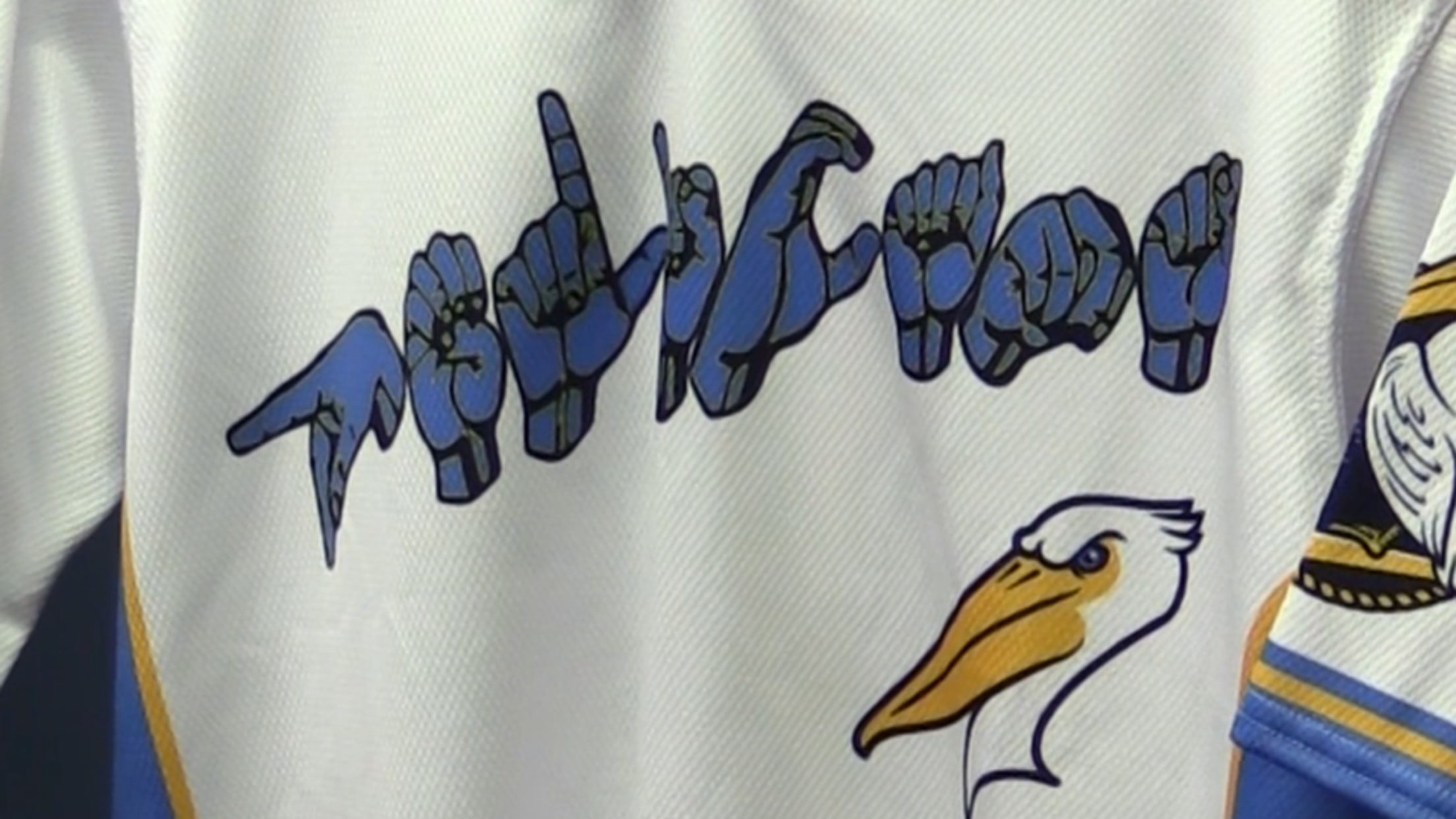 Curtis Pride, who was born deaf and collected 71 extra-base hits over parts of 11 seasons in the Major Leagues, donated his time by putting on a free youth clinic, ballpark tour and lunch for members of the deaf community and a pregame Q&A session open to all in attendance.
Mav Nelson, a Texas-based deaf awareness advocate, was flown in for the night. Nelson's Mav Project has brought deaf fans to Double-A Frisco RoughRiders games for Deaf Awareness Nights there, and the Pelicans and the RoughRiders are both owned by Greenberg Sports Group and share a president in the person of Andy Milovich, who also serves as Frisco's general manager.
"We couldn't be more excited to host Mav for the Pelicans' Deaf Awareness Night," Myrtle Beach GM Ryan Moore said in a press release before the event. "After talking with Andy and Chuck [Greenberg] and learning about the impact Mav has made on the deaf community in the [Dallas-Fort Worth] market, it was a no-brainer to bring him to the beach for our special night."
All of these elements -- the entire promo -- can be traced back to a suggestion from a longtime Pelicans fan. At a networking event, corporate marketing manager Ryan Canella spoke about a few of the team's community outreach efforts. Michael Sokolik, a Myrtle Beach-area entertainer who was part of the Pelicans' Elvis Night in July, approached Canella and asked if the club might consider doing something with the deaf community.
Deaf Awareness Night was announced July 23, and less than a month later Sokolik and his daughter Presley were leaning out the Pelicans press box window to lead a crowd of 4,855 through the signing of "Take Me Out to the Ball Game." Presley's 4-year-old sister, Gracelyn, is deaf and hard-of-hearing, which led Sokolik to get involved in the deaf community and start a local non-profit organization called Beach Society for the Deaf.
As quickly as the promo came together, it developed in phases. The first phase included conceptualizing and designing the jerseys; bringing in Pride, who was appointed MLB's ambassador for inclusion in 2016; and getting help from Registry of Interpreters for the Deaf-certified interpreter Jason Hurdich, a deaf Clemson University lecturer who become well-known in South Carolina while interpreting storm warnings and updates for former Governor Nikki Haley during Hurricane Matthew. Hurdich interpreted in the Pelicans' announcement video and performed the interpretation of "The Star-Spangled Banner" before the game.
As part of Deaf Awareness Night, @PelicansBaseball had deaf interpreter Jason Hurdich perform the National Anthem in ASL! pic.twitter.com/oeUA9355Fb

— Minor League Baseball (@MiLB) August 20, 2018
"The second phase was the merchandise we offered up," Call said. "We were joking that hindsight is 20/20, because if we had it to do over again, the merchandise would have been a part of it from the start, but it wasn't. It was more, when we saw the response to the jerseys -- everyone was saying, 'We want one of those, I have to have one of these...' -- we said, 'OK, we have to do a merchandise line for this night.' And we did shirts and hats for both youth and adults.
"Phase 3 was the expansion from one night to the entire weekend. ... We had some of our local hotel partners saying, 'Hey, we want to give discounts for folks who are coming in from out of town to be a part of this.' We had a good number of responses from people from out of market. I was talking to one woman who, she and her daughter flew down from Chicago just for this. I think they were here for 48 hours, attended the game and flew back home, because her daughter was starting school this week. People were saying, 'There's nothing like this where I live. I want to come to this.'"
That third phase also involved the Pelicans partnering with local tourist attractions such as the SkyWheel Ferris wheel, WonderWorks amusement park and Ripley's Aquarium to offer free tickets to members of the deaf community on the day before the game.
"If we could have predicted [everything] that would happen and announced it all at once, that would have been great," Call said, "but the really cool part was seeing the event kind of take on a life of its own."
As exciting and fun as those partnerships were for fans, and as much attention as the jerseys brought to the team and the cause, the most memorable and meaningful parts of the night were likely those moments when deaf and hard-of-hearing fans felt most at home in the park and when hearing fans had their horizons expanded.
"For a hearing person to go through the silent inning -- no music, no PA, you may not know who's batting if you don't look at the videoboard. You see somebody signing [and] that might not read for a hearing person," Call said. "A deaf person or somebody who's hard of hearing doesn't hear [the PA announcer saying], 'Now batting: Tyler Pearson.' You're now experiencing that a little bit if you can't read the person signing, 'Now batting: Tyler Pearson."
The pregame ASL class went beyond teaching basic signs to encouraging fans to think about the differences between how a person might perceive the world with or without the ability to hear. The atmosphere during the game provided ample opportunity for that.
"The coolest part was seeing so many people signing throughout the night at various parts of the stadium. You would look around, and everywhere you would see people signing conversations," Call said. "Seeing so many folks from the deaf community there -- that was really awesome to see. Really having a night be truly inclusive, it's always going to be special."
Josh Jackson is a contributor to MiLB.com. Follow and interact with him on Twitter, @JoshJacksonMiLB.