Nelson Fans Twelve In Sod Poodles 3-1 Victory Over Hooks
New Franchise-High In Strikeouts Set, Thomas And Garrett Collect Home Runs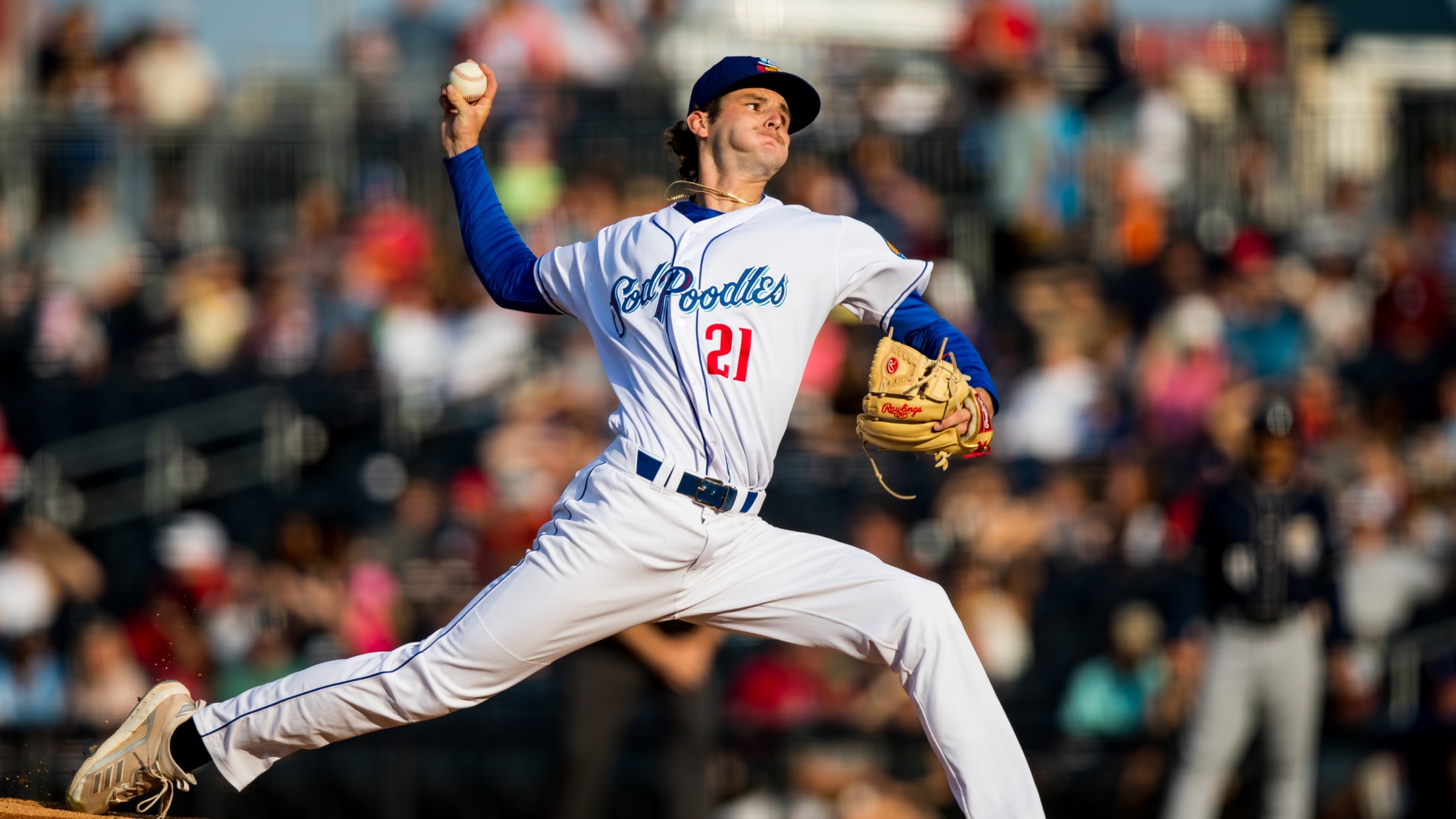 POSTGAME NOTES Thursday, August 12, 2021 vs. Corpus Christi Hooks [HOU] Corpus Christi Hooks (41-46) | Amarillo Sod Poodles (38-48) A one-hour and fifty-nine-minute rain delay at HODGETOWN did not rattle Sod Poodles starter and D-backs No. 18-rated prospect Ryne Nelson (W, 2-1) as he led the Soddies to a
POSTGAME NOTES
Thursday, August 12, 2021 vs. Corpus Christi Hooks [HOU]
Corpus Christi Hooks (41-46) | Amarillo Sod Poodles (38-48)
A one-hour and fifty-nine-minute rain delay at HODGETOWN did not rattle Sod Poodles starter and D-backs No. 18-rated prospect Ryne Nelson (W, 2-1) as he led the Soddies to a second consecutive victory over the Hooks following his franchise-high 12-strikeout performance Thursday night.
In the seven-inning affair, the Soddies offense was highlighted by Alek Thomas and Stone Garrett, who both collected the only RBIs of the night after they each homered in the contest.
After Nelson worked out of a bases-loaded jam in the top of the first, the Soddies quickly got on the board courtesy of Thomas' leadoff home run to make it a 1-0 advantage.
In the fourth, following a leadoff single by Dominic Fletcher, outfielder Garrett launched a moonshot home run out to left field marking his third long ball in two games to make it a 3-0 Soddies lead.
In the top of the fifth, after striking out 11 of his first 19 batters faced with two hits allowed, Nelson surrendered a first-pitch solo home run to Joe Perez to make it a 3-1 score before striking out Korey Lee to end his outing.
Reliever Matt Brill (H, 3) took over for Nelson and tossed a scoreless sixth with one hit allowed and a strikeout.
Soddies closer Blake Rogers (S, 4) came in for the seventh and final frame. After two quick outs, Rogers dealt a walk to Corey Julks and Perez followed with a double to bring the go-ahead run to the plate, but a strikeout would end the threat.
The series continues tomorrow night with game four of the six-game set at HODGETOWN. The Sod Poodles will send RHP Luis Frias (5-6, 5.25) and will face Hooks righty Tyler Brown (1-0, 2.25). First pitch is scheduled for 7:05 pm.
Notes:
*Ryne Sets New Record: *In his fourth start at HODGETOWN and eighth at Double-A this season, D-backs No. 18-rated prospect Ryne Nelson set a new Sod Poodles franchise record for strikeouts in a start while setting a new career-high with 12 strikeouts in the bid. Over his last seven starts, he has not allowed more than two earned runs. He finished his Thursday performance following five innings of three-hit, one-run ball with three walks and 12 strikeouts.
Stone Bashing Time (continued): Sod Poodles outfielder Stone Garrett added to his team home run lead Thursday night with his third home run in two nights. Coming into Wednesday night, Garrett had not hit a home run since July 2nd. Garrett became the fourth Sod Poodle this year with a multi-HR game. It was Garrett's fourth multi-HR game of his career and first since April 14, 2018 when he was with Jupiter (A+, MIN). His 14 home runs are currently the second most among all D-backs' minor leaguers in 2021.
*Hot August Thomas: *D-backs No. 4-rated prospect Alek Thomas is off to a hot start in the month of August. After his 2-for-3 night with a home run and double on Thursday, Thomas improved his average to .444 (16-for-36) over 10 games with three doubles, a triple, and four home runs, and 12 RBI with only seven strikeouts.
Streak Remains Alive: Alek Thomas continued his streak at the plate, picking up another two hits, extending his current streak to eight straight games with a hit. Thomas is hitting .483 (15-for-31) with three home runs, three doubles, a triple, and 11 RBI in this span. The longest streak of Thomas' professional career so far is a 20-game hit streak that he had in his first professional season. He made his pro debut with a three-hit night on June 18, 2018 before going hitless the next night. He then hit safely in his next 20 games. Thomas hit safely in 25 of his first 28 professional games while hitting .325 with three doubles and five triples.
If you Build It, They Will Come: In 37 openings during the 2021 campaign, HODGETOWN has seen a total of 207,490 fans. Across Minor League Baseball's 120 teams, the attendance mark ranks 17th overall in total home attendance, 12th in average home attendance, and sixth with teams below 40 openings. In the team's inaugural season in 2019, HODGETOWN welcomed 427,791 fans during the 68 regular season games and totaled just below 450,000 with four postseason games.
And Another One: Closer Blake Rogers recorded his fourth save of the season to tie a team-high this season with Junior Garcia. The save Thursday night also marked the third save of August for Rogers. Overall, the Texas native is 4-for-5 in save opportunities in 2021 in 13 games.