Nelson Promoted to Advanced-A Tampa; Vargas Reassigned to Charleston
Nick Nelson will return to his home state for his Florida State League debut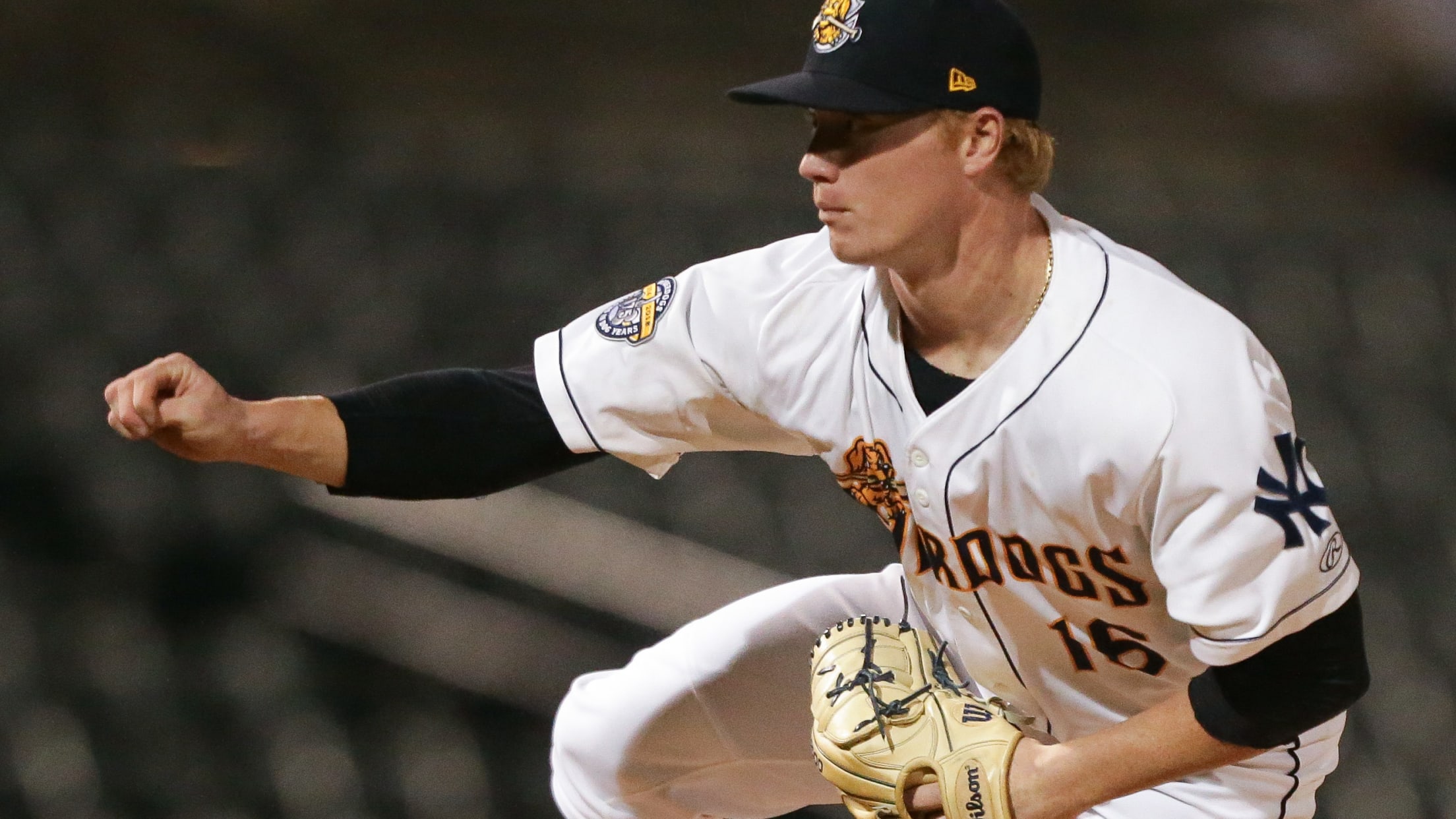 (Zach Bland)
CHARLESTON, S.C. - The New York Yankees announced the promotion of RiverDogs right-handed starting pitcher Nick Nelson to Advanced-A Tampa on Saturday. Charleston's parent club also called up righty starter Alexander Vargas from extended spring training for assignment in the Lowcountry. Nelson, 22, is 1-1 with a 3.65 ERA in
CHARLESTON, S.C. - The New York Yankees announced the promotion of RiverDogs right-handed starting pitcher Nick Nelson to Advanced-A Tampa on Saturday. Charleston's parent club also called up righty starter Alexander Vargas from extended spring training for assignment in the Lowcountry.
Nelson, 22, is 1-1 with a 3.65 ERA in five starts with the RiverDogs this season. The starter is currently the Yankees' No. 27 prospect by MLB Pipeline. The Panama City, Florida native set a new career-best with 12 strikeouts in a single game against Kannapolis on April 13 and totaled 35 strikeouts in 24 2/3 innings while holding opposing hitters to a .198 average with the RiverDogs.
Nelson has a 4-16 career record with a 4.23 ERA in 37 starts. The Gulf Coast State College product debuted with Rookie-level Pulaski in 2016 before spending all of 2017 in Charleston, going 3-12. Nelson has a 2.08:1 strikeout-to-walk ratio in his Minor League career.
Nelson is the first Charleston RiverDog to be promoted to Advanced-A Tampa this season.
Vargas is the Yankees' Preseason No. 28 prospect according to Baseball America. The 20-year-old made his professional debut with the DSL Yankees 2 in on his 17th birthday in July 2014. A native of Santiago, Dominican Republic, Vargas went 2-3 with a 3.17 ERA for the RiverDogs in nine starts in 2017.
Vargas has a career line of 9-7 with a 3.33 ERA in 30 appearances, 28 of those outings coming as a starter. He has struck out 96 batters and walked 30 in 132 1/3 innings in the Yankees system. The righty missed the 2016 season with a back injury.
Vargas will take Nelson's place in the rotation and make his first appearance with the RiverDogs on Sunday against Lexington.
RiverDogs single-game tickets, including options to the Riley Park Club, are now available for the 2018 campaign, the club's 25th season as the RiverDogs and their "175th season in dog years." Ticket information can be secured by contacting the box office at (843) 577-DOGS (3647) or online at www.riverdogs.com/tickets.
--RIVERDOGS--