New Hopper Jones blasts two home runs
Hagerstown pounds out 16 hits in finale at Greensboro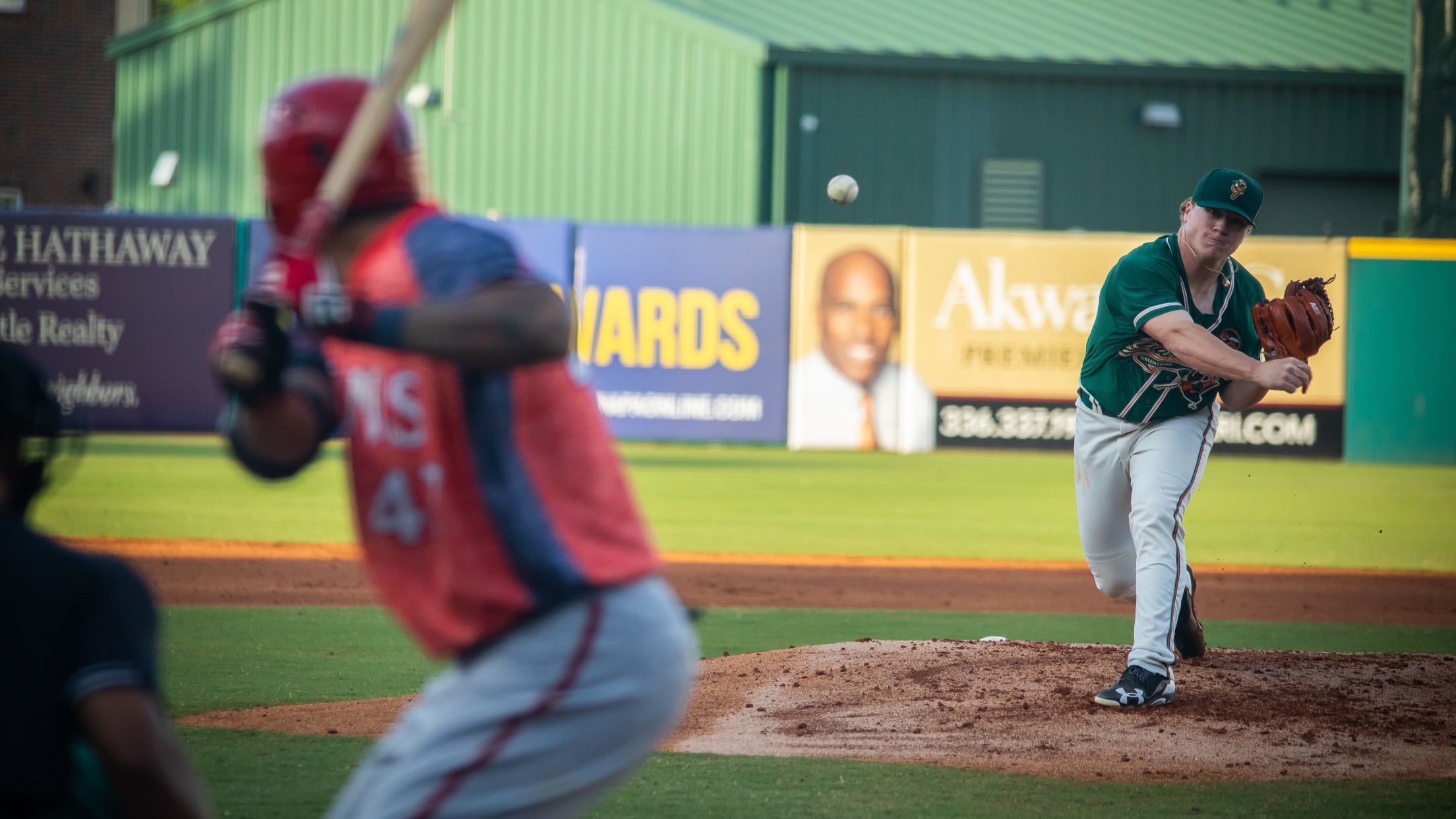 Taylor Braley made his fifth start of the season for Greensboro on May 3, 2018. (Jak Kerley / Greensboro Grasshoppers)
GREENSBORO, N.C. (May 3, 2017) - Grasshoppers left fielder Thomas Jones homered twice, but the Hagerstown Suns used their own offensive firepower in the series-clinching win, 11-4, on Thursday at First National Bank Field. Jones finished 2-for-4 with two RBI, and two runs scored on his two blasts, giving him
GREENSBORO, N.C. (May 3, 2017) - Grasshoppers left fielder Thomas Jones homered twice, but the Hagerstown Suns used their own offensive firepower in the series-clinching win, 11-4, on Thursday at First National Bank Field. Jones finished 2-for-4 with two RBI, and two runs scored on his two blasts, giving him three bombs in two days with Greensboro (14-11). The outfielder belted a 2-out solo home run in the second inning, and he left the yard again with another 2-out blast in the bottom of the fourth.
Hagerstown pounded out 16 hits - including three home runs of their own - while posting the most runs against Greensboro this season.
The Suns offense shined brightly in the first inning, scoring four runs all with two outs in the game's opening stanza. Yasel Antuna hit a 2-out solo home run (2) to center field. Anderson Franco followed with a base hit, and Luis Garcia tripled to cash Franco for a 2-0 lead. Nick Banks doubled Hagerstown's lead with a 2-run home run (3) to left field.
After the pair of Jones jacks to pull Greensboro within two, Hagerstown extended its lead with runs in the sixth and eighth innings for a 6-2 advantage. Aldrem Corredor smashed his third home run (3) of the season in the sixth for the Suns, and in the eighth, Nick Banks singled to cash Luis Garcia.
Suns starter Jackson Stoeckinger (1-2) earned the win, limiting the Grasshoppers to two runs on six hits while striking out eight and walking none. The only runs he allowed came off the bat of Thomas Jones. Taylor Braley (1-3) took the loss for Greensboro, allowing five runs on nine hits over 6.0 innings.
Greensboro tried to chip away with two runs in the bottom of the eighth on the strength of Lazaro Alonso's 2-run home run (3), his third home run in five games with the Hoppers. Hagerstown pulled away, however, with a 5-run top of the ninth for an 11-4 lead, eventually securing their 2-games-to-1 series victory.
The Grasshoppers open a 4-game series against the defending champion Greenville Drive on Friday at 7:00 p.m. as RHP Edward Cabrera (0-2, 3.57 ERA) starts for Greensboro. Friday's game is a FANomenal Fireworks Friday presented by Lincoln Financial and Rock 92. Gates open at 6:00 p.m., and tickets are available online at gsohoppers.com.