Adolph slugs way to All-Star MVP award
Mets prospect homers, triples in NY-Penn League showcase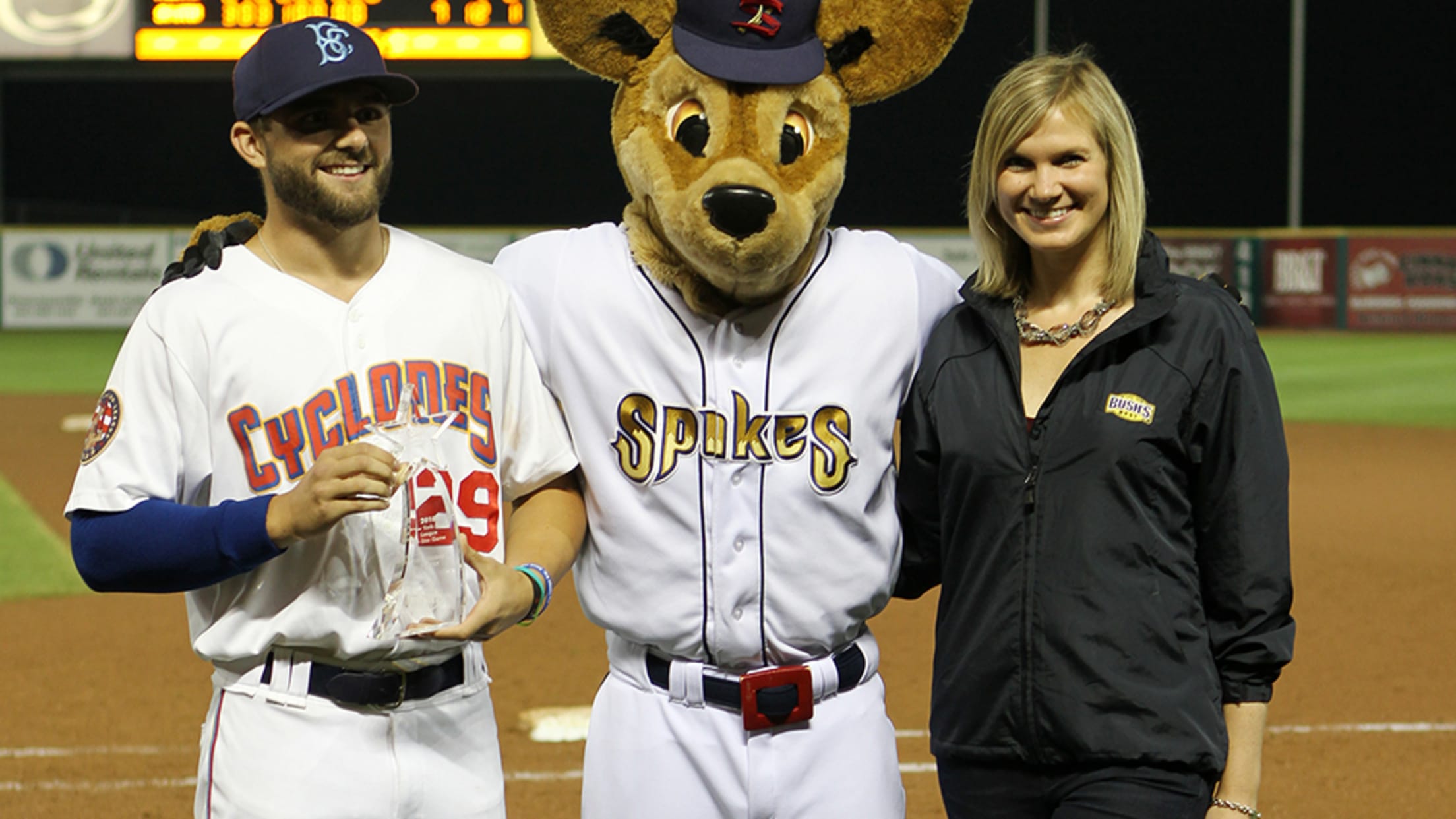 Ross Adolph ranks second in the New York-Penn League with eight triples. (Mark Olson/MiLB.com)
STATE COLLEGE, Pa. -- When he walked into the clubhouse before the New York-Penn League All-Star Game, Brooklyn's Ross Adolph said State College manager Joe Kruzel asked him where he usually hits in the Cyclones lineup.Adolph replied that he usually hits leadoff, only for Kruzel to inform him he'd be
STATE COLLEGE, Pa. -- When he walked into the clubhouse before the New York-Penn League All-Star Game, Brooklyn's Ross Adolph said State College manager Joe Kruzel asked him where he usually hits in the Cyclones lineup.
Adolph replied that he usually hits leadoff, only for Kruzel to inform him he'd be batting third Tuesday night.
The 21-year-old validated his manager's decision by going 2-for-3 with a homer, triple and three RBIs to earn BUSH'S® All-Star MVP honors and lead the South to a 7-1 victory over the North in front of 3,048 fans at Medlar Field at Lubrano Park.
"That's how I found out I was in the starting lineup," Adolph laughed. "Once I found out, I just started getting mentally prepared and just came out to try and have fun and do my thing."
State College's Nick Dunn led off the bottom of the first inning with a single and Mahoning Valley's Tyler Freeman followed with a walk to give Adolph and the South its first run-scoring opportunity. The Mets prospect battled Connecticut right-hander Jose Vasquez (0-1), cranking a two-run triple that sailed over the outstretched glove of Tigers center fielder Eric De La Rosa and one-hopped the wall.
"I was just trying to make sure I wasn't going to miss my pitch," said Adolph, one of six Brooklyn All-Stars. "He had walked the guy before, so I was assuming no one wants to walk two guys in a row in an All-Star game so I figured he would throw me a fastball in a 3-2 count. I just relaxed, made sure I didn't miss and just got the job done."
Williamsport's Edwin Rodriguez plated Adolph with a sacrifice fly to deep right-center field to give the South a 3-0 lead.
Adolph continued his power display in the third by blasting the first pitch he saw from Hudson Valley's Jack Labosky over the right field wall for a solo homer and a 4-1 lead.
"I was feeling pretty good after the first at-bat, so I pretty much told myself that if I go up there and see [the first pitch] over the plate, I was just going to take a good hack at it," said Adolph, a 12th-round pick in this year's Draft. "I happened to get a good chunk at it."
Gameday box score
While he knows it was just a fun exhibition, Adolph knows he can carry the momentum of a night like this into the final weeks of the season.
"Just kind of growing and adapting to the change of professional ball from college," the University of Toledo product said. "At first, it was just a slow change and trying to get into a routine. But now I'm feeling comfortable and it's awesome to see how far I've come and, hopefully, I can continue to carry it over."
The South increased its lead later in the inning on a two-run single by Pirates No. 3 prospect Travis Swaggerty, who was informed prior to the game he was getting promoted to Class A West Virginia, a little over two months after he was drafted 10th overall out of the University of South Alabama.
The South could have tacked on more runs had its rally not ended abruptly at the hands of an All-Star Game rule.
All-Star lineup filled with first-place Scrappers
With two outs, Aberdeen's Willy Yahn worked the count full before doubling to right and taking third on a wild pitch by Auburn's Angel Guillen, who started the inning with pair of strikeouts. Dunn walked on a full count to put runners on the corners. As Freeman strolled to the plate, however, the inning was halted since Guillen had reached the 25-pitch allotment per inning.
Despite the quirk, Mahoning Valley right-hander Luis Santos quickly turned the focus back on the field and injured some humor in the the third. His fastball hit 95 mph on the stadium radar gun throughout the inning before he fired one for 100 mph against Batavia's Sean Reynolds. Santos then pointed to the right field wall where the speed registered before getting Reynolds to swing over a slider in the dirt to end the inning.
"It felt great because I signaled that I was going to throw a fastball to Reynolds," Santos said through translator and Williamsport coach Christian Marrero. "I told him I was going to throw a fastball and once I threw it and saw 100 mph, I was impressed with myself."
While still feeling the thrill of his 100 mph feat, Santos ended his All-Star appearance by walking to the plate, giving Rodriguez a playful hug and tipping his cap to the crowd, which gave him a nice ovation.
"This is my life," Santos said. "I love baseball and I love the fans. We're out here having fun with everybody and I was just having with Reynolds."
De La Rosa went 2-for-2, Lowell's Korby Batesole doubled and Auburn's Kyle Marinconz drove in the lone run for the North.
Shane Hennigan is a contributor to MiLB.com.