Numata finds right pace to slow down run game
Former Phillies prospect brings defensive focus to Yankees system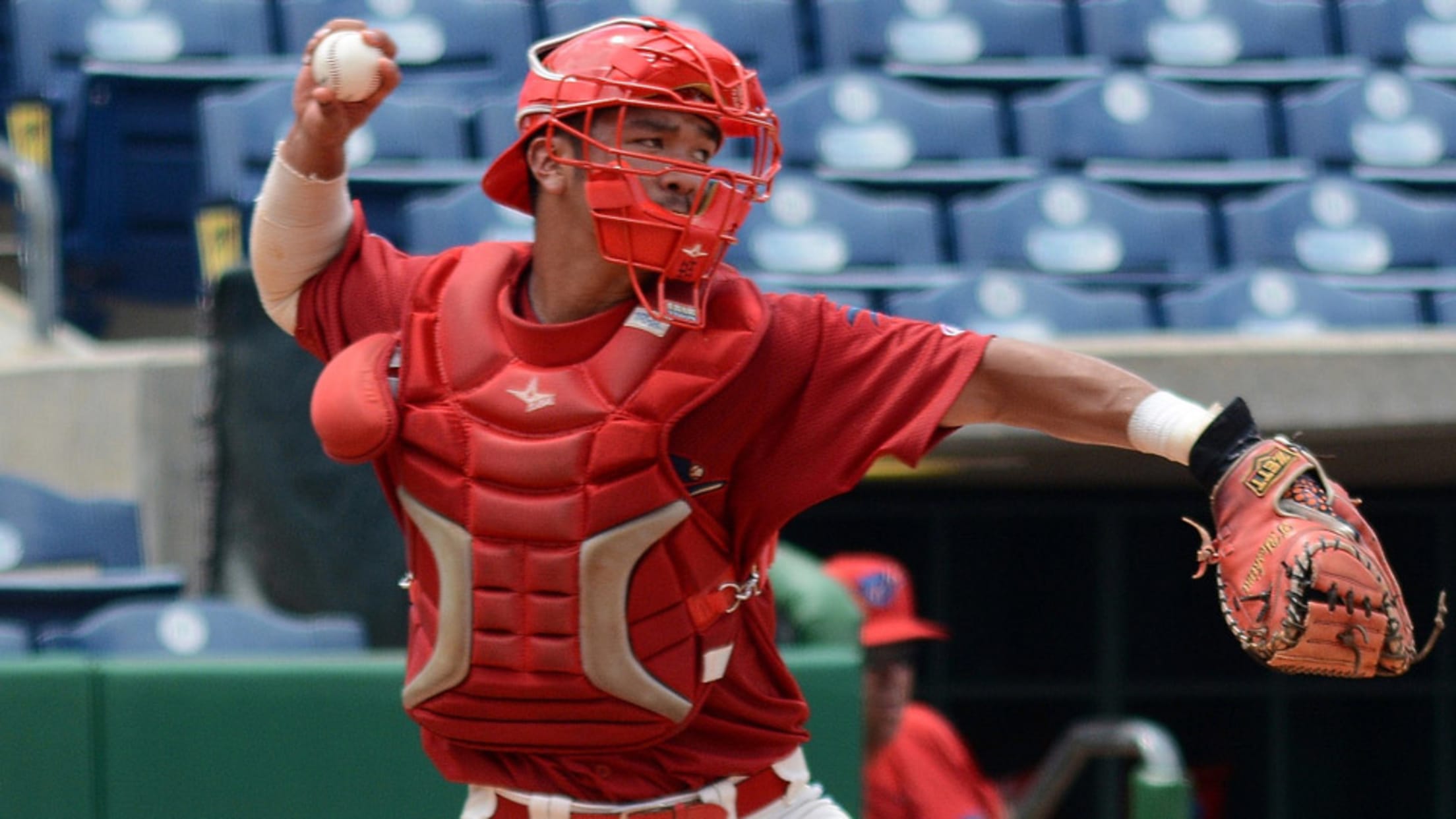 Chace Numata threw out 49 percent of would-be basestealers with Double-A Reading in 2017. (Buck Davidson/MiLB.com)
While teammates and coaches see Chace Numata as a chill Hawaiian in the clubhouse, he tends to hit a different stride when he steps on the field."I always wanted to go fast," said Numata, who signed with the Yankees this month after starting his career in the Phillies system. "You
While teammates and coaches see Chace Numata as a chill Hawaiian in the clubhouse, he tends to hit a different stride when he steps on the field.
"I always wanted to go fast," said Numata, who signed with the Yankees this month after starting his career in the Phillies system. "You want to go fast through the system, you want to run faster, throw faster. For me, it was getting rid of the ball as fast as I possibly could."
A shortstop in high school, Numata has a natural arm strength and quick release that have helped him throw out 20 baserunners a year on average. But this season, advice from coaches like Philadelphia catching coordinator Ernie Whitt began to click as he developed into one of the most dominant backstops in the Minors. In 71 chances, Numata threw out 49 percent of would-be basestealers to lead the Eastern League.
"My coaches have always told me that if [my thrown] is not over the bag, it doesn't matter how fast I get rid of it," he said. "And that was always a skill they just told me I had -- 'You're fast and you don't have to be too fast.' So in a way, I had to tell myself to slow down so I could keep it under control."
When Numata started catching, his biggest struggle was receiving the ball. In 2010, the switch-hitter caught Jesse Biddle's first pro bullpen in the Gulf Coast League. Since the southpaw had just been selected in the first round of the Draft, there were a ton of scouts at the session. But even with the extra eyes, Numata wasn't nervous. He just wanted to catch the ball.
"I remember catching the first three pitches off my thumb, thinking that my thumb fell off. And then he threw a breaking ball and I had no idea it was that good and it hit me right in the cup," Numata said. "That was my first bullpen -- I was done for the day. I got maybe seven pitches before getting hit in my cup, and the rest is pretty much history. That pretty much sums up my first year of catching."
Whitt remembers Numata had a knack for getting hit by foul tips and taking a beating when blocking balls. But nick after nick, he began to get used to it. And after two years of working with Whitt and Rookie-level coaches Roly de Armas and Mike Compton, Numata started to feel comfortable.
"Right after that second year, the feeling of just wearing a ball off the forearm, getting bruised by my abdomen because I blocked so many balls that it became a love for that pain as a catcher," he said. "I think that's what was ingrained in me. That's part of being a catcher -- you learn to love getting hit by those balls, blocking balls and, in a way, getting hurt."
Drew Anderson, a teammate on Double-A Reading this season, had no idea Numata had problems getting hit not so long ago. The Phillies' No. 22 prospect just sees a guy who will dive in front of every ball and isn't afraid to get hurt.
At one point this season, there was a catcher's interference that resulted in Numata's hand swelling up, but he stayed in the game -- a move that Anderson believes "says everything" about the guy.
"For you to give up on the pitcher because your hand swelled up, that to me looks a little weak," Numata said. "If they're still pitching, I'm still in the game."
One injury the 25-year-old does not mess around with, though, is concussions. On July 26, Numata was placed on the seven-day disabled listed after colliding with third baseman Mitch Walding on a pop fly the day before. During the game, Numata didn't think he had any symptoms of a concussion, but slowly he realized he was in a bad mood.
Typically relaxed, the catcher didn't understand why he felt so mad. Thinking back on all the times he brushed off a potential head injury, the influx of chronic traumatic encephalopathy (CTE) cases in retired football players and the fact that he was going into free agency, Numata decided to say something to the trainer.
"We don't think about it so much because we're thinking pitch-to-pitch and we might wear a foul ball off the neck and not even know that you're a little dazed," he said. "You want to just keep going. You want to get this pitcher through the inning. You want to get this pitcher the win.
"You're not so worried about yourself until after the game [when] you start feeling the headaches, and then it becomes a serious problem. So I really take it to heart now."
After games in which he gets hit, Numata now wears a Cryohelmet (ice helmet) that helps with headaches and injuries. Thinking about the future, the Yankees prospect wants to have a long career, like Braves backstop Kurt Suzuki.
"He's the man, ever since ever. Everyone loves their Yadier Molinas, but Kurt Suzuki, Hawaii boy," Numata said. "He's been catching for years now and for him to still be around and for him to still be as good as he is, I definitely look up to him as a role model. Being a kid from Hawaii with Asian descent, it definitely makes me feel like I have a chance."
One thing Suzuki has had to do throughout his career is adapt to different pitching staffs, which is a big reason why Numata goes to play offseason ball in Colombia. There, he works on game-calling and building relationships with pitchers, which he hopes will translate as he adjusts to the Yankees system next spring. Last offseason, he learned how to play golf as a way to bond with teammates on off-days.
"It's been a steady growth for him over the last few years. He's become more engaged in the game of baseball," Whitt said. "He's a kid from Hawaii who likes to surf, but he's bought into it becoming a full-time job now as far as him being a catcher, which has made him a better player on the field.
"I'm happy for him. I hope he continues to grow in baseball, and my ultimate goal is for him to play in the big leagues and have a nice, successful career."
For now, Numata looks to figure out how to balance being the calm island kid everyone sees when he's in flip flops with the competitive, fast-paced player he wants to be in cleats.
"Just trying to be who I am off the field and try to be the same person on it, so it's really easier to make adjustments," he said. "I'm just trying to find that in between. On the baseball field, I've always just said, 'Hey, go hard.' And that's always going to be ingrained in my mind, to play the game hard.
"But I think when it comes to catching and hitting, sometimes you just have to take a step back and take a breath, relax a little bit. And that's where I'm trying to find myself."
Kelsie Heneghan is a contributor to MiLB.com. Follow her on Twitter @Kelsie_Heneghan.