Ninth-Inning Rally Results in 3-2 Win
Lynchburg erases one-run deficit to defeat Astros in final frame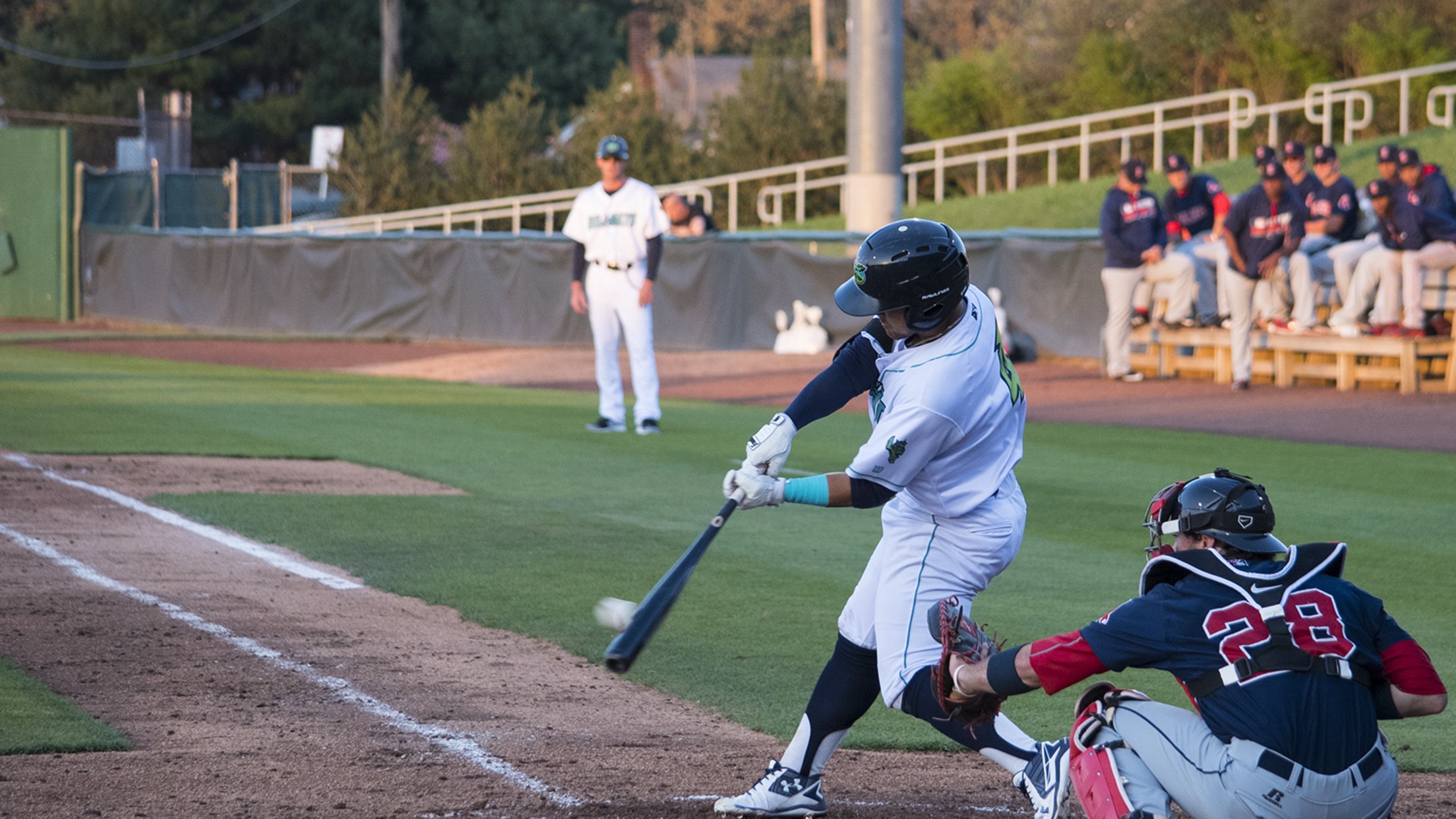 (Lindsay Carico)
Lynchburg trailed 2-1 entering the bottom of the ninth inning, and three batters later the game was over. However, it was the Hillcats who were celebrating a victory. Three straight hits, including a pair of doubles, allowed Lynchburg to storm back and claim a 3-2 win against Buies Creek Tuesday
Lynchburg trailed 2-1 entering the bottom of the ninth inning, and three batters later the game was over. However, it was the Hillcats who were celebrating a victory. Three straight hits, including a pair of doubles, allowed Lynchburg to storm back and claim a 3-2 win against Buies Creek Tuesday night.
Sicnarf Loopstok ignited the rally with a sharp single to left field. Connor Marabell doubled to right-center field to drive in Loopstok and tie the game, 2-2. On the very next pitch, Ka'ai Tom smacked another baseball to right-center field to end the contest with a 3-2 final score.
It was Tom's team-leading 29th double of the year and gave him 59 RBIs for the season, one shy of Loopstok's team-best 60. It provided the Hillcats with their second-straight win in their final at-bat and their sixth walk-off victory of 2017. The Hillcats improved their record to a Carolina League-best 73-48 for the year, which includes a league-best 33-19 since the All-Star Break.
Ben Krauth (1-0) earned the victory with 2 2/3 innings out of the bullpen, holding Buies Creek to one run and one hit while striking out two. Brock Hartson went six-plus innings in a no-decision. He struck out six and was only charged with one run on four hits. He lowered his ERA to 2.91, which is tops among all qualifying pitchers in the Carolina League. Carson LaRue (0-1) took the loss in his High-A debut. He went three scoreless innings before surrendering the late surge in the ninth.
The Hillcats' only other run came in the third inning when Jose Medina and Jodd Carter had back-to-back doubles to give Lynchburg a 1-0 advantage. That remained the score until Buies Creek tied the game in the seventh and took a 2-1 lead in the eighth.
Lynchburg continues its four-game series against Buies Creek Wednesday at 6:30 p.m. It's Mario Kart Night, and one lucky fan in attendance will win a free ATV from Lynchburg Polaris. Dominic DeMasi (5-3, 2.87) will start for Lynchburg. The game can be heard live at www.lynchburg-hillcats.com.