Nunn, Smokies Nip Generals In Extras
Jackson plays into 14th after being no-hit through five innings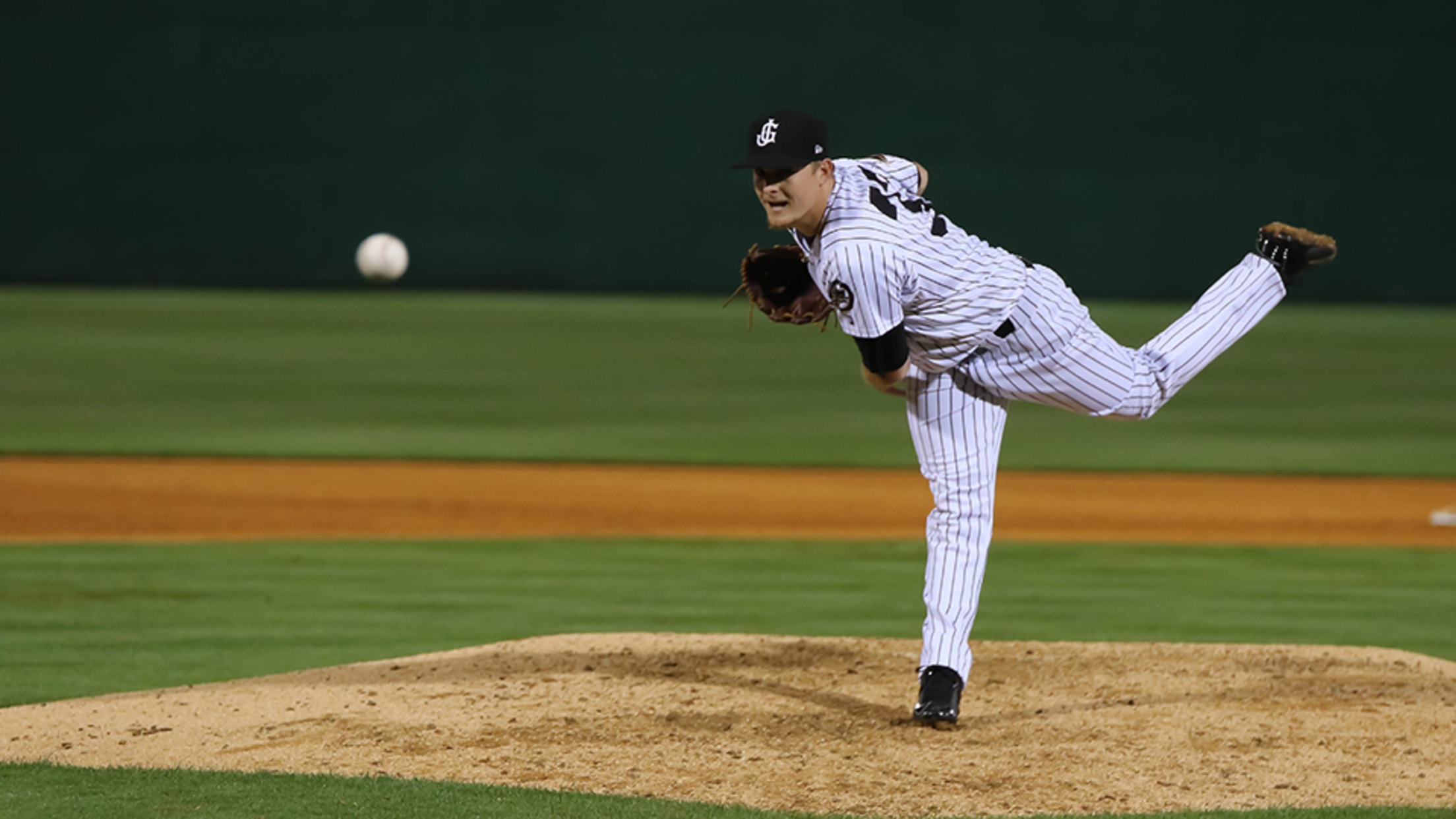 Gabe Speier delivered 3.2 scoreless innings of relief as the Generals fought the Smokies in extras, but Jackson came away on the wrong end of a 2-1 score. The 14-inning contest tied the Generals' longest of the year. (Cody Cunningham)
Sevierville, Tenn. - Despite going hitless in the first five innings, the Jackson Generals stretched out their Sunday with a single swing and an army of arms. Tying their longest game of the year, the Generals and Tennessee Smokies played into the 14th inning, with Tennessee winning 2-1.Generals first baseman
Sevierville, Tenn. - Despite going hitless in the first five innings, the Jackson Generals stretched out their Sunday with a single swing and an army of arms. Tying their longest game of the year, the Generals and Tennessee Smokies played into the 14th inning, with Tennessee winning 2-1.
Generals first baseman Kevin Cron hit his league-leading 25th home run of the year in the seventh inning, and Alex Young delivered seven innings in his last start of the year, allowing just one run. Tennessee (32-26, 68-69) has now beaten Jackson (33-36, 70-69) in 16 of their 25 meetings this season, with one remaining.
Jackson entered the 14th inning having exhausted their available bench and employing their fifth pitcher of the game, Mitchell Aker (0-1, 6.75 ERA). Aker allowed a leadoff walk to pinch-hitter Yasiel Balaguert, then gave up a single to third baseman Andrew Ely that moved Balaguert to third. The Generals intentionally walked Carlos Penalver to load the bases and create all- around force-out opportunities, and they brought right fielder Daniel Lockhart in to play directly up the middle behind the mound as a fifth infielder. Alas, Trey Martin would foil the shift, posting a single to left field that scored Balaguert with the winning run.
Had it not been for some impressive work by Tennessee starter Chris Nunn, the Generals might have won the game 1-0 in regulation. Neither side had scored through the first five-and-a-half innings, but the Smokies came to life in the bottom of the fifth. With two outs, Tennessee first baseman Kevin Cornelius doubled to center field, bringing Nunn to the plate. The left- hander was no-hitting the Generals on the mound at the time and had never hit safely as a professional batter, but he found a way to make a difference. Nunn slapped an RBI single to left field that scored Cornelius, giving Tennessee a 1-0 lead.
The Generals remained without a hit until Lockhart doubled with two outs in the sixth inning. Victor Reyes followed with a shallow single to right field, but Lockhart was thrown out at home plate by Tennessee right fielder Jeffrey Baez on the play, ending the inning.
With the no-hitter broken up, Tennessee replaced Nunn after six innings with reliever Craig Brooks. It didn't take long for Brooks to give up the shutout, as Cron blasted the second pitch he saw high and deep to left field. Off the bat, the ball appeared to be on a foul-territory trajectory, but with a little breeze, it swayed back into fair territory, falling beyond the left field fence to tie the game. Cron's 25th home run of the year ties him for the third-best single season mark in Jackson history, two behind the franchise record of 27.
Young tied his longest start in his 27th appearance in 2017, striking out three batters while walking one. After Young, neither Mason McCullough nor J.R. Bradley would give up a hit, as each threw a scoreless inning in relief. Speier retired ten hitters in a row as he pitched through the 10th, 11th, 12th, and 13th innings, finally allowing Erick Castillo to reach base with one out in the 13th. Speier drew a popout from Charcer Burks before handing the reins to Aker, who walked Jeffrey Baez and then got David Bote to ground out, quieting the threat.
The Generals' offense tied a season high with four stolen bases in the loss, as Reyes (two), Lockhart, and Galli Cribbs Jr. each swiped bags. The lineup left ten men on base and collected only one hit in 11 chances with runners in scoring position. Lockhart, Reyes, and Cron all had multiple hits, with Reyes (three) leading the way. Reyes now has ten hits in his past 15 at-
bats, raising his batting average 12 points over his last four games. Speier has dropped his ERA 39 points over his last three appearances, pitching 6.2 innings without allowing a run.
The Generals will finish their final series of 2017 with a 12:00 pm ET start on Monday, as right-hander Ryan Atkinson (3-2, 3.41 ERA) takes on Tennessee's Duane Underwood Jr. (13-6, 4.40 ERA). Fans can hear all the Labor Day action starting with the Pregame Show 15 minutes before first pitch on Willie 94 FM & 1390 AM, as well as the Jackson Generals Baseball Network via TuneIn Radio!
Thank you to all the great fans that made 2017-Jackson's first as an Arizona affiliate-a success! The Generals open up the
2018 season at home on April 5 against Jacksonville! Call the team at (731) 988.5299, stop by The Ballpark or go online to jacksongeneralsbaseball.com to get season tickets for next year now!