Nuts win in extras to gain doubleheader split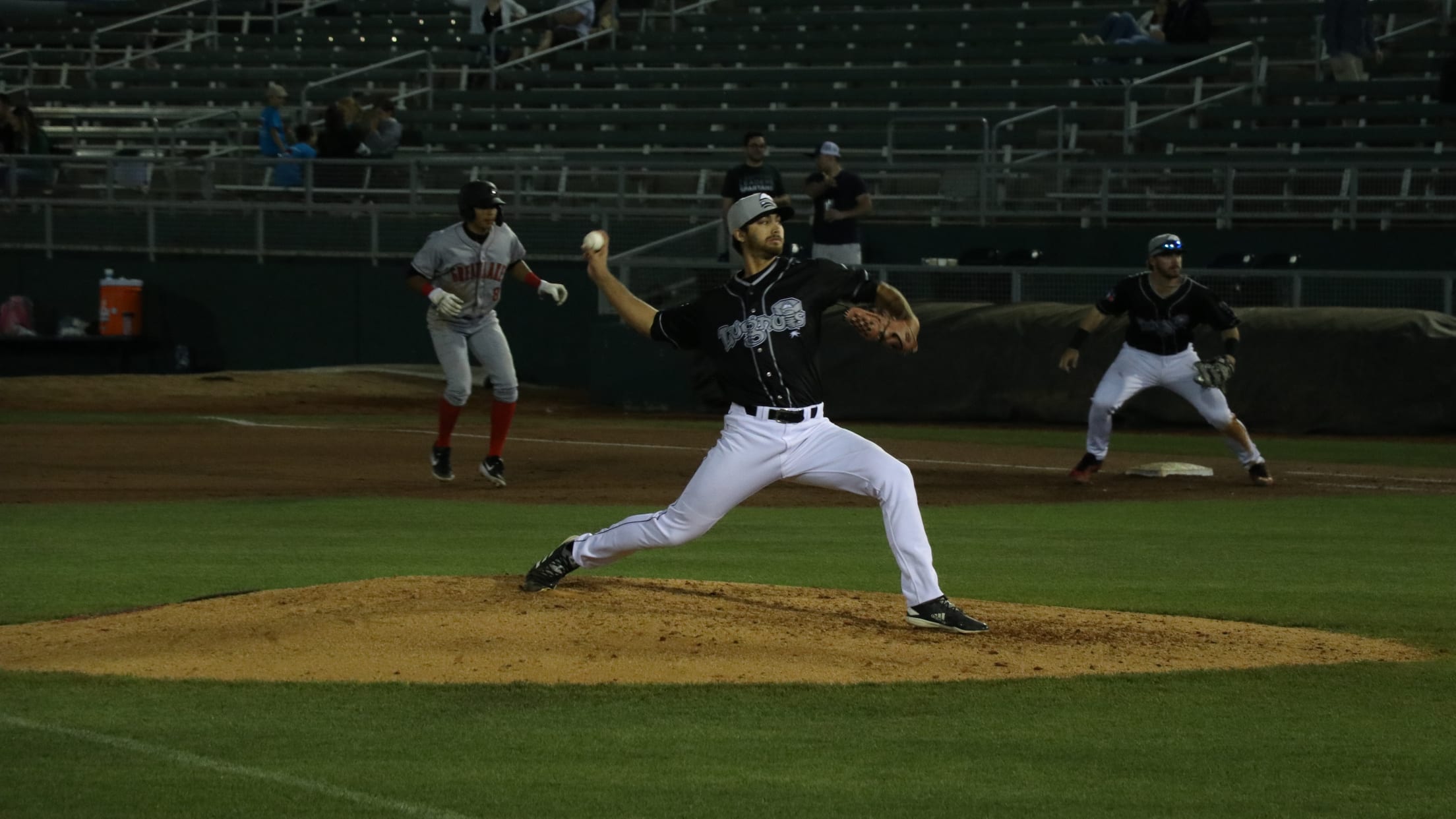 (Miguel Arcaute / Lansing Lugnuts)
BOWLING GREEN, Ky. - The Lansing Lugnuts (21-22, 53-59) split a Monday night doubleheader with the Bowling Green Hot Rods (25-18, 64-49), dropping the opener, 3-1, before seizing a wild 6-3 extra-inning victory in the nightcap at Bowling Green Ballpark.In Game 1, Caleb Sampen (Win, 9-4) allowed one unearned run
BOWLING GREEN, Ky. - The Lansing Lugnuts (21-22, 53-59) split a Monday night doubleheader with the Bowling Green Hot Rods (25-18, 64-49), dropping the opener, 3-1, before seizing a wild 6-3 extra-inning victory in the nightcap at Bowling Green Ballpark.

In Game 1, Caleb Sampen (Win, 9-4) allowed one unearned run in six innings and Ruben Cardenas homered to help the Hot Rods to victory.

Lansing starter Troy Watson (Loss, 5-3) recorded the Lugnuts' first complete game of 2019, tossing six innings and allowing solo tallies in the third, fourth and sixth innings.

DJ Neal and Otto Lopez collected two hits apiece in the loss, with Hunter Steinmetz driving in Neal in the fifth inning with a sacrifice fly for the Lugnuts' only run.

Cristofer Ogando pitched a perfect seventh for his fifth save.

Game 2 proved far more eventful.
Right-hander Cobi Johnson fired five hitless innings, walking three and striking out seven, as the Lugnuts took a no-hitter and a 3-0 lead to the sixth.

With one out in the sixth, however, Jonathan Aranda broke up the no-hit bid with a two-run homer off Fitz Stadler (Blown Save, 1), pulling the Hot Rods within a run. Four batters later, Seaver Whalen halted a 3-for-49 slump with a two-out game-tying single to left field.

The Lugnuts recovered with an odd three-run rally in the eighth against Bowling Green left-hander Michael Costanzo (Loss, 0-1). With bonus runner Neal at second base, Lopez led off with a bunt. Costanzo was late to react and threw it wildly down the right-field line, bringing in Neal for a 4-3 Lugnuts lead and sending Lopez racing to third base. Reggie Pruitt followed with a bunt single of his own, Lopez holding at third, and then stole second base.

With Ryan Gold at home plate, a Costanzo delivery bounced away from catcher Erik Ostberg. Lopez easily scored, with Pruitt flying around third behind him and sliding home safely before Ostberg could recover the ball - a two-run wild pitch for a 6-3 lead.

Cre Finfrock (Win, 1-1) pitched the final two innings scorelessly, allowing one hit and striking out three.

Pruitt finished the game 2-for-3 with two singles, two steals, two runs scored and a walk. Gold added a two-run homer, his fifth home run of the season.

The Lugnuts have won two of the first three games of the four-game series, entering the finale with a chance for a series victory. Lansing right-handers Troy Miller (5.16 ERA) takes on Bowling Green right-hander Zack Trageton (4.26).

The Nuts return to Cooley Law School Stadium for a three-game series with the South Bend Cubs from August 7-9, capped off by LAFCU Fireworks on Friday, August 9th. To live the Lug Life and purchase tickets, visit lansinglugnuts.com, call (517) 485-4500 or come to the Cooley Law School Stadium box office at 505 E. Michigan Ave. in downtown Lansing.
# # #