O'Reilly Throws Complete Game 2-Hit Shutout in 6-0 Win
Righty tosses just 85 pitches as Chiefs even series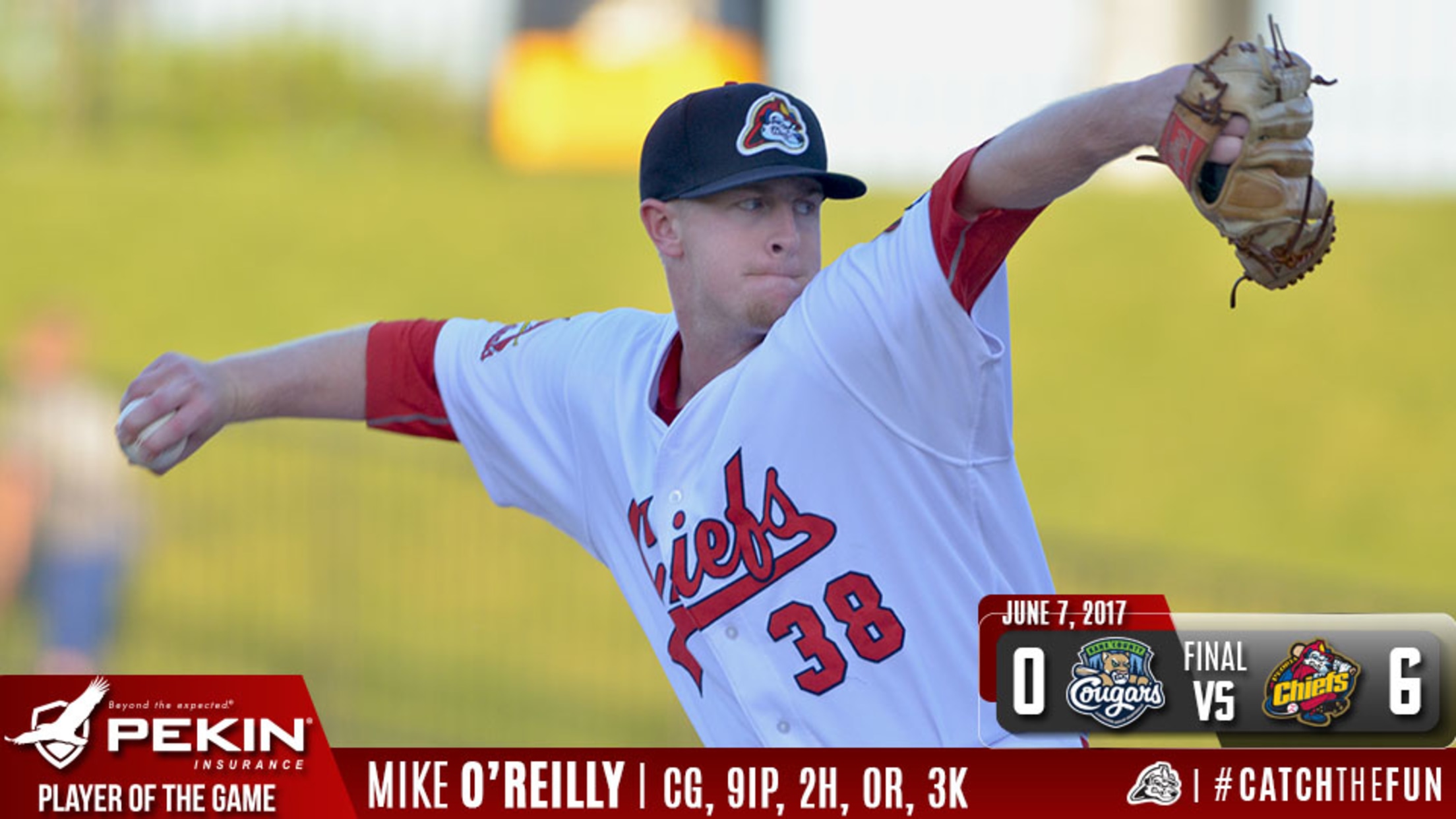 Peoria, IL - With St. Louis Cardinals infielder Kolten Wong in Peoria rehabbing for the second straight night, the Peoria Chiefs defeated Kane County 6-0 behind Mike O'Reilly's complete game shutout. The Chiefs are now 25-33 with the finale of the three-game series against Kane County on Thursday at 7:00
Peoria, IL - With St. Louis Cardinals infielder Kolten Wong in Peoria rehabbing for the second straight night, the Peoria Chiefs defeated Kane County 6-0 behind Mike O'Reilly's complete game shutout. The Chiefs are now 25-33 with the finale of the three-game series against Kane County on Thursday at 7:00 p.m. with Wong expected back in the lineup. Wong was 0-1 with a line out before being pinch hit for by JR Davis in the third inning as a precaution due to a right forearm strain.
Peoria scored the first run of the game in the bottom of the second inning against Kane County starter Mack Lemieux. Ryan McCarvel singled with one out and advanced to second on a wild pitch. With two outs, Vince Jackson drove in the first run of the game with a single to centerfield to give the Chiefs a 1-0 lead.
The Chiefs batted around and added four runs in the bottom of the fourth to take a 5-0 lead. McCarvel led off with a double and scored when Yepez singled into center and Marcus Wilson committed a fielding error. Yepez stole second, and with one out, Dylan Carlson singled to left to put runners on the corners. Davis doubled to the wall in left center field to score both Yepez and Carlson to give the Chiefs a 4-0 lead. Billings continued the two-out rally with an RBI single to plate Davis for a 5-0 Chiefs lead before Cougas reliever Colin Poche escaped the inning.
The Chiefs tacked on an insurance run to make it 6-0 in the eighth against Kane County reliever Jeferson Mejia. Jackson tripled to start the inning and Carlson singled to right for his second hit of the game and a 6-0 lead.
Throwing just 69 pitches through eight innings, O'Reilly entered the ninth attempting to throw the Chiefs first nine-inning complete game shutout since Tyrell Jenkins on May 5, 2013. Fernery Ozuna flew out to Carlson in right to lead off the inning. Luis Silverio grounded out to Martinez at short before O'Reilly allowed a two-out single to Anfernee Grier. O'Reilly ended the game a batter later when he got Wilson to fly out to left field.
O'Reilly (4-1) earned the win as he threw a complete game shutout in just 85 pitches. He allowed just two hits while striking out three and walking one. Both hits off O'Reilly were by Grier and the All-Star right-hander has won each of his last four starts.
Notes… The Chiefs had five players (O'Reilly, Trosclair, Jordan Hicks, Andy Young, and Andrew Knizner) named to the Midwest League All-Star team today… The five Chiefs selected as All-Stars are the third most in the West Division of the MWL (Cedar Rapids and Kane County both had 6)… Chiefs tied a season-high with four stolen bases… Peoria is 14-2 this year in games started by either O'Reilly or Hicks… O'Reilly threw the Chiefs first nine-inning complete game since Tyrell Jenkins on May 5, 2013… O'Reilly has thrown at least six innings in four straight games… McCarvel had his seventh multi-hit game and first three-hit game of the year… McCarvel's stolen base in the fifth was his first this season… Billings has stolen a base in two consecutive games… Billings extended his hit streak to four games all of which have been multi-hit games… Jackson has an RBI in three of his last four games… His eighth inning triple gave him his fifth multi-hit game of the year… Yepez ended a two-game stretch without a base hit… Yepez's steal in the fourth inning was his first in a Chiefs uniform… Davis' two-RBI double in the fourth gave him his third multi-RBI game… Eight players in the Chiefs lineup recorded at least one base hit… The Chiefs host the finale of a three-game series against Kane County on Thursday with a 7:00 p.m. first pitch… The Chiefs send RH Jordan Hicks (7-1, 3.54) to the mound against Kane County RH Curtis Taylor (0-4, 3.81)… Thursday will be WWE Night with "Hacksaw" Jim Duggan… It will also be a Brewers Distributing Beer & Brat Thursday featuring $2 12 oz domestic cans and soda plus $3 16 oz Craft drafts and Margaritas and $3 Brats…Students with a valid college ID can get $5 tickets…Thursday is Taco Bell Live Mas Thursday where fans can show a Taco Bell receipt showing a purchase from within the last seven days to receive a buy one get one FREE ticket (Limit 4 free tickets per transaction)… The broadcast can be heard, starting with the Pre-Game Show at 6:45 p.m. on www.peoriachiefs.com/listenlive which also has downloads for a free app on the iPhone, iPad, Blackberry and Android…The broadcast is also available on the Peoria Chiefs Network in the Tune-In Radio App.