Luzardo, Puk strong in returns for Ports
Top two A's prospects throw 33 pitches each in season debuts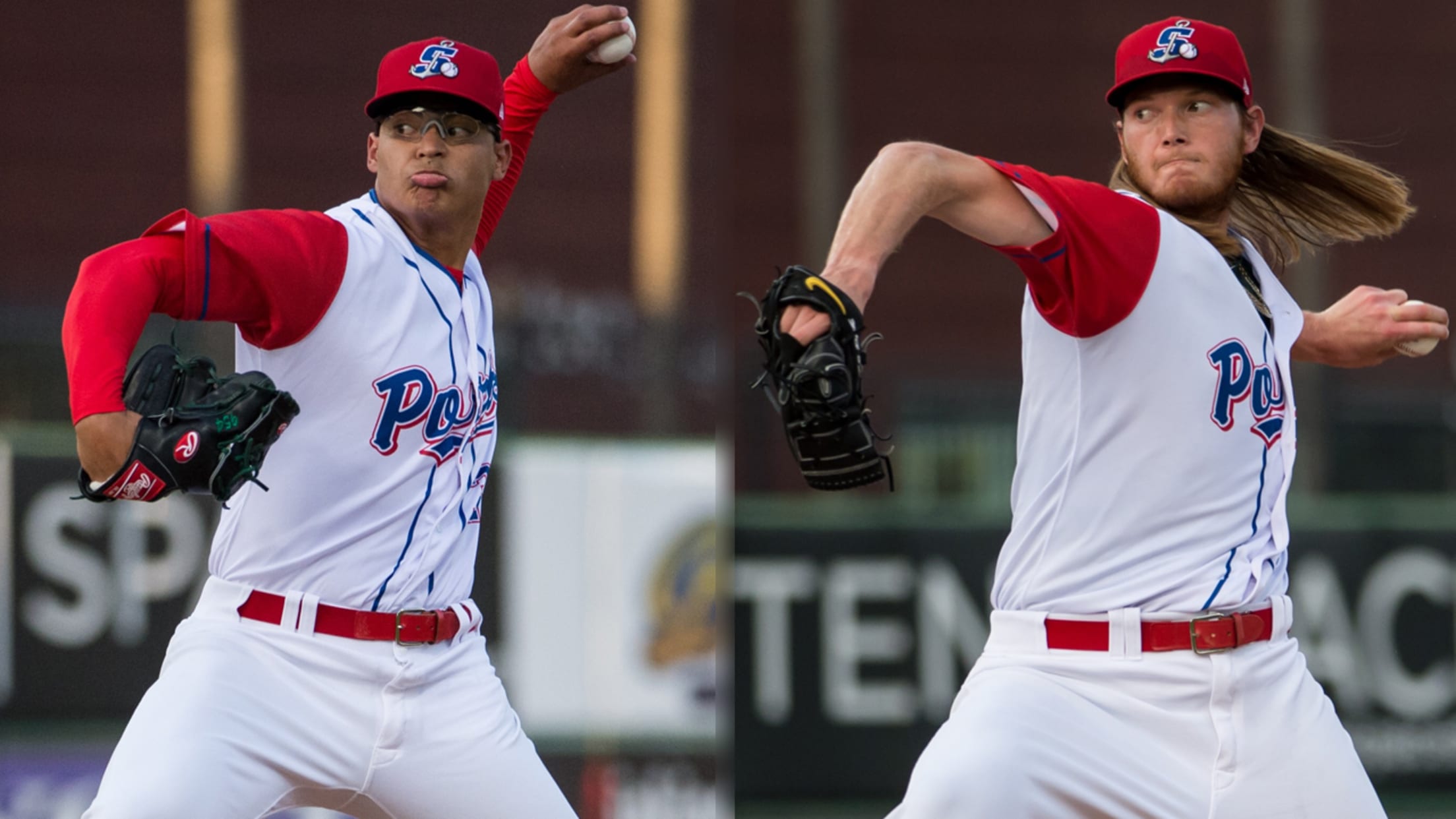 Jesus Luzardo (left) had been shut down since March, while A.J. Puk underwent Tommy John surgery in 2018. (Meghan Camino/Stockton Ports)
The Stockton Ports hosted the highly anticipated season debut of a top A's pitching prospect Tuesday night. Then they did it again.A.J. Puk, MLB.com's No. 35 overall prospect, struck out four over two innings, allowing one run in his first appearance since 2017. He was followed by 13th-ranked Jesus Luzardo, who threw
The Stockton Ports hosted the highly anticipated season debut of a top A's pitching prospect Tuesday night. Then they did it again.
A.J. Puk, MLB.com's No. 35 overall prospect, struck out four over two innings, allowing one run in his first appearance since 2017. He was followed by 13th-ranked Jesus Luzardo, who threw three scoreless frames before Class A Advanced Stockton rallied for a 4-3 victory over San Jose at Banner Island Ballpark.
Gameday box score
To say excitement was high for Tuesday's showcase is an understatement, not just for the two pitchers but for their team.
"They came here knowing they were pitching, so they've just been playing catch and being around the team, high energy, laughing, joking around," Ports pitching coach Chris Smith said. "It's been something they haven't had in a while. They haven't had been around guys, the shagging [in batting practice], the running, the stretch as a team aspect for a while. They've been pretty much on their own, independent. Being around that atmosphere really brings out the little kid in them again and is something that they probably miss more than the actual work itself. Then when they went out to the mound, that's the easy part for them."
Puk's wait to return to the mound was longer. The 2016 first-round pick seemed poised to make his big league debut a year ago before undergoing Tommy John surgery in April that sidelined him for the season. Wearing a Ports jersey for the first time since making 14 California League outings in 2017, he showed off his 70-grade fastball early, nearly touching 100 mph in the first inning.
"I kind of just warned them to use this as a learning tool," Smith said. "This is A.J.'s first time back in a while, so he's going to have this energy when he goes to Double-A and then he's going to have this energy when he goes to Triple-A and then he's going to have this energy when he goes [to the big leagues]. These are all learning things that you can learn from with that high energy, not just because it's an A-ball aspect, but he's going to have this high energy as something he can benefit from if he can harness it."
After striking out the first batter he saw and getting a flyout behind it, Puk yielded the only hit of his abbreviated night -- a solo homer to right field by Giants No. 2 prospectHeliot Ramos. The second-ranked A's prospect rebounded to whiff top Giants prospect Joey Bart to close the inning.
Puk walked Courtney Hawkins to open the second but bounced back with consecutive strikeouts of David Villar and Kyle McPherson before Manuel Geraldo bounced into a forceout.
"You're throwing 99 from the left side, that pretty much says it all," Smith said. "The ability to harness a couple of excitement pitches [was big], high arm-side, to be able to get back in the zone and put the ball where he wants to on the corners and then to be able to snap off a good, nice, tight, sliding-across-the-zone slider."
The University of Florida product broke out in 2017, leading the Minor Leagues with 13.2 strikeouts per nine innings.
"All the young guys have said he's been awesome and his work ethic has been good," A's coordinator of instruction Ed Sprague said before the season. "I'm sure it's tough. His personality doesn't really show it, but he was so close and had such a good big league camp last year. There a was a lot of talk about him making the rotation [out of camp] and if he didn't make it, he probably would've been up there within the month, possibly.
"That's got to be frustrating, but at least the timing of it, they got [the surgery] done, got it fixed right away. Sometimes guys can miss a year and a half. For him, being able to get back there and maybe get in some games by June, we'll see what happens."
Upon Puk's exit, the spotlight shifted to Luzardo. Sidelined since mid-March with a shoulder strain, Oakland's top prospect gave up a leadoff single to left-center to Zander Clarke in third before erasing him with a double play grounder off the bat of Bryce Johnson. That started a string of six straight batters retired, including a fourth-inning strikeout of Ramos, before McPherson singled to left with one out in the fifth. After Gerardo sacrificed, Luzardo punctuated his night by punching out Clarke.
"Luzardo was the same way [(as Puk]," the pitching coach said. "Coming in, not missing a beat, attacking the zone from the left side, I can see what Oakland saw in these guys to get them over here."
Luzardo made 23 starts last year while rocketing through three levels. The 21-year-old was 2-1 with a 1.23 ERA in three starts for Stockton before a quick promotion to Double-A Midland, where he starred in the Texas League with a 7-3 record and 2.29 ERA in 16 appearances. Luzardo finished the year with Triple-A Nashville, posting a 7.31 ERA in four starts -- a mark that sat at 3.46 after his first three at the Minors' highest level.
Both Puk and Luzardo totaled 33 pitches, with Puk throwing 22 strikes and Luzardo 24.
"Action on their pitches is what I like to see," Smith said. "The stuff is going to play itself, but the ability to learn from the swings off of the hitters -- because opposing hitters are excited, too, to face these guys, to showcase their talents, too, against these guys, it brings out the best in everybody. I warned them, make sure kids don't ambush you because you have a tendency to throw balls in the zone moreso than other kids. Understand how to read a swing and learn how to subtract some [velocity] or throw a nice off-speed pitch based off of the swings you see. That was good to see them attack the hitters that way."
As for the next step, the A's will evaluate both lefties and determine what lies ahead.
"That's something that the development side and the medical side have in store for them," Smith said. "I just know that they're going to be throwing pretty consistently now until the end of the year. The gloves are off. They want to see those kids hit the ground running. As far as next outing and pitches, that has not been said, what's next. I think they're going to have to see how they bounce back from this outing going forward, depending on pitches and what the medical side wants to see them jump to."
Regardless of what comes next, Luzardo and Puk are amped to be back, and their pitching coach is ready to continue steering their return.
"Talking to them after they came out of the game, what they felt, what they saw, how they feel understanding the buildup for this is so much more than just the outing itself," Smith said. "The outing itself is like a flash in the pan. It happens quick. You get done and want them to really take time to reflect on what they used, what worked best for them in a high-energy situation. They were smiling, joking around like, 'Good, that first one's over with. Now we can build for the next one.'"
Stockton third baseman Jonah Bride belted a two-run homer in the fourth inning and catcher Robert Mullen, who replaced Jordan Devencenzi in the fifth, singled twice and drove in his team's other two runs.
Tyler Maun is a contributor to MiLB.com. Follow him on Twitter @TylerMaun.