Offense rolls, bullpen dominates, as Reds top Bucs, 11-5
Greeneville clubs three home runs, bullpen hurls 5.1 scoreless in win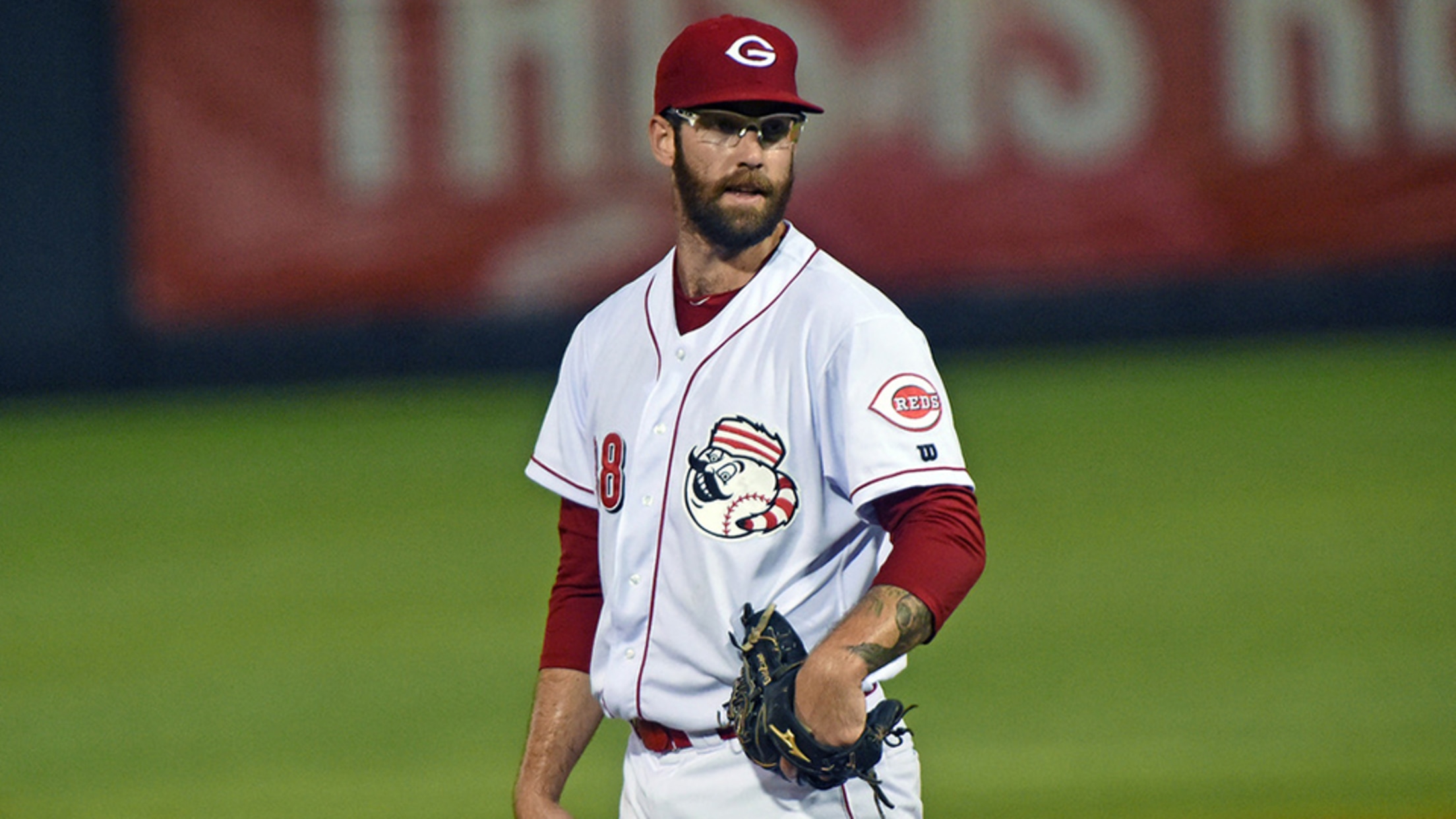 RHP A.J. Moore hurled 4.1 innings of scoreless relief - retiring all 13 batters he faced - to earn his second win of the year, as the Greeneville Reds bested the Bristol Pirates, 11-5, in front of 989 fans on Sunday night at Pioneer Park. (Brian McLeod / MiLB.com)
GREENEVILLE, Tenn. -- For the second-straight night, Greeneville's offense was alive and well. 3B Jonathan India, 1B Rylan Thomas, and C  Hunter Oliver all went deep, while RHPs A.J. Moore and Cory Heitler tossed 5.1 innings of scoreless relief, as the Reds topped the Bristol Pirates, 11-5, in front of 989 fans at Pioneer Park on Sunday evening.With
GREENEVILLE, Tenn. -- For the second-straight night, Greeneville's offense was alive and well. 3B Jonathan India, 1B Rylan Thomas, and C Hunter Oliver all went deep, while RHPs A.J. Moore and Cory Heitler tossed 5.1 innings of scoreless relief, as the Reds topped the Bristol Pirates, 11-5, in front of 989 fans at Pioneer Park on Sunday evening.
With the win, the Redlegs have now won back-to-back games for the first time since they won three-straight from June 21-23 and improved their overall record to 9-15. Bristol's loss was their fourth in-a-row, dropping them to 11-14 on the campaign.
The power performance did not wait to arrive. After CF Mike Siani (2-4, 2 R, 2B, BB) started the bottom of the first with a single to left, India (2-3, 3 R, 2B, HR, 2 RBI) blasted a fly ball to deep center field. The shot carried over the 400-foot marker for a two-run home run. The blast - his second of the year - gave Greeneville an early 2-0 lead.
After Bristol answered with a run in the top of the second on a steal of home, the Reds responded. LF Reniel Ozuna (2-4, R, 2B) started the bottom of the second with a double on the first pitch. The 19-year-old moved to third on a fly out and scored - making it 3-1 on a sacrifice fly to right by SS Miguel Hernandez (0-4, RBI).
A 2B Francisco Mepris (1-4, R, 3B, RBI, SO) triple and a run-scoring grounder pulled the Bucs within one, 3-2, after two-and-a-half, however, the Greeneville power attack delivered again the bottom of the inning. With a man at first and two outs, Thomas (1-2, 2 R, HR, 3 RBI, 2 BB) uncorked a bomb over the right-center field wall for a two-run homer. His team-leading fifth long ball stretch the Reds advantage to three, 5-2.
In the top of the fourth, the Pirates mustered a three-run frame to even the game at five. Thanks to a RF Cristian Navarro (3-4, R, 2B) double, a single from LF Jeremias Portorreal (1-3, R, BB, SO) and a walk, the BriBucs loaded the bases with one out. Following a run-scoring groundout by Mepris, CF Jonah Davis (1-5, 3B, 2 RBI) scorched a triple down the right-field line to bring in a pair.
Greeneville did not let the game stay tied for long, as they grabbed the lead for good in the bottom of the fifth. With the sacks full, Thomas drew a bases-loaded walk to force home to go-ahead run, 6-5. A groundout to second by Oliver (1-4, R, HR, 4 RBI) scored another tally to extend the Reds advantage to a pair, 7-5.
The Redlegs put the game out of reach in the seventh thanks to a four-run incursion. Back-to-back doubles by India and 2B Jonathan Willems (1-4, 2 R, 2B, RBI) gave Greeneville a three-run lead, 8-5. After another walk to Thomas, Oliver launched a towering fly ball down the line in left. The high-arcing shot sailed over the foul pole for a three-run home run - his fourth of the season - to put the Reds comfortably ahead, 11-5.
RHP Josiah Gray (3.2 IP, 5 H, 5 R, 5 ER, 2 BB, 4 SO) struggled in a no-decision on Sunday but was aided by his offense and bullpen. RHP A.J. Moore (4.1 IP, 4 SO) retired all 13 men he faced to earn his second victory of the year and RHP Cory Heitler (1.0 IP, H, BB, 2 SO) tossed a scoreless ninth to seal the win.
It was a second-straight bumpy start for Bristol's RHP Colin Selby (4.0 IP, 6 H, 5 R, 5 ER, SO), however, he left with a no-decision. The man that followed him - RHP Vince Deyzel (1.0 IP, H, 2 R, 2 ER, 2 BB) - did not show great command, surrendering the go-ahead runs in the fifth for his first loss of the season.
Greeneville will go for the series sweep on Monday night, as RHP Miguel Medrano (0-1, 7.50 ERA) is expected to take the ball. The Pirates are expected to counter with their Opening Day starter, RHP Steven Jennings (1-2, 4.98 ERA).
The G-Reds Pre-Game Show will kick off the broadcast at 6:45 p.m. ET, leading up to the 7:00 p.m. ET start at Pioneer Park. Monday evening's contest can be heard on GreenevilleReds.com or via the TuneIn Radio and MiLB First Pitch apps.
It will be a Dollar Monday at the ballpark, as fans can enjoy hot dogs, candy, potato chips, popcorn and select draft beer options for just one dollar.
Season and single-game tickets are still available and can be purchased online at GreenevilleReds.com or by calling the Reds' Ticket Office at (423) 609-7400.