OKC Dodgers Showcased Best In-Game Promotion of 2021
Speed painter Revel's performance results in Dodgers winning coveted Golden Bobblehead for Best In-Game Promotion/Feature during the 2021 Minor League Baseball season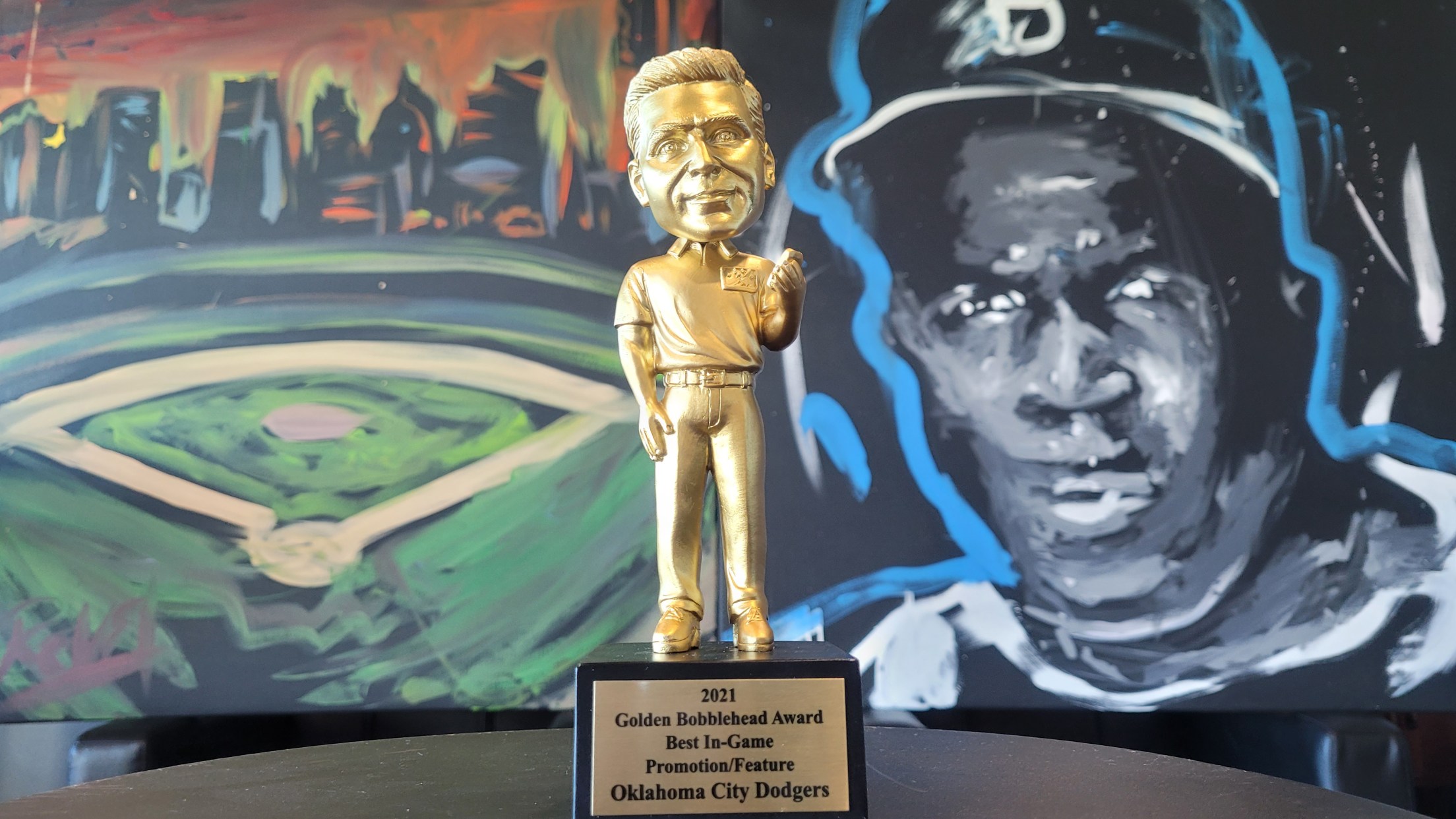 The digital field clock at Chickasaw Bricktown Ballpark read 2 minutes, 25 seconds marking the start of a timed break between innings at a July 2021 Oklahoma City Dodgers game. After an introduction, Revel the Speed Painter turned to face a blank, black canvas and quickly got to work. Shades
The digital field clock at Chickasaw Bricktown Ballpark read 2 minutes, 25 seconds marking the start of a timed break between innings at a July 2021 Oklahoma City Dodgers game.
After an introduction, Revel the Speed Painter turned to face a blank, black canvas and quickly got to work.
Shades of gray, white and blue paint slowly overtook the black canvas as Revel finessed paint with brushes and his hands to make his vision come to life.
As the clock ticked toward zero and players once again took their spots on the field to begin the next inning, Revel stopped painting. He flipped the canvas 180 degrees and a spectacular image was revealed: Dodgers and Baseball Hall of Fame legend Jackie Robinson.
In less time than it takes to pop a bag of popcorn in the microwave or listen to your favorite song, Revel painted — live and upside down — a portrait of one of baseball's most iconic figures.
The unique and awe-inspiring performance during OKC's July 3 home game against Salt Lake recently won the OKC Dodgers' first-ever Golden Bobblehead award announced Dec. 5 during the 2021 Baseball Winter Meetings in Orlando.
The Golden Bobblehead awards are given annually by Minor League Baseball for the top promotional activities and events MiLB's 120 teams develop and put on during the year. Six awards were given out for the 2021 season and the Dodgers won the Golden Bobblehead for Best In-Game Promotion/Feature for Revel's performance.
Click here to read the rest of this article on the digital publication "Beyond the Bricks."