Otto, Nelson Accentuate Impressive RiverDogs Pitching Staff to Open 2018 Season
Three Yankees top-30 prospects, Citadel product JP Sears highlight Opening Day roster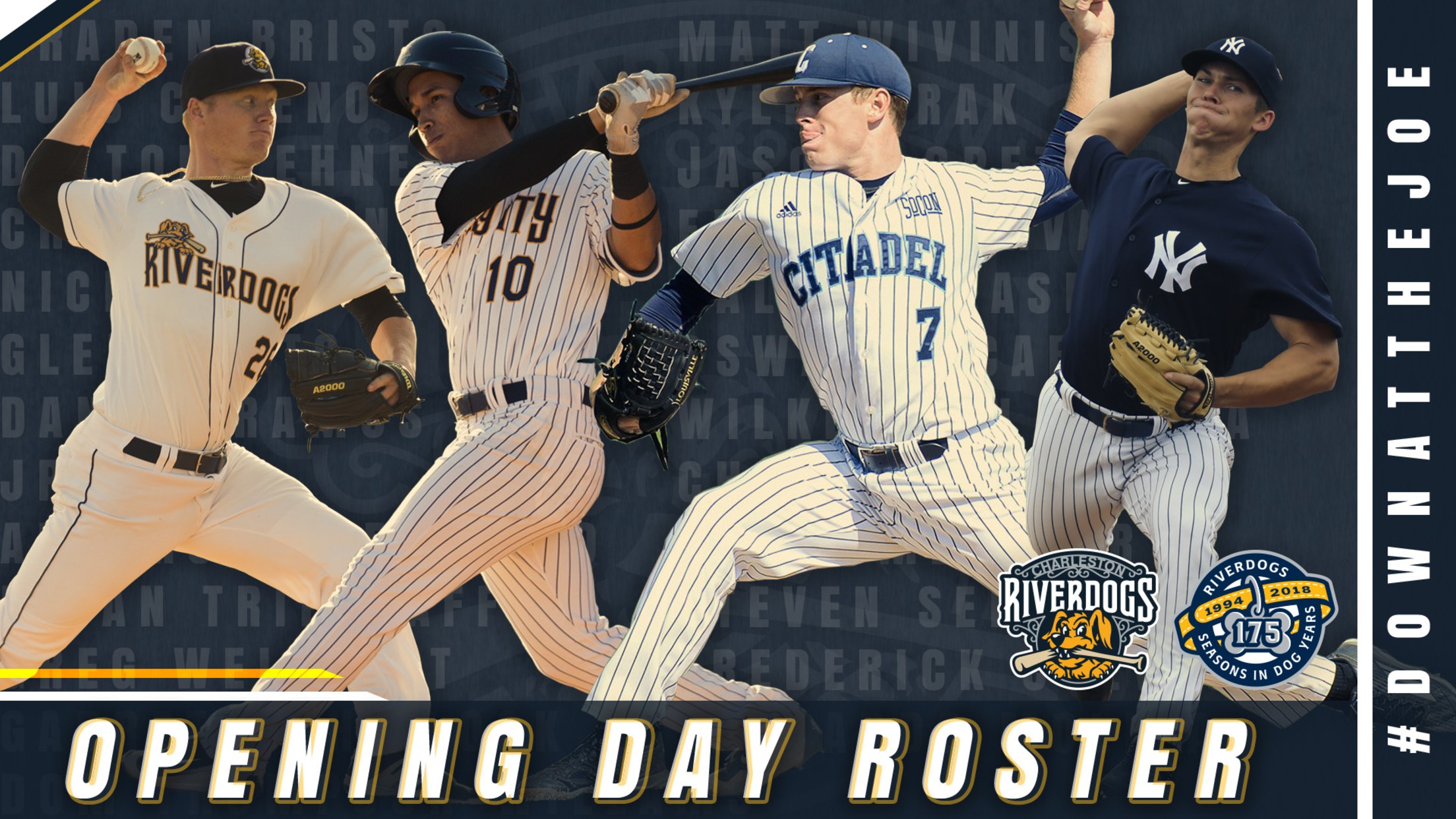 CHARLESTON, S.C. - For back-to-back seasons, the RiverDogs have leaned on a slew of dominant prospect arms to punch their ticket to the postseason, and for another year, the club looks to have the talent to do it again. Yankees top-30 pitching prospects Glenn Otto and Nick Nelson headline another
CHARLESTON, S.C. - For back-to-back seasons, the RiverDogs have leaned on a slew of dominant prospect arms to punch their ticket to the postseason, and for another year, the club looks to have the talent to do it again. Yankees top-30 pitching prospects Glenn Otto and Nick Nelson headline another talented crop of RiverDogs arms as the New York Yankees announced Charleston's projected Opening Day roster on Saturday.
Otto (Yankees No. 20 per MLB.com, No. 19 per Baseball America) will make his full-season debut after being taken in the fifth round in the 2017 draft after an accomplished career at Rice University. After finishing his college career with the Owls and being named the Conference-USA Tournament MVP, the hard-throwing right-hander took pro ball by storm last year, fanning 30 batters in 20 innings across two levels as a Yankee.
Nelson (Yankees No. 28 MLB.com) breaks camp for the second year with the RiverDogs after punching out 110 batters with a 3-12 record and a 4.56 ERA in 22 starts with Charleston last season. The 22-year-old righty was the Yankees' fourth-round selection in 2016.
On the infield, teenage shortstop Oswaldo Cabrera returns for his second season in a RiverDogs uniform. The Yankees No. 26 prospect per Baseball America was the youngest player at 18 years and one month to make a South Atlantic League Opening Day roster last year.
Along with the two arms appearing on prospect lists, former Citadel hurler JP Sears will make his return to The Joe just over a year removed from an All-American season in Charleston, when he ranked fifth in the country in strikeouts (142) and was named the Southern Conference Pitcher of the Year. Sears will debut as a Yankee farmhand after being drafted in the 11th round by the Mariners in June and being dealt to New York during the offseason.
Sears will also be joined in the clubhouse by fellow South Carolina collegiate product Dom Thompson-Williams , a former Gamecock, who highlights Charleston's outfield corps.




Including Sears and Thompson-Williams, the RiverDogs feature 16 total players with college baseball experience. The RiverDogs roster is represented by nine international players (5 from Venezuela and 4 from the Dominican Republic) and 12 U.S. states (CA, FL, GA, IA, IL, LA, MD, MN, NY, RI, SC, TX). Returning several familiar faces, 12 members of the roster out of camp feature players that spent time with Charleston last season.
The RiverDogs' projected roster is subject to change in advance of Tuesday's exhibition opener against Myrtle Beach at 7:05 p.m at The Joe.
Pitching
Returning for his third season, RiverDogs pitching coach Justin Pope figures to have another deep staff to tinker with in 2018. Charleston has set the franchise strikeout record each of the last two years under his tutelage.
All returning to the Lowcountry after stints with Charleston last year, right-handers Braden Bristo , Luis Cedeno, Brian Trieglaff , and Matthew Wivinis are expected to work out of the RiverDogs bullpen. After retooling himself as a sidewinding reliever and producing a sparkling 0.86 ERA last season, Cedeno's 2018 campaign will mark the Venezuelan pitcher's fourth season with Charleston. Wivinis (Eastern Illinois) ended the 2017 season as the RiverDogs closer, notching five saves and another in the playoffs.
Newcomers Dalton Lehnen, Garrett Whitlock, and Kyle Zurak will each begin their first full-season in the minors after being drafted by the Yankees last summer, three of New York's 28 picks used on pitchers. The Bronx Bombers' 6th round choice in June, the Minnesota-native Lehnen (Augustana Univ., SD) was the highest selected southpaw by the Yankees in last year's draft and justified the pick by fanning 43 batters in just 33 1/3 innings of work, good for a 4.05 ERA in 11 games in short season last year. Whitlock also put up huge strikeout numbers, averaging 13.8 K's per nine in 14 plus innings in rookie-ball.
Chad Martin , Daniel Ramos , Anderson Severino , and Greg Weissert round out Charleston's Opening Day staff. Martin, a former member of the CAA conference at Delaware, worked primarily out of the bullpen last year after transitioning from the rotation his first two seasons. Weissert, a local product for the Yankees out of Fordham University, is back for his second stint with the RiverDogs after making 12 relief appearances his rookie season in 2016.
Infield
One of the strong suits of the Yankees system, the RiverDogs infield figures to mix and match at positions throughout the season with the talent up the middle. Opening the year as a top-30 prospect for the first time, Cabrera split time between three different infield spots last year and vaults to the top of the list as one of Charleston's go-to options at short this year. Last season as an 18-year-old, the Guarenas native hit .252 with four homers and 53 RBI while splitting time between Charleston and Staten Island.
Roving the infield alongside Cabrera to open the season will be fellow Venezuelan Wilkerman Garcia . A member of the 2014 international signing class, the 20-year-old climbs the ladder after advancing from Pulaski and Staten Island each of the last two years, respectively. The native of Maracay hit .222 with a home run in 67 games last season and was at one time ranked as high as the Yankees' No. 9 overall prospect by MLB.com
Both members of the RiverDogs last year, first baseman/outfielder Dalton Blaser (CSU-Fullerton) and infielder Chris Hess (Rhode Island) will both provide flexibility at multiple positions. David Metzgar starts his first full-season with the Yankees after signing as a non-drafted free agent after a four-year career at CSU-Bakersfield; he is the program's all-time leader in doubles and stolen bases.
Outfield
A one-year junior transfer with the Gamecocks, Thompson-Williams made his mark in a brief stint at South Carolina to set himself up for a 5th round selection by the Yankees in 2016. The Sioux City, Iowa native hit .321 with eight home runs in 2016 in college baseball's top conference. He now enters his third professional campaign after hitting .244 with 3 homers in 64 games last year, including ending the season as Charleston's regular center fielder.
Joining him in the outfield will be fellow RiverDog-returner Steven Sensley , a lefty masher with huge raw power. The former Ragin' Cajun clubbed 13 home runs (including four with Charleston) in just 50 games after being drafted in the 12th round out of Lousiana-Lafayette, the third-most long balls of anyone from the 2017 class.
Leonardo Molina , 20, will open the season with the RiverDogs for the second straight season in what will be his third overall with the club. The Dominican Republic native has five-tool potential, with power that produced nine home runs in 2015 before a drought last year when he produced no long balls and a .238 (24-101) average. Fellow D.R. product Frederick Cuevas fills out the group of outfielders after posting a career-high .827 OPS with Pulaski last season.
RiverDogs single-game tickets, including options to the Riley Park Club, are now available for the 2018 campaign, the club's 25th season as the RiverDogs and their "175th season in dog years." The RiverDogs open up the season on April 3 with an exhibition clash with the Myrtle Beach Pelicans at 7:05 p.m. at The Joe before returning to Riley Park for Opening Night on April 12 against Kannapolis after a week on the road. Ticket information can be secured by contacting the box office at (843) 577-DOGS (3647) or online at www.riverdogs.com/tickets.
--RIVERDOGS--