Hays soars to head of Orioles' young class
Outfielder's breakout year highlights strong season for system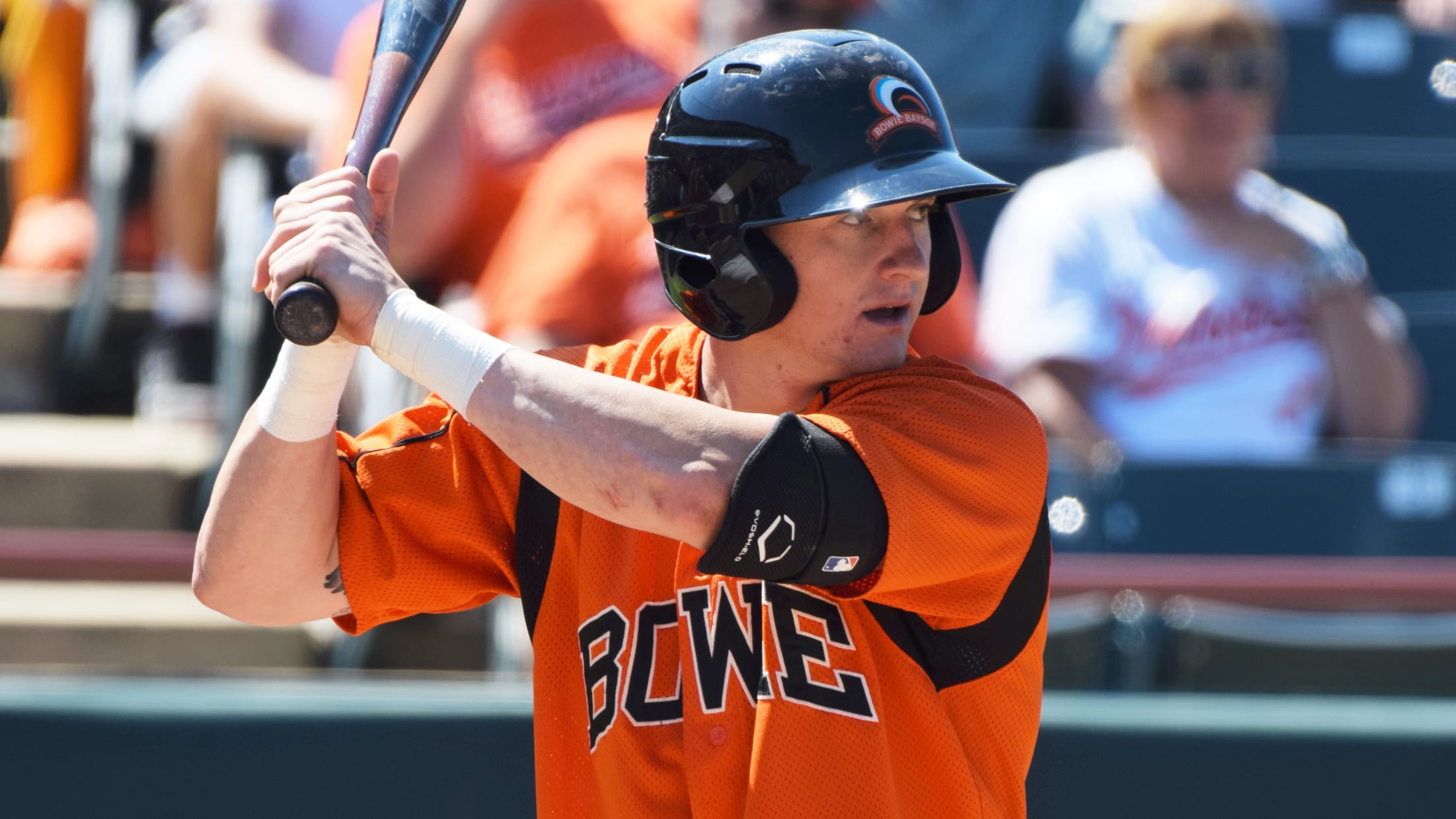 Austin Hays has hit .330 with 36 homers and 116 RBIs in 166 games in the Minor Leagues. (Patrick Cavey/MiLB.com)
This offseason, MiLB.com is taking a look at the most outstanding campaigns by players in each system across Minor League Baseball and honoring the players -- regardless of age or prospect status -- who had the best seasons in their organization.The Draft is one of the most important factors in
This offseason, MiLB.com is taking a look at the most outstanding campaigns by players in each system across Minor League Baseball and honoring the players -- regardless of age or prospect status -- who had the best seasons in their organization.
The Draft is one of the most important factors in building a baseball team, and the Orioles illustrated that as well as anyone this year. Of the 12 Minor League standouts who earned Organization All-Star status, eight were acquired through the Draft, including five who are 22 or younger.
Austin Hays highlighted the youth movement. The 2016 third-round pick out of Jacksonville University put together one of the most prolific offensive performances in the Minors, vaulting from the Orioles 14th-ranked prospect at the start of the season to MLB.com's 88th overall prospect. Along with fellow draftees Chance Sisco and Ryan Mountcastle and a few key international signees, the foundation is in place for the Baltimore farm system.
Orioles Organization All-Stars
Catcher -- Chance Sisco, Norfolk (97 games), Baltimore (10 games): Sisco maintains his hold on the catcher position with his fourth straight Organization All-Star nod. Despite a career-low .267/.340/.395 slash line in the International League, the 2013 second-round pick matured in other areas, smashing a career-high seven homers and throwing out 22.6 percent of would-be basestealers. Ranked as the organization's top prospect, Sisco hit .333 with two long balls and four RBIs in a brief big league stint in September.
"Probably more important than anything is his defense has improved," Orioles director of player development Brian Graham said. "His receiving, his blocking and his throwing has improved. A left-handed-hitting catcher is a commodity, and with Sisco's defense making the strides it has, that's a pretty good player."
First baseman -- Aderlin Rodriguez, Bowie (125 games): Rodriguez led the Baysox with 22 homers while ranking second on the club with 76 RBIs and 228 total bases. The 25-year-old produced a .279/.341/.471 slash line and set a Bowie record with nine RBIs on June 7 against Reading.
"He's a very mature hitter," Graham said. "He has a good understanding of how to hit. He's a guy that hit in the middle of a lineup all year on a really good team and produced."
Second baseman -- Kirvin Moesquit, Aberdeen (61 games): Drafted in the 24th round in 2015 out of Seminole State College, Moesquit put everything together in his second stint in the New York-Penn League. The 5-foot-8, 165-pound switch-hitter improved his numbers across the board from a season ago with a .276/.361/.338 slash line. Although he did not contribute much in the power department -- 10 doubles and one homer -- he finished second in the organization with 29 stolen bases in 39 attempts.
"Some guys steal bases and other guys can steal a base when they have to steal a base," Graham said. "He showed an ability to steal a base when everybody in the ballpark knew he was stealing a base. It's a skill."
Third baseman -- Steve Wilkerson, Frederick (41 games), Bowie (71 games): Wilkerson got off to a hot start in the Carolina League, batting . 351 in 21 games in April. He also finished strongly with a .345 average over the final two months after making the jump to Bowie. Combined, the 25-year-old Georgia native batted .305 -- fifth-best among Orioles Minor Leaguers -- while setting career highs with 23 doubles, eight homers and 45 RBIs.
"He's extremely athletic," Graham said. "[He has] agility, balance, quickness. He can play second base, shortstop, third base and switch-hit. Good baserunner. He's a baseball player."
Shortstop -- Ryan Mountcastle, Frederick (88 games), Bowie (39 games): Despite filling the shortstop spot on this list, the 20-year-old is in the process of transitioning to third base. He spent 37 games at the position after moving up to the Eastern League on July 20, and Graham said the organization is pleased with the move.
"I think defensively he's actually better at third base than shortstop because his hands are good and he's athletic," he said. "He's able to get the ball across the diamond."
Although Mountcastle struggled a bit at the plate after the promotion, the 2015 first-rounder turned in a .287/.312/.489 slash line with 18 dingers, a Minor League-leading 48 doubles and 62 RBIs across the two levels.
"He swung the bat well, had a ton of doubles, improved defensively as the year progressed," Graham said. "Offensively, to be 20 years old in the Eastern League and do what he did from Frederick up to Bowie was really impressive."
Outfielders -- Austin Hays, Frederick (64 games), Bowie (64 games), Baltimore (20 games): Hays broke out in a big way in his first full season after appearing in 38 games with Aberdeen in 2016. The 22-year-old led the system with a .329 average, 32 homers, 95 RBIs and 310 total bases, finishing eighth among all full-season Minor Leaguers with a .958 OPS.
"It was his first full year in professional baseball and he handled the 140-game schedule like he's done it five times," Graham said. "He had quality at-bats, recognized his pitches and hit the ball hard to all fields. When your numbers in Single-A and Double-A are almost identical -- from the number of at-bats to the number of doubles to the number of homers -- that suggests that you're a pretty good hitter and a pretty good player."
D.J. Stewart, Bowie (126 games): While Hays garnered most of the headlines, the 25th overall pick in the 2015 Draft quietly put together a breakout year of his own after a disappointing first full season in 2016. Stewart shattered his career highs with a .278 average, 220 total bases, 26 doubles, 21 homers and 79 RBIs while striking out only 87 times in 457 at-bats. The Florida State product finished fifth in the organization in long balls, fourth in RBIs and tied for fourth with 20 stolen bases.
"He had the very best quiet season of any player we have," Graham said. "He just grinded every day. He wanted to play every day. He hit 20 homers and stole 20 bases, he played good defensively, he drove in 79 runs. When you swing the bat at that rate consistently throughout the whole season, people pay notice to a guy that's a pretty good player."
Garabez Rosa, Bowie (124 games): Re-signed as a Minor League free agent at the start of the 2016 season, Rosa provided a veteran presence in the middle of Bowie's Eastern League-leading offense. The 27-year-old won the batting title with a .310 average while leading the league with 91 RBIs. He also drilled 14 homers and scored 75 runs.
Designated hitter/Utility -- Ademar Rifaela, Frederick (126 games): The 22-year-old took home Carolina League MVP honors after leading the Class A Advanced circuit with 24 homers. Though the left-handed hitting outfielder struck out 124 times, he produced a respectable .284/.358/.500 line to accompany the power.
"He's a young player without a lot of experience and really had an impressive season," Graham said. "He played good defensively. It's one of those players who just kind of had a breakout season. His tools came together and the performance followed."
Right-handed starting pitcher -- Brenan Hanifee, Aberdeen (12 games, 12 starts): Chosen in the fourth round of the 2016 Draft, Hanifee turned in a solid professional debut in the New York-Penn League after missing all of last season with a back injury. The 19-year-old went 7-3 with a 2.75 ERA that ranked second among O's Minor Leaguers. He struck out 44 and walked 12 over 68 2/3 innings.
"He came to Spring Training and we were slow with him, and he just got better and better and better," Graham said. "His delivery is excellent. He has fastball command with good angle down. He's a guy that really made good strides as a young kid at 19 years old."


Left-handed starting pitcher -- Alex Wells, Delmarva (25 games, 25 starts): Wells dominated for large stretches of the season with the Shorebirds. The 20-year-old Australian went five straight starts -- totaling 31 innings -- without allowing a run from July 5-30. Perhaps more impressively, the southpaw went 68 consecutive frames without issuing a walk to close the season. He finished 11-5 with a system-best 2.38 ERA, 113 strikeouts and 10 walks over 140 innings and was named the Orioles' Minor League Pitcher of the Year.
"Unbelievably impressive," Graham said. "When you throw 140 innings and you only walk 10 hitters all year and the number of pitches you throw per inning, the rate he pitched this year, it was unbelievable."
Relief pitcher -- Jimmy Yacabonis, Norfolk (41 games), Baltimore (14 games): A 25-year-old righty, Yacabonis locked things down at the back of the Tides bullpen. The St. Joseph's University product recorded 11 saves in 14 chances while going 4-0 with a 1.32 ERA, 48 strikeouts and 28 walks over 61 1/3 innings. He also posted a 4.35 ERA in 20 2/3 frames in the big leagues.