Pacific Coast League Finals preview
Renfroe, Chihuahuas look to repeat as champs against Redbirds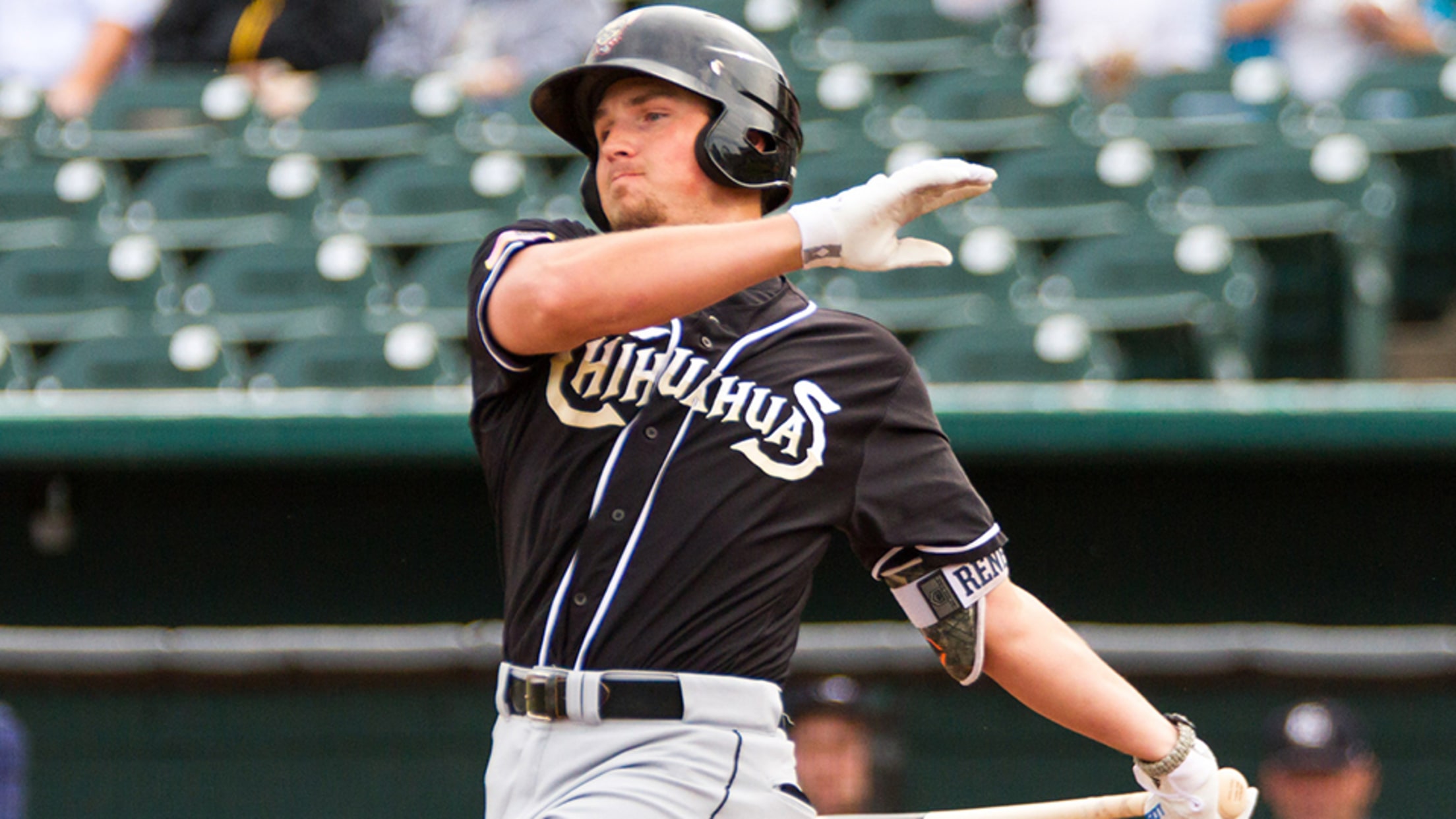 Hunter Renfroe hit .509 with four homers and 18 RBIs in 14 regular-season games after returning to the PCL in August. (Bobby Stevens/MiLB.com)
For the second straight year, the Triple-A El Paso Chihuahuas are coming off a 73-win campaign in which they did not clinch a playoff berth until the penultimate day of the regular season. And once again, they face an opponent that won its division handily and took the season series from
For the second straight year, the Triple-A El Paso Chihuahuas are coming off a 73-win campaign in which they did not clinch a playoff berth until the penultimate day of the regular season. And once again, they face an opponent that won its division handily and took the season series from them.
As the defending Pacific Coast League champions, the Chihuahuas hope the parallels to 2016 continue after sweeping the Reno Aces in three games to advance to this year's Finals.
Their opponent, the Memphis Redbirds, ran away from their competition in 2017, winning the American Southern Division by 22 games. They then rallied from a 2-1 deficit in the semifinals against Colorado Springs, winning the final two games by a combined 24-16 score after losing Game 3, 16-15.
Memphis Redbirds (91-50, American Southern Division champion) vs.
El Paso Chihuahuas (73-69, Pacific Southern Division champion)
Memphis won the season series, 3-1
Game 1 at Memphis, Sept. 13 at 8:05 p.m. ET

Game 2 at Memphis, Sept. 14 at 1:05 p.m. ET

Game 3 at El Paso, Sept. 15 at 9:05 p.m. ET

Game 4 at El Paso, Sept. 16 at 9:05 p.m. ET (if necessary)

Game 5 at El Paso, Sept. 17 at 8:05 p.m. ET (if necessary)

Memphis has played its last nine games against the Sky Sox, including a four-game set to end the regular season. Seven of those contests have been at Security Service Field, which is annually the most hitter-friendly venue on one of the Minors' most hitter-friendly circuits, and Memphis manager Stubby Clapp is glad for the change of scenery.
"It's been a while since I've been out to El Paso, but I assume it'll play similarly to Colorado Springs, so we have an idea how that might go as far as playing in El Paso," Clapp said. "It's definitely different pitching in Colorado and El Paso; when the ball gets up in the air, there's a good chance it's leaving."
El Paso's Southwest University Park, where the final three games of this series are set to take place, tends to play more toward the middle of the pack when it comes to PCL stadiums, but AutoZone Park, Memphis' home stadium, has been one of the more pitching-friendly venues in the league, which plays right into the Redbirds' hands.
Memphis' 3.77 team ERA this season was nearly a half-run better than second-place Sacramento's 4.23 mark. While Cardinals No. 3 prospectJack Flaherty and recently graduated right-hander Luke Weaver -- both of whom posted sub-2.80 ERAs in 15 starts with the Redbirds -- are currently pitching in the Majors, Memphis' staff still gives them a distinct advantage over El Paso and its 5.13 team ERA.
• Complete playoff coverage
"As far as our pitching, they're aggressive, they go after you and they're going to make the most of their pitches," Clapp said. "We need to make them swing the bats and can't give them extra bases. No errors, just play solid fundamental baseball and that'll give us a good opportunity to win it."
Eighth-ranked Cardinals prospect Dakota Hudson is slated to take the ball in Wednesday's Game 1 for Memphis after posting a 4.42 ERA in seven starts since his promotion from Double-A Springfield, and he allowed one run over six innings Sept. 6 in a Game 1 win over Colorado Springs. Kevin Herget will start the series' second game, followed by Cardinals No. 23 prospect Ryan Helsley and 13th-ranked Zac Gallen.
While the Redbirds lean heavily on their pitching, the Chihuahuas' bats make them a tough out, especially in their home park. El Paso scored 804 runs this season, fourth in the PCL and 90 more than Memphis. Much of that damage was done without the team's current big bat, outfielder Hunter Renfroe.
Renfroe hit .230/.285/.443 with 20 homers and 47 RBIs in 111 games for the Padres this season before being sent down to El Paso on Aug. 17. Over 14 regular-season games in the Minors this year, he batted .509/.557/.891 with four homers and 18 RBIs.
• Get tickets to a Redbirds game »
"When guys come back down from the Majors, they can go in two directions," El Paso manager and former big league catcher Rod Barajas told MiLB.com. "They can sulk and feel sorry for themselves or they can go out, compete and try and get better every day. Hunter came down here with a smile on his face, ready to play baseball. He was a huge part of our success last year, so he's tasted this before. He knows how to go about his business, and he's been a mentor of sorts to some of the guys who haven't been through it."
Renfroe was a big reason the Chihuahuas snuck into the playoffs this year as his monster two-week stretch helped them win eight of their final 10 games. He then went 3-for-12 with a homer and three RBIs against the Aces and will look to be part of his second straight PCL championship team.
El Paso has numerous other potent bats in its lineup, including Nick Buss and his PCL-best .348 batting average. Padres No. 12 prospectFranchy Cordero is 5-for-13 in the playoffs so far after batting .326/.369/.603 with 17 homers and 64 RBIs during the season, while Christian Villanueva's 20 homers and 86 RBIs and Rafael Ortega's .317/.383/.468 line with 26 stolen bases add to the Chihuahua's hitting prowess.
Not to be outdone, Memphis boasts No. 4 St. Louis prospect Tyler O'Neill, who was acquired in a trade-deadline deal for left-hander Marco Gonzales and produced a .253/.304/.548 batting line with 12 homers and 39 RBIs in 37 games for the Redbirds. He and third baseman Patrick Wisdom tied for fourth in the PCL with 31 homers -- along with Rangers No. 2 prospectWillie Calhoun -- and both finished a triple shy of the cycle and combined to drive in seven runs in Sunday's semifinals-clinching win over the Sky Sox.
"I just look to those guys to continue having quality at-bats," Clapp said. "They'll do their job and do the damage they need to do in order to help the team win. Tyler's been a great addition -- he's made some nice adjustments since he's been here, put together some solid at-bats and not just hit home runs. In conjunction with Patrick, that's a nice duo to have in the lineup."