Padres Add Abrams, 1st-Round Pick, to TinCaps
18-Year-Old Shortstop Was No. 6 Overall Pick in June's Draft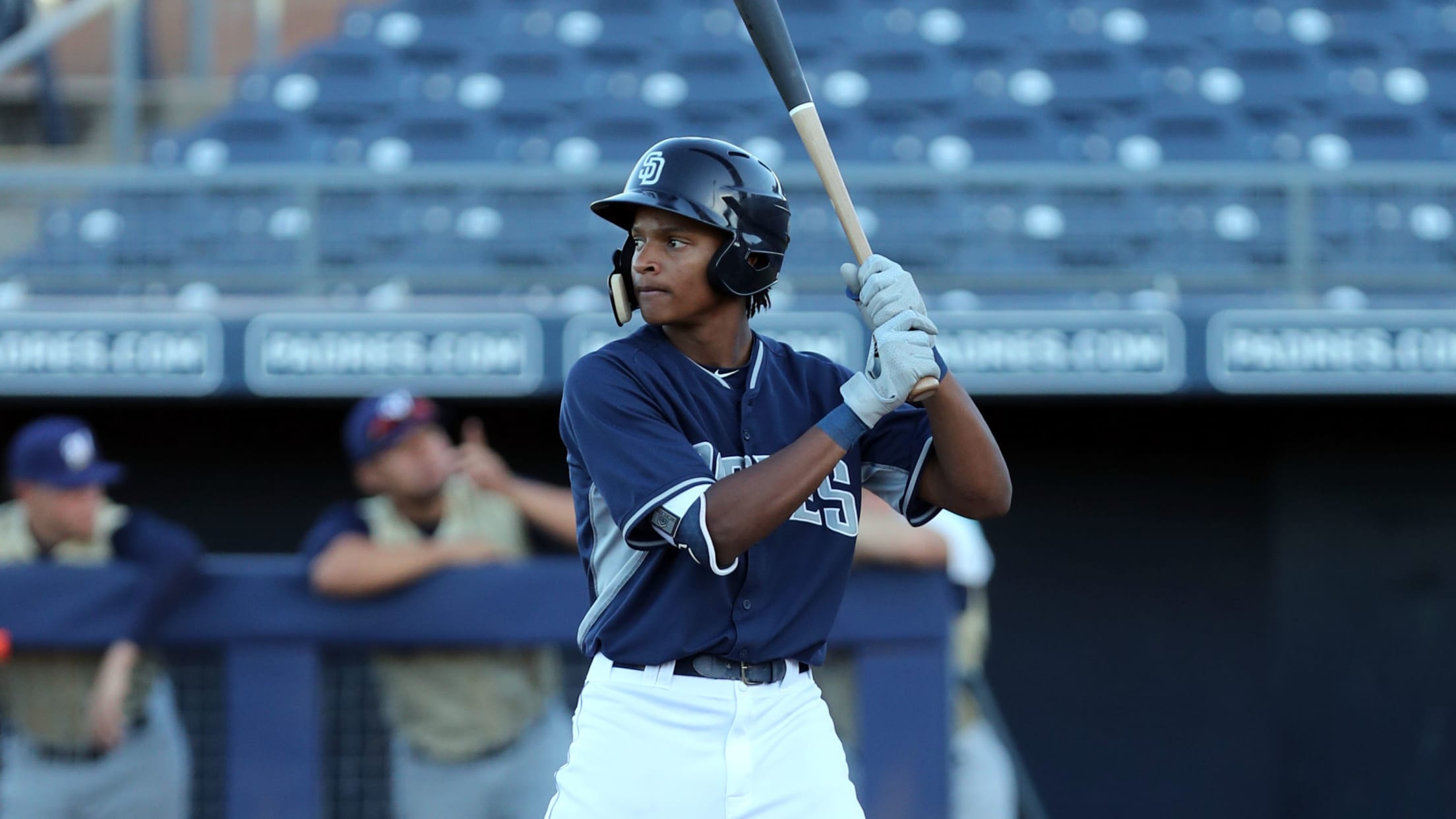 FORT WAYNE, Ind. -- The San Diego Padres have transferred shortstop C.J. Abrams to the Class A Fort Wayne TinCaps from the rookie-level Arizona League. MLB.com rates Abrams, an 18-year-old, as the No. 5 Padres prospect and the 48th best overall prospect in the sport. Abrams was selected by the Padres
FORT WAYNE, Ind. -- The San Diego Padres have transferred shortstop C.J. Abrams to the Class A Fort Wayne TinCaps from the rookie-level Arizona League. MLB.com rates Abrams, an 18-year-old, as the No. 5 Padres prospect and the 48th best overall prospect in the sport. Abrams was selected by the Padres with the sixth pick in the first round of the 2019 MLB Draft out of Blessed Trinity High School in Roswell, Ga.
"C.J. probably has as much ceiling as any player in this year's draft," said A.J. Preller, San Diego's Executive Vice President/General Manager, after selecting Abrams. "He's one of the fastest guys that's been in the draft in the last 10 years. That plays on the bases, he steals bases, and he also makes a lot of contact. He's tough to strike out."
"As much ceiling as any player in this year's draft... probably one of the fastest guys that has been in the draft over the last 10 years"

--@Padres GM AJ Preller on CJ Abrams#FriarFaithful | #MLBDraft pic.twitter.com/vYY0Epxe37

— FOX Sports San Diego (@FOXSportsSD) June 7, 2019
Abrams earned his promotion to Fort Wayne after leading the Arizona League in hitting with a .401 batting average across 32 games. That was 14 points higher than any other qualifying player. He was also tied for the league lead in triples with eight and tied for fourth in doubles with 12. Combined with three home runs, his .662 slugging percentage and 1.104 OPS both ranked second in the circuit. Abrams drew 10 walks against only 14 strikeouts on his way to a .442 on-base percentage, eighth highest in the AZL. He also had 14 stolen bases.
At 18, Abrams is the first prep player in the 2019 Draft to reach the Class A level and is now the youngest player on Fort Wayne's roster. He'll turn 19 on Oct. 3. The average age for a position player in the Midwest League this year is 21.2 years old. (The TinCaps already have had the youngest lineup by average age at 20.3.)
Since the TinCaps moved into Parkview Field in 2009, Fort Wayne now has seen all 16 first round (and compensatory first round) selections the Padres have signed. That list includes 10 players who've reached the major leagues, including current Padres outfielder Hunter Renfroe from the 2013 draft, and up-and-coming prospects like starting pitcher MacKenzie Gore , who was drafted in 2017 and pitched for the 'Caps last year.
Yesterday, we welcomed @CJAbrams01 into the #Padres family.

Here's a look back at his first day as a Padre. #PadresOnDeck pic.twitter.com/iu563zsHGA

— San Diego Padres (@Padres) June 9, 2019
"No one in Minor League Baseball has seen more top-tier talent in recent years than fans at Parkview Field," said TinCaps President Mike Nutter. "We're excited to welcome C.J. to Fort Wayne and can't wait to see him develop here as both a person and a prospect."
Abrams is set to make his debut on Tuesday afternoon as the TinCaps, who are on a five-game winning streak, host the Detroit Tigers-affiliated West Michigan Whitecaps at 12:05 p.m. Abrams, who will wear uniform No. 9, is leading off as the designated hitter.
The 6-foot-2, 185-pound shortstop joins four other "Top 30"-rated Padres prospects in left-handed pitcher Ryan Weathers (No. 8), infielder Tucupita Marcano (No. 16), left-handed pitcher Joey Cantillo (No. 19), and catcher Blake Hunt (No. 30).
The TinCaps are in the midst of a homestand that continues through Friday night. Fort Wayne has 14 games remaining at Parkview Field this season. Fans can purchase tickets at TinCapsTickets.com, by calling 260-482-6400, and at the Parkview Field Ticket Office.
TinCaps fans around Indiana can watch home games on Comcast Network 81. All of the team's remaining games this season can also be seen on MiLB.TV. The promo code "TINCAPS" saves fans $10 on their subscription that also gives access to games around Minor League Baseball.
More Notes on Shortstop C.J. Abrams

Prospect Rankings: No. 5 in Padres system, No. 48 overall in baseball
Age: 18 / Born: Oct. 3, 2000 in Alpharetta, Ga. (northern suburb of Atlanta)
Height: 6'2" / Weight: 185
Bats: Left / Throws: Right
Drafted: No. 6 overall in 2019 by the Padres
High School: Blessed Trinity in Roswell, Ga. (alums include Braves catcher Tyler Flowers and White Sox infielder Matt Skole)
College Commitment: University of Alabama
Previous Experiences: In 2018, won a gold medal with Team USA in the U-18 Pan-American Championships in Panama. Started all nine games and was named to the All-Tournament Team… On the showcase circuit, played in multiple MLB ballparks such as Wrigley Field and Petco Park in San Diego… 2019 Georgia Gatorade High School Baseball Player of the Year (struck out only 12 times over his 4-year high school career)… Has been clocked running a 6.29 60-yard dash and running from home plate to first base in less than four seconds… Throws from shortstop to first have been recorded at 91 MPH
Fun Facts: First favorite player was Ken Griffey Jr…. Also grew up playing basketball (can do a windmill dunk) and football… Has volunteered with the Muscular Dystrophy Association and CURE Childhood Chancer