Blackburn extends Sounds' shutout streak
No. 22 A's prospect posts seven zeros to run stretch to 29 frames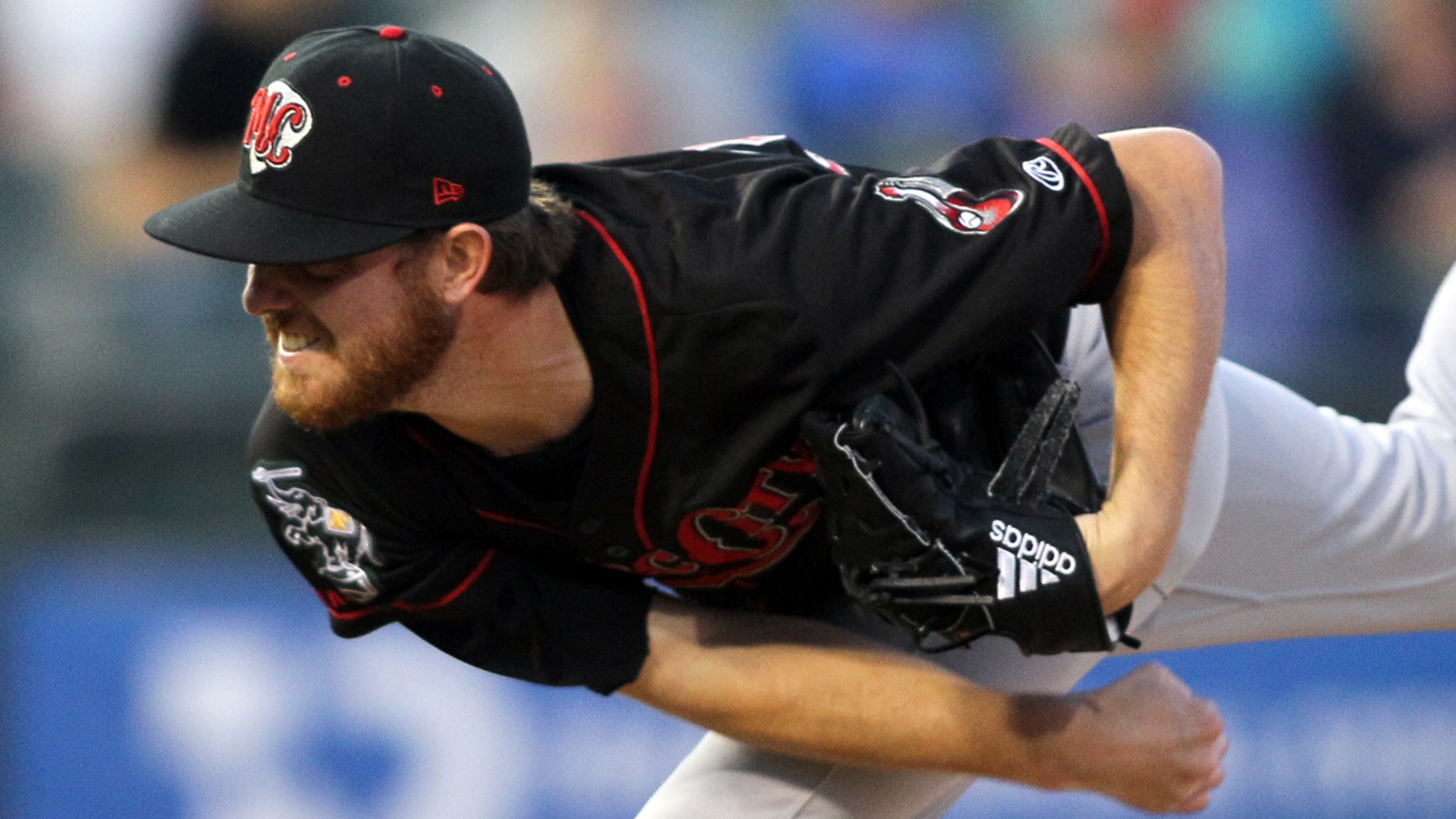 Paul Blackburn and the Nashville hurlers sported a 3.66 staff ERA through 42 games, second-best in the PCL. (Jim Redman/MiLB.com)
Triple-A Nashville's hurlers won't stop talking and pitching coach Rick Rodriguez loves it.Paul Blackburn became the latest member of the Sounds rotation to deliver a scoreless start, extending the team's streak to four days and 29 straight innings as Nashville blanked Omaha, 4-0, on Wednesday at First Tennessee Park. The
Triple-A Nashville's hurlers won't stop talking and pitching coach Rick Rodriguez loves it.
Paul Blackburn became the latest member of the Sounds rotation to deliver a scoreless start, extending the team's streak to four days and 29 straight innings as Nashville blanked Omaha, 4-0, on Wednesday at First Tennessee Park. The A's No. 22 prospect scattered five hits and two walks while striking out six over seven frames.
"The one big thing that I've noticed is when the starters are in the dugout, one starter comes in after his inning, and all the other guys are talking," Rodriguez said. "They're all communicating. 'What did you do to this guy? What did you think about this guy?' It's just a nice mix, and like I said, they're talking about everything -- how to set up the hitter, watch this guy. Maybe Pitcher A has faced Hitter B and he's giving our other starter advice. 'I've seen this guy, I know what to do.'"
Gameday box score
The communication and energy that has permeated the Sounds rotation in recent days has resulted in strong returns. Jharel Cotton started the streak with seven frames in a win at Sacramento on May 21. Daniel Gossett did Cotton one inning better the next night in a victory over the River Cats. Daniel Mengden went seven Tuesday, and on Wednesday night, it was Blackburn's turn.
"He was kind of feeling the league out and then his last start against Sacramento, he figured it out," Rodriguez noted of Blackburn, who went six scoreless innings in his previous outing on May 19. "He stayed in that good rhythm, and he was able to get the ball down and execute. Today in the first couple innings, he was overthrowing a little bit, and our catcher (Ryan Lavarnway) went out and was able to settle him down and get him into that rhythm again."
In six of his seven innings, Blackburn (3-4) put Omaha's leadoff hitter aboard before escaping the frame unscathed. But the Storm Chasers batted just twice against him with runners in scoring position, going 0-for-2. No Omaha hitter advanced beyond first base after the first inning.
"I think they're just feeding off one another," Rodriguez said of his starters. "One guy does well, the next guy does well, the next guy does well. That's a big reason. They're just putting together some of their best starts. The catchers are communicating well with them, helping put together a good gameplan and they've just been able to execute."
Rodriguez credited his team's backstops -- Lavarnway, Bruce Maxwell and Matt McBride -- for major contributions to the success of a staff that entered Wednesday night with a 3.66 ERA, second-best in the Pacific Coast League.
"They've all been a big part of it," he said. "The one big thing that each catcher is trying to get each pitcher to do is stay in a good rhythm -- to stay within yourself, not try to do too much. We take what one guy's been successful with and try to apply it to the next pitcher in terms of the effort level, not overthrowing."
Nashville's arms have also been bolstered by a resurgent offense. While the Sounds are batting just one point better as a team in May (.265) than April (.264), their output has been markedly improved. Nashville scored 84 times and belted 18 homers last month. With seven games still on their schedule for May, the Sounds have already scored 133 runs and hit 42 homers this month.
"It gives [the starters] a great amount of confidence," Rodriguez said. "If we can score early, the starters are a little more aggressive and can go right after the hitters. There's a little more room for error there. It's nice."
Relievers Tucker Healy and Simon Castro combined to finish off Wednesday's shutout, allowing a hit and striking out a pair over the final two frames.
"We had a little meeting a week ago or a couple weeks ago about the starters. If they start doing their job and keeping us close, you relievers are going to come in and close the door and do the job," Rodriguez said. "They took that to heart."
Oakland's No. 4 prospect Matt Chapman, No. 15 Matt Olson and No. 21 Jaycob Brugman drove in a run apiece.
Tyler Maun is a contributor to MiLB.com. Follow him on Twitter @TylerMaun.