2020 PAWSOX TICKETS ON SALE NOW
PawSox Opening Day at McCoy is Thursday, April 9 at 5:05 pm Club closes the season on September 7 at McCoy PawSox say "Thank You McCoy" for 50 Wonderful Years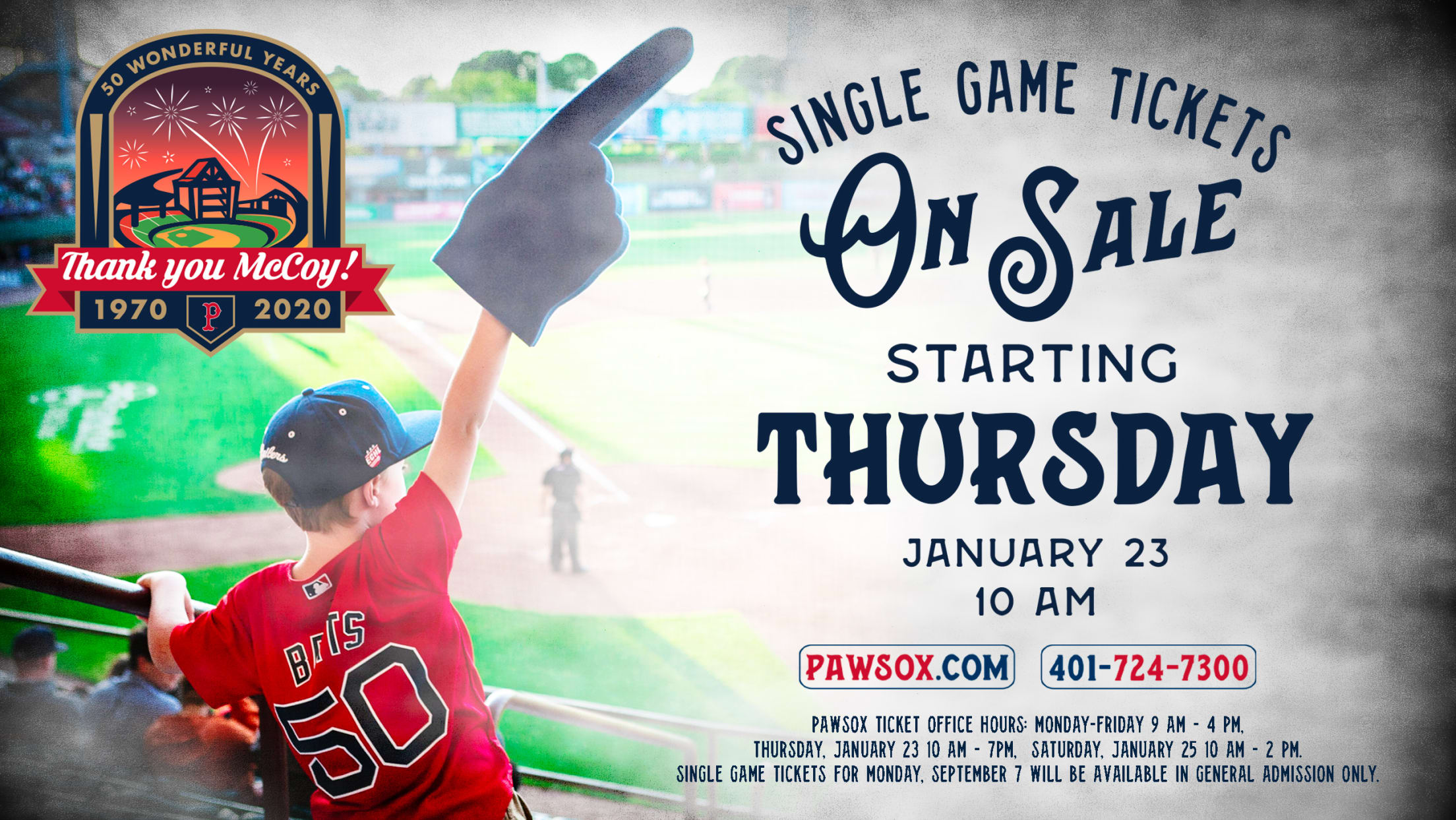 PawSox Opening Day at McCoy is Thursday, April 9 at 5:05 pmClub closes the season on September 7 at McCoyPawSox say "Thank You McCoy" for 50 Wonderful Years
PawSox Opening Day at McCoy is Thursday, April 9 at 5:05 pm
Club closes the season on September 7 at McCoy
PawSox say "Thank You McCoy" for 50 Wonderful Years
PAWTUCKET, RI - Pawtucket Red Sox 2020 single game tickets are now on sale at pawsox.com, by phone at (401) 724-7300, and at the McCoy Stadium Box Office.
The Pawtucket Red Sox will open their 2020 season at McCoy Stadium on Thursday, April 9 against the Syracuse Mets at 5:05 pm. 2020 will mark the PawSox' 50th Anniversary season and will feature some of the most exciting promotions and special events that the club has ever staged at the venerable ballpark.
The PawSox will again present signature fireworks set to music after each Saturday night game, as well as on July 2 & 3 prior to the Independence Day holiday, August 14, and also on Labor Day eve, September 6 (the penultimate game at McCoy).
In a new twist for 2020, the PawSox will provide fans with special giveaways or promotions at each and every home game.
"Throughout the 2020 season we will celebrate all that is good about PawSox Baseball…from historic events and legendary players to memorable promotional nights and our iconic fireworks shows," said PawSox Vice-Chairman Mike Tamburro who will begin his 43rd continuous season with the club in 2020. "And at the same time, we promise to help as many charitable organizations as possible."
The PawSox will again hold the line on ticket prices in 2020. The lowest-priced tickets - $6 in advance for children & seniors and $9 in advance for adults - remain unchanged for the 6th year in a row.
Green (Field Box) seats will again be $14 when purchased in advance, while the red seats (Reserved Box) will continue to be $13. General Admission tickets will once again cost just $9 and General Admission tickets for children (aged 12 & under) will remain only $6, as will tickets for seniors (aged 62 & over), veterans, and active duty military. The military discount is presented by TD Bank. Again this season, tickets purchased on the day of the game will cost $2 more than those purchased in advance of the day of the game.
Group tickets also provide a savings off the regular box office price and include up to $2, $3, or $4 per ticket in Free Ballpark Credit (to use for food, beverage, and/or merchandise).
Popular mini-plans are available, ranging from a half season to as few as three games. There are also 18-game Weekend Mini-Plans, 7-game Fireworks Mini-Plans, and various 3-game Mini-Plans…including the "McCoy Memories" Mini-Plan that is good for Opening Day (April 9), the July 3rd Fireworks Game, and the Final regular-season game at McCoy Stadium on September 7.
Due to the overwhelming demand of season ticket holders, groups, and the popular "McCoy Memories" Mini-Plan, there are now very few remaining reserved seats available for the landmark Grand Finale at McCoy on Labor Day Monday, September 7 vs. Syracuse at 1:05 pm. There are, however, a number of general admission tickets still available for that game. Furthermore, there are excellent reserved box seats available for the other two games during that historic final weekend on September 5 & 6.
Among the top giveaway items planned for 2020 are bobbleheads of four iconic Boston Red Sox championships moments…Keith Foulke's historic last out of the 2004 World Series, Manny Ramirez' memorable walk-off 3-run HR in Game 2 of the 2007 ALDS, David Ortiz' dramatic grandslam in Game 2 of the 2013 ALCS, and Andrew Benintendi's acrobatic catch in front of the Green Monster in Game 2 of the 2018 World Series. All of these bobbleheads are accompanied with audio of the play as called by acclaimed Red Sox broadcasters Joe Castiglione and Dave O'Brien. The date for the Foulke giveaway is still to be determined while dates for the other bobbleheads are tentatively slated for June 12 (Manny), June 26 (Big Papi), and July 18 (Benny).
Other popular giveaways on the schedule include replica jerseys of David Ortiz (a Red Sox white jersey on May 29), Xander Bogaerts (a PawSox red jersey on July 31), and Nomar Garciaparra (PawSox blue jersey tentatively scheduled for August 1). A PawSox giveaway cap, the longest standing promotional item in club-history, featuring the new "Thanks You McCoy" logo will be given away on July 19.
McCoy will host visits from legendary figures from the past five decades of PawSox Baseball throughout the 2020 season. Among the highlights will be saluting The Longest Game in Professional Baseball History on June 23 when the PawSox again host Rochester…the same two franchises who - on that same date in 1981 - played the final inning of the 33-inning game at McCoy won by Pawtucket, 3-2. The Perfect Games thrown by Tomo Ohka (2000) and Bronson Arroyo (2003) will be remembered while several other legendary PawSox alumni and iconic McCoy moments will be honored.
Furthermore, the team will unveil their newest 2020 Hall of Fame Class who will join the likes of Boggs, Rice, Fisk, Vaughn, Lynn, and Clemens who are all enshrined in the PawSox Hall of Fame. The club will also announce its continued Latino outreach program and its special Rhode Island theme night later during the off-season.
In what continues to be one of the most popular staples of PawSox baseball, fireworks will follow every Saturday night home game, as well as Thursday & Friday, July 2 and 3 (for Independence Day) along with Friday, August 14 and Sunday, September 6. The pyrotechnics will again be choreographed to various musical themes, from Country music (May 23), to the Beatles (June 27), to the music of Margaritaville (July 18) along with the always-popular theme nights of Harry Potter (May 9), Star Wars (June 13), and Superheroes (August 15).
The last two fireworks shows will occur on the final weekend of PawSox Baseball at McCoy with a Baseball-themed extravaganza on Saturday, September 5 and a Rhode Island-themed display on Sunday, September 6 to help celebrate 50 Wonderful Years at McCoy. (The final regular-season game of 2020 will take place on Labor Day Monday afternoon, September 7).
Other treasured giveaways include a PawSox All-Time Team Card Set (July 17), a McCoy Stadium Replica (August 14), as well as posters and other McCoy memorabilia just to name some.
Capping the weekend, Sundays will once again be Family FUNdays, featuring an opportunity to have a "Summer Catch on the Field" before the game and "Run the Bases" following every Sunday afternoon game.
The club's full 2020 promotional calendar, which is subject to change, will be updated frequently. Fans can stay up to date at pawsox.com.
The PawSox open 2020 with a 7-game homestand that starts on Opening Day, Thursday, April 9 at 5:05 pm vs. the Syracuse Mets. The 3-game series with Syracuse continues Friday, April 10 at 6:05 pm and then concludes with an afternoon game on Saturday, April 11 at 1:05 pm. The PawSox, in consideration of their fans, will take Easter Sunday (April 12) off before resuming their homestand with a 4-game series vs. the Buffalo Bisons from April 13-16 (with the finale on Thursday, April 16 being a 12:05 pm matinee).
The 2020 International League schedule will be unbalanced for the sixth straight season, with the PawSox again playing 140-games for the third year in a row (70 games at home and 70 on the road). Pawtucket's home schedule consists of 48 night games and 22 day games with the following breakdown by game by month: April (10), May (17), June (12), July (13), August (13), and September (5). The IL Playoffs will take place from September 9-19 with the Triple-A National Championship Game taking place on September 22 in Las Vegas.

PawSox home weeknight games will begin at 6:05 pm through June 10. Thereafter, they will begin at 7:05 p.m. Saturday night home games start at 6:15 pm with the exception of May 23 which is now a single-admission doubleheader beginning at 4:05 pm (the twin bill a make-up for not playing on Easter Sunday). The two Saturday home games in April will both be 1:05 pm afternoon affairs on April 11 & 25. Eight of the ten Sunday home games will be 1:05 pm starts with the exceptions of Sunday, May 24 at 4:05 pm (Memorial Day eve) and the final Sunday game of the season on Labor Day eve, September 6 beginning at 6:05 pm (with fireworks to follow).
All 14 International League teams are back in the same divisional set-up as last year and all with the same Major League affiliation.