Liover Peguero, Matt Fraizer hit 2-run HRs to power I-40 rivalry win
Greensboro hits four home runs and extends "Battle of I-40" season series lead to 10-7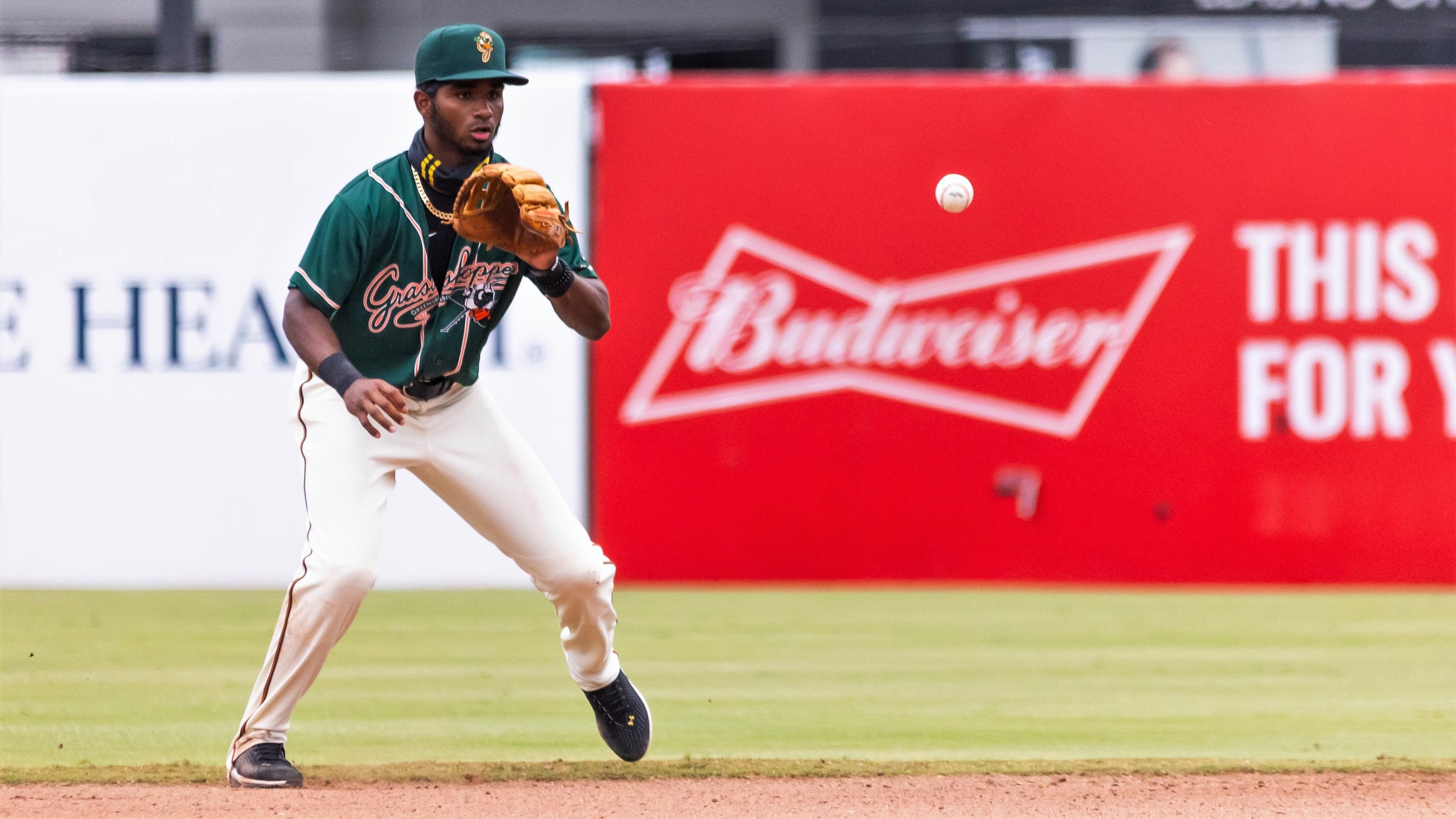 Greensboro shortstop Liover Peguero is rated by MLB Pipeline as the No. 4 prospect in the Pittsburgh Pirates' farm system. (Jak Kerley/Greensboro Grasshoppers)
GREENSBORO ― Liover Peguero and Matthew Fraizer both went 3-for-4 with home runs, and Greensboro won its third straight in the "Battle of I-40" rivalry as the Grasshoppers rallied to beat the Winston-Salem Dash 11-7 before a crowd of 6,221 at First National Bank Field on Saturday night. Fraizer's league-leading
GREENSBORO ― Liover Peguero and Matthew Fraizer both went 3-for-4 with home runs, and Greensboro won its third straight in the "Battle of I-40" rivalry as the Grasshoppers rallied to beat the Winston-Salem Dash 11-7 before a crowd of 6,221 at First National Bank Field on Saturday night.
Fraizer's league-leading 20th home run ― a two-run shot off the scoreboard in right-center field ― gave the Hoppers an 8-7 lead in the sixth inning. Grant Koch drew a walk to start the inning, and one out later Fraizer homered on an 0-1 pitch from reliever Kevin Folman (0-1, 10.13 ERA) in his debut with the Dash.
Fraizer is in the midst of a monster year. The 23-year-old outfielder leads the High-A East league in hits (95), walks (41), runs (63), home runs (20), batting average (.321) and OPS (.997).
Peguero, a shortstop rated by MLB Pipeline as the No. 4 prospect in Pittsburgh's farm system, homered for the third consecutive game. His ninth home run of the season was a two-run shot to the opposite field in the eighth inning that pushed Greensboro's lead to four runs.
Peguero had a big night in front of the big crowd. The 20-year-old from the Dominican Republic homered, doubled, singled, walked, scored four runs, swiped his 17th stolen base of the season and started two double plays on defense. He has hit safely in 13 of his last 15 games, going 20-for-68 (.294) in that span.
Matt Gorski and Aaron Shackelford also hit home runs for the Hoppers (48-29), who lead the season series against the Dash 10-7. Teams from Greensboro and Winston-Salem are playing each other for the first time since 1968, and there are seven more head-to-head games remaining in the renewed rivalry this season.
Gorski has homered in back-to-back games. The right fielder finished 2-for-4 with three RBIs, extending his hitting streak to five games, and he threw out a runner at the plate.
Shackelford went 2-for-5 with his 16th home run, and third baseman Jared Triolo drove in two runs with a sacrifice fly and an RBI single.
Left fielder Lolo Sanchez hit an RBI double and swiped third base for his team-leading 22nd stolen base.
Right-hander Oliver Garcia (4-2, 2.88 ERA) picked up the win in relief, despite giving up a pair of solo home runs. Hard-throwers Colin Selby and Austin Roberts combined to pitch three scoreless innings to close the game, striking out three.
NOTES: The playoff format in the High-A East this year is a five-game series between the two teams with the best records, regardless of division. Greensboro trails Bowling Green by seven games in the South Division standings, but the Hoppers are third in the pennant race, just one game behind North Division leader Hudson. ... Jared Triolo has hit safely in 21 of his last 24 games, going 36-for-100 (.360) with six doubles, four home runs, 24 RBIs and 12 stolen bases in that span. He ranks third in the High-A East with 55 RBIs, and he has raised his batting average from .237 on June 1 to .296 on July 31. ... Blake Sabol sat out Saturday's game, but he has hit safely in 10 of his last 12 games, going 18-for-42 (.429) with three doubles and five home runs in that span. ... Fan favorite Lolo Sanchez ranks fourth in the league with 22 stolen bases, Jared Triolo is fifth with 20 and Liover Peguero is 11th with 17. ... Greensboro leads the 12-team High-A East with 119 stolen bases in 151 attempts, and the Hoppers are second in the league with 119 home runs. ... The Pirates made two roster moves in Greensboro, sending backup catcher Dylan Shockley down to the Florida Complex League and promoting catcher Eli Wilson from Class-A Bradenton to the Hoppers. Eli is the son of former Seattle Mariners star catcher Dan Wilson.
In his career at the News & Record, journalist Jeff Mills won 10 national and 12 state writing awards from the Associated Press Sports Editors, the Society for Features Journalism, and the N.C. Press Association.