Liover Peguero homers in fourth straight I-40 rivalry game
Hoppers win to take 11-7 season series lead in "The Battle of I-40" rivalry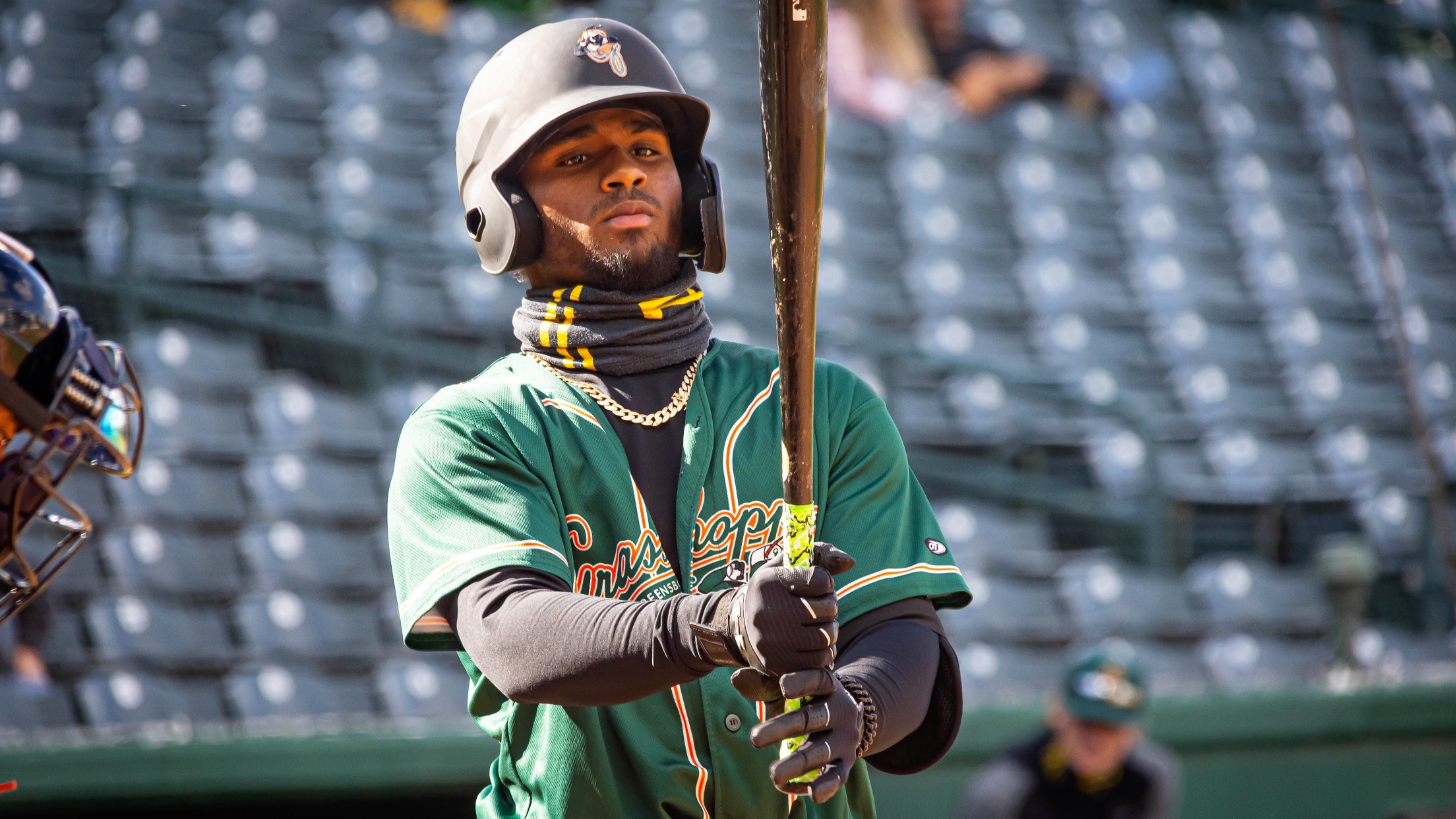 Grasshoppers shortstop Liover Peguero hit two home runs in the series finale against Winston-Salem, and he has homered in four consecutive games. (Jak Kerley/Greensboro Grasshoppers)
GREENSBORO ― The man they call "Peggy" is both a free spirit and a leader in the clubhouse. And he happens to be a heck of a ballplayer, too. Prized prospect Liover Peguero has homered in four consecutive games, and he hit a pair of two-run home runs Sunday afternoon
GREENSBORO ― The man they call "Peggy" is both a free spirit and a leader in the clubhouse.
And he happens to be a heck of a ballplayer, too.
Prized prospect Liover Peguero has homered in four consecutive games, and he hit a pair of two-run home runs Sunday afternoon to lead the Greensboro Grasshoppers to a 7-4 victory over the Winston-Salem Dash at First National Bank Field.
With the win, the Hoppers (49-29) took an 11-7 lead in their season series with the Dash, a renewed rivalry known as "The Battle of I-40." This is the first season teams from Greensboro and Winston-Salem have played in the same league and met head-to-head since 1968.
The Hoppers have won eight of their last 10 games and are 21-7 since July 1. They took five out of six in this series with the Dash.
The teams play six more games this season, Aug. 10 through 15 in Winston-Salem.
Peguero has hit safely in the Hoppers' last 10 games in the I-40 rivalry against the Dash, going 16-for-44 (.364) with six home runs.
A shortstop rated by MLB Pipeline as the No. 4 prospect in Pittsburgh's farm system, Peguero is on a seven-game hitting streak, going 12-for-30 (.400) during that stretch to raise his season batting average to .266. In 58 games this summer ― he missed time early in the year with a bruised knee ― Peguero has 11 home runs, 11 doubles, 32 RBIs and is 17-for-20 in stolen base attempts.
"He tries to fire up the other guys," Hoppers manager Kieran Mattison said earlier this season. "That's Peggy. He loves the game. You're supposed to have fun, you know? And Peggy is a joy to be around every day."
Andres Alvarez went 3-for-3 with a home run Sunday, and Nick Gonzales ― rated by MLB Pipeline as the Pirates' top prospect ― went 2-for-4 with a double and an RBI.
Tahnaj Thomas, a 22-year-old right-hander rated as Pittsburgh's No. 6 prospect, pitched five solid innings to get his first win of the season.
Thomas (1-2, 4.66 ERA) walked just one and struck out five. It was his third straight strong start after sitting out three weeks. Thomas wasn't on the injured list during those 23 days, but he had walked 20 in his previous 13 innings and had a string of five straight starts in which he lasted fewer than four innings.
In three starts since returning to the rotation, Thomas has walked just one batter and struck out 12.
"This team has had ups and downs, but the one consistent thing is we're growing and learning," Mattison said. "We've gotten better each week, and that's what you want. … For a lot of these guys, it is their first full professional season, and it's about learning to be a pro. It's focus. You have to have the extreme focus to do your work daily. … They hold each other accountable. It's the iron sharpens iron approach."
Right-hander Will Kobos closed the game and retired all five batters he faced, striking out four to earn his second save.
Lead-off hitter Matthew Fraizer went 0-for-4 with a walk and a run scored, snapping a 12-game hitting streak. The 23-year-old outfielder still leads the High-A East league in hits (95), walks (42), runs (64), home runs (20) and batting average (.317). He's second in slugging percentage (.583) and OPS (.986).
The Hoppers have Monday off, then open a six-game homestand against the Hickory Crawdads at 6:30 p.m. Tuesday at First National Bank Field.
NOTES
The playoff format in the High-A East this year is a five-game series between the two teams with the best records, regardless of division. Greensboro trails Bowling Green by six games in the South Division standings, but the Hoppers are third in the pennant race, just one game behind North Division leader Hudson Valley.
Third baseman Jared Triolo got the day off Sunday. Triolo has hit safely in 21 of his last 24 games, going 36-for-100 (.360) with six doubles, four home runs, 24 RBIs and 12 stolen bases in that span. He ranks third in the High-A East with 55 RBIs, and he has raised his batting average from .237 on June 1 to .296 on Aug. 1.
Matt Gorski, who had homered in back-to-back games and has a five-game hitting streak, also got the day off Sunday.
Blake Sabol has hit safely in 11 of his last 13 games, going 19-for-47 (.404) with four doubles and five home runs in that span.
Fan favorite Lolo Sanchez walked twice Sunday and shares the league lead with Fraizer at 42 walks. Sanchez ranks second in the league with 24 stolen bases in 30 attempts.
Greensboro leads the 12-team High-A East with 121 stolen bases in 153 attempts, and the Hoppers are second in the league with 122 home runs.
In his career at the News & Record, journalist Jeff Mills won 10 national and 12 state writing awards from the Associated Press Sports Editors, the Society for Features Journalism, and the N.C. Press Association.