Hoppers offense collects 17 hits in 12-5 win at Asheville
Liover Peguero, Jared Triolo and Matt Gorski all have three hits in victory as Greensboro gains ground in playoff hunt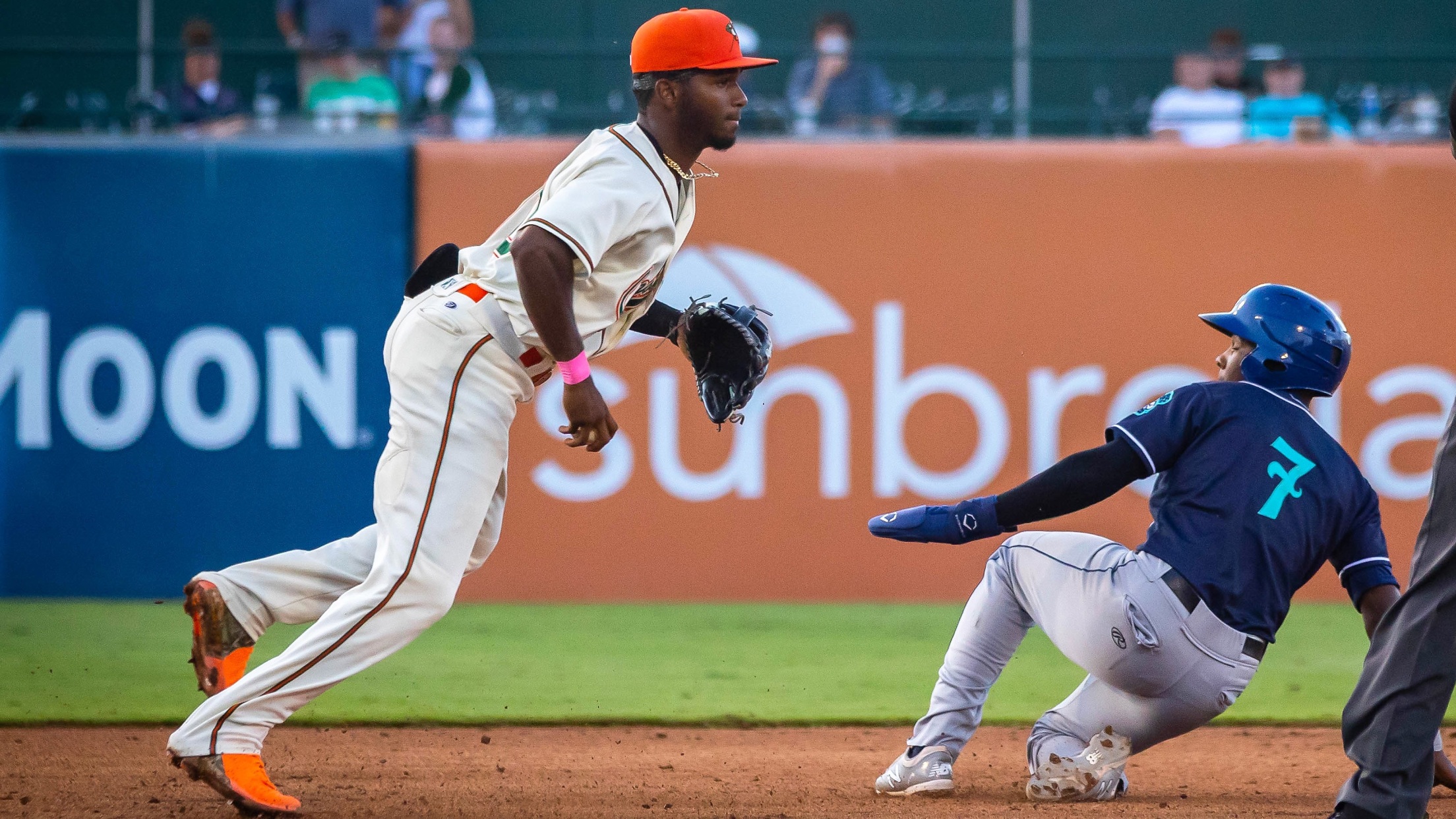 Greensboro shortstop Liover Peguero (left) chases Asheville baserunner Freudis Nova during a rundown this season. Peguero had three hits including his 13th home run Saturday. (Jak Kerley/Greensboro Grasshoppers)
ASHEVILLE ― Lead-off hitter Liover Peguero went 3-for-6 with a home run and three RBIs, and the Greensboro Grasshoppers pounded out 17 hits on the way to a 12-5 victory over the Asheville Tourists at McCormick Field on Saturday night. Jared Triolo hit three doubles and drove in two runs
ASHEVILLE ― Lead-off hitter Liover Peguero went 3-for-6 with a home run and three RBIs, and the Greensboro Grasshoppers pounded out 17 hits on the way to a 12-5 victory over the Asheville Tourists at McCormick Field on Saturday night.
Jared Triolo hit three doubles and drove in two runs for the Hoppers, and Matt Gorski went 3-for-5 with an RBI double.
The Hoppers (63-38) are in second place in the High-A East's South Division, six games behind Bowling Green (69-32) with just 19 games left in the regular season. But Greensboro stayed a half-game ahead North Division leader Hudson Valley (62-38) in the race for the No. 2 record in the 12-team High-A East.
The teams with the top two records, regardless of division, qualify for the 12-team league's championship series in September. Greensboro plays 12 of its last 18 games against Hudson Valley.
The Hoppers have won three games in the six-game series against Asheville, which concludes Sunday. Greensboro has won or split 16 of 17 series this season. Since splitting their first five series of the season, the Grasshoppers are 48-23 (.676 win percentage).
Peguero, a 20-year-old shortstop rated by MLB Pipeline as the No. 5 prospect in Pittsburgh's farm system, hit his 13th home run of the season Saturday. He's 8-for-21 in the last four games with two doubles and two home runs.
First baseman Will Matthiessen hit his 11th home run of the season, a three-run shot in the eighth inning to close out the scoring for Greensboro.
Carmen Mlodzinski, a right-hander rated by MLB Pipeline as the Pirates No. 10 prospect, made his third start since coming off the injured list on Aug. 15. Working on a strict pitch-count, Mlodzinki went just 1 2/3 innings and threw 46 pitches. He gave up two runs and struck out two.
Garrett Leonard (1-2, 6.13 ERA) picked up the win in 1 2/3 innings of relief, and right-hander J.C. Flowers followed with 3 2/3 dominant innings, facing just two batters over the minimum and striking out eight. Oliver Garcia pitched the last two innings, and Greensboro's four pitchers combined for 13 strikeouts.
Aaron Shackelford doubled twice, and teammates Nick Gonzales and Blake Sabol also had two hits apiece. Jonah Davis walked twice and hit a two-run double that broke a 2-2 tie and started a five-run rally in the fourth inning.
Notes
Third baseman Jared Triolo went 3-for-4 with two RBIs. He leads the High-A East with 105 hits, ranks third with 70 RBIs and fifth with a .297 batting average. Triolo was batting just .217 on June 2, but in 69 games since then he has batted .322 with 18 doubles, 12 home runs, 55 RBIs and 20 stolen bases.
Second baseman Nick Gonzales, rated by MLB Pipeline as the Pirates' No. 4 prospect, went 2-for-6 Saturday with his 19th double. Gonzales has hit safely in 15 of his last 17 games, raising his batting average to .291, which ranks sixth in the league among players with enough plate appearances to qualify. Gonzales, who broke a finger in May and went on the injured list, was batting just .214 on July 15. In 35 games since then, he has hit .351 (52-for-148) with 12 doubles, two triples, six home runs and 21 RBIs.
Right fielder Matt Gorski has hit safely in 15 of his last 18 games, batting .329 (23-for-70) with 16 runs scored during that stretch.
Left fielder Lolo Sanchez went hitless Saturday, but he drove in a run with a sacrifice fly and drew his league-leading 50th walk. Sanchez also leads the league with 28 stolen bases. In his last 17 games, Sanchez has batted .375 (24-for-64) with 17 runs scored.
Hoppers catcher Blake Sabol is 8-for-22 (.364) in the five games of this series at Asheville, and he is batting .295 in 38 games since his promotion from Class-A Bradenton on July 6.
In his career at the News & Record, journalist Jeff Mills won 10 national and 12 state writing awards from the Associated Press Sports Editors, the Society for Features Journalism, and the N.C. Press Association.