Liover Peguero, Lolo Sanchez lead Hoppers over Tourists
Jared Triolo homers for Greensboro, which keeps pace in High-A East playoff chase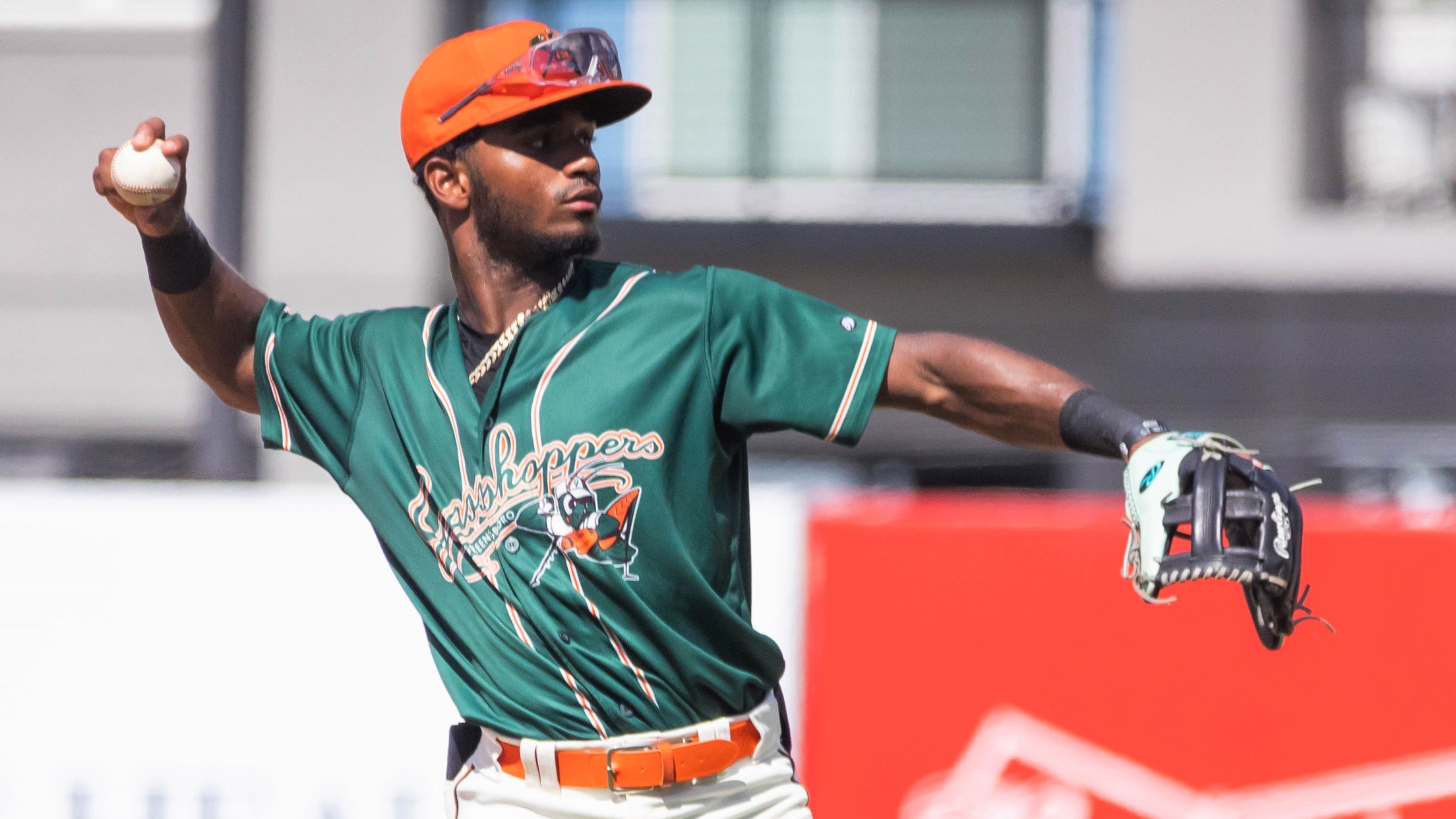 Greensboro shortstop Liover Peguero is rated by MLB Pipeline as the No. 5 prospect in Pittsburgh's farm system. (Jak Kerley/Greensboro Grasshoppers)
ASHEVILLE ― Lead-off hitter Liover Peguero went 3-for-6 with a home run and two RBIs, leading the Greensboro Grasshoppers to a 12-4 win over the Asheville Tourists at McCormick Field on Wednesday. Peguero, a 20-year-old shortstop rated by MLB Pipeline as the No. 5 prospect in Pittsburgh's farm system, hit
ASHEVILLE ― Lead-off hitter Liover Peguero went 3-for-6 with a home run and two RBIs, leading the Greensboro Grasshoppers to a 12-4 win over the Asheville Tourists at McCormick Field on Wednesday.
Peguero, a 20-year-old shortstop rated by MLB Pipeline as the No. 5 prospect in Pittsburgh's farm system, hit a solo home run to right-center field in the third inning when Greensboro scored twice to take a 4-1 lead.
Left fielder Lolo Sanchez stayed red-hot, going 4-for-5 with an RBI double, a run scored and his league-leading 28th stolen base of the season. Sanchez also leads the league with 49 walks, and in his last 14 games he has batted .434 (23-for-53) with 15 runs scored.
The Hoppers (61-37) are in second place in the High-A East's South Division, seven games behind Bowling Green (68-30).
Greensboro remains a half-game behind North Division leader Hudson Valley (61-36) in the race for the No. 2 record in the 12-team High-A East. The Renegades won at Winston-Salem on Wednesday.
The teams with the top two records, regardless of division, qualify for the 12-team league's championship series in September. Greensboro plays 12 of its last 18 games against Hudson Valley.
Third baseman Jared Triolo hit his 14th home run of the season, a two-run shot in the first inning for his 100th hit of the year.
Triolo finished 2-for-3 with a walk, three runs scored and two RBIs. He leads the league with 101 hits, ranks third with 67 RBIs and sixth with a .294 batting average.
Matt Gorski and Yoyner Fajardo both with 2-for-4 with walks and RBIs for the Hoppers, who pounded out 15 hits and scored runs in six of nine innings.
Winning pitcher Santiago Florez (2-2, 7.11 ERA) allowed two runs and struck out seven in five innings.
Nick Gonzales, a second baseman rated by MLB Pipeline as the Pirates' No. 4 prospect, went 0-for-4 to snap a seven-game hitting streak. Even so, Gonzales has hit safely in 13 of his last 15 games, raising his batting average to .291, which ranks seventh in the league among players with enough plate appearances to qualify.
Gonzales, who broke a finger in May and went on the injured list, was batting just .214 on July 15. In 33 games since then, he has hit .358 (49-for-137) with 11 doubles, two triples, five home runs and 20 RBIs.
In his career at the News & Record, journalist Jeff Mills won 10 national and 12 state writing awards from the Associated Press Sports Editors, the Society for Features Journalism, and the N.C. Press Association.