Pirates push past G-Reds in opener, 10-2
2,388 take in first contest in Greeneville Reds history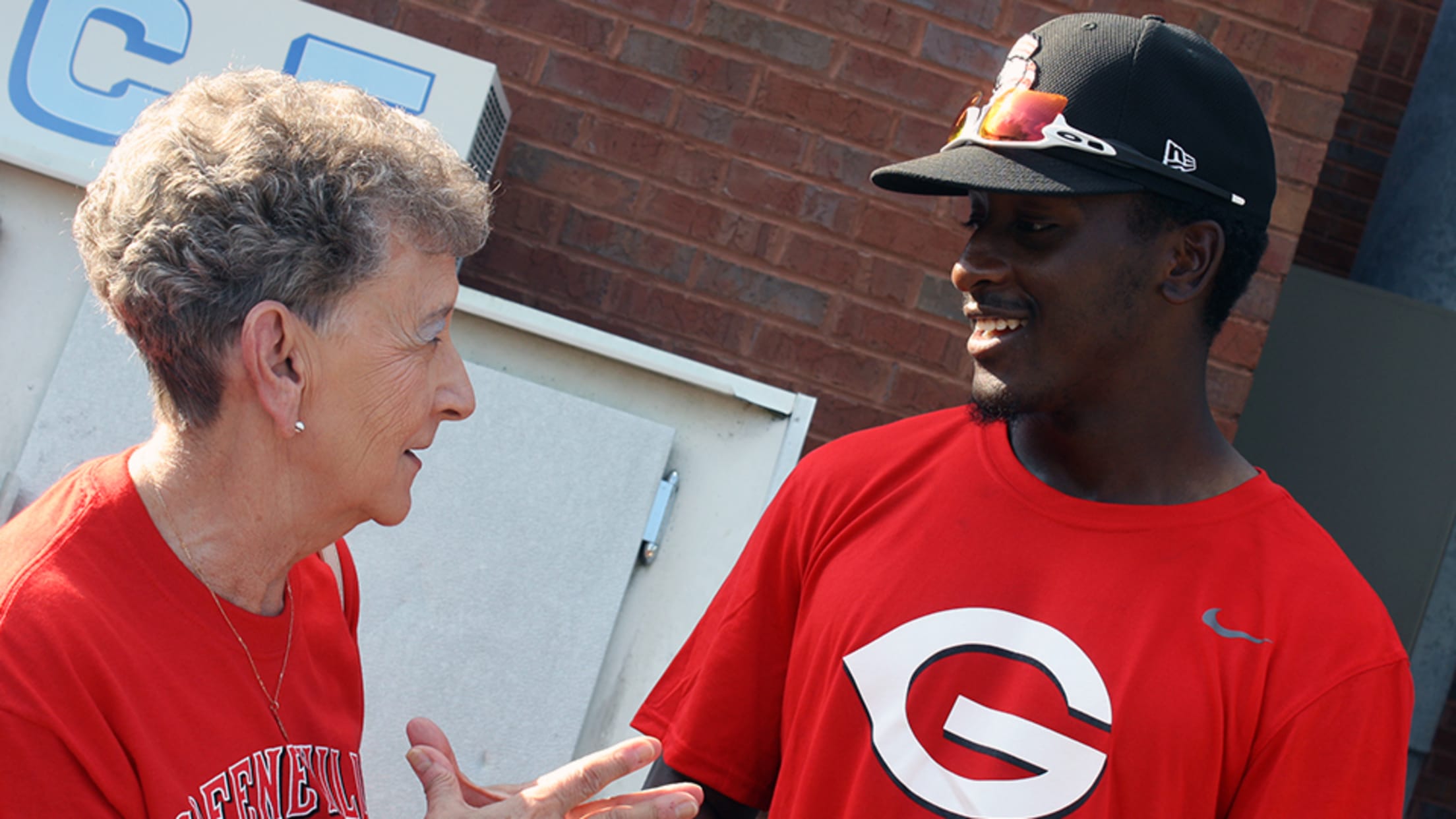 Reds outfielder Zeke White makes friends with a fan at Greeneville's Fan Fest on Monday, June 18 at Pioneer Park. (Johnny Painter)
GREENEVILLE, Tenn. - In a game that took nearly four hours and saw 20 combined walks, the Greeneville Reds were outlasted by the Bristol Pirates, 10-2, in front of 2,388 fans at Pioneer Park in the first game in team history on Tuesday evening.With the loss, the Reds drop to 0-1
GREENEVILLE, Tenn. - In a game that took nearly four hours and saw 20 combined walks, the Greeneville Reds were outlasted by the Bristol Pirates, 10-2, in front of 2,388 fans at Pioneer Park in the first game in team history on Tuesday evening.
With the loss, the Reds drop to 0-1 on the season, while the Greeneville franchise fell to 6-9 on Opening Day and 5-10 all-time in home openers. Bristol's victory improved their mark to 1-0 and gave them their first Opening Day victory since 2011.
Following a scoreless first, the Bucs erupted for four runs in the second frame despite garnering only one hit.
After a walk to LF Jeremias Portorreal (1-3, R, 3 BB, SO) and a single by C Gabriel Brito (1-4, R, BB, SO) put runners at second and third, a wild pitch brought home the game's first run to put Bristol ahead, 1-0. The BriBucs pushed another run across, as three-straight walks - including one with the bases loaded to 1B Mason Martin (1-3, 2 R, HR, 3 RBI, 3 BB, SO) - to extend their lead to a pair. On the next pitch, a wild offering allowed two more runs to score, extending the visitor's advantage to 4-0.
In the top of the fifth, Bristol added to their lead with a little-league home run. DH Mikell Granberry (1-4, R, 3B, 2 BB, SO) began the frame by lacing a triple off the right-center field wall but was able to score on the play on a throwing error.
Greeneville answered with their only two runs of the evening in the bottom of the frame. 3B Juan Martinez (2-3, R, 2B, BB) and 1B Raul Juarez (1-3, R, BB, SO) ignited the rally with back-to-back walks to begin the inning and both moved up a base after a groundout to first. CF Nate Scantlin (3-5, 2B, 2 RBI) proceeded to drive in the first two runs in team history with a single to center.
The Pirates put the game out of reach with two more runs in the sixth and another three in the ninth.
After a leadoff double by Contreras to start the top half of the sixth inning, Martin clubbed a hard-hit line drive off the scoreboard in left-center field for a two-run home run. The blast - his fifth of the year and his first for the Pirates - pushed Bristol's lead to 7-2.
In the game's final frame, the BriBucs added a trio of tallies on a run-scoring base-knock to right by Contreras and a pair of wild pitches.
Brush Creek, Tenn. native - RHP Steven Jennings (4.1 IP, 5 H, 2 R, 2 ER, 2 BB, 4 SO) - did not earn a decision in Bristol's victory, but performed admirably - yielding just two runs in 4.1 innings - in his season debut. Side-arming RHP Vince Deyzel (2.2 IP, 3 H, BB, 2 SO) earned the win with 2.2 shutout frames.
LHP Jacob Heatherly (1.2 IP, H, 4 R, 4 ER, 7 BB, 2 SO) showed an electric fastball and a devastating curveball but suffered the loss on opening night.
Scantlin (3-5, 3B, 2 RBI) tied a career-best with three base-hits, including driving in the first two runs in Greeneville Reds' history. 2B Jonathan Willems (2-4, SO) and 3B Juan Martinez (2-3, R, 2B, BB) added multi-hit efforts for the G-Reds in defeat, while SS Miguel Hernandez (1-5, 2B, SO) collected the first knock in team history with a double down the left-field line with one out in the bottom of the first.
The Reds continue their season-opening homestand on Wednesday night, as RHP Jared Karcher - a Walters State Community College alum - toes the slab for Greeneville. Bristol will counter with RHP Shane Baz , Pittsburgh's No. 3 prospect according to Baseball America.
The G-Reds Pre-Game Show will kick off the broadcast at 6:45 p.m. ET, leading up to the 7:00 p.m. ET start at Pioneer Park. Wednesday evening's contest can be heard on GreenevilleReds.com or via the TuneIn Radio and MiLB First Pitch apps.
Wednesday will mark the first All-You-Can-Eat Wednesday of the season with all-you-can-eat hot dogs, hamburgers, nachos, potato chips, popcorn, ice cream sandwiches and Coke products.
Season and single-game tickets are still available and can be purchased online at GreenevilleReds.com or by calling the Reds' Ticket Office at (423) 609-7400.