Pointy Boots Survive Late Tulsa Push, Win 7-4
Dalesandro Hits First Homer Of Season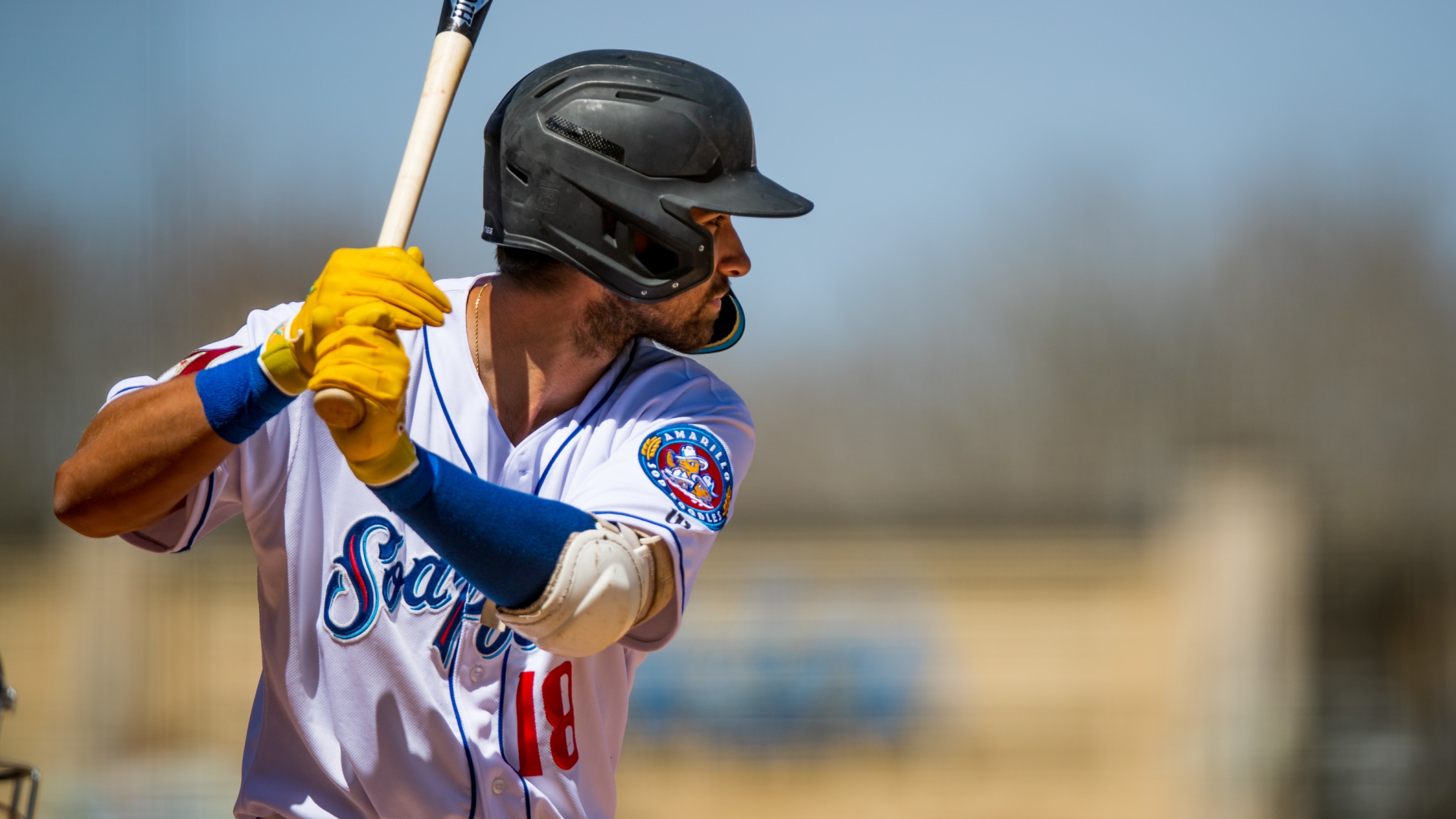 (John Moore)
Tulsa, Oklahoma – The Amarillo Sod Poodles, competing as the Pointy Boots de Amarillo for the first time in 2022, escaped a bases-loaded jam in the bottom of the 9th to earn the win over the Tulsa Drillers at ONEOK Field on Thursday night. No. 6 organizational prospect Drey Jameson
Tulsa, Oklahoma – The Amarillo Sod Poodles, competing as the Pointy Boots de Amarillo for the first time in 2022, escaped a bases-loaded jam in the bottom of the 9th to earn the win over the Tulsa Drillers at ONEOK Field on Thursday night.
No. 6 organizational prospect Drey Jameson (1-1) took the mound for his second start of the year, after allowing four earned runs through 1.2 IP in his first appearance. The Drillers looked like they were set to hand him another rough scoreline in the 1st when Justin Yurchak put them on top 1-0 with an RBI single. Jameson answered the call swimmingly, getting out of the jam and only allowing two hits over the next four scoreless innings.
The Sod Poodles went scoreless in the first two innings but jumped ahead for good with a four-run 3rd. Drew Stankiewicz led off the frame with a full-count walk, and Corbin Carroll put two runners in scoring position following a single and a stolen base. Dominic Fletcher scored Stankiewicz on an RBI single, and Dominic Canzone followed him with a 2-RBI double. Leandro Cedeno scored Canzone before the inning ended on an RBI groundout.
The Soddies added to their lead in the top of the 5th on a 2-R HR by Nick Dalesandro. The 6-1 lead was their largest at any point of any game in the 2022 season. Jameson exited the game after five innings with the five-run lead, tossing 5.0 IP with 3 H, 1 R, 1 ER, 1 BB and 3 K.
Amarillo was aided by excellent relief pitching. Kai-Wei Lin allowed one baserunner via a hit-by-pitch in a two-strikeout 6th and Blake Workman followed his effort by striking out the side in the 7th. Keegan Curtis allowed one run to score in the 8th on an RBI double by Justin Yurchak, but sent the Pointy Boots to the 9th with a 6-2 lead.
Corbin Carroll and Dominic Canzone linked up to add an insurance run in the 9th. Carroll reached on a one-out walk and stole second base, then advanced to third on a throwing error by the catcher Carson Taylor. With a runner newly in scoring position, Canzone delivered with a two-out RBI double, his fifth two-bagger of the year.
With two saves through his first two appearances, Junior Garcia took the mound in the bottom of the 9th with a five-run lead. Ryan Ward greeted him with a leadoff home run, Garcia's first earned run of the season. Garcia responded by forcing a groundout, and Kody Hoese got on base with a single before the second out was recorded via a fly ball. With two outs, Tulsa kept drilling away. James Outman drew a walk, Michael Busch singled to load the bases, and Garcia walked Andy Pages to score a run, making it 7-4. With the bases still loaded and two outs, Justin Yurchak – with two RBI already in the contest – popped out to end the game.
The Sod Poodles out-hit the Drillers 9-8 and did not commit an error for the third time this season. Carroll, Canzone, and Dalesandro each turned had a two-hit game, while the team left six runners on base. The pitching staff tallied nine strikeouts and three walks while leaving nine Drillers on base.
Amarillo and Tulsa will play game four of the series tomorrow, Friday, April 15, at ONEOK Field. RHP Slade Cecconi (0-0, 2.25 ERA) will be on the mound for his second start of the season, as the Sod Poodles will look to string together their first back-to-back wins of 2022. First pitch is scheduled for 7:05 pm.
Notes:
DALE: Nick Dalesandro's fifth-inning homer off Zach Plunkett was just the second home run of his professional career. The former Purdue Boilermaker played in his 311th game since being selected by the Arizona Diamondbacks in the 10th round in 2018. His only homer before tonight's came on June 9th last season when he was in High-A Hillsboro. Dalesandro also stole a base tonight, his first of the season after leading all ARI minor leaguers with 33 in 2021.
Drey Day: By going five full innings on Thursday night, RIght-hander and D-backs' No. 6 rated prospect has the longest outing of any Sod Poodles' starters so far this year. Jameson got the ball on Opening Day but didn't make it to the third inning, going 1.2 IP with six hits and four earned runs surrendered. He looked much more like the Drey that ended the 2021 season with Amarillo, allowing just one run on five hits over those five innings of work while adding three strikeouts and just one walk. In his five career road starts with the Sod Poodles, he is 2-0 with a 2.24 ERA.
Razorback RBI: After adding another RBI tonight, Dominic Fletcher is now tied for second in Double-A with nine RBI this season. Fletcher has done damage so far this series, going 5-for-13 with a double and seven RBI in three games.
*Middle Inning Mashers: *With Dalesandro's HR in the 5th inning, the Sod Poodles have now scored 13 runs in the 5th this season, the most of any inning. Opponents have scored most in the 5th as well, putting up 11 runs. The only inning Amarillo hasn't scored in is the 7th, and opponents have scored the fewest in the 8th (1).
*C-eeing It: *With two hits apiece tonight, Corbin Carroll and Dominic Canzone each have three multi-hit games through the first six games of the season. Carroll is batting .375 (9-for-24) with a two home runs and a 1.125 OPS, while Canzone is batting .476 (10-for-21) with a hit in each of his first five games.