South Bend Cubs Host Third Annual Polar Plunge
Members of the South Bend Cubs front office will also participate in the plunge to raise money for Special Olympics Indiana including Owner Andrew Berlin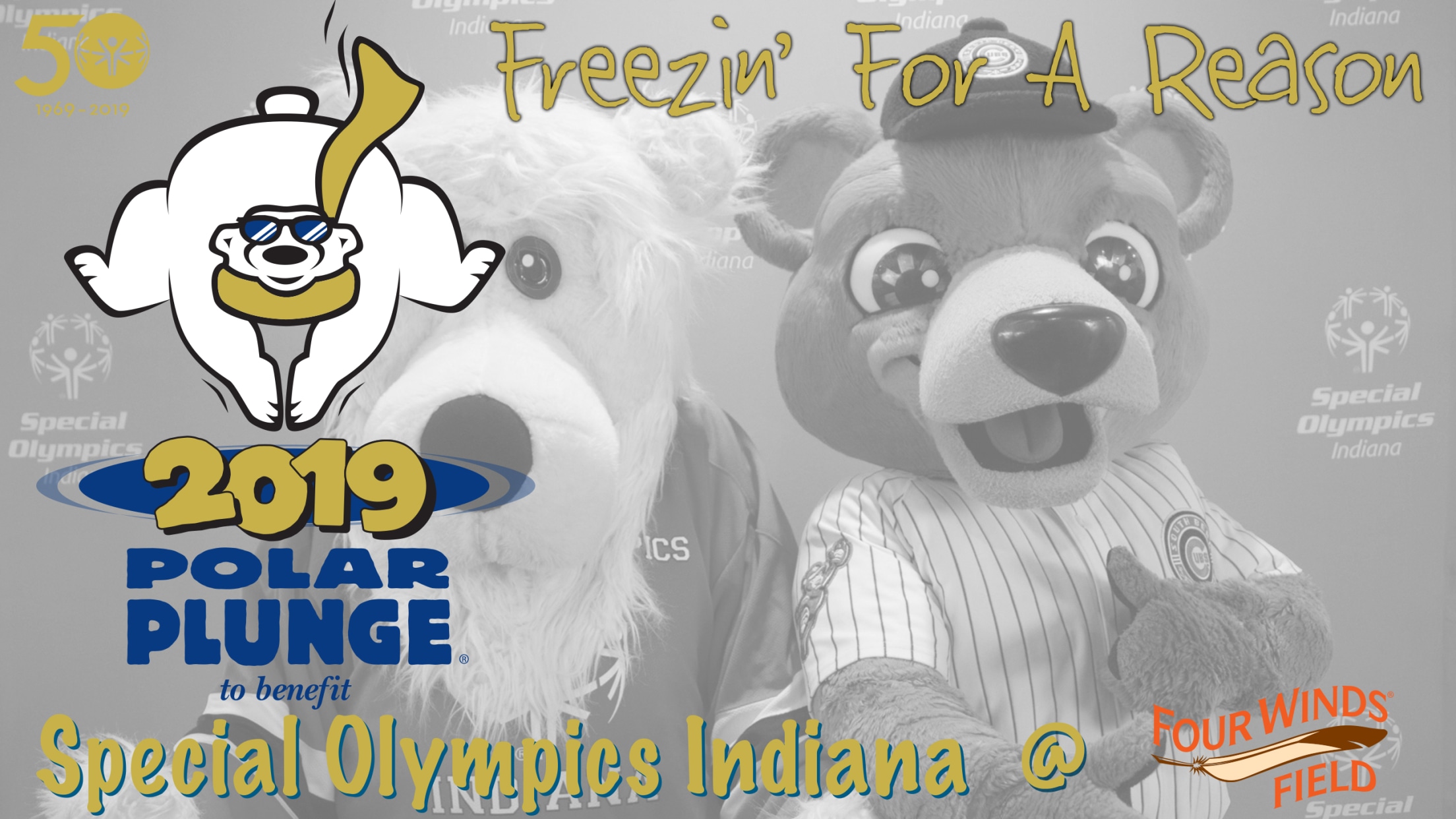 SOUTH BEND, IN - For the third straight year, the South Bend Cubs will host the Michiana Polar Plunge to benefit Special Olympics Indiana on Saturday, February 23, 2019 at Four Winds Field. Registration begins at 10:00 a.m. with the plunge beginning at 12:00 p.m. followed immediately by the After-Splash
SOUTH BEND, IN - For the third straight year, the South Bend Cubs will host the Michiana Polar Plunge to benefit Special Olympics Indiana on Saturday, February 23, 2019 at Four Winds Field. Registration begins at 10:00 a.m. with the plunge beginning at 12:00 p.m. followed immediately by the After-Splash Bash in the Pepsi Stadium Club.
The Polar Plunge, an event held across the state of Indiana, continues to be a hit among the South Bend community. Because of this fundraiser, Special Olympics Indiana can continue to work towards their objective of improving the lives of people with intellectual disabilities by offering year-round programs and events such as the plunge. All funds raised at the Polar Plunge goes towards supporting the 16,000 Special Olympics athletes in all of Indiana.
"In 2019, Special Olympics Indiana celebrates 50 years of serving people with intellectual disabilities," said Special Olympics President and CEO Jeff Mohler. "During this important milestone, we have set a goal to reach $1 million through our Polar Plunges across the state. The South Bend Cubs and our polar plungers will make this possible. Help our athletes reach their goals too."
After raising over $17,000 dollars last year, the South Bend Cubs are issuing a challenge to the community in the hope of breaking last year's record.
"Last year, we nearly doubled our fundraising goal," said South Bend Cubs Director of Media and Promotions Chris Hagstrom-Jones. "With our new goal of $20,000 for 2019, we're adding an incentive for our plungers. The individual or group who raises the most money will receive a free outdoor suite to a South Bend Cubs game in April and the chance to throw out a ceremonial first pitch."
Fans who do not wish to plunge can also donate to the South Bend Cubs front office team, headlined by Owner & Chairman Andrew Berlin. Fans who donate at least $15 will be entered to win a set of four tickets to a South Bend Cubs game. Three lucky winners will be chosen after February 23. Donate by by clicking here.
To participate in the 2019 Michiana Polar Plunge, individuals or groups must raise a "bear" minimum of $75 in pledges. All funds raised will benefit Special Olympics Indiana. Participants can register as an individual or gather friends, family members, co-workers, civic group or school group and register as a team. Register by visiting soindiana.org and clicking on the events page. Funds raised by this event will help local athletes train and compete at local, area and state level.
About Special Olympics Indiana
Special Olympics Indiana is a not-for-profit organization that provides year-round sports training and athletic competition in more than 20 Olympic-type sports for children and adults with intellectual disabilities, reaching more than 16,000 athletes across Indiana. The organization receives no federal- or state-appropriated funds, is not a United Way agency and relies entirely on corporate, civic and individual donations. For more information about Special Olympics Indiana, call (317) 328-2000 or visit www.soindiana.org.
About the South Bend Cubs
The South Bend Cubs are the Class A minor league affiliate of the 2016 World Series Champion Chicago Cubs. Over the past 31 seasons, the team has won five Midwest League titles, most recently in 2005, and has captured 12 division titles. In 2019, the South Bend Cubs will host the Midwest League All-Star Game. In June 2017, Four Winds Field, home of the South Bend Cubs, was voted Best Class A ballpark in the country by Ballpark Digest. In 2015 the team was named Ballpark Digest's Team of the Year and received the John H. Johnson President's Award, the highest award in minor league baseball. The team is owned and operated by Swing-Batter-Swing, LLC whose principal shareholder is Andrew T. Berlin of Chicago, Ill.