Baseball Love: South Bend Cubs Offer Valentine's Day Package
Includes tickets, dinner, chocolates, cozy hoodie, and more!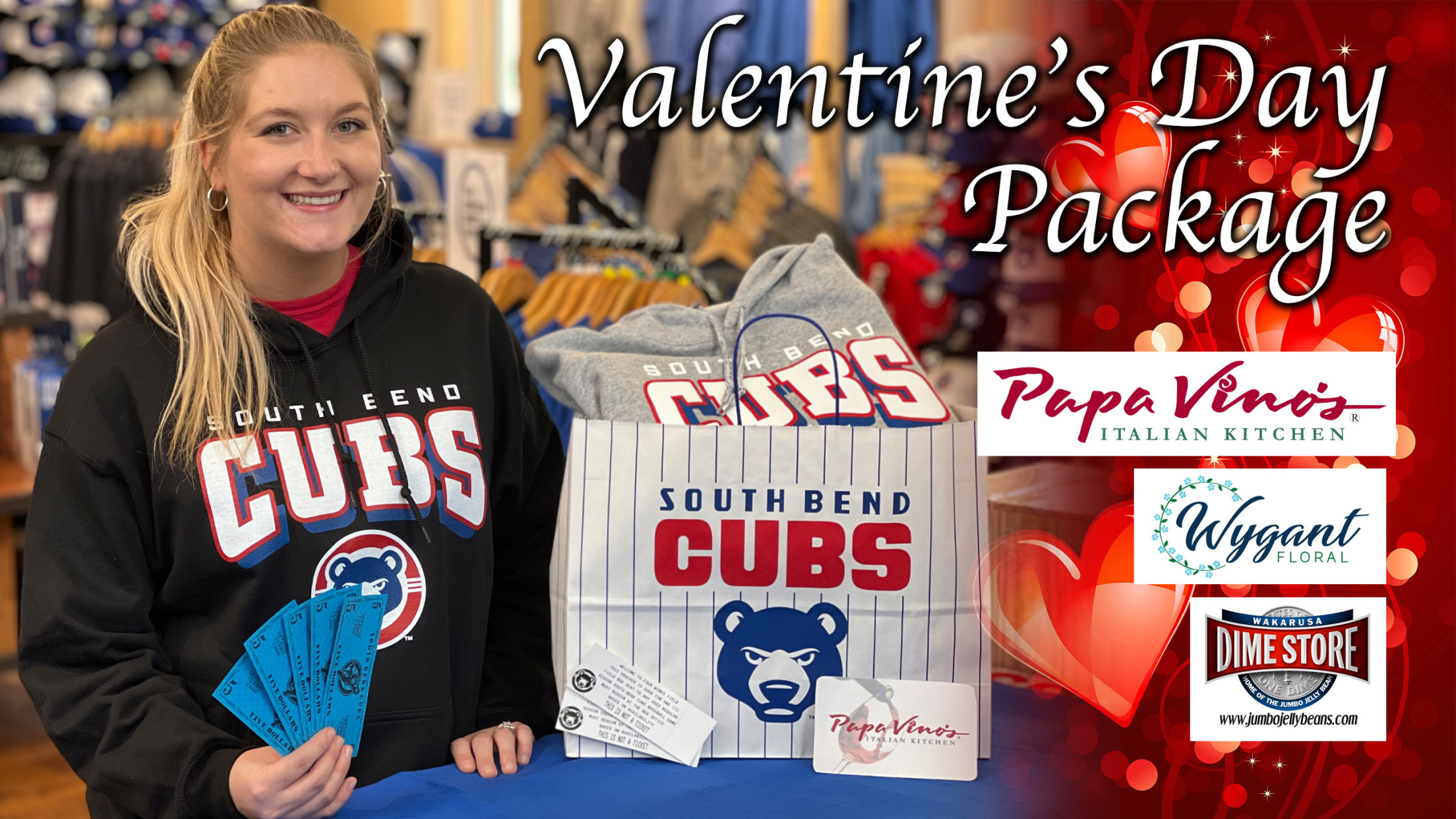 SOUTH BEND, IN – In less than 75 days, baseball returns to Four Winds Field. This Valentine's Day, give the gift of baseball to your loved one with the South Bend Cubs Valentine's Day package. CLICK HERE TO PURCHASE YOUR VALENTINE'S DAY PICK-UP PACKAGE CLICK HERE TO PURCHASE YOUR VALENTINE'S
Swoop & Stu's Reading Club Returns for 2022
Students who complete their reading goals will receive a free ticket to their school's designated Reading Club night.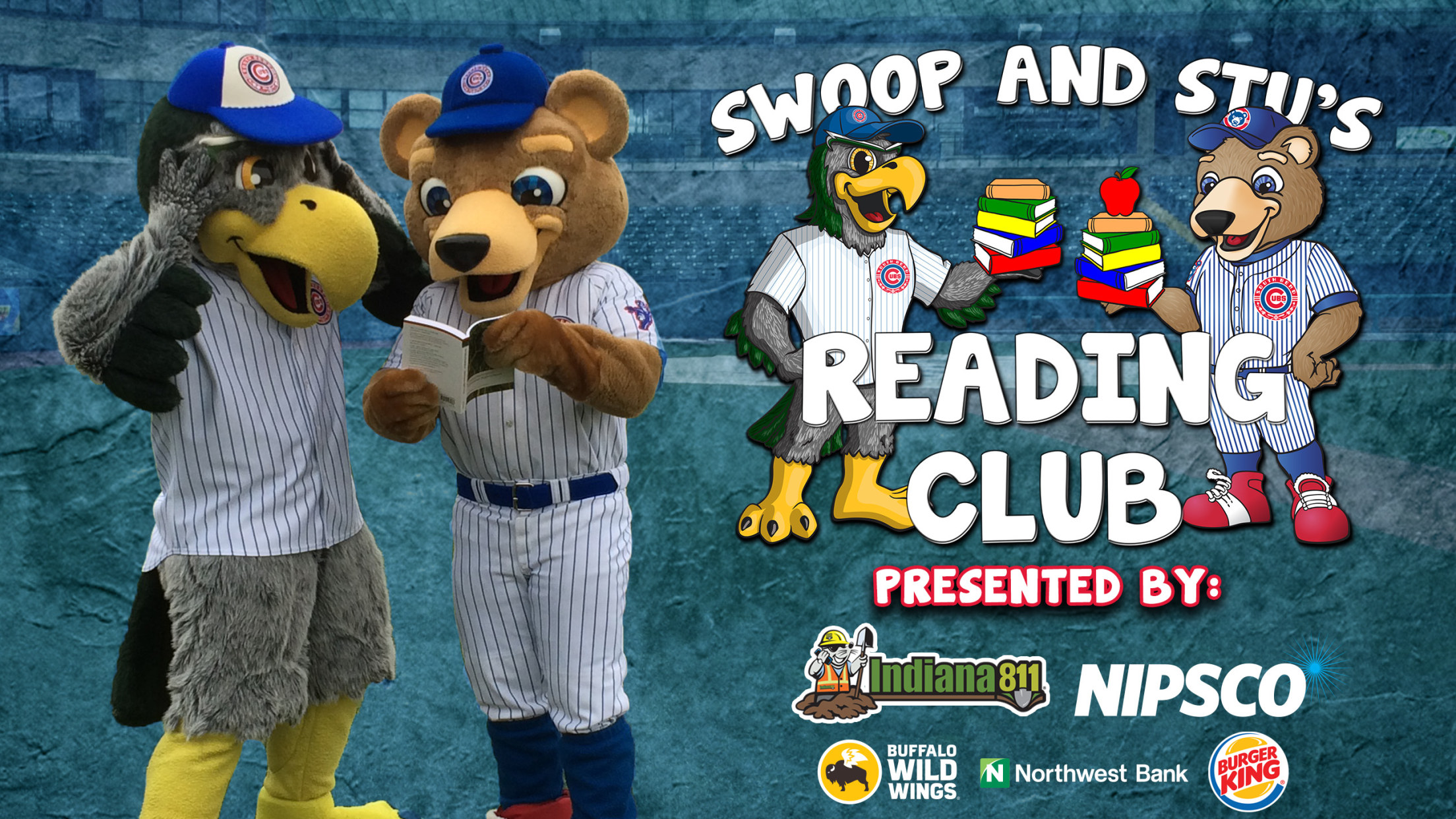 SOUTH BEND, IN – With winter break over and many schools resuming class, the South Bend Cubs are proud to announce the return of Swoop & Stu's Reading Club, presented by Indiana 811 and NIPSCO. Teachers and administrators have until February 7 to register. CLICK HERE TO REGISTER YOUR CLASS
Special Olympics Indiana Teams Up With South Bend Cubs
The 6th annual Polar Plunge fundraiser will be held at Four Winds Field on February 26 and those who donate to the South Bend Cubs plunge will be entered to win a gameday prize pack.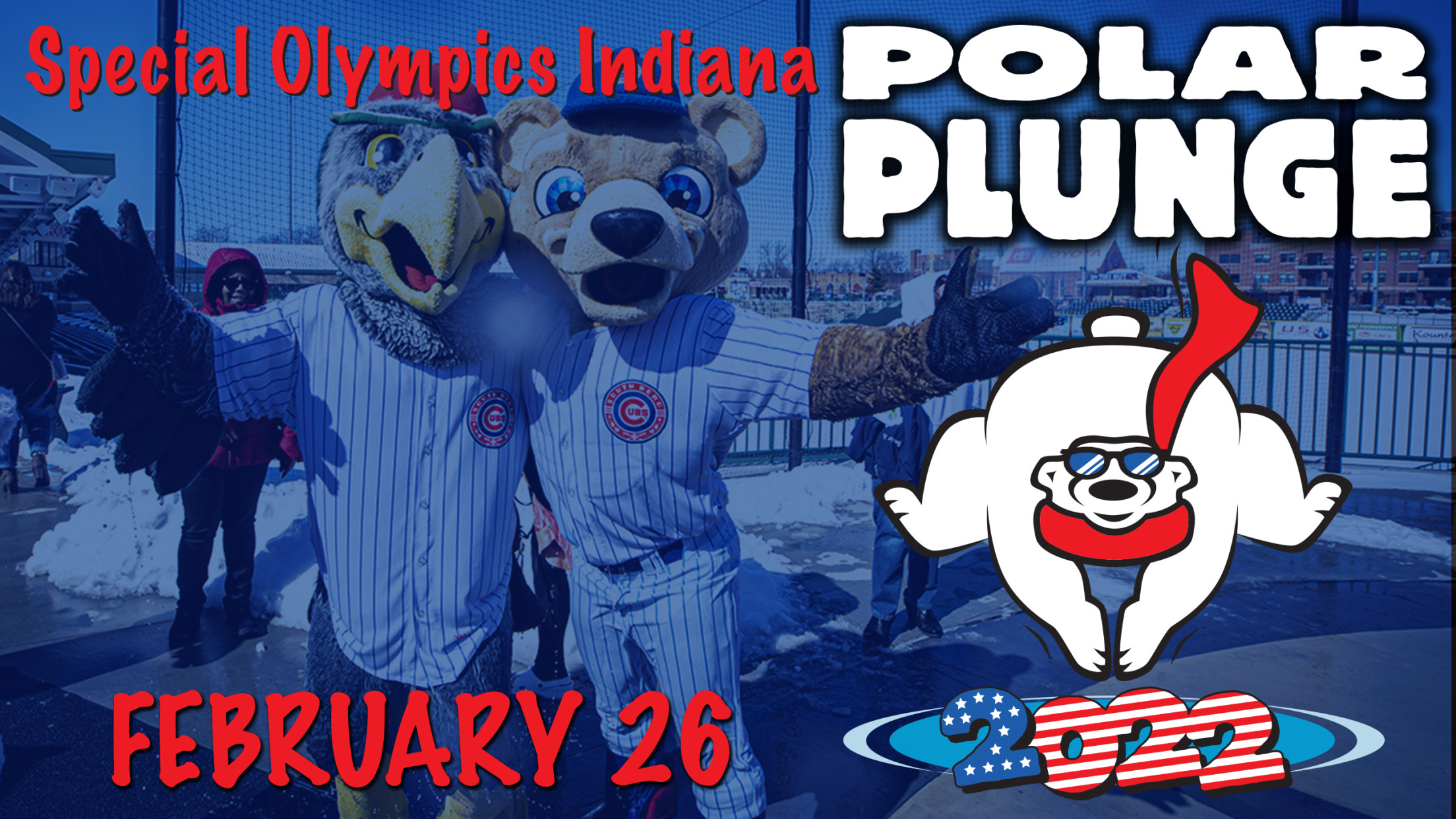 SOUTH BEND, IN – The unofficial kickoff to the 2022 season begins with a special cause. The South Bend Cubs are teaming up with Special Olympics Indiana for the 6th Annual South Bend Polar Plunge on Saturday, February 26. Registration is now open, and participants are encouraged to register online.
South Bend Cubs Announce Game Times for 2022 Season
All game times are listed in Eastern Time and subject to change.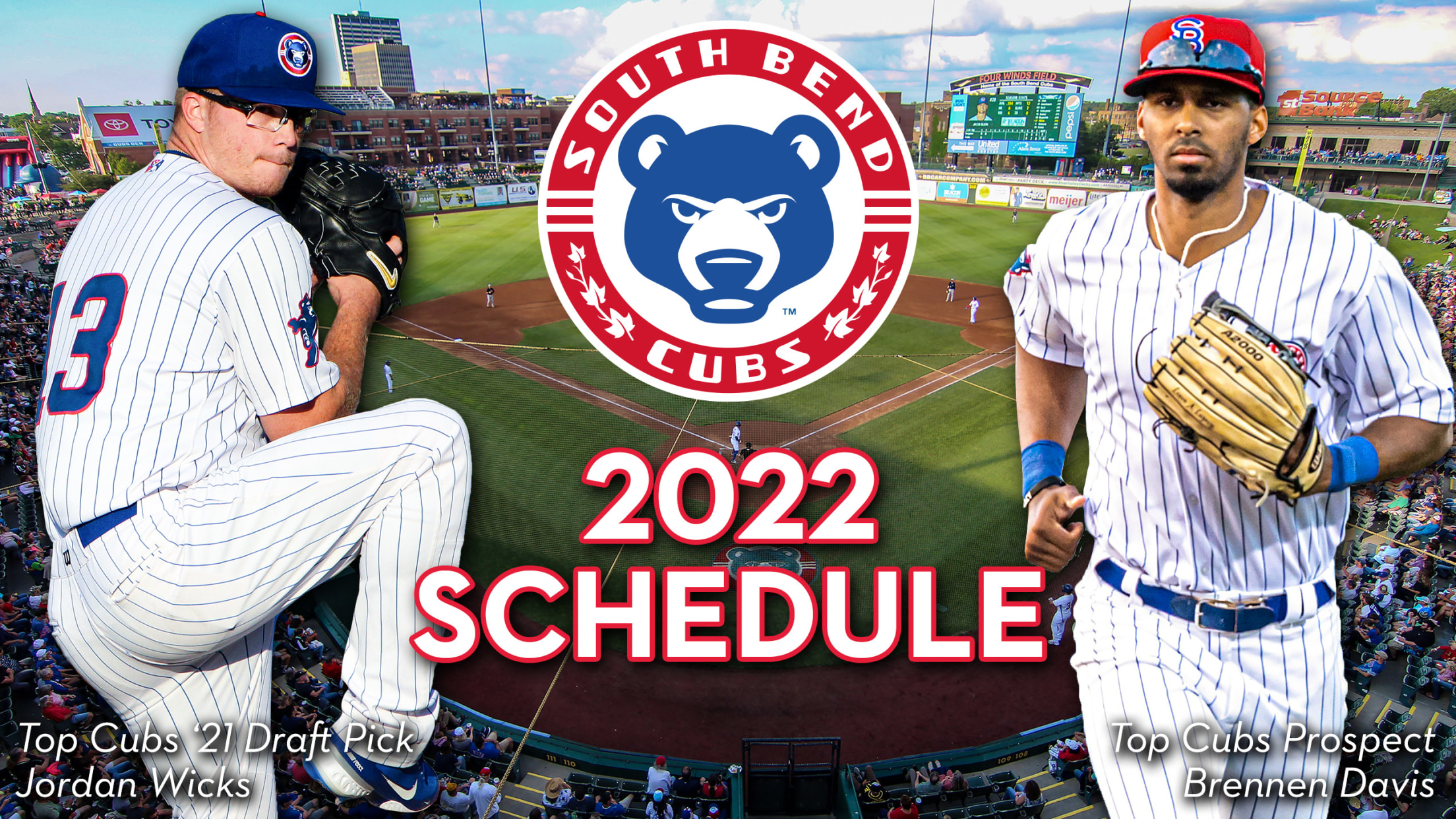 SOUTH BEND, IN – In conjunction with Major League Baseball, the South Bend Cubs have announced game times for the 2022 regular season. South Bend opens the season on a Friday when they welcome the Quad Cities River Bandits to Four Winds Field on April 8. CLICK HERE TO DOWNLOAD
South Bend Cubs Join "Marvel's Defenders of the Diamond"
Storytelling giant to develop content for teams and ballparks across the United States.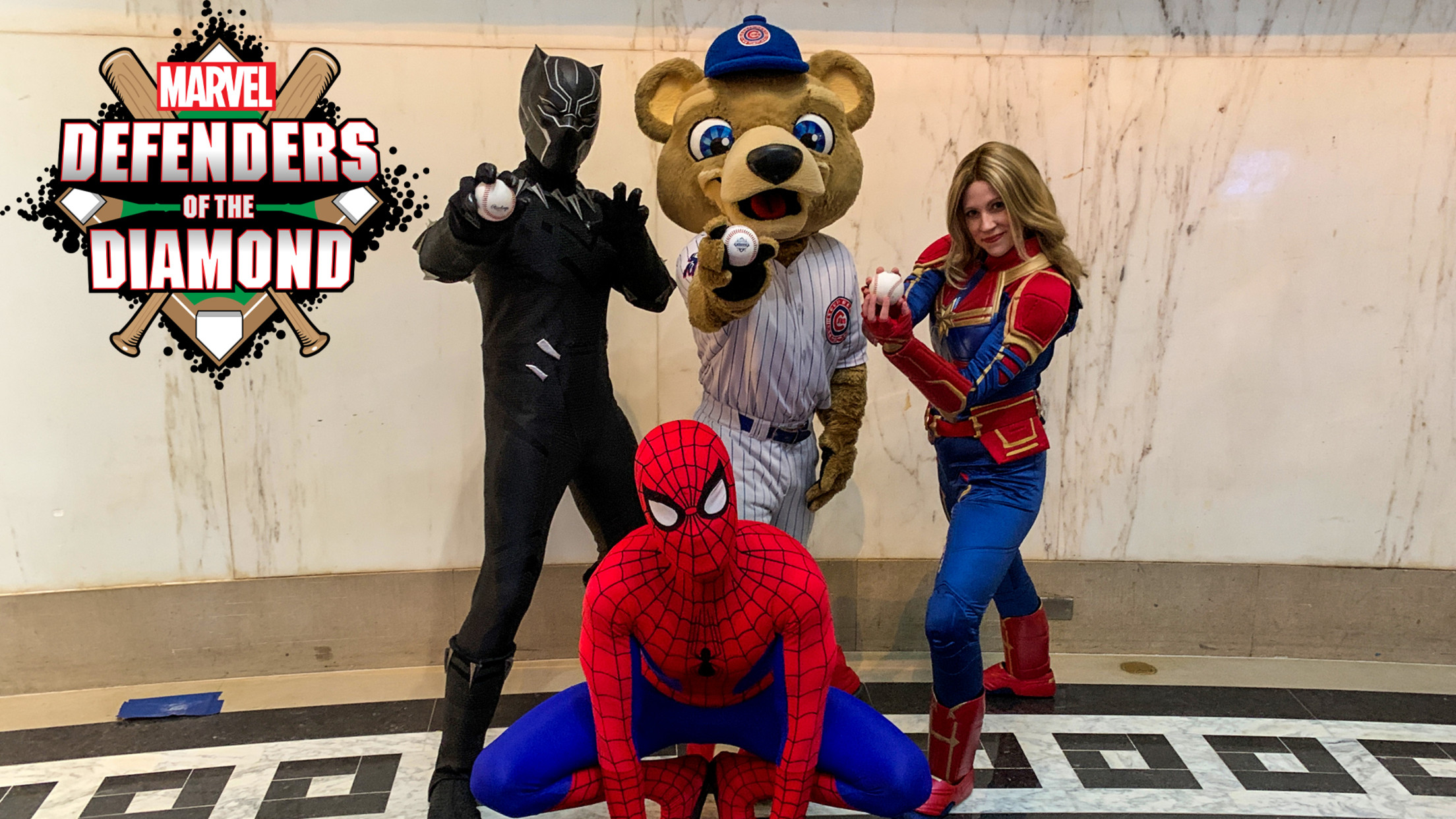 CHICAGO, IL – The South Bend Cubs in conjunction with Minor League Baseball™ (MiLB™) today announced a three-year partnership with Marvel Entertainment, one of the world's most prominent storytelling brands, for an exciting event series that will play out in ballparks across all levels of MiLB starting in 2022. Today's
South Bend Cubs Black Friday Ticket Packages On Sale NOW
This package, which includes tickets, parking, Cubbie Cash, and more, makes the perfect gift for the baseball fan on your shopping list.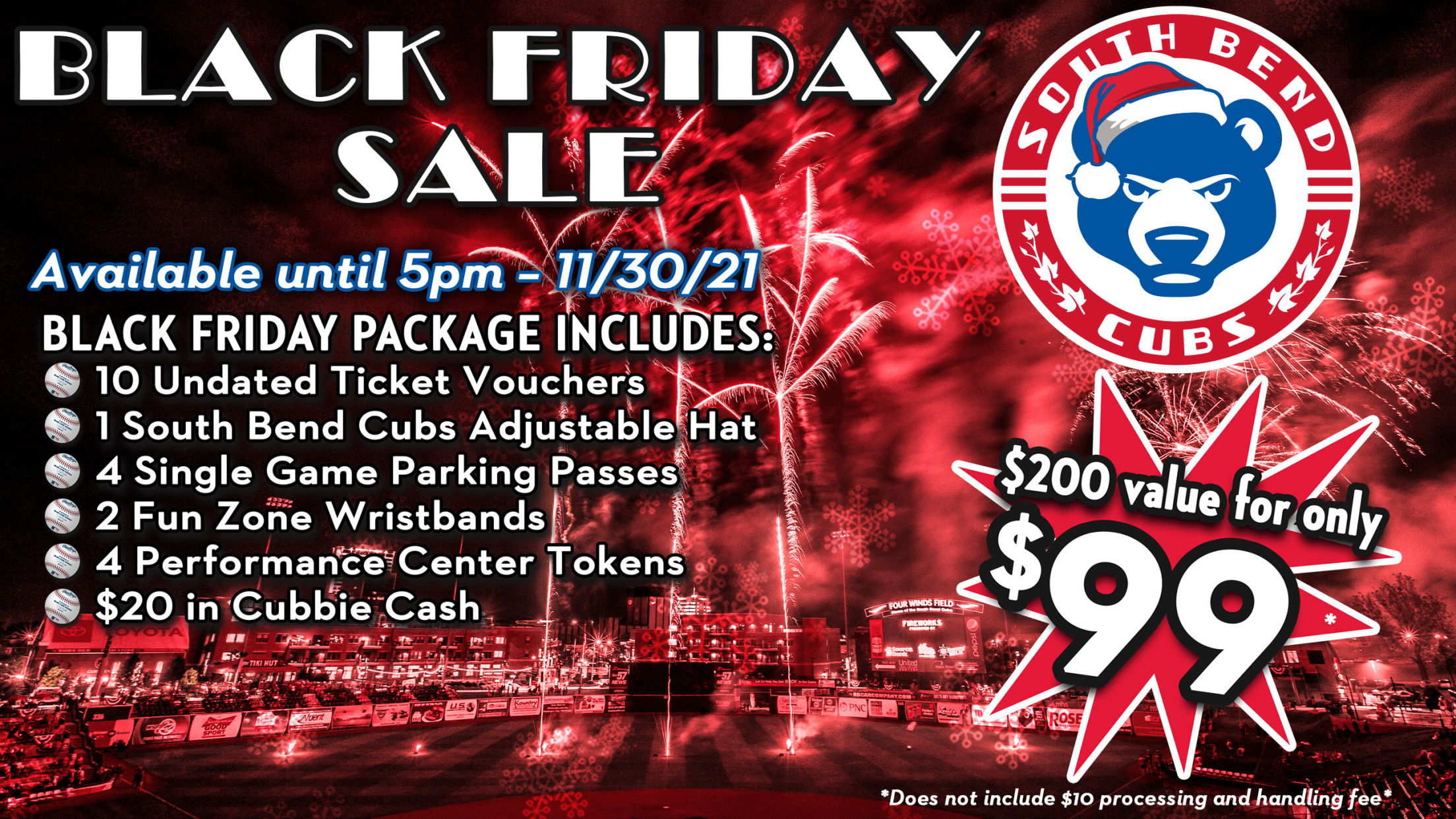 UPDATE: Due to a ticketing glitch Friday morning, we are extending our Black Friday Ticket Package through Cyber Monday. Plus, we have removed the 100 package limit to ensure everyone who wanted to buy a package is able to. SOUTH BEND, IN – The South Bend Cubs popular ticket package
Cubs Den Team Store Announces Holiday Sale Schedule
Sales include Black Friday deals and sales throughout November and December.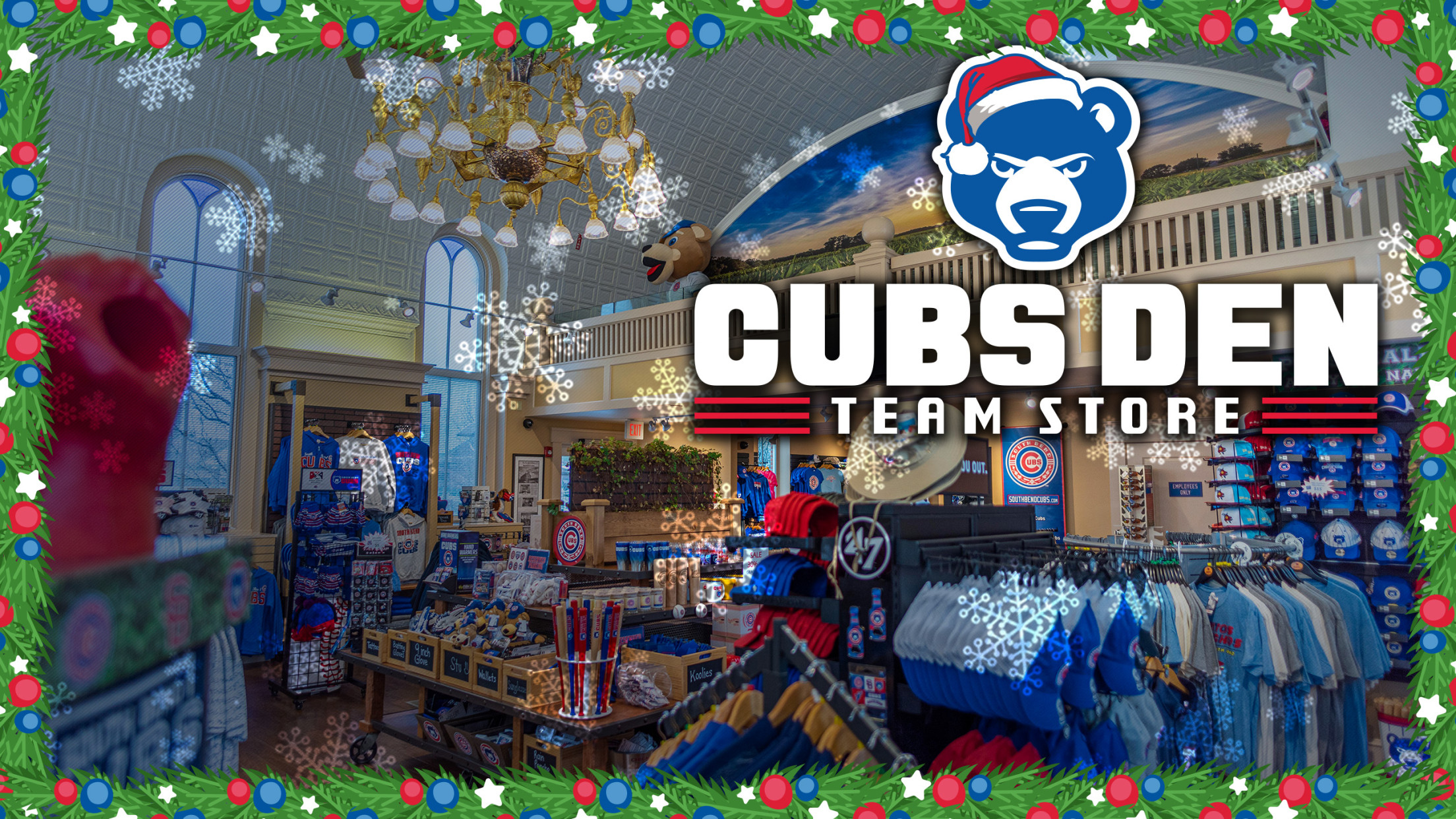 SOUTH BEND, IN – The Cubs Den Team Store wants to help you plan your holiday shopping and have announced their holiday sales through the end of the year. Most sales are available in-store and online. CLICK HERE TO SHOP NOW HOLIDAY HOURS: The Cubs Den Team Store is open
Cubs Offer Ticket Package Celebrating Ten Year Anniversary
Package is only available for 24 hours and include tickets to the two most popular games.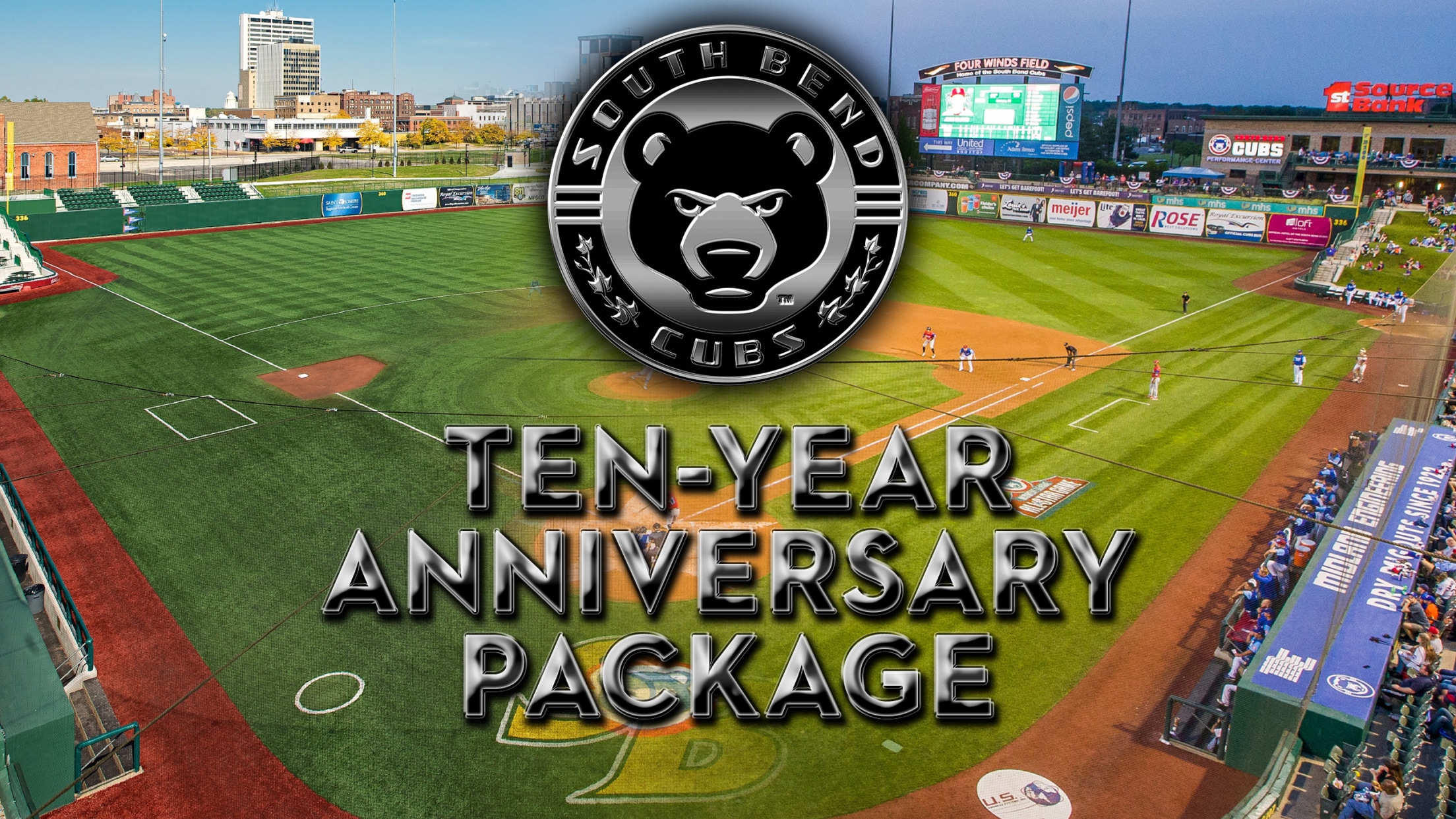 SOUTH BEND, IN – Exactly ten years ago today, on November 11, 2011, at exactly 11:11 a.m. Eastern Time, Andrew Berlin purchased the South Bend Silver Hawks and forever changed professional baseball in the region. To commemorate this historic day, the South Bend Cubs are offering a ticket package only
Holiday Extravaganza Returns to Four Winds Field December 4
Holiday activities include meeting Santa and Mrs. Claus, free hot chocolate and cookies, scavenger hunt, ornament decorating and more.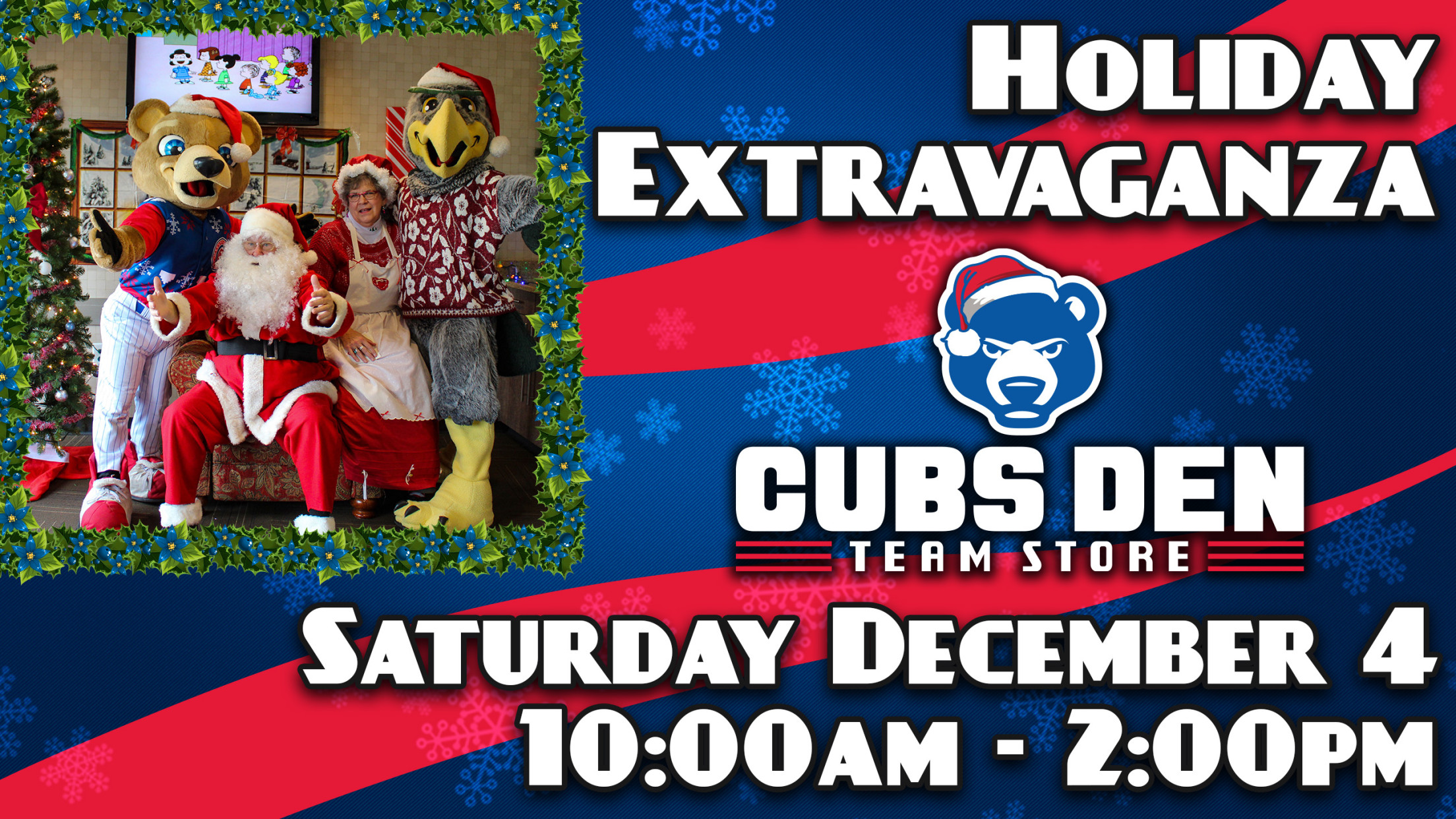 SOUTH BEND, IN – The South Bend Cubs will once again host their annual Holiday Extravaganza at Four Winds Field on Saturday, December 4 from 10:00 a.m. to 2:00 p.m. Entry to the event will be through the Cubs Den Team Store just off Western Avenue. Admission and parking are
Safe Trick or Treating Event Returns to Four Winds Field on October 25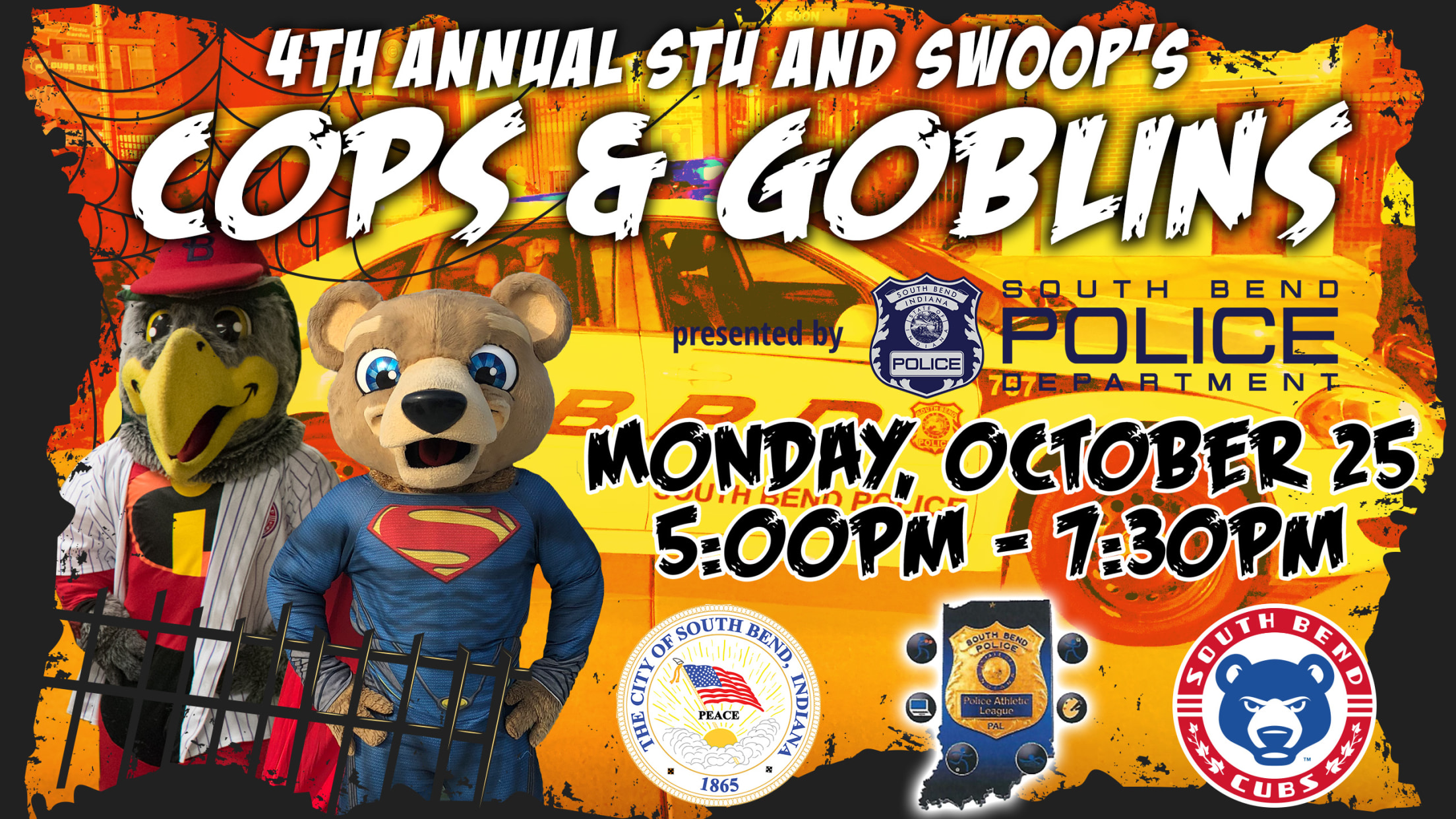 SOUTH BEND, IN – For the fourth year in a row, the South Bend Cubs will partner with the South Bend Police Department for Stu and Swoop's Cops and Goblins trick or treating event on Monday, October 25 at Four Winds Field. Gates will open at 5:00 p.m. and trick
Baseball Returned to the Bend
A look back at the South Bend Cubs 2021 season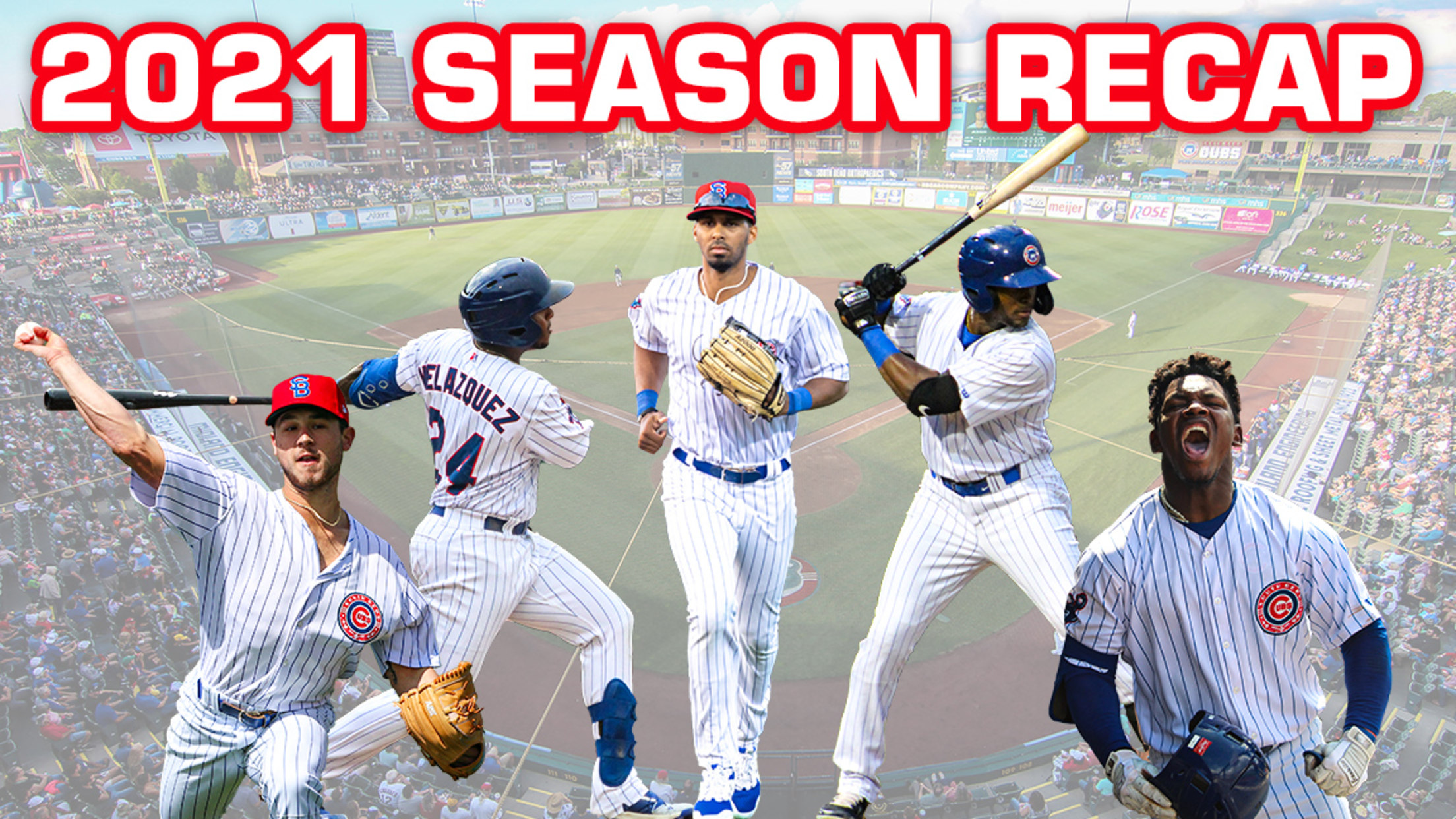 For the first time in over 600 days, the South Bend Cubs returned to action at Four Winds Field on May 4 this year. The 2020 season was cancelled due to Covid-19 and 601 days after Cole Roederer scored on a wild pitch to win game two of the Midwest
South Bend Cubs Announce 2022 Season Schedule
Highlights include games on Mother's Day, the night before Memorial Day, Independence Day, and the night before Labor Day.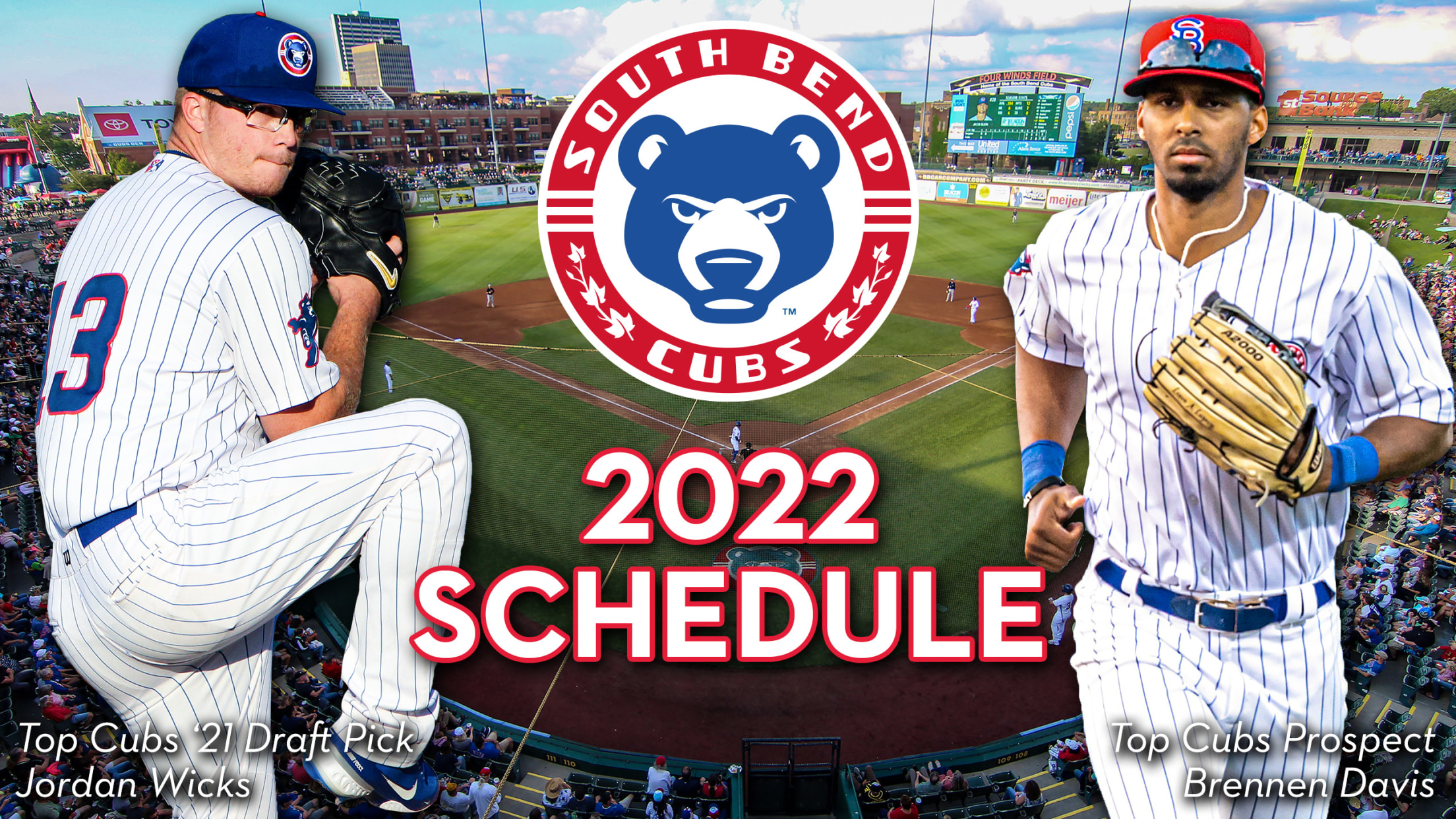 SOUTH BEND, IN – In conjunction with Major League Baseball, the South Bend Cubs have announced their 2022 Minor League Baseball schedule. The Cubs will open the season at home on Friday, April 8 against the Quad Cities River Bandits. CLICK HERE FOR A PRINTABLE VERSION OF THE 2022 SCHEDULE
South Bend Ends off the Season with an Extra-Innings Victory
Cubs Hold off River Bandits' Late Rally Thanks to Two Homers and Two Tenth-Inning Runs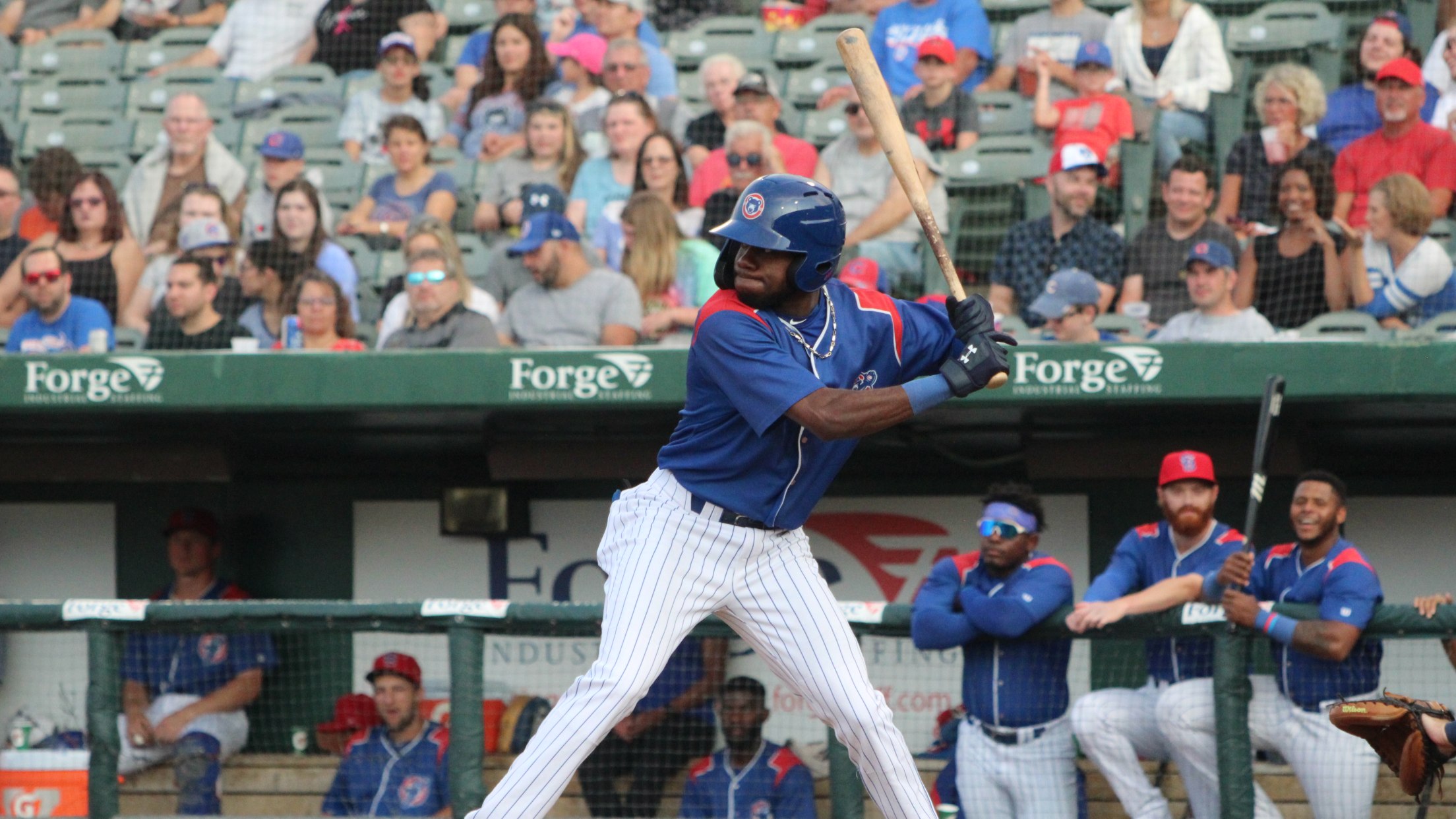 Box Score WP: Bailey Reid (1-1, 18.00 ERA) LP: Charlie Neuweiler (2-3, 4.97 ERA) SV: Dalton Stambaugh (1) Chicago Cubs first-round pick Jordan Wicks took the hill to start the final game of the season, a nice glimpse into the future of the organization to end off 2021 for South
Wild 9th Ends in River Bandits Walk-Off Win
A Parker Bates 2-out, 2-strike single broke a 3-3 tie in the bottom of the 9th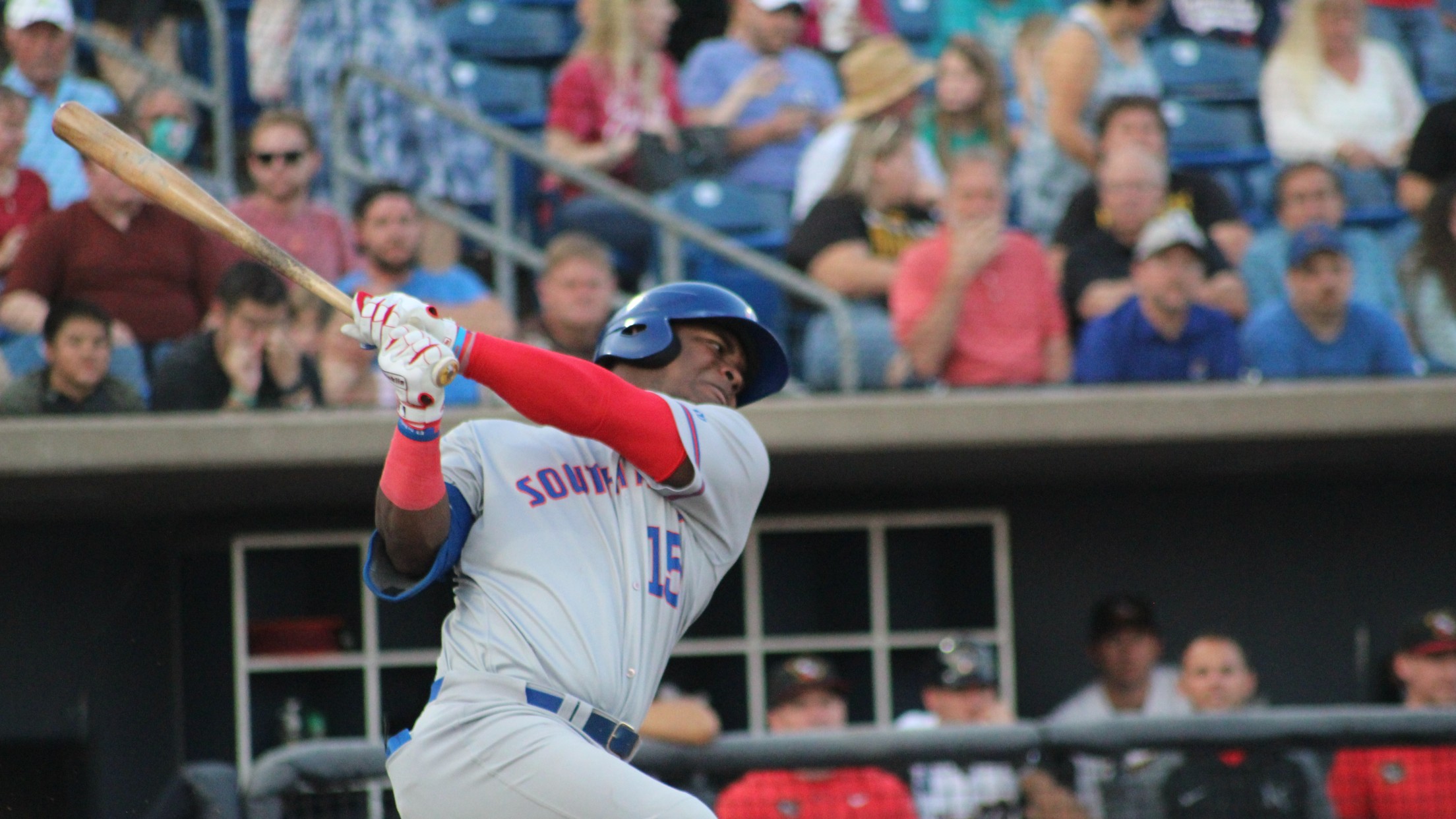 W: Will Klein (7-1, 3.20 ERA) L: Eduarniel Nunez (1-3, 4.63 ERA) BOX SCORE More late drama between the South Bend Cubs (51-67) and the Quad Cities River Bandits (77-40) as for the third time this series the game-winning run was scored in the ninth inning. The Cubs had runners
Big Sixth Inning Fells Cubs in River Bandits' Win
Quad Cities Scores Seven Runs in Final Three Innings for Third Victory of the Final Series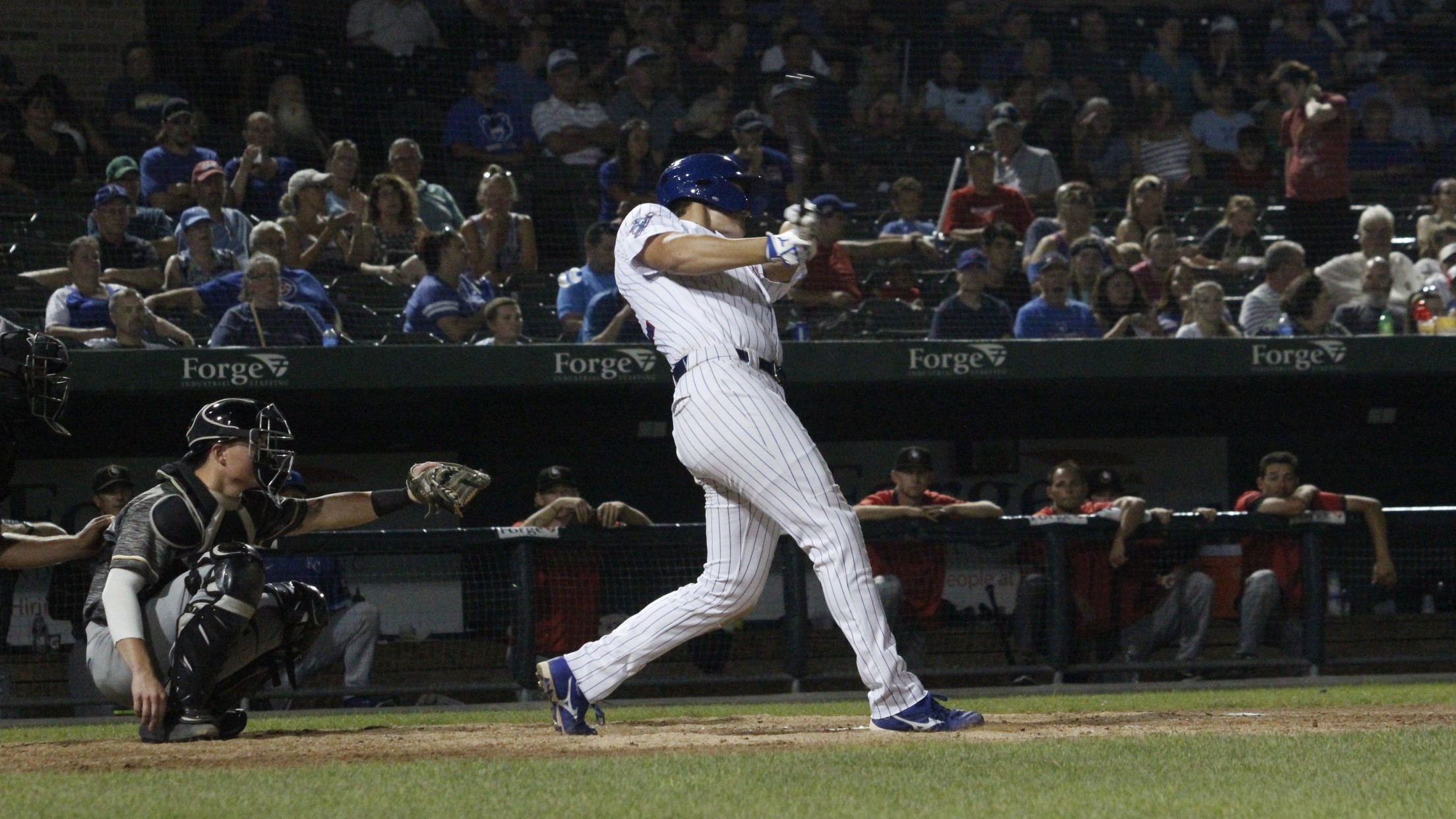 Box Score WP: 44 Anderson Paulino (1-1, 4.91 ERA) LP: Chris Clarke (0-6, 4.65 ERA) It was another game that began with great starting pitching and ended with a surge of runs. For the third time in the series, Quad Cities struck first, with back-to-back base hits starting the scoring
3-Spot in the 9th Propels Cubs Past River Bandits
A Yonathan Perlaza blast to the Mississippi River and a wild pitch ignited a Cubs comeback out of nowhere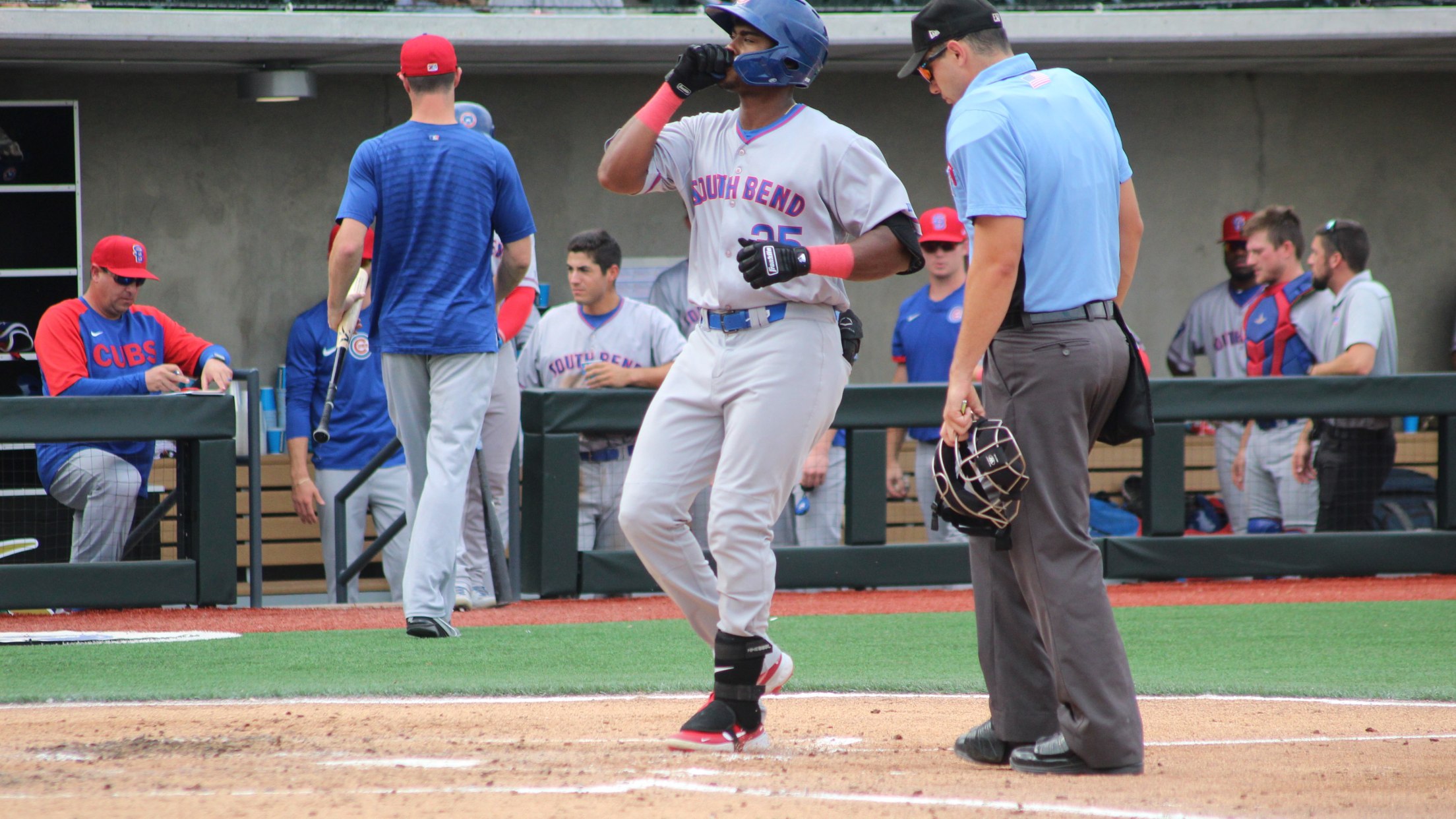 W: Tanner Jesson-Dalton (2-3, 7.61 ERA) L: Kasey Kalich (2-2, 4.34 ERA) BOX SCORE The Cubs offense had been dominated by the River Bandits bullpen. 12 straight batters had been retired and going into the ninth inning the South Bend offense had managed just three hits. That all changed in
Bandits Bash Four in Cubs Loss
Cubs Allow Seven Runs to Begin the Game and Can't Recover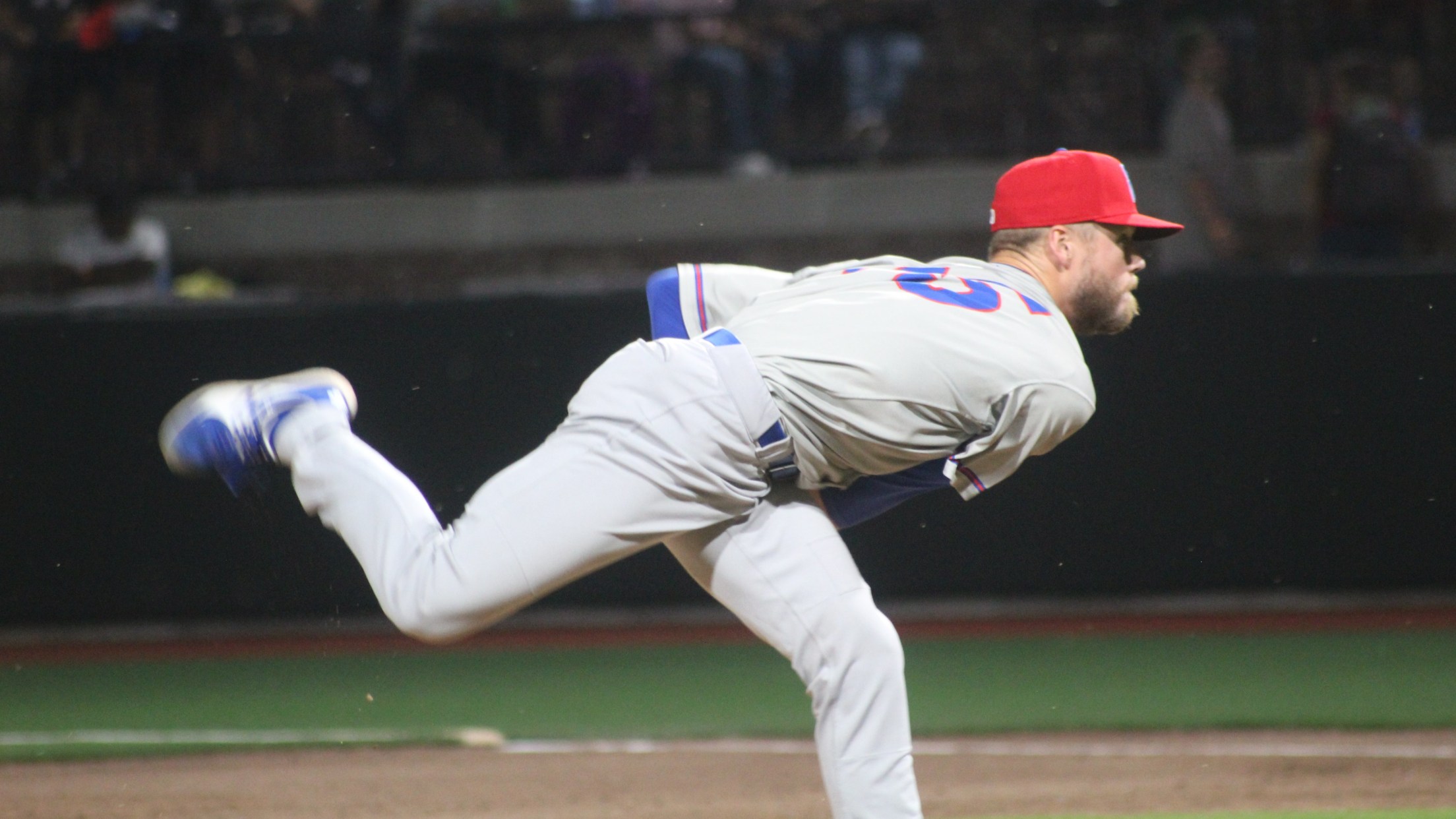 Box Score WP: Emilio Marquez (1-0, 10.13 ERA) LP: Max Bain (5-9, 5.52 ERA) South Bend came into Modern Woodmen looking for vengeance after a back-and-forth battle that ended in a walkoff for the number one team in the High-A Central. However, it was Quad Cities who picked up right
QC Walks it Off on South Bend, Again
Cubs lose 5th in a row at Modern Woodmen Park, 4 of which have come in QC's final inning at the plate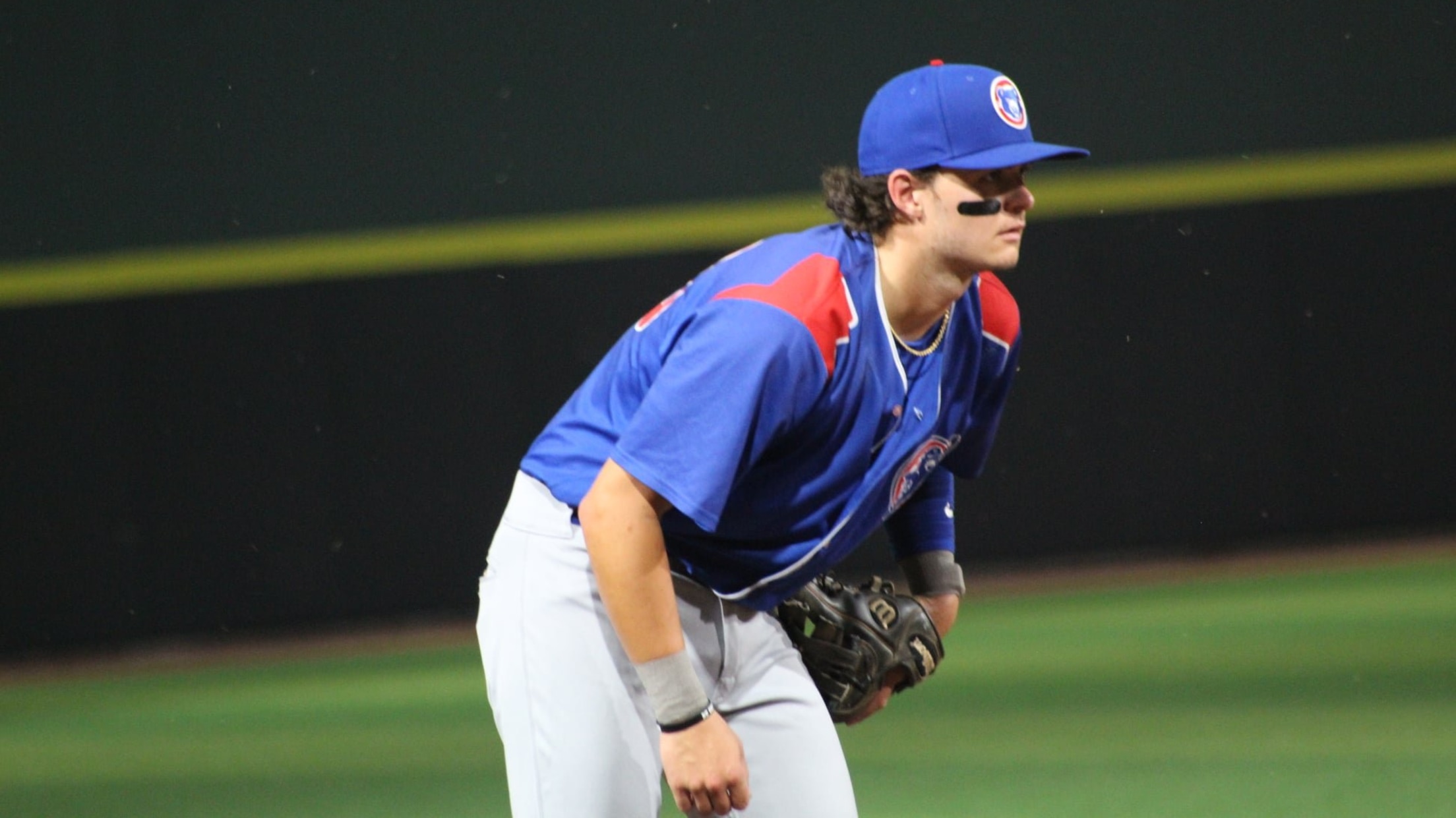 W: Nathan Webb (4-1, 4.40 ERA) L: Eduarniel Nunez (1-2, 4.46 ERA) BOX SCORE For the first time in his pro career Jordan Wicks allowed a base hit. And this time the first-round pick from the 2021 Draft got roughed up to the tune of four hits and three earned
Toyota Road Report: 9/12-9/19
One Last Ride for South Bend, as the Cubs Finish off the 2021 Season Against First Place Quad Cities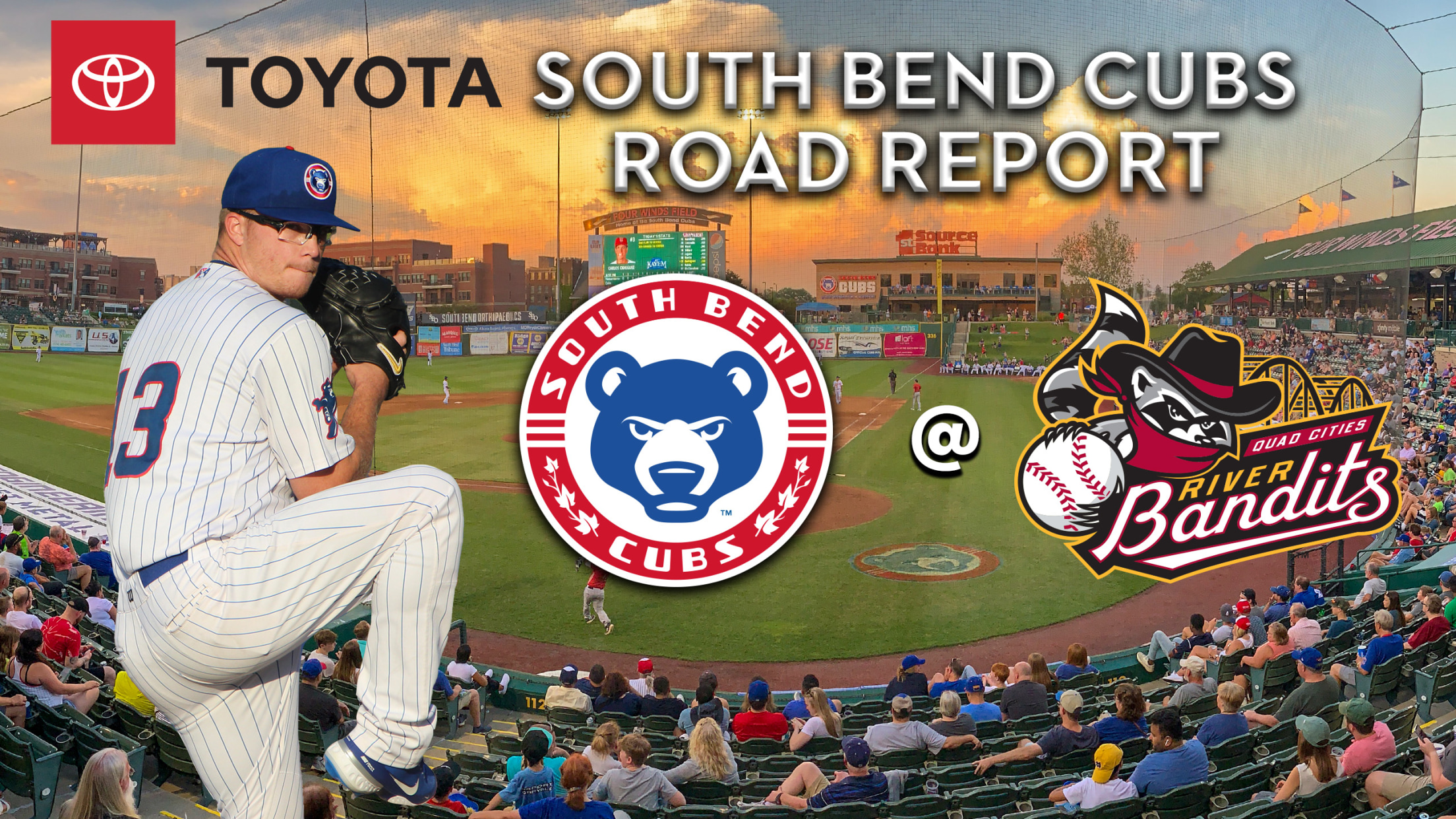 Quad Cities River Bandits Affiliation: Kansas City Royals Stadium: Modern Woodmen Park Miles from South Bend: 240 Miles South Bend vs QC This Season: 5-12 (1-5 on the road) Last Season: 1-2 Since becoming a Cubs affiliate: 11-20 South Bend will finish off the season in Davenport Iowa, taking on
Know Before You Go: Shinedown FAQs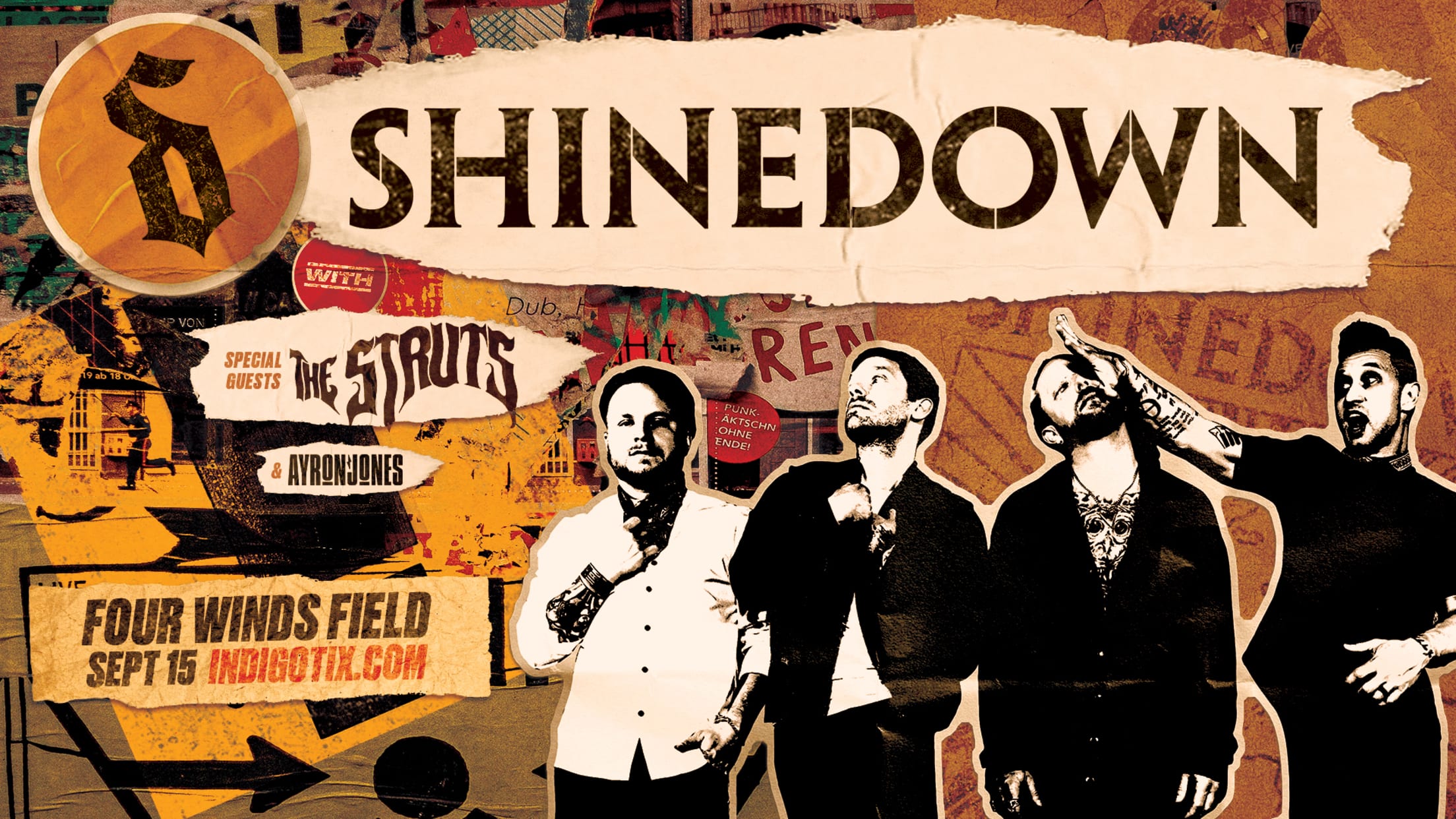 Multi-platinum rock band Shinedown bring their exciting live performance to Four Winds Field this Wednesday, September 15 with special guests The Struts and Ayron Jones. Gates open at 5:30 p.m. and the show starts at approximately 7:00 p.m. Below are a few guidelines and information to know ahead of your
Zobrist Bobblehead Now Available for Pick Up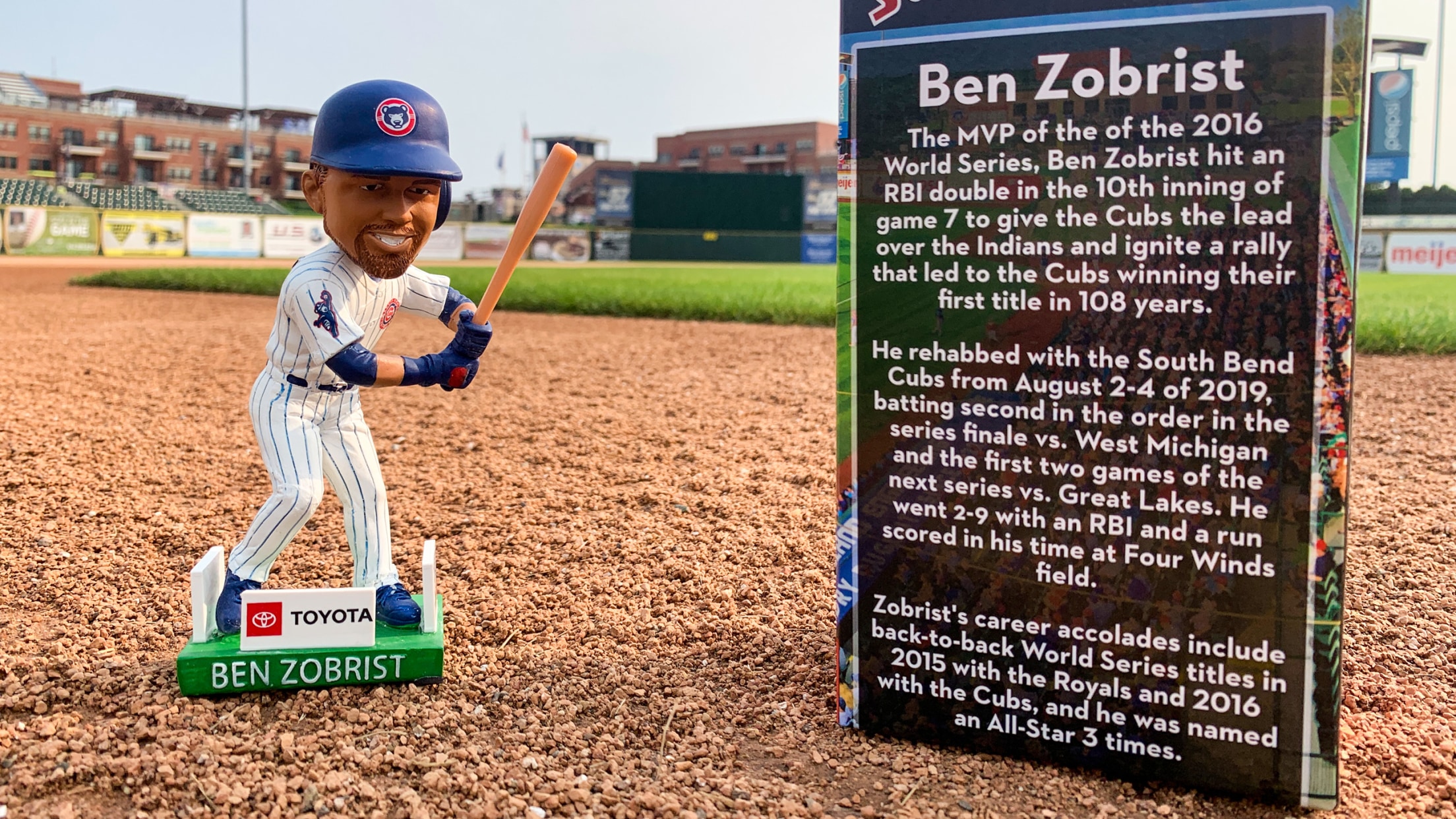 SOUTH BEND, IN - Fans who received a Ben Zobrist bobblehead voucher, presented by Toyota, can now pick up their bobbleheads at the Cubs Den Team Store. Due to shipping disruptions across the globe, fans who attended the giveaway date back on August 18 received a voucher that would be
Four-Run Ninth Inning Sparks Epic Comeback
Cubs Spoil Beloit's Final Game as the Snappers With a Late Offensive Surge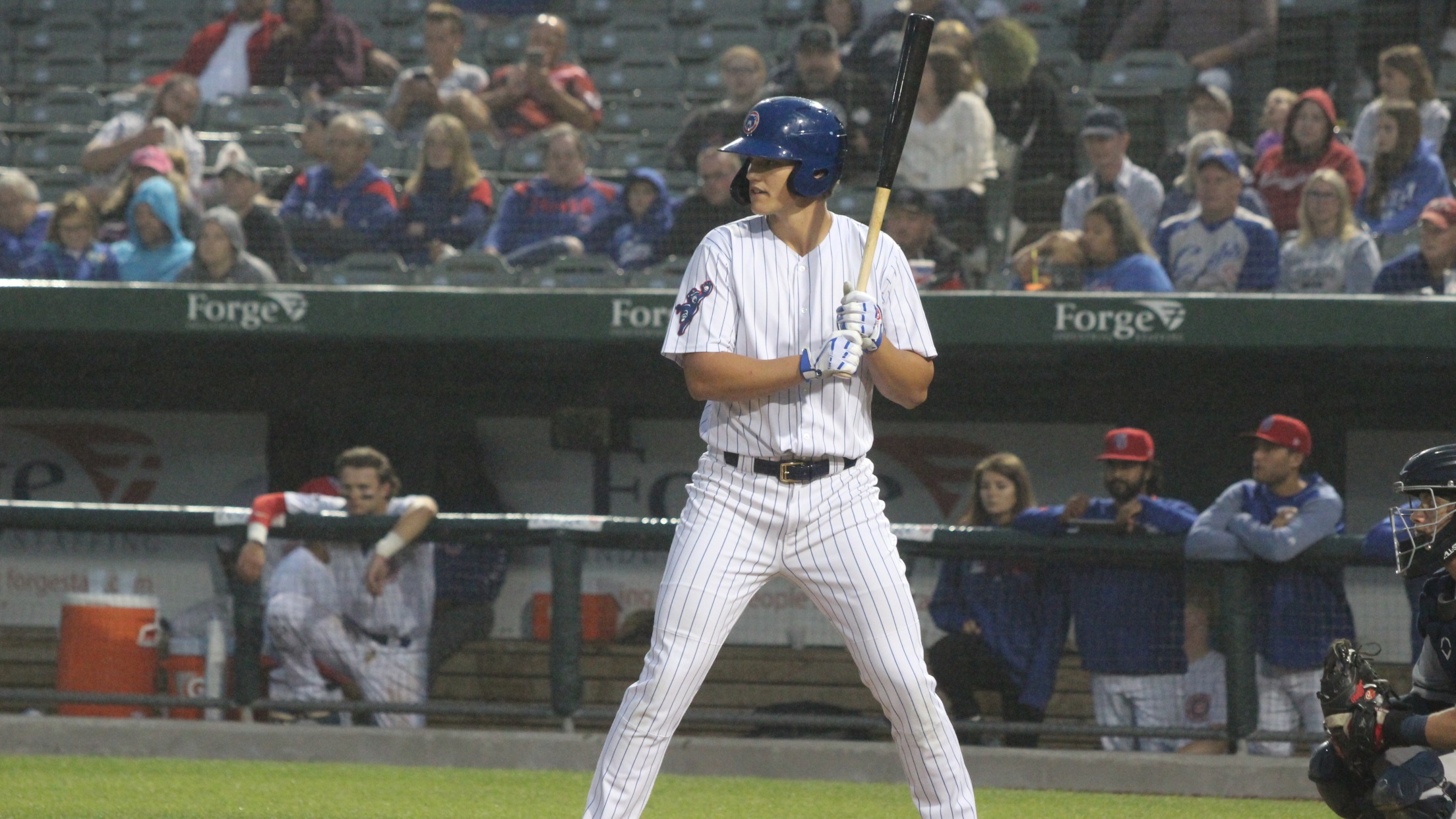 Box Score WP: Danis Correa (1-2, 2.70 ERA) LP: Anthony Maldonado (1-3, 4.80 ERA) A back and forth contest at ABC Supply Stadium ended in one of the most exhilarating wins of the year for the Cubs. It was a hot start on a hot Sunday afternoon in Beloit, with
New Cubs Shine, but South Bend Falls to Beloit in Walkoff Fashion
Miguel Pabon drives in two clutch runs and Zachary Leigh Fans Four in Cubs Debut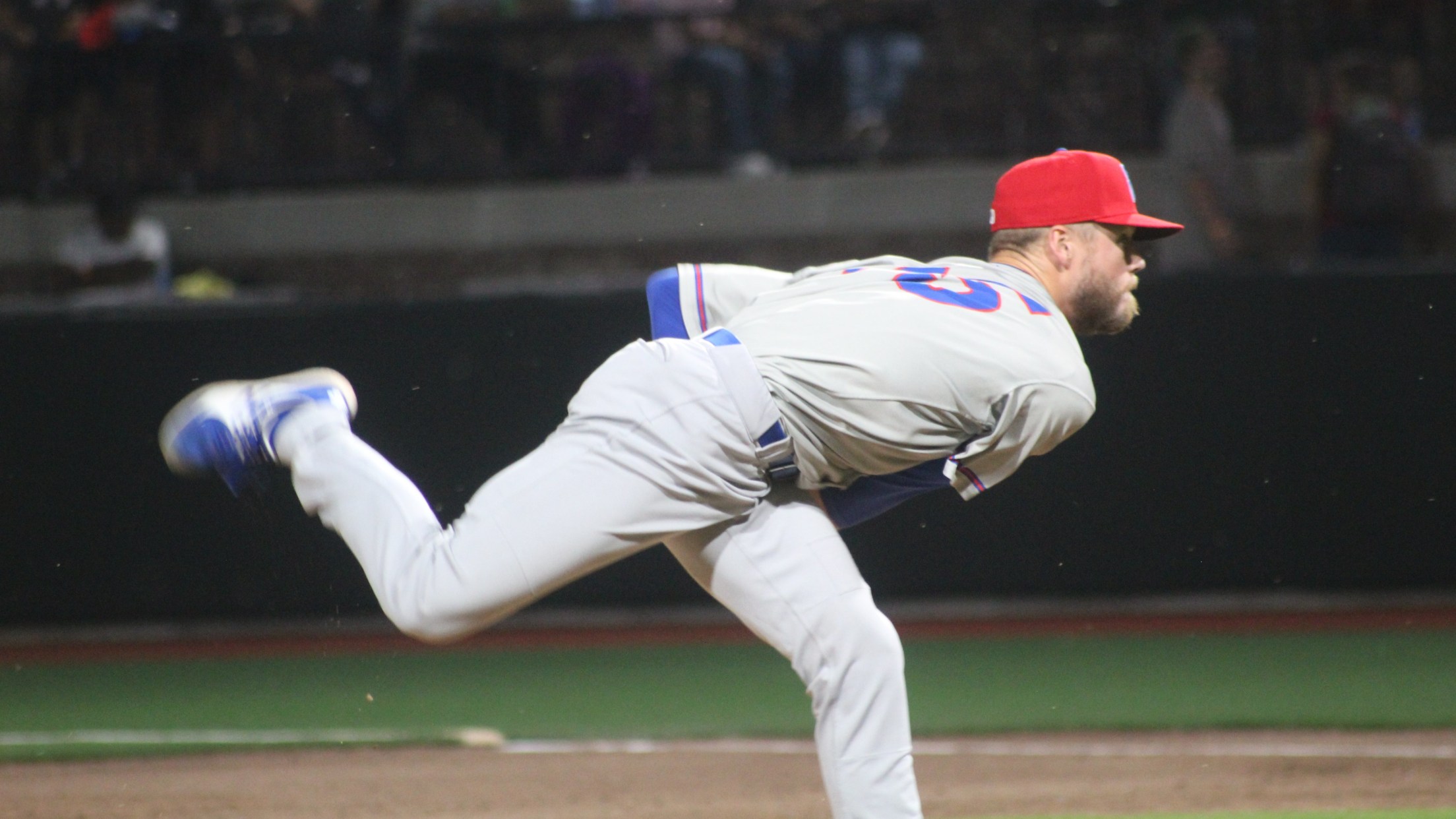 Box Score WP: Anthony Maldonado (1-2, 2,51 ERA) LP: Gabriel Jaramillo (0-1, 3.86 ERA) Cubs number thirteen prospect DJ Herz came into ABC Supply Field following a five-inning gem in his High-A debut, and his new team was determined to back him up from the get-go. For the second night
Pinango and Ball Power Cubs to 5-2 Win Over Snappers
South Bend gets their first win ever at ABC Supply Stadium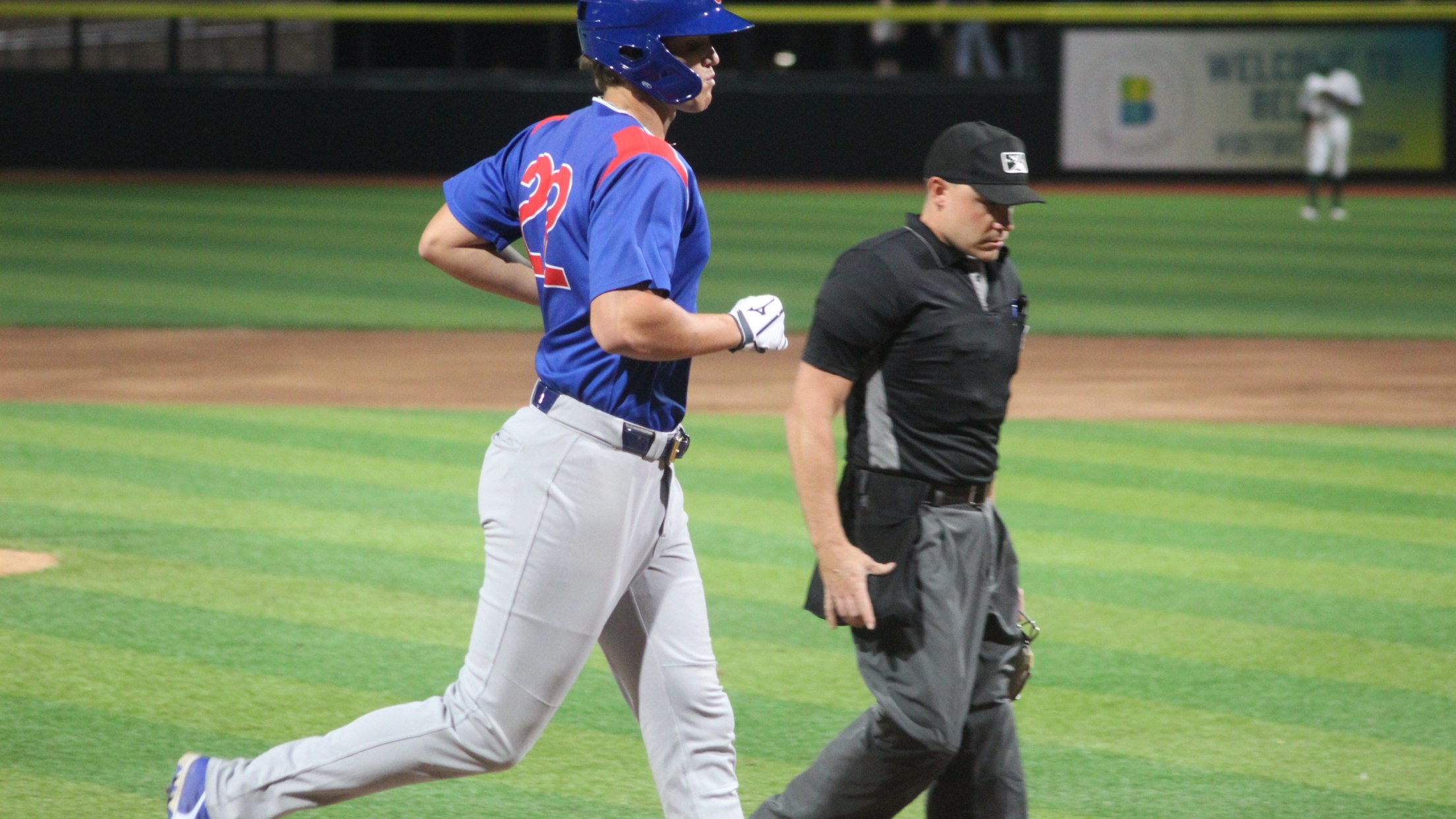 W: Max Bain (5-8, 5.18 ERA) L: M.D. Johnson (3-4, 2.25 ERA) BOX SCORE Jordan Wicks, the Cubs first-rounder from the 2021 MLB Draft, made his second pro start in the South Bend Cubs 5-2 win on Thursday night at ABC Supply Stadium over the Beloit Snappers. Wicks allowed just