Portland Sea Dogs Sink RubberDucks In Doubleheader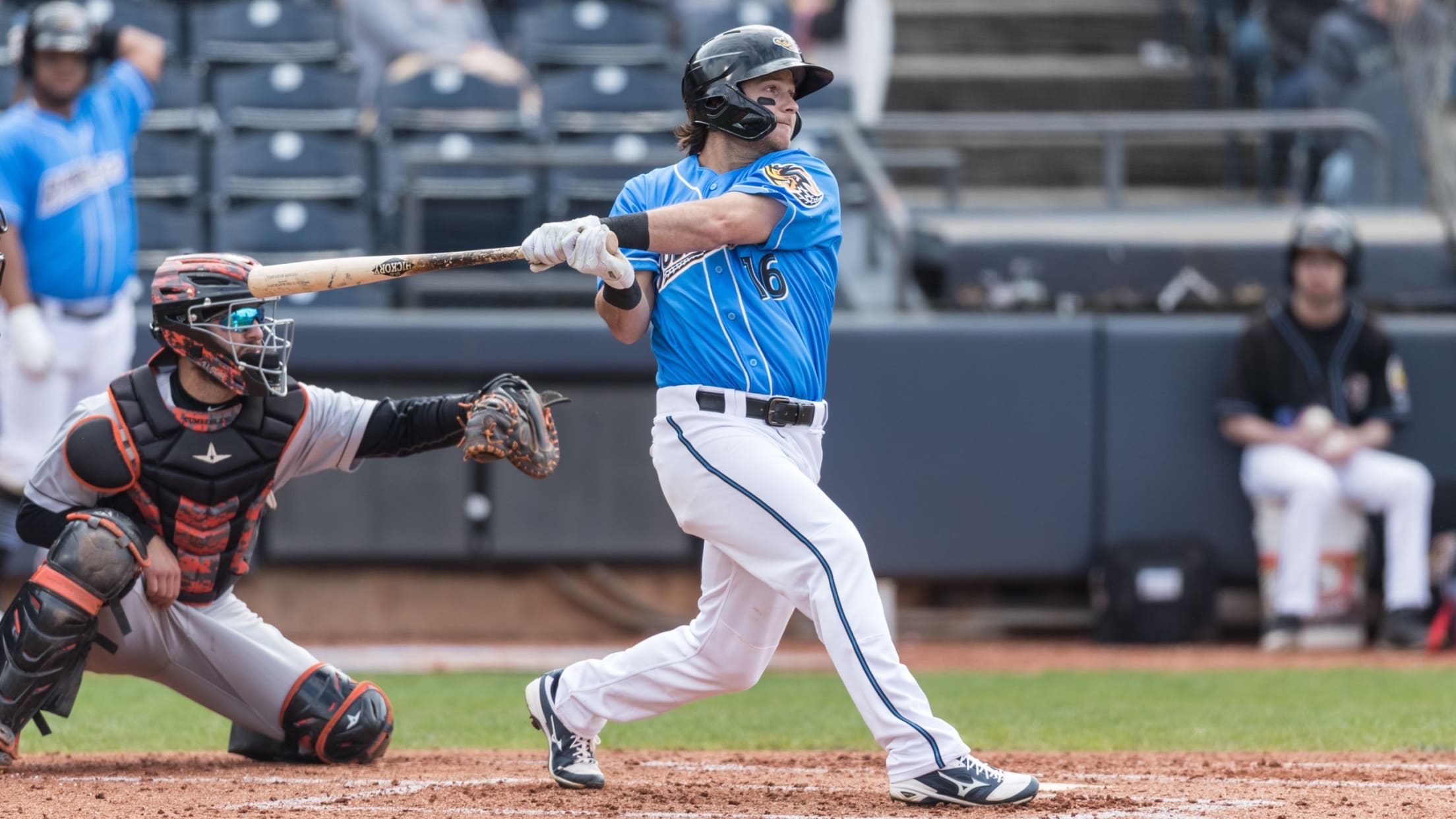 Connor Marabell had two hits and two stolen bases and drove in Akron's only run in Wednesday's 8-1 loss. (David Monseur)
RubberDucks Game RecapGame 1 - Sea Dogs (24-40) 4 RubberDucks (34-33) 0 (7 innings)WP: Dedgar Jimenez (2-3) LP: Tanner Tully (5-6) Save: NoneGame 2 - Sea Dogs (23-40) 6 RubberDucks (34-33) 3 (7 innings)WP: Denyi Reyes (2-8) LP: Jake Paulson (5-4) Save: Jordan Weems (5)SummaryThe Akron RubberDucks were held silent
RubberDucks Game Recap
Game 1 - Sea Dogs (24-40) 4 RubberDucks (34-33) 0 (7 innings)
WP: Dedgar Jimenez (2-3) LP: Tanner Tully (5-6) Save: None

Game 2 - Sea Dogs (23-40) 6 RubberDucks (34-33) 3 (7 innings)
WP: Denyi Reyes (2-8) LP: Jake Paulson (5-4) Save: Jordan Weems (5)

Summary
The Akron RubberDucks were held silent in a 4-0 game one loss to the Portland Sea Dogs and dropped game two, 6-2, in a doubleheader Sunday at Canal Park.
Turning Point
In game one the Sea Dogs broke the scoreless tie with a three-run fifth inning by sending eight batters to the plate, collecting four singles and a walk. That 3-0 lead would be enough to sustain Portland and lead them to the game one win. In game two, the Sea Dogs also utilized a big inning, a four-run third inning, to take a 4-2 on a C.J. Chatham RBI single, a Bobby Dalbec two-run double, and a Joey Curletta RBI single.
Mound Presence
In game one, starter Tanner Tully eased through the first three and then worked out of a one-out, bases-loaded jam in the fourth. His day would end in the fifth, however, when three straight singles got Portland on the board. Two of his inherited runners scored with Rob Kaminsky on the mound. Dalbert Siri allowed a solo shot in the seventh. Jake Paulson , the Akron starter in game two had not allowed a run in June until he allowed four runs in the third inning. That inning was enough to sink the RubberDucks, but the Akron bullpen would surrender two more runs to the Sea Dogs in relief of Paulson.
Duck Tales
Game one saw the RubberDucks stifled by Portland starter Dedgar Jimenez, with Akron only able to muster four hits. Alexis Pantoja had a two-single game. In game two, Wilson Garcia opened the scoring for the RubberDucks with a two-run home run deep to the right field seats. The RubberDucks would get another run back in the sixth inning to bring the deficit to 6-3 on a Connor Marabell solo home run.
Notebook
Akron is now 5-7 in doubleheaders this season, including two sweeps, three times being swept and one split … Ka'ai Tom 's sixth-inning walk in game one and his single in the third inning of game two extended his on-base streak to 26 games, the longest such streak by a RubberDuck this season … Ernie Clement extended his hitting streak to 11 games in a row, going 2-for-8 across both games … Time of Games: 2:16, 1:58 … Attendance: 5,335
On the Pond
The RubberDucks will now have a day off Monday before heading out to Reading for their last series of the year against the Fightin Phils. The game will be broadcast on Fox Sports 1350 AM, the WARF iHeartRadio channel, and the TuneIn Radio App, and available on MiLB.TV. Sam Hentges (1-7, 4.35) will take the mound for Akron against the Reading Fightin Phils.