Quinn Priester pitches Hoppers to Game 2 victory, evens series
Matt Gorski's two-run double key hit as Hoppers even series with Bowling Green
Greensboro right-hander Quinn Priester went 8-4 with a 2.98 ERA in 21 starts this summer, including Friday's playoff victory. (Jak Kerley/Greensboro Grasshoppers)
GREENSBORO ― Let's face it: The last home game of this magical summer was a must-win game. And the Greensboro Grasshoppers responded with a must-win effort. Prized prospect Quinn Priester pitched like a future ace, Matt Gorski hit a clutch two-run double and the Hoppers beat the top-seeded Bowling Green
GREENSBORO ― Let's face it: The last home game of this magical summer was a must-win game.
And the Greensboro Grasshoppers responded with a must-win effort.
Prized prospect Quinn Priester pitched like a future ace, Matt Gorski hit a clutch two-run double and the Hoppers beat the top-seeded Bowling Green Hot Rods 4-2 in Game 2 of the High-A East Championship series on a gorgeous, sunny Friday afternoon at First National Bank Field.
The Grasshoppers bounced back from a heartbreaking ninth-inning loss in Game 1 to even the best-of-five series, which shifts to Bowling Green for Game 3 on Sunday.
"Today was how we've been all season," Hoppers manager Kieran Mattison said. "We have a tough loss, then we come back the next day and get after it. That's the muscle-memory we try to build throughout the season. When you're in games of this magnitude, the importance of bouncing back means a lot. So why not have that same mantra all season? Wash off yesterday and play hard today. That's what we've tried to teach from the beginning. Then when you get to this point, you don't have to do anything different. You just have to compete."
This one was a terrific matchup, featuring the two best pitchers from the two best teams in the league.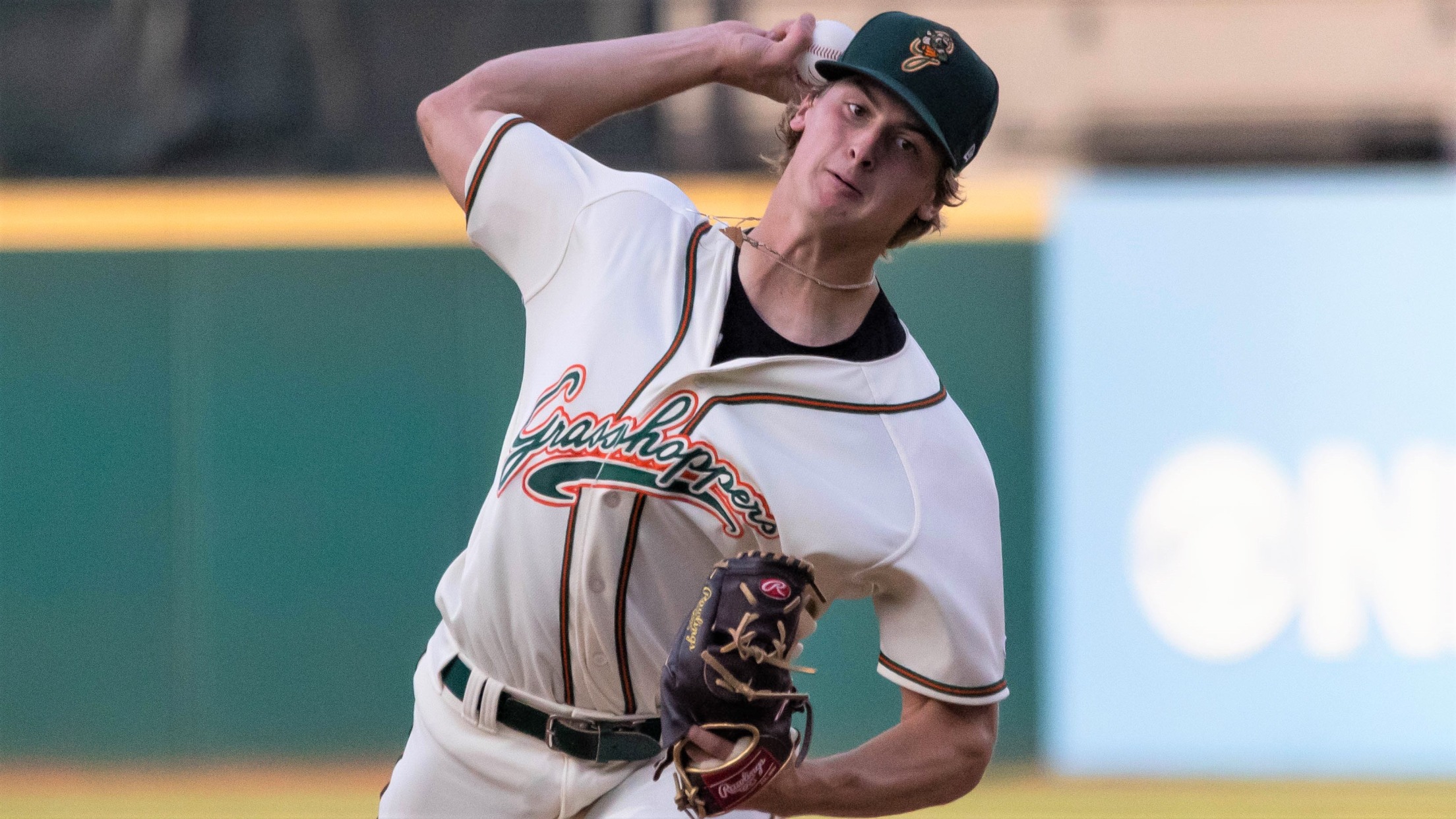 Priester (8-4, 2.98 ERA in 21 starts) got the win, striking out seven in five innings. He gave up three hits, including a solo home run to Bowling Green's Roberto Alvarez.
Hot Rods right-hander Taj Bradley, who went 3-1 with a 1.69 ERA in nine starts since his promotion to Bowling Green on Aug. 3, was the tough-luck loser. Bradley gave up two runs on two hits in the first inning, then retired 17 batters in a row before reaching his pitch-count limit. He walked none and struck out nine in six innings.
Priester, a 21-year-old right-hander picked 18th overall in the 2019 draft, is rated by MLB Pipeline as the No. 2 prospect in Pittsburgh's farm system. Bradley, 20, is rated as Tampa Bay's No. 6 prospect.
Priester was the opening-day starter for Greensboro back in May, and his season came full circle in the last game of the season at First National Bank Field.
"Early in the year, there was a little bit of pressure that comes with having your name on a lot of prospect lists," Priester said, "especially after I got a non-roster invitation to big-league camp at spring training. I let that pressure dictate how I pitched. I was forcing things, and trying to be something that I might be in five years rather than the person I am right now. What I did today was who I am right now."
What Priester did Friday was save the Hoppers season. He threw all five of his pitches ― fastball, curveball, sinker, changeup and slider ― for strikes and showed the poise he learned this summer in Greensboro.
"The things that make me good aren't essentially my pitches, but it's more mentality," Priester said. "It's being a competitor. Knowing I've got to beat that guy at the plate and focusing on that is what's important. I've learned not to focus on things I can't control. That's been really big for me this year.
"I threw all five (pitches) today and threw them for strikes. It just depends on when I throw them and to what hitters. Early in the year I made a lot of mistakes on sinkers that just follow left-handed bat paths. I'd be getting contact off the end of the bat, but because it was following the bat path, the balls were still getting through the (defensive) shift. It was about learning when to use that pitch and ... being able to adjust."
Priester added the slider last summer when the season was canceled because of the coronavirus pandemic. He already had one of the best curveballs in the minors, but the slider changed him.
"I didn't have a pitch that moved to my glove-side," Priester said. "I had a four-seam fastball that has a little arm-side run. I had a sinker that runs arm-side, a changeup that runs arm-side and a curveball that at its best breaks 12-to-6. So a had nothing that went right-to-left to use, especially against right-handed hitters and sometimes to back-foot lefties. ... There were two games this year that I had big strikeout numbers, and those were two games that the slider was really on."
Even so, everything Priester does starts with his fastball. And most of this summer was spent refining his delivery so he could put the fastball exactly where he wanted it.
"What really turned my season around was being able to locate my fastball better," he said. "Once I could do that, the hitters had to respect the fastball more rather than waiting for one to miss in the middle of the plate. You locate better, and then the hitter thinks, 'Maybe this guy won't miss.' That keeps the hitters more on their toes and makes them respect what I'm doing a little bit more. If you can locate, then the hitter can't sit and wait on a mistake. It makes them swing at the pitch where I want it, not where they want it."
The Hoppers staked Priester to a 2-0 lead in the first inning.
Lead-off hitter Liover Peguero opened with an opposite-field single, and Nick Gonzales lifted a fly ball that was dropped by Bowling Green center fielder Grant Witherspoon. Jared Triolo followed with a sacrifice fly to the warning track in left field to drive in the first run.
Lolo Sanchez fought off a pitch for a single that sent Gonzales to third, and Will Matthiessen drove in the run with a ground out.
Greensboro tacked on two big runs in the seventh. Matthiessen drew a one-out walk from reliever Zack Trageton, Blake Sabol singled and Gorski hit his two-run double on a line drive into the left-center field gap.
The bullpen protected the lead. Oliver Garcia pitched a scoreless sixth inning, and Bear Bellomy retired all six batters he faced, striking out five in two innings.
Austin Roberts pitched the ninth for his 10th save in 40 appearances. He gave up a solo home run, but then struck out two to end it, finishing the season with 101 strikeouts in 66.1 innings.
"This is development. Winning the game is part of player development," Mattison said. "It goes hand in hand with lessons we teach. You want these guys to be ready to play in the postseason when they get to Pittsburgh? Well, these are the reps that they need. This teaches them about the postseason. Yeah, of course, this is a little different. But it's a muscle. You want to get your guys in these games, get them to pitch and hit in the playoffs. If they can continue to do it (in the minor leagues) then they'll be ready to win in Pittsburgh."
In his career at the News & Record, journalist Jeff Mills won 10 national and 12 state writing awards from the Associated Press Sports Editors, the Society for Features Journalism, and the N.C. Press Association.