Quinn Priester, Colin Selby strike out 19 in one-hit shutout
Hoppers hitters slug 4 home runs to support superb pitching in 8-0 victory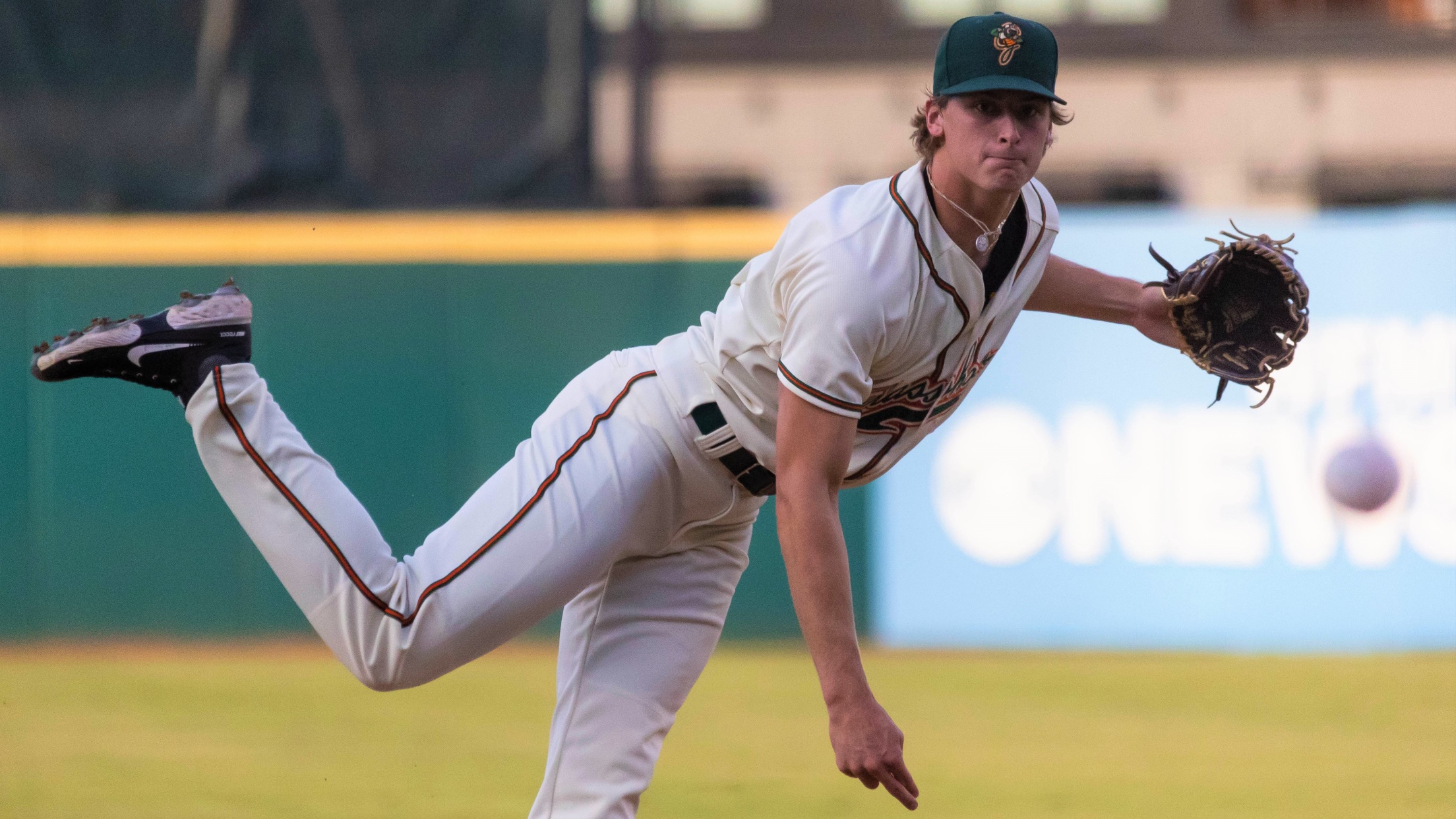 Greensboro right-hander Quinn Priester struck out 13 in six innings at Asheville, including nine in a row to start the game. (Jak Kerley/Greensboro Grasshoppers)
ASHEVILLE ― Quinn Priester and Colin Selby combined for 19 strikeouts in a one-hit shutout, and the Greensboro Grasshoppers offense hit four home runs in an 8-0 victory over the Asheville Tourists at McCormick Field on Friday night. Priester (6-3, 2.86 ERA) struck out the first nine Asheville batters of
ASHEVILLE ― Quinn Priester and Colin Selby combined for 19 strikeouts in a one-hit shutout, and the Greensboro Grasshoppers offense hit four home runs in an 8-0 victory over the Asheville Tourists at McCormick Field on Friday night.
Priester (6-3, 2.86 ERA) struck out the first nine Asheville batters of the game and 11 of the first 12, taking a perfect game into the sixth inning when Yainer Diaz led off with a single on an 0-2 pitch for the Tourists' only hit of the game.
Priester, a 20-year-old right-hander who is rated by MLB Pipeline as the No. 2 prospect in Pittsburgh's farm system, was the 18th overall pick in the 2019 draft. He was chosen to pitch in the All-Star Futures Game in July and MLB Pipeline ranks him as the No. 53 prospect in the entire minor leagues.
He was flat-out dominant Friday. Priester retired the first 15 batters in a row and finished with no walks and 13 strikeouts in six innings of work. He threw a career-high 96 pitches.
Selby, a hard-throwing right-hander, allowed no hits and a walk in the final three innings, striking out six to earn his fourth save of the season.
Meanwhile, the Hoppers hitters came through with 13 hits and scored all their runs in the last three innings. Every batter in Greensboro's lineup had at least one hit.
Right fielder Matt Gorski went 2-for-5 with a home run, a double and two RBIs. First baseman Aaron Shackelford hit his 19th home run of the season, a three-run shot that keyed a six-run outburst in the seventh inning.
Gorski stayed hot. He has hit safely in 14 of his last 17 games, batting .308 (20-for-65) with 15 runs scored during that span.
Jonah Davis and Nick Gonzales hit solo home runs for the Hoppers.
Davis, Liover Peguero and Blake Sabol finished with two hits apiece.
The Hoppers (62-38) are in second place in the High-A East's South Division, seven games behind Bowling Green (69-31) with just 20 games left in the regular season.
Greensboro moved a half-game ahead North Division leader Hudson Valley (61-38) in the race for the No. 2 record in the 12-team High-A East. The Renegades lost their second game in a row at Winston-Salem on Friday.
The teams with the top two records, regardless of division, qualify for the 12-team league's championship series in September. Greensboro plays 12 of its last 18 games against Hudson Valley.
Notes
Right-hander Quinn Priester is 3-0 since pitching in the Futures Game, and he ranks fourth in the High-A East with 85 innings pitched. He has walked 30 and struck out 87, and held opposing hitters to a .216 batting average. His 1.15 WHIP ranks No. 1 in the league among qualifiers.
Henry Davis (oblique) and Will Kobos (unspecified) both went on the 7-day injured list with unspecified at the start of this series. Davis, a catcher who was the No. 1 overall pick in the July draft, could be done for the season. He batted .263 with two home runs and three RBIs in six games for Greensboro. ... Kobos, meanwhile, had emerged as a reliable closer in the bullpen. The right-hander is 6-2 with a 2.16 ERA and five saves in 27 relief appearances. He has 68 strikeouts in 41.2 innings, and opponents are batting just .129 against him.
Left fielder Lolo Sanchez went 1-for-4 with a run scored Friday. He leads the league with 49 walks and 28 stolen bases. In his last 16 games, Sanchez has batted .393 (24-for-61) with 16 runs scored.
Third baseman Jared Triolo went 1-for-5 with an RBI. He leads the High-A East with 102 hits, ranks third with 68 RBIs and fifth with a .292 batting average. Triolo was batting just .217 on June 2, but in 68 games since then he has batted .316 with 15 doubles, 12 home runs, 53 RBIs and 20 stolen bases.
Second baseman Nick Gonzales, rated by MLB Pipeline as the Pirates' No. 4 prospect, went 1-for-5 Friday with his 11th home run. Gonzales has hit safely in 14 of his last 16 games, raising his batting average to .290, which ranks eighth in the league among players with enough plate appearances to qualify. Gonzales, who broke a finger in May and went on the injured list, was batting just .214 on July 15. In 34 games since then, he has hit .352 (50-for-142) with 11 doubles, two triples, six home runs and 21 RBIs.
In his career at the News & Record, journalist Jeff Mills won 10 national and 12 state writing awards from the Associated Press Sports Editors, the Society for Features Journalism, and the N.C. Press Association.