Quinn Priester shuts down Dash to lead Hoppers to win
Liover Peguero and Matt Gorski hit homers as Greensboro takes 9-7 lead in Battle of I-40 rivalry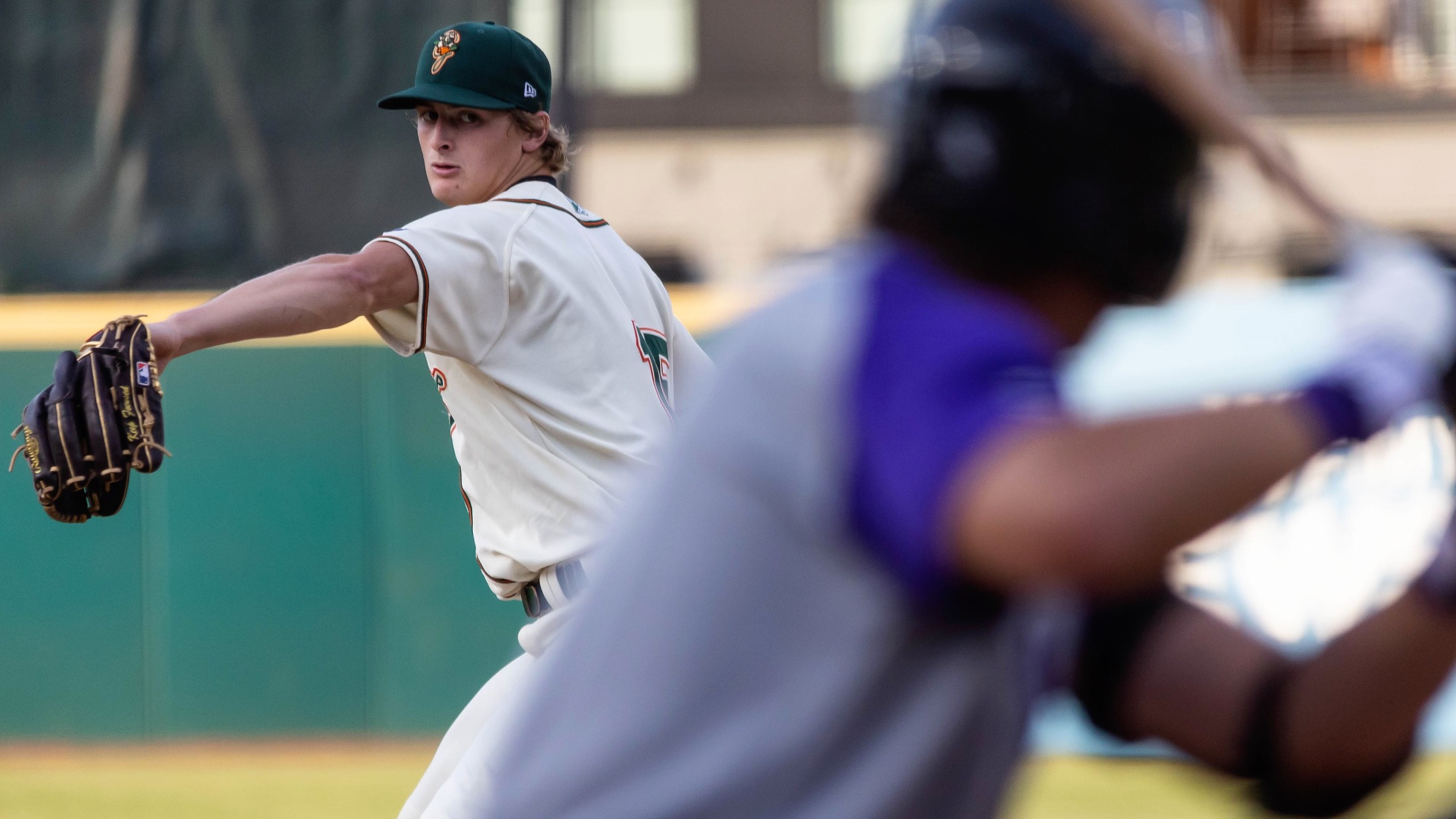 Greensboro ace Quinn Priester pitched a career-high seven innings and allowed just one hit, leading the Grasshoppers to a 9-1 win over Winston-Salem. (Jak Kerley/Greensboro Grasshoppers)
GREENSBORO ― Ace right-hander Quinn Priester pitched seven dominant innings and Liover Peguero homered and drove in three runs, leading the Greensboro Grasshoppers to a 9-1 victory over the Winston-Salem Dash before a big Fireworks Friday night crowd of 5,105 at First National Bank Field. Lead-off hitter Matthew Fraizer went
GREENSBORO ― Ace right-hander Quinn Priester pitched seven dominant innings and Liover Peguero homered and drove in three runs, leading the Greensboro Grasshoppers to a 9-1 victory over the Winston-Salem Dash before a big Fireworks Friday night crowd of 5,105 at First National Bank Field.
Lead-off hitter Matthew Fraizer went 1-for-3 with a double to extend his hitting streak to 11 games, and Matt Gorski hit his 12th home run of the season for Greensboro (47-29), which took a 9-7 lead over Winston-Salem (30-46) in the season series.
Teams from the two nearby cities are playing in the same league for the first time since 1968, sparking a renewed rivalry called "The Battle of I-40."
Priester won the battle Friday night.
The 20-year-old starter, who is rated by MLB Pipeline as the No. 2 prospect in Pittsburgh's farm system, worked a career-high seven innings and threw an economical 84 pitches.
Priester (4-3, 3.05 ERA) allowed just one hit, a solo home run in the fifth inning by Samir Duenez, a Class-AAA player for the White Sox who is on an injury-rehab assignment with the Dash. Priester walked one and struck out five, effectively pitching to contact throughout the game.
Priester was the 18th overall pick in the 2019 draft, and MLB Pipeline rates him as the No. 37 prospect in the entire minor leagues. He throws a riding four-seam fastball that touches 98 mph and is consistently in the mid-90s. His low-80s curveball is the best in the Pirates' farm system. He added a slider during baseball's 2020 Covid shutdown, and he also throws a two-seam sinker and a changeup.
He lost three of his first five starts this season, but has shown steady improvement since then. He was one of two Pirates' minor leaguers picked for the All-Star Futures Game in Denver.
"Early on, there was definitely a learning curve getting back into playing baseball games," Priester said. "I know that must sound dumb, but it was just getting used to playing the sport again. It had been a year since I'd pitched in bad situations, good situations ― any situations ― and worked through those situations. ...
"The goal for the whole season is to get a little bit better, to learn something from every outing, implement that and carry it through my work week to see progress the next start."
In his last eight starts, Priester is 2-0 with a 2.19 ERA, holding opponents to a .179 batting average.
Pegeuro, a shortstop rated as the Pirates' No. 4 prospect, went 3-for-5 with a solo home run and two RBI singles. Top prospect Nick Gonzales went 2-for-5 with an RBI.
Third baseman Jared Triolo also had a big night, going 2-for-3 with two walks, two RBIs and a stolen base. He has hit safely in 20 of his last 23 games, going 35-for-96 (.365) with six doubles, four home runs, 22 RBIs and 11 stolen bases in that span. He ranks third in the High-A East with 53 RBIs, and he has raised his batting average from .237 on June 1 to .297 heading into the weekend.
Two relievers finished off Priester's strong start.
Michell Miliano, who was acquired by the Pirates this week as part of a trade with the San Diego Padres, made his Greensboro debut, allowing one hit and striking out one in a scoreless eighth inning.
Garrett Leonard closed it out, walking two and striking out two in the ninth.
NOTES: The playoff format in the High-A East this year is a five-game series between the two teams with the best records, regardless of division. Greensboro trails Bowling Green in the South Division, but the Hoppers are third in the pennant race, just one game behind North Division leader Hudson. ... Matt Fraizer leads the league in hits (92), walks (40), runs (60), home runs (19) and batting average (.315). ... Blake Sabol went 0-for-3 Friday, but he has hit safely in 10 of his last 12 games, going 18-for-42 (.429) with three doubles and five home runs in that span.
In his career at the News & Record, journalist Jeff Mills won 10 national and 12 state writing awards from the Associated Press Sports Editors, the Society for Features Journalism, and the N.C. Press Association.