Princeton outslugs Greeneville in finale, 10-8
Oliver, Thomas go deep, as Rays snap Reds three-series win streak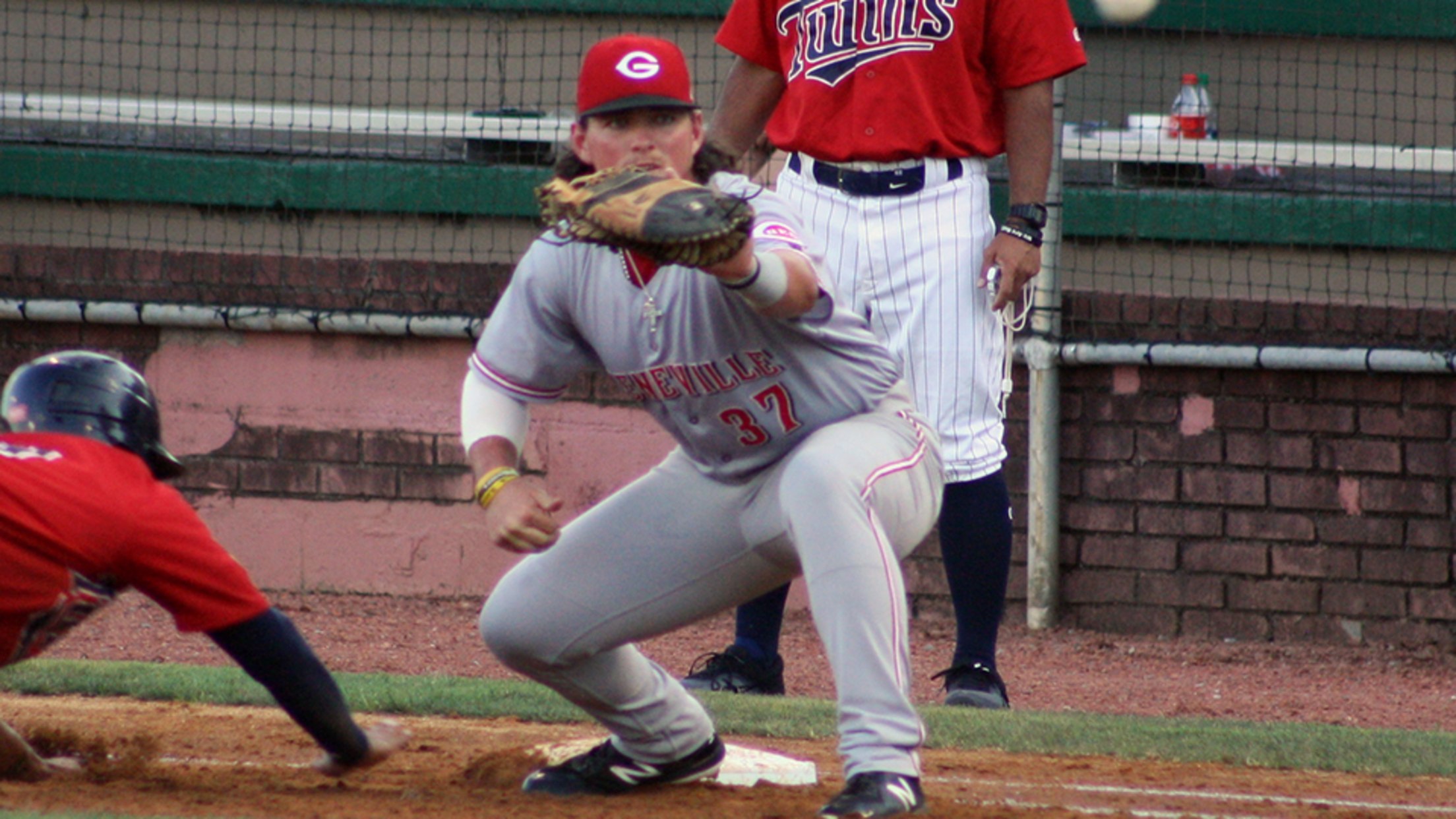 1B Rylan Thomas reached base four times and added a three-run home run, as the Princeton Rays defeated the Greeneville Reds, 10-8, on Thursday night at Hunnicutt Field. (Johnny Painter / Greeneville Reds)
PRINCETON, W.V. -- Despite a two-run shot from C Hunter Oliver and a three-run blast by 1B Rylan Thomas, the Princeton Rays managed to outslug the Greeneville Reds, 10-8, on Thursday night at Hunnicutt Field.With the loss, Greeneville's season-long three-series win streak was snapped, as they fell to 14-20 on the season. Princeton's victory
PRINCETON, W.V. -- Despite a two-run shot from C Hunter Oliver and a three-run blast by 1B Rylan Thomas, the Princeton Rays managed to outslug the Greeneville Reds, 10-8, on Thursday night at Hunnicutt Field.
With the loss, Greeneville's season-long three-series win streak was snapped, as they fell to 14-20 on the season. Princeton's victory improved their overall mark to 22-12.
Down 10-5 heading to the top of the ninth, a pair of walks to CF Mike Siani (2-4, R, BB, 2 SO) and SS Miguel Hernandez (0-4, R, BB, 2 SO) started the inning. Thomas (2-3, 3 R, HR, 3 RBI, 2 BB) then proceeded to demolish an offering well over the right-field fence for a home run. The three-run clout - his team-leading seventh of the year - pulled the Reds back within two, 10-8.
RHP Justin Marsden (2.0 IP, H, 3 R, 3 ER, 3 BB, 2 SO) was able to buckle down from there, getting back-to-back strikeouts and a fly out to right, ending the game and sealing his second save of the season.
Princeton started the game off hot, jumping out to an early 3-0 lead. 2B Connor Hollis (2-4, R, RBI, 2 BB) and SS Wander Franco (2-4, 2 R, 3B, BB) opened the bottom of the first with consecutive singles. After Hollis stole third and Franco moved to second on a wild pitch, 3B Osmy Gregorio (1-4, 2 RBI) drove in a run with a groundout to second, giving the Rays a 1-0 lead. Franco would score on a wild pitch one batter later to extend the advantage to 2-0. In the second, CF Grant Witherspoon (0-2, 2 R, 2 BB) drew a leadoff walk and advanced to second on a wild pitch before scoring on a single to center by Hollis.
The Redlegs answered back in the top of the fourth, grabbing the lead. Thomas started the frame with a free pass and Oliver (1-5, R, HR, 2 RBI, 4 SO) stepped up and cracked a two-run home run over the scoreboard in the left - his sixth of the season - pulling Greeneville within one, 3-2. Following RF Brian Rey (0-3, R) getting hit by a pitch and a single from 2B Claudio Finol (3-3, R, BB), 3B Raul Juarez (1-4, 2B, 2 RBI, 2 SO) thwacked a double into the right-center field gap. Two runs scored on the two-bagger, putting the Reds up, 4-3.
DH Tony Pena (4-5, 2 R, 2B, 3 RBI) managed to tie the game for Princeton in the bottom of the fourth. The right-handed swinger singled to start the frame, moved to second on a wild pitch, advanced to third on a fly out to right and then came home to score on a sacrifice fly to center by LF Pedro Diaz (1-3, 2 RBI, BB, SO).
Greeneville jumped back ahead with a tally in the top of the fifth. Thomas clocked a one-out single to center and scooted to second on an errant pitch. LF Reniel Ozuna (1-5, RBI, 2 SO) would dunk a two-out single into right - scoring the UCF alum - to put the Reds in front once more, 5-4.
The Rays grabbed the lead for good against the bullpen in the sixth. Franco roped a triple off the wall in left with one out and crossed the plate to even the contest at five on a sac fly to center by Gregorio. RF Jordan Qsar (1-5, 2 R, 2B, 2 SO) banged a two-out double off the centerfield fence and was enabled to score on a pair of wild pitches, giving Princeton a 6-5 edge.
Pena would add insurance for the P-Rays in the bottom of the eight. After the bases were loaded on a single, an error and a walk, the designated hitter emptied the bags with a three-RBI double down the left-field line. A two-out single to center by Diaz scored Pena and stretched Princeton's advantage to 10-5.
Neither starter received a decision in four innings of work on Thursday. RHP Ricky Karcher (4.0 IP, 5 H, 4 R, 4 ER, 4 BB, SO) issued four runs for Greeneville, while RHP Miguel Lara (4.0 IP, 6 H, 4 R, 4 ER, BB, 5 SO) did the same for Princeton.
RHP Juan Carlos Arias (2.0 IP, H, BB, 4 SO) struck out four over two scoreless innings of relief to earn his second win for the Rays. RHP Manuel Cachutt (1.2 IP, 3 H, 2 R, 2 ER, 2 BB, SO) surrendered multiple runs for the first time since June 29, suffering his first defeat of the year.
The Reds return home on Friday night to open up a three-game series against the Pulaski Yankees. RHP Josiah Gray (1-1, 3.60 ERA) - Cincinnati's No. 21 prospect according to MLB.com - is expected to toe the slab for Greeneville, while Pulaski is slated to counter with RHP Pedro Espinola (0-1, 3.86 ERA).
The G-Reds Pre-Game Show will kick off the broadcast at 6:45 p.m. ET, leading up to the 7:00 p.m. ET start at Pioneer Park. Friday evening's contest can be heard on GreenevilleReds.com or via the TuneIn Radio and MiLB First Pitch apps.

It will be a Firework Friday at Pioneer Park, as following the final out fans will be treated to a spectacular fireworks display.

Season and single-game tickets are still available and can be purchased online at GreenevilleReds.com or by calling the Reds' Ticket Office at (423) 609-7400.