The Road to The Show™: Carter Kieboom
Top Nationals prospect wields consistent, powerful bat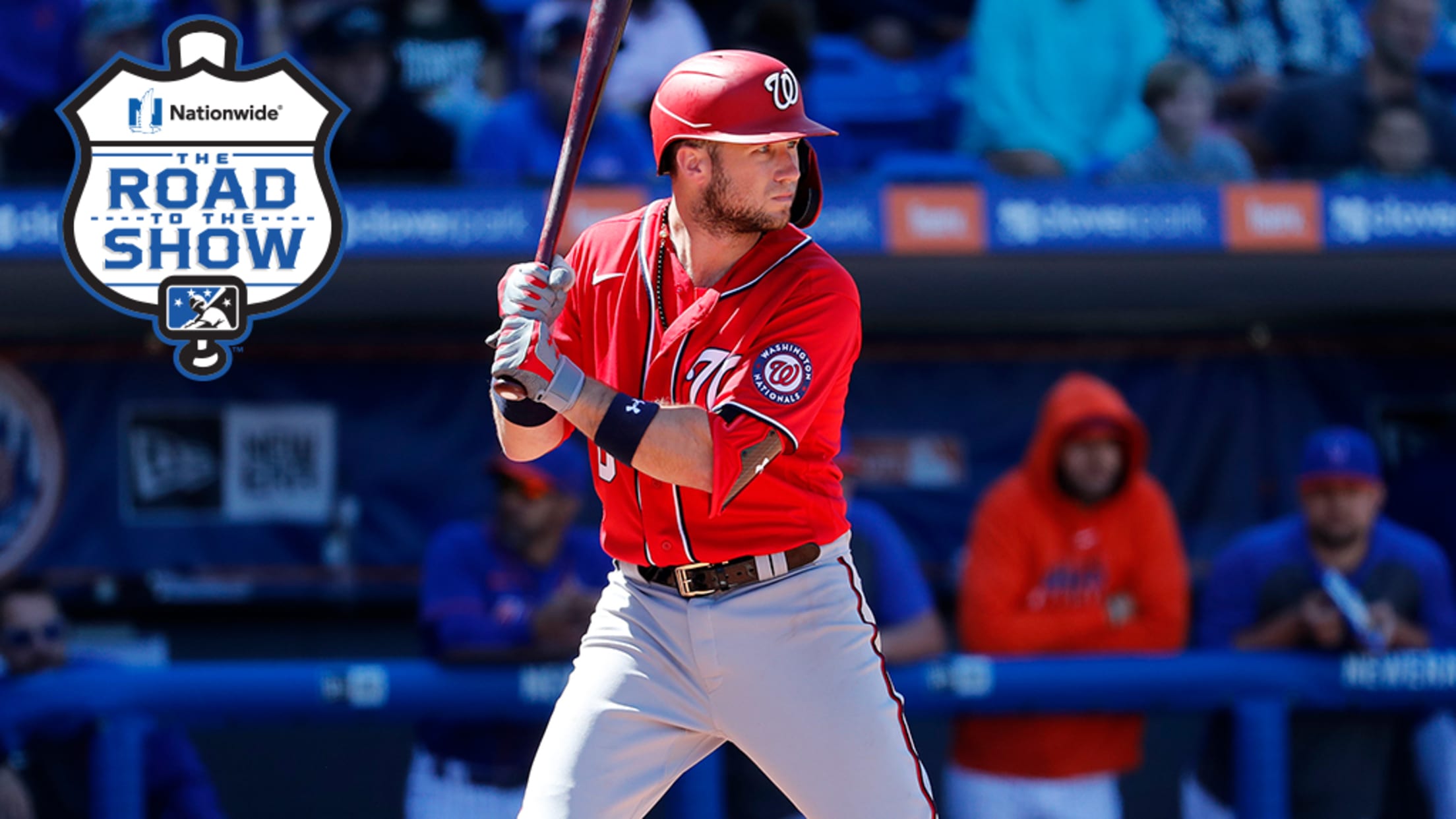 Carter Kieboom has twice been named a Nationals representative at the All-Star Futures Game. (Jeff Roberson/AP)
Each week, MiLB.com profiles an elite prospect by chronicling the steps he's taken to reach the brink of realizing his Major League dream. Here's a look at Nationals infielder Carter Kieboom. All Carter Kieboom has done since he was selected 28th overall in the 2016 Draft is prove why he
Each week, MiLB.com profiles an elite prospect by chronicling the steps he's taken to reach the brink of realizing his Major League dream. Here's a look at Nationals infielder Carter Kieboom.
All Carter Kieboom has done since he was selected 28th overall in the 2016 Draft is prove why he was a first-round pick.
The Nationals infielder has hit for average and power while maintaining a high on-base percentage. One of the best overall talents in the Minor Leagues, Kieboom had a cup of coffee with the World Series champions in 2019 before finishing the year back in Triple-A. Although there's still work to be done and the question of where he'll end up playing on the diamond, MLB.com's No. 21 overall prospect is on the verge of reaching stardom and becoming an everyday threat in Washington's lineup.
2016 (Rookie-level Gulf Coast League)
After the Draft, Kieboom headed to Florida to join the GCL Nationals. Although he was prone to the strikeout (43 in 135 at-bats), the Georgia native showed early signs of his power with a .452 slugging percentage that would have ranked seventh on the circuit had he had enough plate appearances to qualify.
He batted .158 through his first five professional games but picked things up in July with four triples before collecting his first four long balls in August. By season's end, he got his average up to .244 with a .774 OPS. In 32 games at shortstop, he committed nine errors and had a .932 fielding percentage.
2017 (Class A Hagerstown, Class A Short Season Auburn, GCL Nationals)
It didn't take long for Kieboom to make his presence felt in the South Atlantic League as he hit safely in his first seven games (including two three-hit contests) and 10 of 11 overall. During that first month of the season, he batted .333/.413/.580 with 10 extra-base hits, including five homers. He closed out his first month of full-season ball with a literal bang, mashing a career-best three homers on April 30 at Lexington.
Kieboom kept his average well above .300 into May, but a hamstring injury sidelined him until late July.
After a 13-game rehab assignment in the GCL and New York-Penn League, he rejoined the Suns for 19 games in August and September. His power and average dipped, but Kieboom still reached base at a .402 clip over the final stretch. In 48 games, he proved to be a force at the plate in the Sally League with a .296/.400/.497 slash line and eight roundtrippers.
Kieboom improved defensively and logged a .961 fielding percentage (helping turn 19 double plays) with Hagerstown. Despite limited playing time, he earned the first of three consecutive spots on the Nationals Organization All-Stars team.
2018 (Double-A Harrisburg, Class A Advanced Potomac)
After an appearance in big league camp during Spring Training, Kieboom began the season in the Carolina League and began to emerge as one of the game's more potent infield prospects.
He hit .198 in April but quickly washed away any concerns with his best month as a pro. He collected 11 extra-base hits and batted .398 with a 1.034 OPS in 23 games in May. From May 7-13, Kieboom hit safely in seven straight contests with multiple hits in six of them. The 15-for-27 (.556) stretch earned him a Player of the Week nod. Without a grand slam in his professional career before 2018, Kieboom crushed three -- all against Salem -- by the end of the month.
The slugging shortstop boasted an even better 1.044 OPS through 14 games in June before earning a promotion to the Eastern League. Still, he produced enough to be named a Carolina League All-Star.
Through 11 games with Harrisburg, it was status quo for Kieboom, who mashed his first two Double-A homers and put up a .955 OPS. Shortly into his Eastern League tenure, he was named one of the Nationals' representatives at the All-Star Futures Game, which took place at his future home in Washington. He went hitless in two at-bats as a replacement for shortstop Bo Bichette but helped turn a double play in Team USA's 10-6 victory over the World squad.
Kieboom slowed a bit toward the end of the season but finished with a .262 average and five homers with the Senators. Between the two levels, he hit .280 with an .801 OPS and 16 homers in a career-high 123 games.
"It's exciting to see someone who can impact the game in all phases," Nationals director of player development Mark Scialabba said after the season. "Carter continues to show his abilities on both sides. Offensively, he doesn't try to do too much, but that game power is starting to play a little bit more now. You can see him drive the ball to right-center and he's not afraid to use the whole field."
2019 (Washington, Triple-A Fresno)
Kieboom got a long look in Spring Training, hitting three dingers and compiling a .911 OPS in 25 games with the big club.
While he did not break camp with the Nationals, he made the most of his first crack at the Pacific Coast League. In 19 contests, he blasted four homers and hit .377/.494/.667 with Fresno. On April 26, Kieboom officially got the call and headed to the big leagues for the first time.
No stranger to the long ball, Kieboom went deep in his first game in The Show, hitting a game-tying homer in the eighth inning off Padres reliever Craig Stammen.
Kieboom's first trip to Washington lasted only 11 games, but he picked up where he left off when he rejoined the Grizzlies. He could not top the 1.161 OPS he posted in April, but he did crush 11 homers between May and July. He returned to the Futures Game in Cleveland, this time getting the start at shortstop and batting second. In the fourth inning against second-ranked Tigers prospect Matt Manning, Kieboom lined a single to left field and scored the National League's first run.
Over the second half of the season, Kieboom only went yard twice, but batted .280 with a .374 OBP. Overall at Triple-A, he compiled a .303/.409/.493 slash line with 16 homers, three triples, 24 doubles, 79 RBIs and 79 runs scored. He displayed more patience than previous seasons with 68 walks for a career-best 13.8 walk percentage. And according to Fangraphs, Kieboom's bat was good for a potent 123 wRC+.
"I think offensively, he's still learning," Scialabba told MiLB.com in December. "His bat-to-ball skills are very strong. He's improved his patience at the plate. His ability to recognize pitches has improved. Much more disciplined this year. And looking to do damage to pitches he can drive."
With Trea Turner locked in at shortstop in the Majors, Kieboom played 41 games at second base (.969 fielding percentage) and 10 at third base with the Grizzlies to add to his versatility.
Before Spring Training ended abruptly with the COVID-19 pandemic, Kieboom played in 14 games (starting 10) and was vying with veteran Asdrubal Cabrera for the Opening Day third-base job.
When baseball returns, Kieboom could see more time at the hot corner and might be the Nats' next third baseman.
Andrew Battifarano is a contributor to MiLB.com. Follow him on Twitter, @AndrewAtBatt.