Prospect season in review: Reds' Greene
No. 26 overall prospect shows electric stuff at upper levels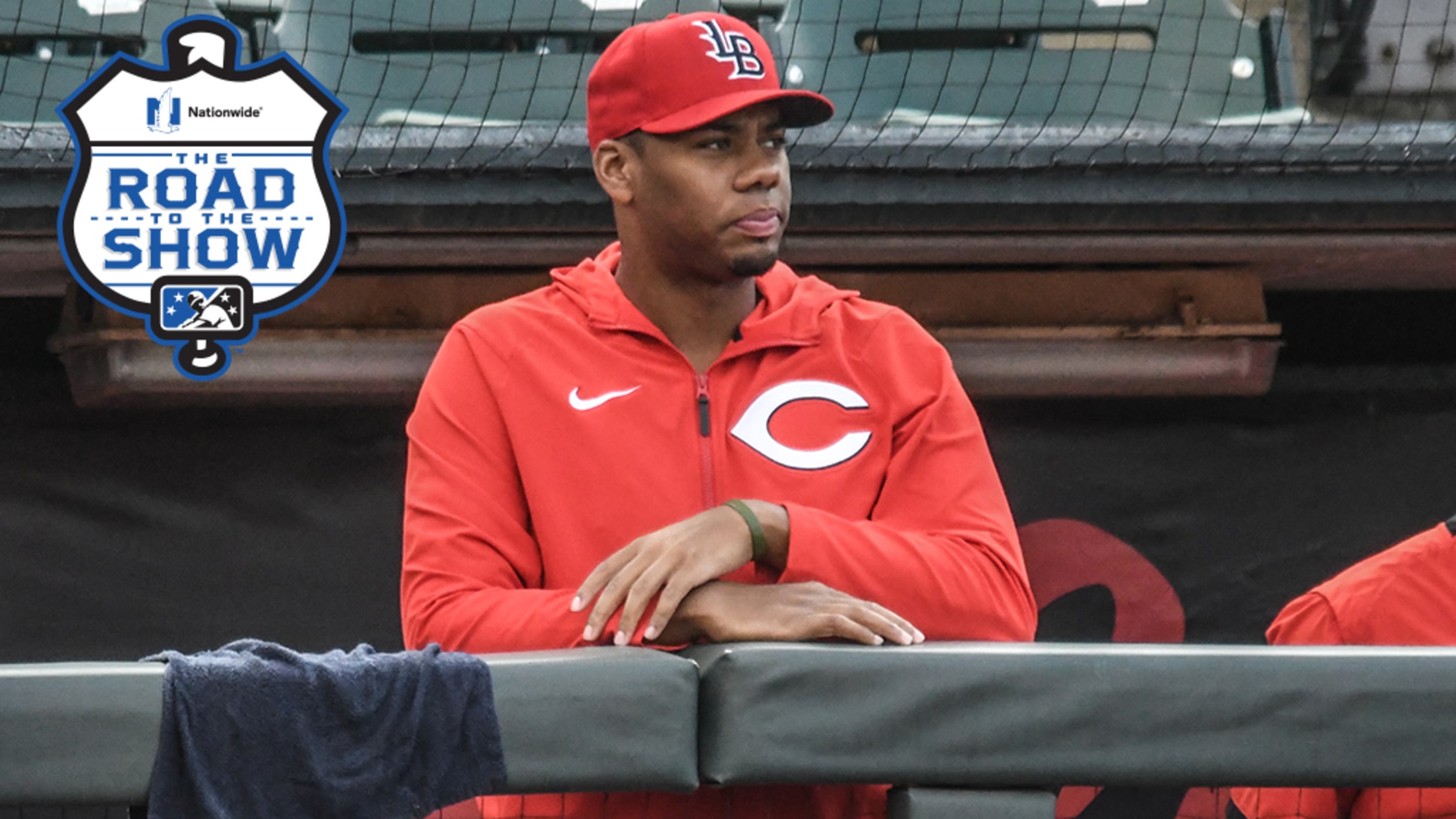 Hunter Greene missed all of 2019 after undergoing Tommy John surgery in April of that year. (David Rearic/Louisville Bats)
MiLB.com's Prospect Season in Review series spotlights players who shined brightest during the 2021 campaign. Here's a look at top Reds prospect Hunter Greene. For more player journeys on The Road to The Show, click here. After a year lost to the pandemic, a full season of Hunter Greene was
MiLB.com's Prospect Season in Review series spotlights players who shined brightest during the 2021 campaign. Here's a look at top Reds prospect Hunter Greene. For more player journeys on The Road to The Show, click here.
After a year lost to the pandemic, a full season of Hunter Greene was among the most gratifying developments in the Minor Leagues.
The top Reds prospect hadn't pitched in a professional game since shifting to the mound full time before the 2019 season, which was wiped out after he underwent Tommy John surgery that April.
That rehab and the pandemic meant the triple-digit heater and premium arsenal -- which now includes a newly developed cutter -- that has thrilled fans and scouts since his days as a two-way prep player would be restricted to the alternate site last year.
But Greene's starts for Double-A Chattanooga and Triple-A Louisville quickly became appointment viewing in 2021.
Greene went 10-8 and finished the year with a 3.30 ERA and 139 strikeouts over 21 starts in 106 1/3 innings across the two levels. He reached a soft innings cap in mid-September that ended his season somewhat early. By then, he had already proved to be the electrifying presence the Reds were looking for with the No. 2 overall selection in the 2017 Draft.
"He had a great season. He was unbelievable in Double-A and pitched well at times in Triple-A," Reds general manager Nick Krall told MLB.com in September.
"When you figure that he also had a full Spring Training and a full month of pitching [at camp] in April, it was more than 106 innings. It's the first time he's ever pitched into September. He looked fatigued the last couple of times out. … We wanted to do the right thing for him and his development. Fatigue leads to injuries and we didn't think it was appropriate to go that far."
The 22-year-old was a non-roster invitee to big-league Spring Training. He made his Cactus League debut in March but surrendered a three-run homer to veteran Angels shortstop Jose Iglesias in his lone inning with the big club.
When the regular season began, Greene made it a quick stay at Chattanooga while pitching with few restrictions. He completed at least five innings in each of his seven starts and surrendered nine runs over 41 innings (1.98 ERA). The 6-foot-5 right-hander racked up 60 punchouts, striking out no fewer than seven batters in any start while reaching his career-high of 10 strikeouts twice.
After an early promotion in June, Greene would get to double-digit strikeouts once more in 2021 -- during a one-hit, 6 1/3 inning gem against St. Paul on Aug. 5, where he showed off a fastball that reached 102 mph.
"My whole mission with Hunter is to make him make hitters as uncomfortable as possible," Louisville pitching coach Seth Etherton told MLB.com after that game. "He's embraced that, and he's feeling it. Tonight was probably the best pitching performance I've seen [in his three years working with him] in terms of knowing when to throw certain pitches. His changeup has really developed and he's starting to tighten up his breaking ball. He's really becoming a pitcher now."
Greene was one of the best strikeout pitchers in the Minors. Despite his limitations at the end of the season, he still finished with the 15th-best K/9 (11.76) among all pitchers with at least 100 innings, and he was No. 22 on the overall strikeout leaderboard.
However, it wasn't always easy for MLB Pipeline's No. 26 overall prospect.
For the most part, the competition caught up to the Los Angeles native a bit at the Minors' highest level. He pitched to a 4.13 ERA with 79 strikeouts over 65 1/3 innings. But he still made seven starts with Louisville in which he allowed one run or fewer, including four scoreless performances.
Greene surrendered 39 walks throughout the year. His 8.9 percent walk rate was impressive for a player with his gifted velocity.
"Everyone knows who he is," Etherton said in August. "He's going to bring that hard fastball, but hitters adapt and he needs to as well. He's facing true professionals at this level. Major League hitters with Major League experience. We're getting him to pitch inside more and he knows he needs to do it. His control is excellent and he's always been able to go in and out, but going up and in is something new for him. That's a must at this stage to keep hitters uncomfortable in the box."
Krall said he was encouraged by Greene's experiences with difficult outings, noting that it's important for young players to learn how to make adjustments. Greene was added to the Reds' 40-man roster before Friday's deadline, and will likely have a chance to compete for a spot on the big-league roster in camp.
Greene was one of the Minors' greatest attractions in his first full season, and it shouldn't be long before he takes that show to Cincinnati.