Prospect season in review: Rangers' Winn
No. 60 overall prospect reaches Majors doorstep in first full year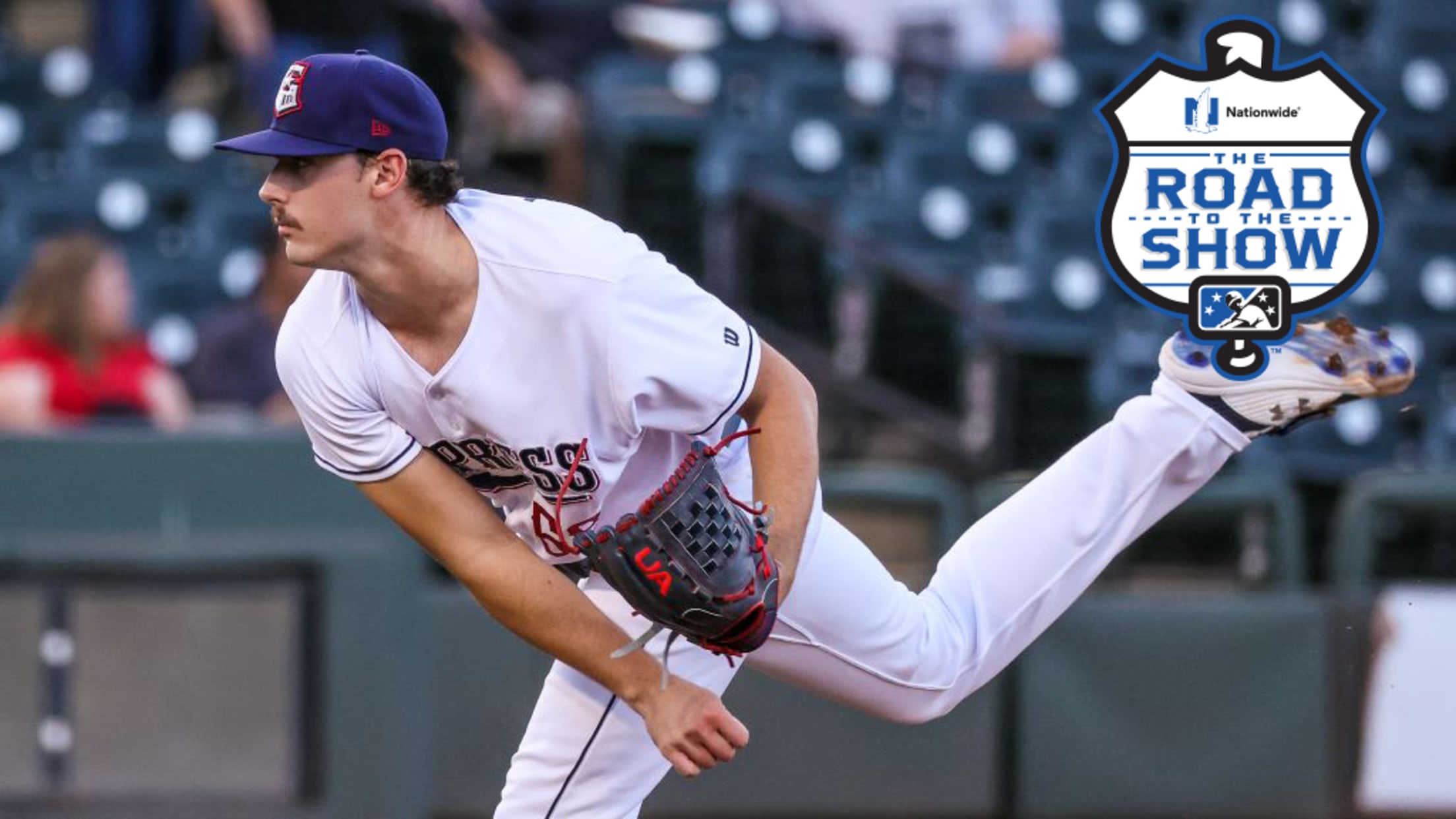 Rangers' third-ranked prospect Cole Winn was the starting pitcher for the American League in the 2021 Futures Game. (Andy Nietupski / TTL Sports Media)
MiLB.com's Prospect Season in Review series spotlights players who shined brightest during the 2021 campaign. Here's a look at third-ranked Rangers prospect Cole Winn. For more player journeys on The Road to The Show, click here. Like many Minor Leaguers, the early part of Cole Winn's career has been defined
MiLB.com's Prospect Season in Review series spotlights players who shined brightest during the 2021 campaign. Here's a look at third-ranked Rangers prospect Cole Winn. For more player journeys on The Road to The Show, click here.
Like many Minor Leaguers, the early part of Cole Winn's career has been defined by in-season adjustments. But this season, the No. 60 overall prospect showed an ability to minimize the need for course correction.
Winn pitched himself to the doorstep of the Major Leagues, finishing the year with Triple-A Round Rock. If not for a COVID-19 outbreak late in the season, he realistically could have been pitching in the Majors during what was technically his first full professional season.
But what he showed on the mound at two different levels this year probably indicates that his time in the Minor Leagues should not last much longer.
His journey to this point has been built on a mix of both conservative and aggressive decisions from the club with, of course, Winn's proven ability to dig out of a hole when necessary.
By the time he was selected with the No. 15 overall pick in 2018, Winn had already made commitments to three different colleges and been named Gatorade Player of the Year in two different states. After signing with the Rangers for $3.15 million, the club pulled back the throttle and placed him in their de-load program for the remainder of that season.
The reins stayed tight at the start of 2019 as he broke camp in extended Spring Training, but that caution was followed by an aggressive assignment to Class A Hickory in mid-May.
Winn was kept on close watch early on with a limited pitch count, and he entered that July with a 7.59 ERA through his first seven starts -- none of which lasted more than four innings. But with fewer restrictions, the right-hander pitched to a 2.81 ERA with 46 strikeouts over 51 1/3 innings in his final 12 starts.
The Rangers' third-ranked prospect attributed the difficult beginning to his professional career to a combination of nerves and a lack of faith in his four-pitch mix.
"Really, I wasn't trusting myself, but I got over that, trusted myself and trusted my stuff and it's been nothing but good for me," Winn told MiLB.com in August of that year. "If I can continue to build on that, it should be fun."
After the pandemic wiped out the 2020 season, the Rangers again gave Winn an aggressive assignment to Double-A Frisco. The Colorado native allowed more than three runs in a start just twice throughout the entire 2021 campaign. Both times they were followed by at least three starts in which he yielded one run or fewer.
"He's kind of got the it-factor for me -- the ability to challenge in the zone and the bravery to throw whatever pitch he believes in most in that moment," big league pitching coach Brendan Sagara told MLB.com in June. "I think when you have that kind of self-confidence and belief, and that kind of physical ability and the ability to execute his pitches, that's what makes Cole like the most special arm in our system."
Winn made 19 total starts for the RoughRiders, though the outbreak limited him to just five starts with the club over the final two months of the season. Not that there's ever a good time for a virus, but Winn was sidelined at a particularly inopportune point in the season.
The Rangers eased the 21-year-old through July and his Futures Game appearance -- in which he was the starter for the American League -- with just six total innings from July 7-23. When his workload returned to normal at the end of the month, he rattled off three consecutive brilliant starts, allowing two runs with 21 strikeouts over 14 1/3 total innings.
After the near month-long shutdown, Winn returned to make three scoreless starts for the RoughRiders totaling eight innings. He left Frisco on Sept. 23 with a 2.31 overall ERA and 97 strikeouts in 78 innings.
The 6-foot-2, 190-pound righty earned the bump to Round Rock for the Triple-A Final Stretch, during which he made two starts and allowed three runs with 10 strikeouts over eight total innings.
It's reasonable to believe that, if not for some outside factors, Winn could have followed Rangers No. 22 prospect A.J. Alexy and 24th-ranked Glenn Otto to Arlington for a late-season big-league debut.
But Winn has more than enough talent and a track record for aggressive assignments that it's also reasonable to believe that he can earn a spot in the Texas rotation this spring.