Prospects in the Angels' 2020 player pool
Los Angeles relies upon quality over quantity in shortened season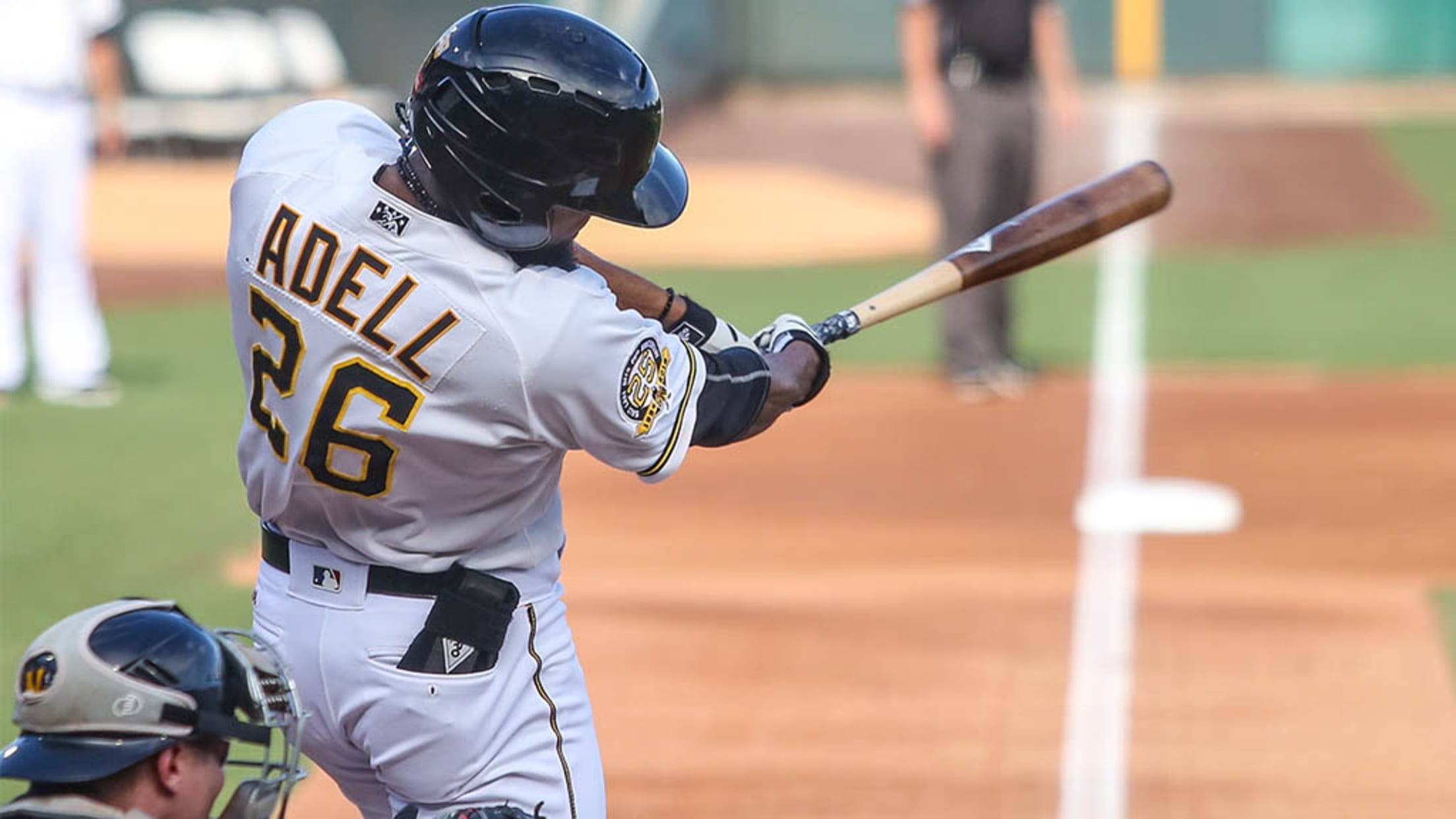 At the age of 20, Jo Adell reached the highest level of the Minor Leagues last season. (Paul Asay/MiLB.com)
As part of the new rules for the 2020 Major League season, each of the 30 organizations will maintain a 60-man player pool for the duration of the campaign. Some members of the player pool will feature on the active Major League roster while others will work out at an
As part of the new rules for the 2020 Major League season, each of the 30 organizations will maintain a 60-man player pool for the duration of the campaign. Some members of the player pool will feature on the active Major League roster while others will work out at an alternate training site in the hopes of staying fresh for a potential callup or getting in much-needed development time.
The MiLB.com staff is rounding up the notable prospects in each organization's 60-man player pool and analyzing what the new system will mean for their 2020 seasons.
For most of the past decade, the Angels found a way to do less with more. As the franchise continues to hunt its first postseason victory in the Mike Trout era, another wave of prospects joins the mix of Future Hall of Famers and big-ticket All-Stars in Orange County.
An unusual 60-game setup offers a unique opportunity for the Halos to get over the hump. It's likely that a few of their youngsters will have to chip in, but the club's initial list of prospects on the 60-man roster values quality over quantity.
Eight of the Angels' top 30 prospects and 2020 first-rounder Reid Detmers have been put on the Summer Camp squad. That group includes the system's top three prospects and six of the top 10. But Los Angeles does have some flexibility to include more players on the taxi squad. Detmers was added as the 56th player on the roster after signing a $4.67-million deal last week.
Los Angeles will use Long Beach State's Blair Field, where 2020 fourth-rounder and potential taxi squad candidate Adam Seminaris played his home games for the past three seasons, as its alternate training site. Patrick Sandoval is the lone ranked prospect currently on the active roster, but it's very likely that other prospects will contribute this season, perhaps on the 30-man roster right out of the gate.
Jo Adell, OF: The Angels will likely have to lean on prospects for outfield depth this season. Fortunately, their top three prospects are outfielders, and Adell is good enough to be ranked No. 6 in the sport by MLB.com. The 21-year-old ascended to Triple-A last year and could very well have been in the Majors by now if the season began on time. His speed and defensive prowess are his loudest present tools, and his .298 career average displays his excellent bat-to-ball skills. Injuries delayed his debut last year, but if he can stay healthy, cut down his strikeouts (25.3 percent as a pro) and translate his plus raw power into game situations, he can be a future All-Star. Considering the Angels' current roster construction, he could break camp on the 30-man roster and begin that journey to the Midsummer Classic very soon.
Brandon Marsh, OF: Another incredibly toolsy outfielder the Angels nabbed in the 2016 Draft, Marsh probably would have missed the beginning of this season after straining his elbow in February. He also was sidelined a month last season with an ankle injury. But, when he's playing, he's another Angels prospect with five-tool potential. The No. 79 overall prospect reportedly worked with Los Angeles' player development staff on a swing adjustment that resulted in a .357/.429/.520 slash line in August with Double-A Mobile last season. The 22-year-old kept it going in the Arizona Fall League, batting .328/.387/.522 with two homers and four steals over 19 games. He'll get some valuable time on the taxi squad but is obviously in a situation in which he can make his Major League debut in 2020.
Jordyn Adams, OF: The Angels went above slot to lure Adams, a high-school football standout, away from his two-sport commitment to the University of North Carolina. While he may not receive the marks on multiple tools that Adell and Marsh get, very few can measure up to the 20-year-old's 80-grade speed. The run tool obviously lends itself to other areas, like allowing him to cover more ground in the outfield, but Adams only attempted 30 stolen bases in two seasons since getting drafted. He batted .250/.346/.358 with 24 extra-base hits, 31 RBIs and 12 stolen bases in 97 games with Class A Burlington, eventually earning a promotion to the California League at the end of the season. Although he's only been as high as Class A Advanced and base stealing is a difficult tool to develop without game situations, his speed gives him an outside shot at contributing to the Angels in 2020.
Patrick Sandoval, LHP: The Angels have a strong crop of left-handed pitching prospects, especially after bringing Detmers and Seminaris in through this Draft. Sandoval currently ranks highest in that group at No. 6 in the system. The 23-year-old had an inauspicious Major League debut last season, going 0-4 with a 5.03 ERA in 10 appearances, including nine starts. His promotion underscored the need for pitching in the franchise, considering his rough time at Triple-A Salt Lake. But his changeup developed into a plus pitch, he added more life to his fastball and his curveball is effective. There's plenty to work with for Sandoval, and he can certainly contribute to the Major League staff in 2020, especially since the Angels will likely use a six-man rotation to accommodate Shohei Ohtani's schedule.
Chris Rodriguez, RHP: It would have been a welcome sight to see Rodriguez's name on a lineup card at any level in 2020. The 21-year-old pitched just 9 1/3 innings since 2017 after suffering a fracture and stress reaction in his back. But the club's seventh-ranked prospect reportedly entered the spring at full strength. When he's healthy, he shows an advanced approach with a four-pitch mix that features an upper-90s four-seamer, a grounder-inducing two-seamer, a slider and a changeup. Rodriguez's inclusion on the 60-man roster was a bit of a surprise, but it's a great opportunity for him to work with a team for the first time in a long while.
Jahmai Jones, 2B: It's been an interesting road for the 22-year-old. Jones made a name for himself at the Minors' lower levels but struggled over the past two years. The Halos' eighth-ranked prospect was able to finish those two seasons with excellent performances in the Arizona Fall League, batting .302/.377/.509 with a pair of homers, 10 RBIs and seven stolen bases in 2019. His bat-to-ball skills and speed are his best tools, and he also provides defensive versatility. Jones broke in as an outfielder but shifted to his high-school position, second base, in Mobile. He can provide some speed off the bench, and he's the best developed infield prospect – Jeremiah Jackson and Kyren Paris, the club's No. 4 and 5 prospects respectively, have not played beyond Rookie-level ball yet – in the system.
Hector Yan, LHP: The 21-year-old forced his way on to the 40-man roster after an incredible season in Burlington. Yan finished second in the Midwest League with 148 strikeouts while holding opposing batters to a .190 average. He ended the year with a 3.39 ERA and earned an invitation to Spring Training, where he struck out five batters in 2 1/3 innings. Yan had some control problems -- he issued 52 walks and hit 15 batters last year -- but his deceptive delivery, low-90s fastball and good depth on his curve make him an intriguing option. If he can contribute this season, it will likely be in a bullpen role toward the end of the season.
Jared Walsh, 1B/LHP: Although Walsh is a two-way player, he's certainly been more of a hitter lately. But whatever he does seems to work for him. His 1.109 OPS led the Pacific Coast League and his career-best 36 homers were the third-most on the circuit. He also pitched 13 innings and sported a 4.15 ERA for Salt Lake. This career year led to his first big league promotion, and he went on to collect 79 at-bats and pitched five innings. Walsh has some corner outfield experience and he's stuck behind Albert Pujols at first base, but he has a very realistic shot at making the 30-man roster out of camp. If he does, he'll join Ohtani on a club experienced in handling two-way players.
Other notables: Detmers isn't technically ranked, but when the updated list is released, he'll certainly rank as the top pitching prospect in the system. The Angels gushed about his advanced command of a four-pitch mix. … Luis Rengifo surpassed his prospect status in 108 games with the Halos last year. He was reportedly headed to the Dodgers this winter in the nixed deal that would have sent Joc Pederson to Anaheim.
Gerard Gilberto is a contributor to MiLB.com. Follow him on Twitter @GerardGilberto._