Prospects in the Indians' 2020 player pool
Young bunch will mostly play at alternate site in Lake County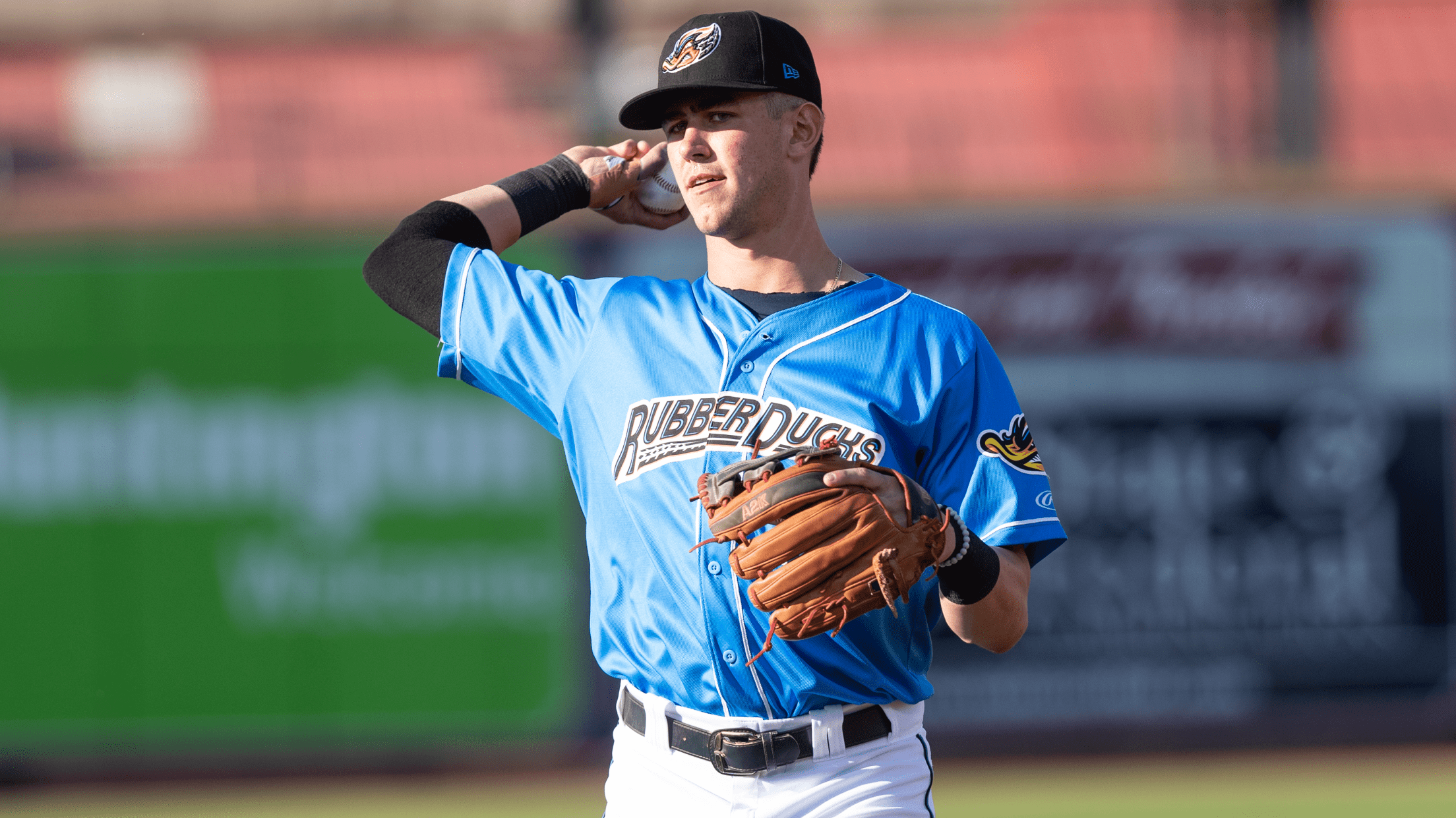 Nolan Jones compiled a slash line .272/.409/.442 across two levels of the Minor Leagues last season. (David Monseur/MiLB.com)
As part of the new rules for the 2020 Major League season, each of the 30 organizations will maintain a 60-man player pool for the duration of the campaign. Some members of the player pool will feature on the active Major League roster while others will work out at an
As part of the new rules for the 2020 Major League season, each of the 30 organizations will maintain a 60-man player pool for the duration of the campaign. Some members of the player pool will feature on the active Major League roster while others will work out at an alternate training site in the hopes of staying fresh for a potential callup or getting in much-needed development time.
The MiLB.com staff is rounding up the notable prospects in each organization's 60-man player pool and analyzing what the new system will mean for their 2020 seasons.
Despite a 93-win effort, the Indians lost the American League Central crown to the Twins last season after it had rested firmly on their heads for the previous three years. They already had a chance to reclaim that title heading into 2020, but now that the schedule has been trimmed to just 60 games, a return to the top seems even more feasible.
While the big league club battling to restore its honor will keep Cleveland fans entertained over the next few months, it's not the only storyline worth following within the team. Several of the Indians' top prospects will play ball this summer, either with the Major League squad at Progressive Field or half an hour up Interstate-90 at Class A Lake County's facilities. Eighteen of the club's top 30 prospects made the 60-man player pool, including eight of the top 10.
Of that group, almost all of them are still a few years away from making the bigs as the Indians possess one of the youngest farm systems in the league. So as what remains of the existing Cleveland core enters the final years of its competitive window, the next generation of talent will prepare nearby to one day follow in its footsteps.
Nolan Jones, 3B: Cleveland's top youngster was expected to make his debut in The Show at some point in 2020, but he'll begin the 60-game sprint in Lake County. He spent some time there with the Class A club in 2018, batting .279/.393/.464 with 16 homers in 77 games before ending the year with a .298/.438/.471 line with Class A Advanced Lynchburg. MLB.com's No. 42 overall prospect split time between there and Double-A Akron the following season, finishing the year with a composite .272/.409/.442 line, 15 big flies and 63 RBIs. Indians starting third baseman Jose Ramirez isn't going anywhere any time soon, but if Jones impresses in Lake County this summer, he could find himself on the field for some amount of time in 2020.
Tyler Freeman, SS: Freeman is a bit further away from the big leagues, but this year will still be big for him. The No. 96 overall prospect was named a MiLB.com Organization All-Star for a second straight year last season, as he hit .306/.368/.410 while splitting time between Lake County and Lynchburg. He was slightly better with the Hillcats, batting .319/.354/.397 over 62 games while scoring 28 times and driving in 20 runs. Perhaps what was most impressive was his patience at the plate. In 547 appearances at the plate, Freeman struck out just 53 times, just 9.69 percent. He's developed nicely since the Indians picked him No. 71 overall in the 2017 Draft, and he will have the chance to continue that momentum in Lake County.
Bo Naylor, C: The lone backstop on the alternate site roster, Naylor is destined to stay full-time in Lake County this summer. The Indians' first selection in the 2018 Draft was great as a rookie, batting .274/.381/.402 with two homers and 17 RBIs over 33 games in the Rookie-level Arizona League. His line dipped a bit in his first full campaign as he hit .243/.313/.421 with Lake County, but he increased his power output by blasting 11 long balls and knocking in 65 runs. He struck out 104 times, however, signaling one of a handful of things the Indians will want to focus on with their third-ranked prospect over the next few months at the alternate site.
George Valera, OF: The Indians haven't really gotten a real chance to see what Valera can do since he was signed out of the international pool in 2017. Six games into his first season in the Arizona League in 2018, the 19-year-old broke the hamate bone in his right hand and was done for the year. The team's No. 4 prospect came back in the second half of 2019, playing for Class A Short Season Mahoning Valley and Lake County and posting a .217/.336/.411 line. Cleveland is still confident about what Valera can bring to the table, and being part of the player pool this summer will be a huge chance for him to get back on that track with full-time reps.
Daniel Espino, RHP: The fire-throwing Espino impressed after the Indians picked him in the first round of last year's Draft and will have the chance to keep that momentum going in Lake County. Cleveland's fifth-rated prospect compiled a 3.80 ERA over nine starts between the Arizona League and Mahoning Valley, striking out 34 batters over 23 2/3 innings. His fastball sits in the upper 90s and occasionally hits triple-digits, and he also operates with a solid slider and curveball in addition to a decent changeup. Having been drafted out of high school, Espino is several years away from making it to the bigs, but he'll gain invaluable experience at the alternate site.
Aaron Bracho, 2B: Bracho's career has followed a somewhat similar path to Valera's. After the Indians signed him out of Venezuela in 2017, he was set to debut the following year but broke his arm and missed the whole season. He finally did premiere in 2019, and did so in style. Over 30 games in the Arizona League, Bracho hit .296/.416/.593, clubbed six homers and drove in 29 runs while scoring 25 times. The seventh-ranked prospect then moved up to Mahoning Valley, where he finished the year by batting .222/.344/.481 with two homers over eight games. He slides in nicely with the rest of the system's existing timeline, and will continue along that path with the rest of the prospects training in Lake County.
Ethan Hankins, RHP: Hankins was at one point in the mix to be the No. 1 overall pick in 2018, but fell to the first compensation round after some arm troubles during his senior year. The Indians were nevertheless delighted to get him, and even more delighted once they'd seen him pitch. Their No. 8 prospect made two brief appearances in the Arizona League in 2018, then opened 2019 by logging a 1.40 ERA over nine games with Mahoning Valley. He posted a 4.64 ERA over five starts with Lake County to finish with a composite 2.55 ERA and ended the year with 71 strikeouts in 60 innings. He'll return to the familiar grounds of Classic Park in Lake County this summer and pick up where he left off last fall.
Triston McKenzie, RHP: At No. 9, McKenzie is the final pitcher among Cleveland's top 10 prospects, and he might be the one closest to the big leagues as well. He missed all of 2019 with an upper-back strain, but was nothing short of spectacular in each of his four seasons before that. He was moved along slowly during his rookie season, but broke through in 2016 by posting a 1.62 ERA over 15 starts and striking out 104 batters in 83 1/3 innings between Mahoning Valley and Lake County. He then fanned 186 over 143 frames while posting a 3.46 ERA across 25 starts with Lynchburg, and followed that up by logging a 2.68 ERA in 16 outings for Akron in 2018. Missing 2019 undeniably slowed his development, but getting back to work in Lake County this summer should get him back on track.
Logan Allen, LHP: Unlike most of the other Indians prospects on this list, Allen is part of the group beginning camp in Cleveland. The southpaw has big league experience too, as he made one scoreless appearance for the Indians last season after eight outings with the Padres before he was traded at the deadline. He returned to Triple-A Columbus following that lone Cleveland appearance and finished the season with a 7.66 ERA in five starts with the Clippers. The Indians' No. 11 prospect will compete for one of the final spots on the 30-man roster, either late in the rotation or in the bullpen.
Bobby Bradley, 1B: Bradley is another prospect with experience in the big leagues, but he'll begin camp at the alternate site. The team's No. 12 prospect is a big and powerful masher who has clubbed 147 homers over six Minor League seasons across all levels. Last year may have been his best yet; he batted .264/.334/.567 while jacking 33 long balls and driving in 74 runs over 107 games with Columbus. The fact he's on Cleveland's 40-man roster bodes well for his chance to crack the big league roster, as does his pure natural power from the left side.
Other notables: No. 13 Daniel Johnson hit .306 with Columbus last season and is knocking on the door of The Show. He could provide outfield support. … No. 14 James Karinchak was great in a few bullpen appearances for the Indians last year and should return to that role. … No. 18 Scott Moss is on the 40-man roster and could figure into the big league bullpen picture at some point. … No. 21 Yu Chang saw some time in Cleveland last year and played in the Arizona Fall League afterward. He'll likely get some action in the infield. … No. 22 Sam Hentges might not be ready for the Majors just yet, but the southpaw is on the 40-man roster and could turn some heads in Lake County. … No. 24 Nick Sandlin missed the end of last season with a stress fracture but is healthy now. He could be a difference-maker in the bullpen after excelling there in the Minors. … No. 26 Jean Carlos Mejía is still a couple years away from Cleveland, but will continue to build arm durability and develop as a pitcher in Lake County. … No. 28 Ernie Clement made it up to the International League last season and could be a versatile option in the Indians lineup at some point during the 60-game sprint.
Jordan Wolf is a contributor to MiLB.com. Follow him on Twitter: @byjordanwolf.