Peguero hits 2 HRs as prospects power Hoppers over Drive
Top prospect Nick Gonzales homers in return from IL, and pitcher Carmen Mlodzinski fans 9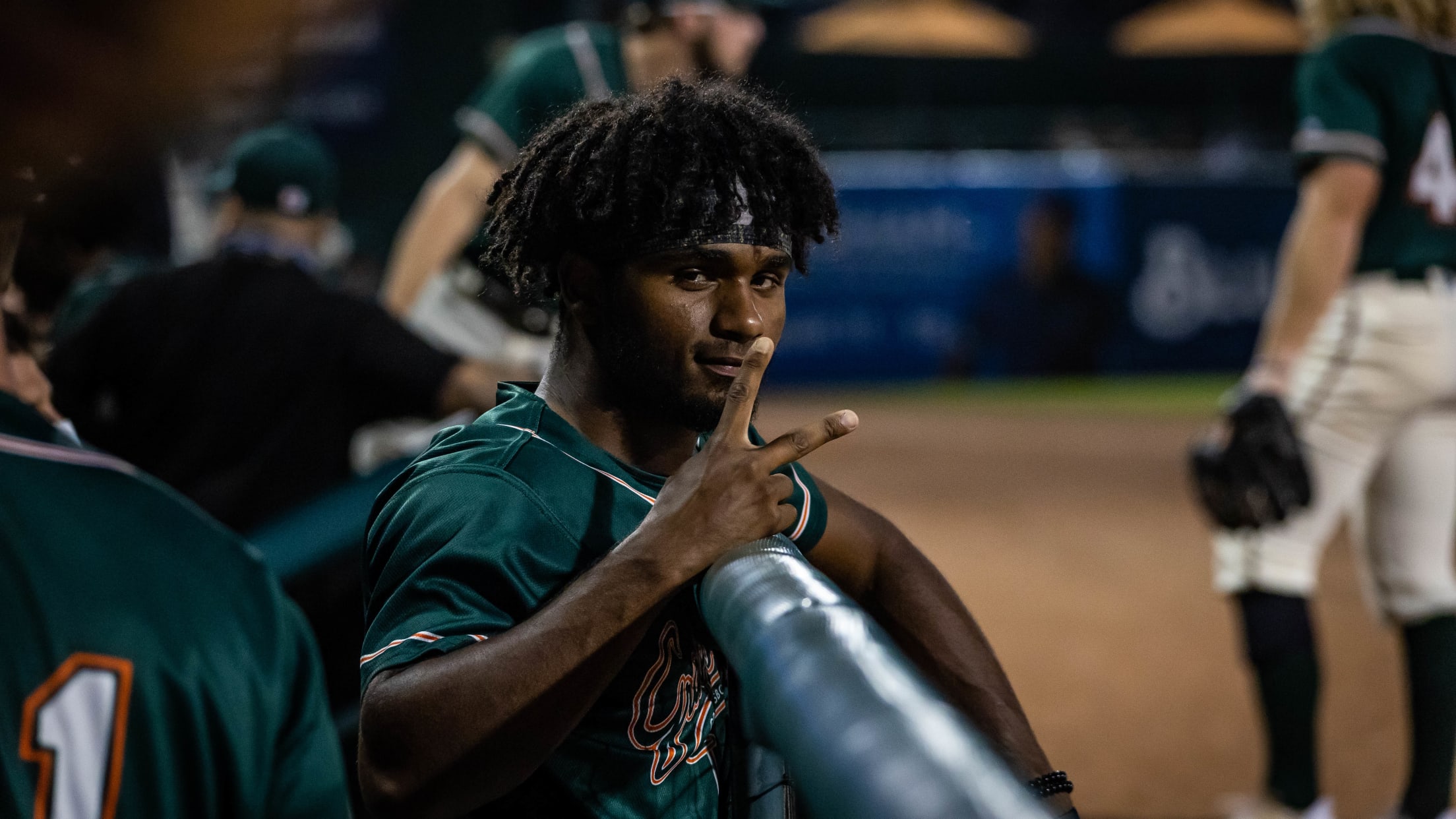 Grasshoppers shortstop Liover Peguero, rated by MLB Pipeline as Pittsburgh's No. 4 prospect, hit two home runs against the Greenville Drive on June 26. (Jak Kerley/Greensboro Grasshoppers)
GREENSBORO ― Liover Peguero went 3-for-4 with two home runs, Nick Gonzales returned to the lineup and homered in his first plate appearance, and the Greensboro Grasshoppers beat the Greenville Drive 9-4 in front of a fireworks night crowd of 6,581 Saturday at First National Bank Field. The Hoppers (27-20)
GREENSBORO ― Liover Peguero went 3-for-4 with two home runs, Nick Gonzales returned to the lineup and homered in his first plate appearance, and the Greensboro Grasshoppers beat the Greenville Drive 9-4 in front of a fireworks night crowd of 6,581 Saturday at First National Bank Field.
The Hoppers (27-20) stayed hot. They're 4-1 against the Drive (24-23) this week heading into Sunday afternoon's series finale, and Greensboro has won 15 of their last 20 games over the last three weeks.
"We're having fun," Hoppers manager Kieran Mattison said, "and guys are feeding off of each other."
And how.
Starting pitcher Carmen Mlodzinski struck nine. Lead-off hitter Matthew Fraizer had two hits including a three-run home run. Fabricio Macias extended his hitting streak to nine games. Grant Koch hit an RBI double.
But the top prospects at the top of the order were especially dominant.
Gonzales gave the Hoppers an immediate spark, hitting left-hander Jay Groome's fifth pitch of the game over the fence in deep right-center field.
Gonzales, a 22-year-old second baseman, was the seventh overall pick in last year's draft and is rated by MLB Pipeline as the No. 1 prospect in Pittsburgh's farm system. He broke the pinky finger on his right hand just 13 games into his pro career with the Hoppers, and he came off the injured list Saturday.
"I joked with him after that first at-bat," Mattison said. "I told him, 'Hey, man, I'm going to call (Pittsburgh farm director John) Baker after the game and tell him you need some more at-bats down in Florida.' It just shows you how special he is. I mean, he's been out for a month, and then he goes out and does that in his first at-bat. It just shows who he is as a competitor. He's been itching to get back out there. And he's been a big influence on this team. The guys missed him, and it's awesome to see him back in the mix."
Gonzales finished the game 2-for-5 with two RBIs, raising his batting average to .304.
Two pitches after Gonzales' home run, Peguero hit a 404-foot home run deep over the left-field fence off Groome (0-5, 5.71 ERA), Boston's first-round pick in the 2016 draft.
Peguero, a 20-year-old shortstop rated by MLB Pipeline as the Pirates' No. 4 prospect, added a two-run shot in the sixth inning and finished the game with three RBIs.
A slender, slick-fielding shortstop, the 6-foot-1 Peguero has surprising power. He's batting .280 with five home runs in 29 games.
"Peguero has some power, brother," Mattison said. "There's some juice in his bat, for sure. We saw it down in Florida this spring, too. He hit some balls that make you think, 'OK, those are baseballs only a grown man hits.' The power is for real. He has everything. He has the range at shortstop. He has the glove. He can run. He can hit. He has the power. He's a five-tool guy, and it's fun to watch him grow and start to come into his own."
Right-hander Mlodzinski (2-2, 1.72 ERA) worked six dominant innings ― his longest outing of the season ― to get the win. Mlodzinski, ranked by MLB Pipeline as Pittsburgh's No. 10 prospect, walked none and struck out nine. He gave up a solo home run on a 3-2 pitch to Wil Dalton in the second inning, but faced just two batters over the minimum.
"His fastball usage set everything up," Mattison said. "He was locating his fastball in all four quadrants of the strike zone, and that enhanced his off-speed stuff. He was able to put guys away with off-speed pitches and breaking stuff because his fastball was so good. His last start was frustrating for him because he couldn't establish his fastball. So it was nice to see him go out tonight and be who he is: a guy who attacks guys, locates his fastball and puts guys away."
The red-hot Macias went 1-for-4 with a single to extend his hitting streak. He is batting .459 (17-for-37) during those nine games, and he has hit safely in 17 of his last 19 games. The 23-year-old outfielder from Mexico has 11 multi-hit games during that stretch, and he ranks second in the league in both batting average (.333) and RBIs (35).
Greensboro is in second place in the High-A East standings, and the Hoppers wrap up this series with Greenville at 2 p.m.
NOTES: The first three hitters in Greensboro's lineup ― Fraizer, Gonzales and Peguero ― combined to go 7-for-13 with four homers, eight RBIs and five runs scored Saturday ... Matt Gorski went 1-for-4 with a run scored, but was lifted in the ninth inning for a defensive replacement. Gorski, who plays center field and first base, singled in his final at-bat and took second base on a passed ball. "He had a little awkward slow-down going into second base," Mattison said, "so we took him out for the ninth. It's more precautionary than anything else. We just wanted to make sure he's good, so he can continue to keep moving foward." ... Gorski and Lolo Sanchez, who went 1-for-3 with a walk, both scored on Fraizer's home run to left field that put the game out of reach.
In his career at the News & Record, journalist Jeff Mills won 10 national and 12 state writing awards from the Associated Press Sports Editors, the Society for Features Journalism, and the N.C. Press Association.