Rainiers Power Past Chihuahuas, 9-6
Ian Miller collects two doubles and two RBI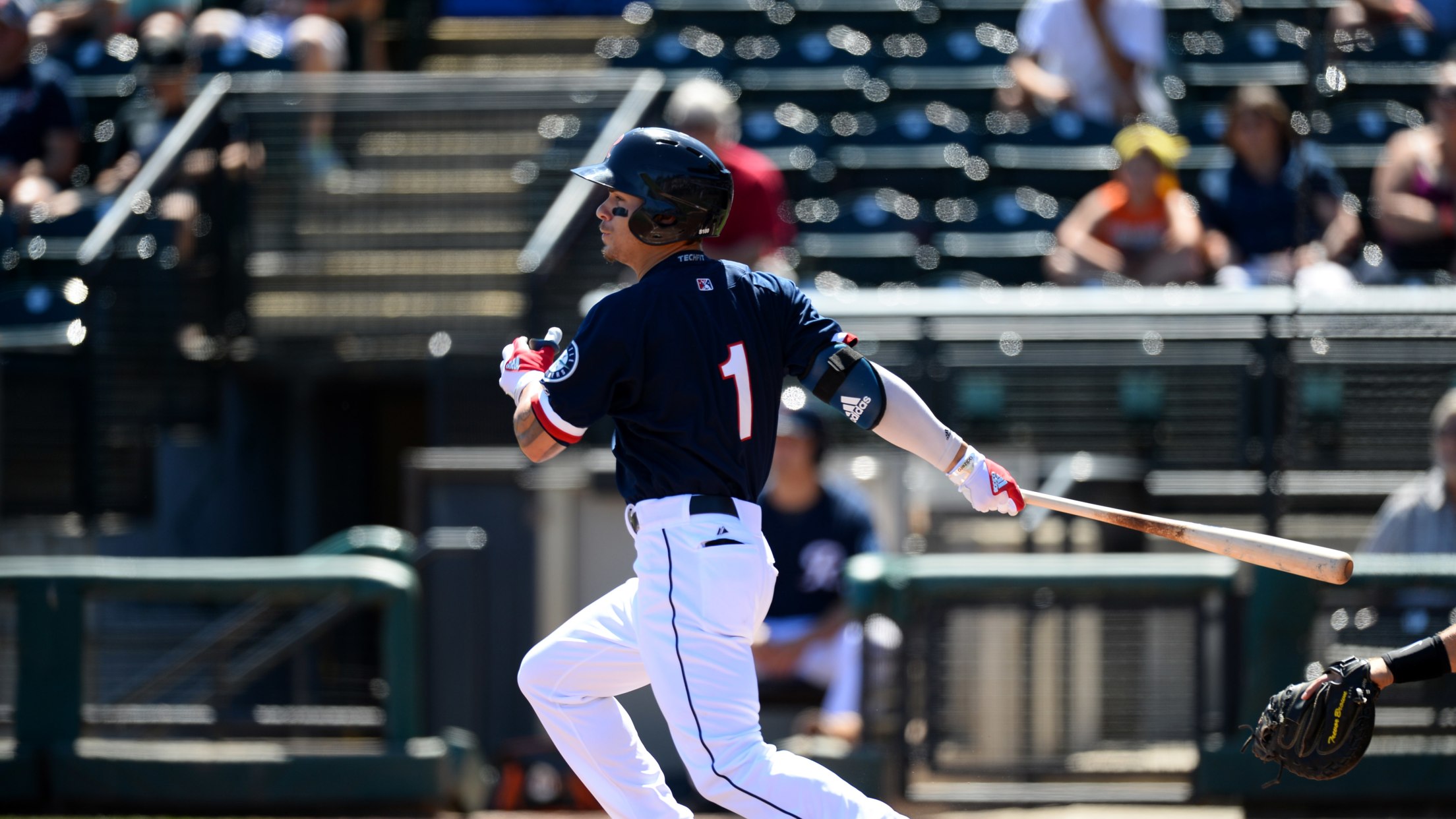 Tacoma Rainiers outfielder Ian Miller. (Jeff Halstead)
TACOMA, Wash. - The Tacoma Rainiers (63-66) rode an early offensive wave and held on for a 9-6 victory over the El Paso Chihuahuas (64-65) on Monday night at Cheney Stadium.The Rainiers erupted for nine runs on nine hits over the first two innings, including a seven-run bottom of the
TACOMA, Wash. - The Tacoma Rainiers (63-66) rode an early offensive wave and held on for a 9-6 victory over the El Paso Chihuahuas (64-65) on Monday night at Cheney Stadium.
The Rainiers erupted for nine runs on nine hits over the first two innings, including a seven-run bottom of the second, to establish an early 9-2 lead. Tacoma would go on to log just one hit over the remainder of the night, but their seven-run cushion was more than enough to hold up for a win.
Outfielder Ian Miller (2x5, 2 R, 2 2B, 2 RBI) and catcher Tuffy Gosewisch (2x4, R, RBI) both registered multiple hits for the Rainiers, while center fielder Andrew Aplin (1x4, R, 2 RBI) and third baseman Danny Muno (1x3, R, 2B, 2 RBI, BB) both drove in a pair of runs.
Following a two-run top of the first from El Paso, Tacoma responded with a pair of runs in the bottom of the frame on a two-run double from Muno to tie the game at 2-2.
The Rainiers seven run outburst in the bottom of the second inning started with a two-run double to left center from Ian Miller, and concluded seven batters later on an RBI single from Gosewisch that propelled Tacoma out in front, 9-2.
The Chihuahuas slowly chipped into the Rainiers lead over the remainder of the night, scoring once in the fifth and sixth innings and plating a pair in the top of the ninth before ultimately falling, 9-6.
Rainiers reliever Jonathan Aro (6-0) collected his sixth win of the season after working 1.2 innings in relief of Tyler Cloyd and allowing just one run on one hit.
The Rainiers and Chihuahuas wrap up their four-game series on Tuesday night at 7:05 p.m. PT. Tacoma will start right-hander Sam Gaviglio (3-5, 3.70), while El Paso will turn to righty Jordan Lyles (0-1, 6.75).
All tickets, group outings and suites packages for the 2017 season are available for purchase in person at the Cheney Stadium Box Office, online at www.tacomarainiers.com, or over the phone at (253) 752-7707. The most up-to-date news and notes about the Rainiers throughout the season can be found by following the Rainiers on Twitter (@RainiersLand) or liking the team on Facebook.