Rays pick up Arroyo, pitchers for Longoria
No. 57 overall prospect headed to Tampa Bay in five-player deal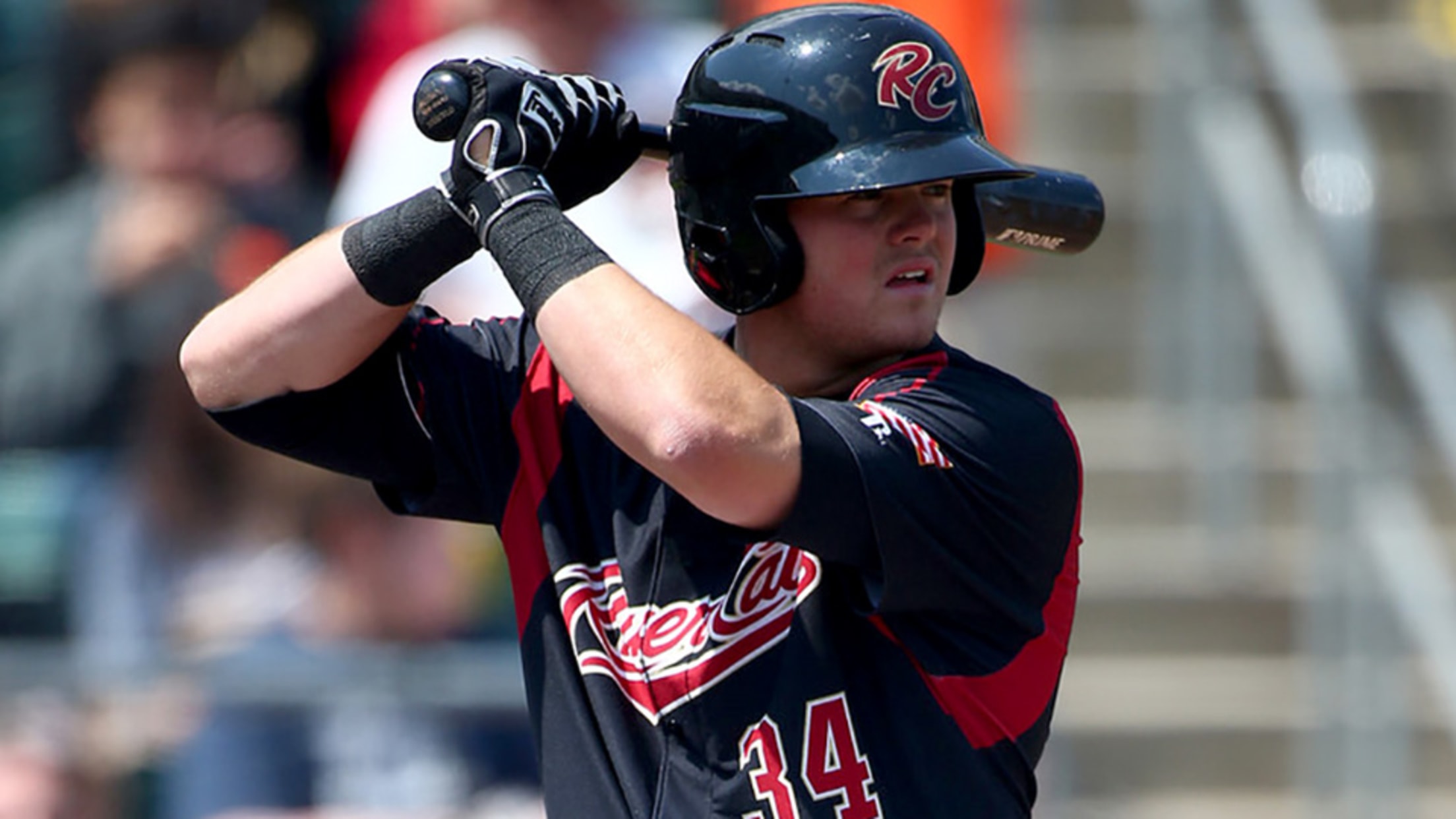 Christian Arroyo has produced a career .300/.345/.434 line over five seasons in the Minor Leagues. (Ralph Thompson/Sacramento River Cats)
The Rays shipped away a big part of their past Wednesday in the hope it'll lead to an even brighter future.Tampa Bay dealt All-Star third baseman Evan Longoria to the Giants for No. 57 overall prospectChristian Arroyo, left-handed pitching prospect Matt Krook, right-handed pitching prospect Stephen Woods Jr. and Major
The Rays shipped away a big part of their past Wednesday in the hope it'll lead to an even brighter future.
Tampa Bay dealt All-Star third baseman Evan Longoria to the Giants for No. 57 overall prospectChristian Arroyo, left-handed pitching prospect Matt Krook, right-handed pitching prospect Stephen Woods Jr. and Major League outfielder Denard Span, the clubs confirmed Wednesday afternoon. The Rays are also sending cash considerations to balance the deal.
Arroyo is the crown jewel of the swap from a prospect standpoint and gives Tampa Bay seven top-100 prospects alongside Brent Honeywell Jr., Willy Adames, Brendan McKay, Jesús Sánchez, Jake Bauers and José De León, though MLB.com's rankings will be updated after the new year. A first-round pick in 2013, the 22-year-old has spent the majority of his career at shortstop, but with Adames already in the system and Longoria leaving a hole at the hot corner, the Rays could decide move Arroyo to third base, where he made 21 starts in the Majors last season.
"Arroyo really fits that bill for us," Rays general manager Erik Neander told MLB.com. "When you look at his skillset, his talents as someone we got to see a lot early in the year and really thought he was about to take off in his age-21/22 season, he was on his way to breaking out offensively."
A right-handed hitter, Arroyo is known primarily for his plus hit tool. He's hit exactly .300 over 368 career games in the Minor Leagues and produced a .396/.461/.604 line with four homers in 25 games with Triple-A Sacramento in 2017. He made his Major League debut with the Giants on April 24 but struggled in The Show, batting .192/.244/.304 over 34 games. Arroyo was lost for the season after suffering a broken hand with the River Cats on July 1.
"[Arroyo] has a tremendous opportunity to bring new life to that organization," Longoria told MLB.com. "That was kind of the way I looked at it when I was a young player, and I think he'll have the same opportunity. I know that it's probably hard for the fan base to see right now, but obviously in recent past, you look at what the Astros did and I think that's kind of the arc that the Rays would like to take now and build a core group of young players that they can build off of."
There's little power in Arroyo's profile right now -- his season high for home runs is nine, set in 2015 at Class A Advanced San Jose -- but he should hit enough to provide plenty of offensive value. He also won't turn 23 until next May.
In Krook and Woods, the Rays picked up two interesting arms that are likely to end up in the bullpen due to control concerns.
Krook, who has earned praise for the movement on his fastball and his plus curveball, posted a 5.12 ERA with 105 strikeouts and 66 walks over 91 1/3 innings last season at Class A Advanced San Jose. He was a fourth-round pick of the Giants out of Oregon in 2016.
Woods, an eighth-round pick out of Albany that same year, enjoyed more success in 2017, albeit at a lower level. He owned a 2.95 ERA with 113 strikeouts and 64 walks over 110 frames at Class A Augusta. Both his fastball and curve are considered above-average, but he'll need to improve his career walk rate of 13.3 percent to stay in the rotation at higher levels.
"Obviously there's genuine excitement about all four of the players that were acquired," Rays manager Kevin Cash told MLB.com. "Arroyo, being that he's versatile. I think we all look at him as a young player that is going to kind of come up in that grouping with some of our young prospects that have spent time in Durham, and then also the young players that we have in the big leagues that experienced big league baseball this year. Just building off that core and continue to build that core."
Longoria leaves the Rays as the franchise leader in games (1,435), home runs (261), runs scored (780), total bases (2,630) and WAR (50.0). He made three All-Star teams, won three Gold Gloves, one Silver Slugger and was named the 2008 AL Rookie of the Year during his 10 seasons in Tampa Bay. The 32-year-old slugger hit .261/.313/.424 with 20 homers over 156 games in 2017 and is expected to help turn around a San Francisco club that tied for the Majors' worst record at 64-98. Longoria still has five years and $81 million remaining on his contract, with a team option for 2023.
Span is headed to Tampa Bay after hitting .272/.329/.427 with 12 homers and 12 steals last season. He is owed $11 million for the 2018 season and has a $12 million team option (or $4 million buyout) for 2019.
Sam Dykstra is a reporter for MiLB.com. Follow and interact with him on Twitter, @SamDykstraMiLB.