Red-Hot Knights Beat the RailRiders 7-4
Knights Earn Three-Game Series Sweep, Win Fourth-Straight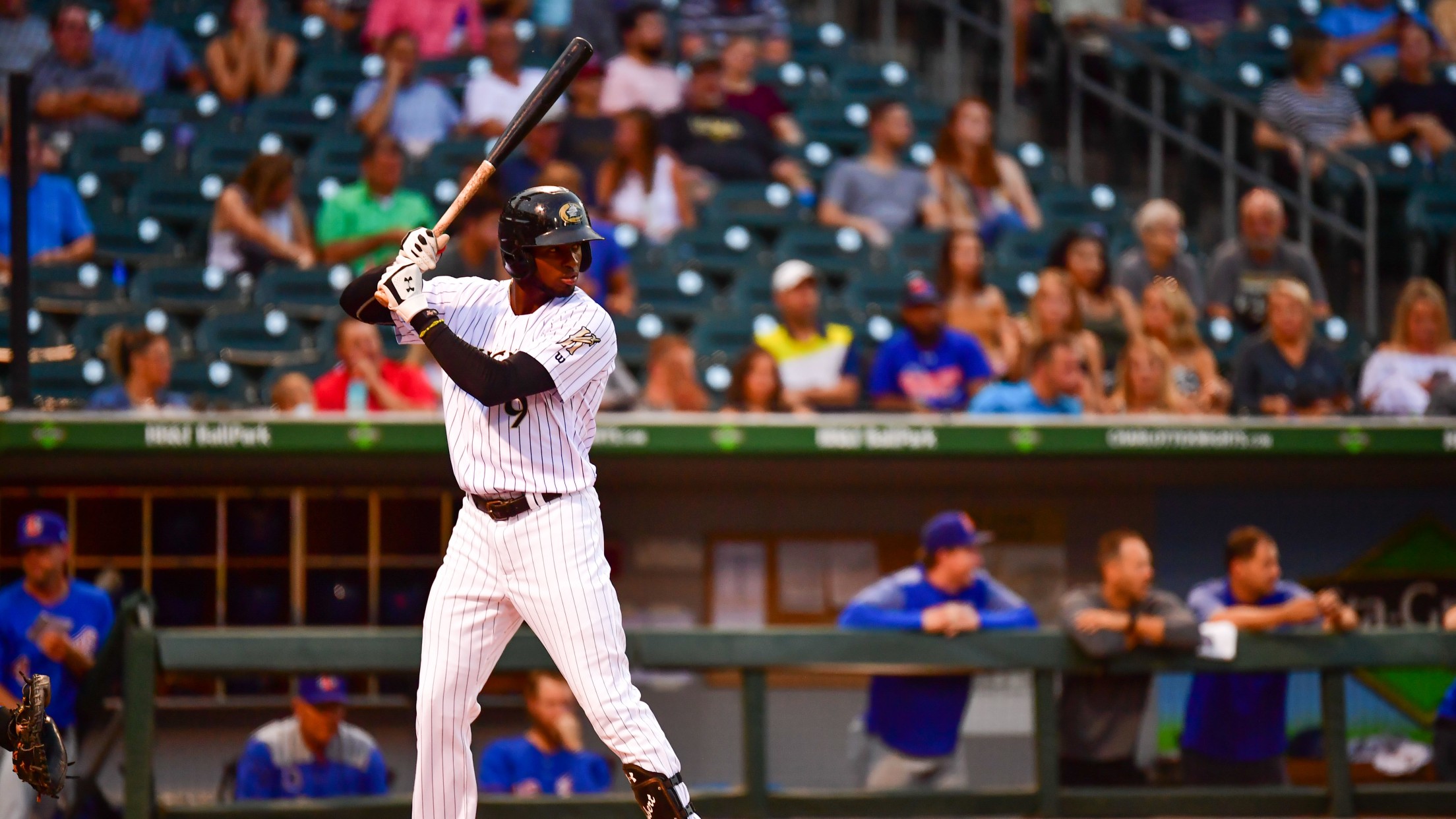 Luis Robert added his eighth home run with the Knights and 24th overall of the 2019 season. (Laura Wolff/Charlotte Knights)
(MOOSIC, PA) -- Center fielder Luis Robert launched his eighth home run of the season, shortstop Ramón Torres recorded a game-high four hits, and the red-hot Charlotte Knights beat the Scranton/Wilkes-Barre RailRiders by a score of 7-4 in the finale of their three-game series from PNC Field in Moosic, PA
(MOOSIC, PA) -- Center fielder Luis Robert launched his eighth home run of the season, shortstop Ramón Torres recorded a game-high four hits, and the red-hot Charlotte Knights beat the Scranton/Wilkes-Barre RailRiders by a score of 7-4 in the finale of their three-game series from PNC Field in Moosic, PA on Thursday night. With the win, the Knights earned a three-game series sweep over the first-place RailRiders and won for the fourth-straight game.
The RailRiders started off strong, but the Knights finished even stronger on Thursday. Down by a score of 4-0 after the first two innings of the game, the Knights mounted a comeback against the 'Riders. Torres started things off in the top of the third inning with a two-run home run, his second in as many days. The Knights trailed by a score of 4-2 until the top of the eighth inning when Robert tied the game with a two-run home run, his 24th overall in 2019.

One inning later, the Knights had their best inning of the game. With the game tied at 4-4, Torres once again came up big as he ripped a go-ahead RBI single to make it a 5-4 lead. With two runners on base and just one out, 2018 first-round pick Nick Madrigal singled home two runs to give the Knights a 7-4 lead. Charlotte scored seven unanswered runs for the win.

RHP Connor Walsh (2-1, 4.42) earned the win for the Knights after two scoreless innings out of the Charlotte bullpen. Chicago White Sox RHP Kelvin Herrera tossed a scoreless inning on his major league rehab assignment. LHP Justin Nicolino started the game and gave up four runs on two hits over six innings.

Torres finished the game 4-for-4 with the home run, three runs scored, and three RBIs.

Thursday's win was Charlotte's eighth over their last 10 games and it pushed the team to just 2.5 games back of the Durham Bulls in the International League Wild Card standings. The Knights have scored 84 runs over that 10-game span.

The Knights will now make the trek to Allentown, PA to open a three-game series against the Lehigh Valley IronPigs from Coca-Cola Park on Friday night. Pre-game radio coverage of Friday's 7:05 p.m. game is set for 6:50 p.m. on 730 The Game ESPN Charlotte and CharlotteKnights.com. The "Voice of the Charlotte Knights" Matt Swierad will have the call for all of the action.