Red Sox grate the Cheese in 7-6 comeback
Benge goes 3-for-3 in team's biggest rally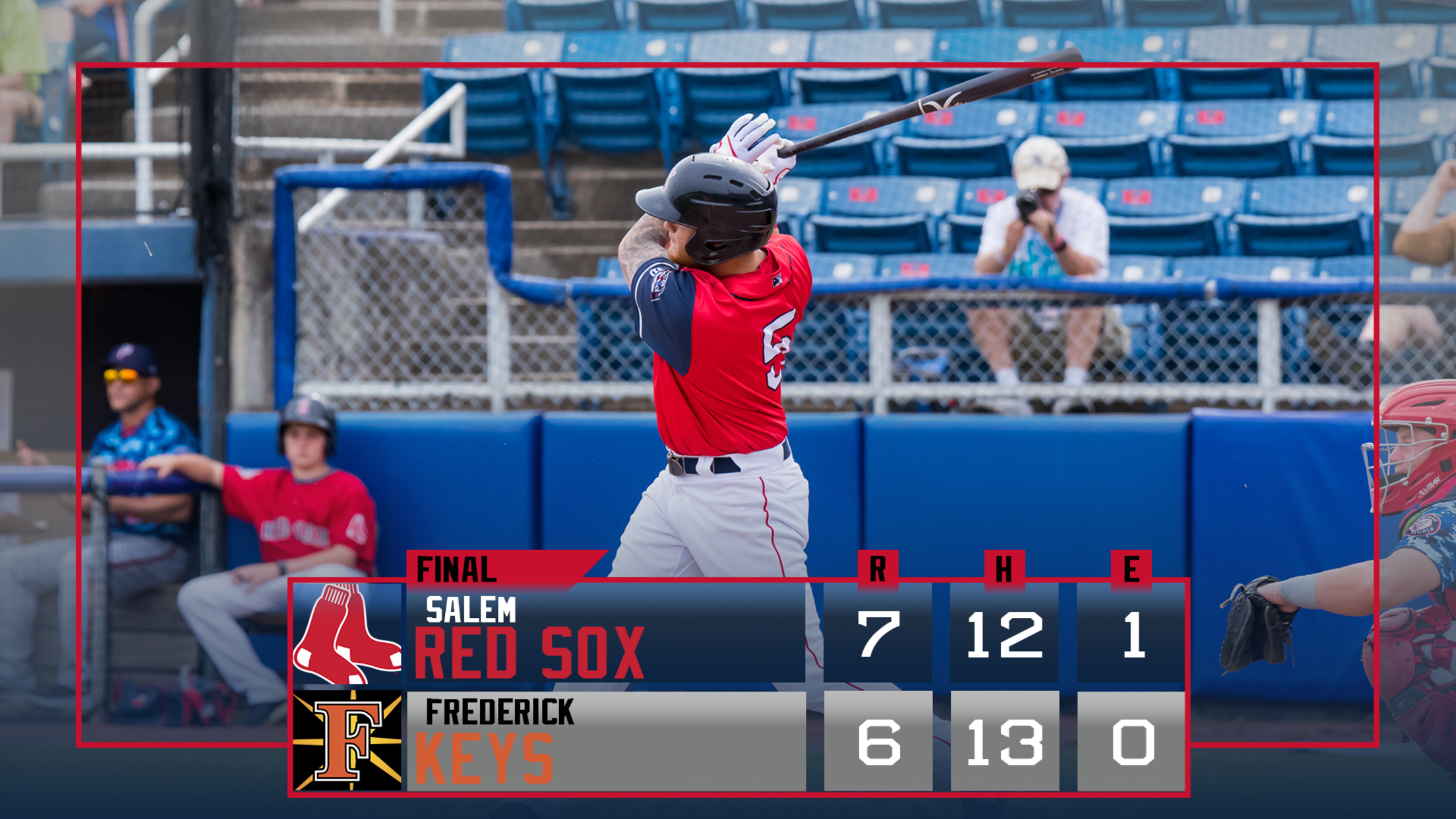 (John Wacher)
FREDERICK, Maryland (July 13, 2019) - Salem trailed Frederick 6-0 before Garrett Benge knotted the game in a two-out, ninth inning rally to spark an extra-inning comeback win, 7-6, over the Cheese Saturday night at Nymeo Field.How it Happened * Jomar Reyes got the Cheese on the board 1-0 in
FREDERICK, Maryland (July 13, 2019) - Salem trailed Frederick 6-0 before Garrett Benge knotted the game in a two-out, ninth inning rally to spark an extra-inning comeback win, 7-6, over the Cheese Saturday night at Nymeo Field.

How it Happened
* Jomar Reyes got the Cheese on the board 1-0 in the first inning with an RBI single to center field.
* The Cheese busted open the third inning, batting around to tack on five runs on five consecutive singles. The onslaught was brought to an end when Rio Gomez forced an inning-ending flyout to leave the bases loaded but a big 6-0 deficit for the Red Sox.
* The shutout ended in the top of the sixth inning when Keith Curcio led off with a single and scored on a Ryan Fitzgerald double. Garrett Benge drew a two-out walk and Dylan Hardy singled when Nick Lovullo delivered a run home on a single to cut the lead 6-2.
* Nick Sciortino reached in the ninth inning after being hit by a pitch, Tanner Nishioka singled to further the cause and Jagger Rusconi loaded the bases with another knock. Edgar Corcino hit into a force out, tagging Sciortino at home for the second out but with the bases still loaded. Ryan Fitzgerald drew a walk to push home a run and cut the score, 6-3. Wilson singled and drew the Sox within two runs when Garrett Benge knocked a double, scoring two and tying the tilt 6-6 to force extra innings.
* Salem's bullpen combined for a scoreless 7 1/3 innings between Rio Gomez, Algenis Martinez, and Andrew Schwabb and fanned three Cheese batters.
* Dylan Hardy was the placed runner at second base in the tenth inning and scored the go-ahead run on a wild pitch by Diogenes Almengo to advance Salem 7-6.
Standout Sox
* Garrett Benge: 3-for-3, 2 RBI, R, 2B, SB
* Marcus Wilson: 2-for-5, RBI
* Ryan Fitzgerald: 1-for-4, 2 RBI, R, 2B
* Rio Gomez: 3.1 IP, 2 H, 0 R, 2 BB, 2 K
* Algenis Martinez: 3.0 IP, 1 H, 0 R, 0 BB, 0 K (W, 1-0)
* Andrew Schwaab: 1.0 IP, 0 H, 0 R, 1 BB, 0 K (S, 6)

Noteworthy
* The six-run deficit is Salem's largest comeback of the season. It is the first time they have won when trailing after eight innings.
* Algenis Martinez notched his first win in a Salem uniform this season after returning from the IL.
* This was the Sox eighth extra-inning effort of the season now pushing their record to 4-4 in extra-inning contests.


What's Next
Salem Red Sox at Frederick Keys Sunday, July 14, 2019. First pitch is scheduled for 1:00 PM EST.
RHP Thaddeus Ward vs. RHP Brennan Hanifee
Listen: SalemSox.com, TuneIn Radio, ESPN Blacksburg WKEX 1430 AM/94.1 FM, WGMN 1240 AM/93.3 FM
Watch: MiLB.TV
The Salem Red Sox are the Advanced-A affiliate of the Boston Red Sox and call Haley Toyota Field in Salem, Virginia home. The team was founded in 1968 and purchased by Fenway Sports Management in December of 2007. For more information on the Salem Red Sox, please visit SalemRedSox.com or contact Melanie Newman at [email protected].